Welcome to Stats Canada (@stats_canada)!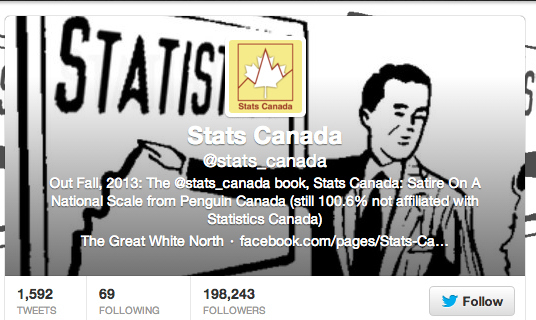 They've been posting some great stuff. Here is some of their best material (in terms of likes, faves...):
"83% of Canadians are finding it harder to determine who is participating in Movember and who is a sex offender."
"39% of carrots grown in Canada will become snowman penises."
"The population of Canada is expected to increase by 20% in the event of a Romney presidency."
"98% of Canadian IKEA store are getting complaints about their lack of monkeys."
"34 million Canadians now have plans for every Saturday night. Thanks NHL."
"Canada is 50% the letter A"
"80% of Canadian think Roll up the Rim odds are complete bullshit."
"Assembling Ikea furniture is the cause of 34% of Canadian divorces"
'It takes the average NHL rookie 23 minutes of ice time to surpass Paul Bissonnette's lifetime scoring goals"
"Every 14 seconds a Canadian pretends they didn't see another Canadian slip on sidewalk ice"
So, thank you. Thank you for bringing some humour to our dull, dull lives.
If you'd like more, go to @stats_canada.
This post was created by a member of BuzzFeed Community, where anyone can post awesome lists and creations.
Learn more
or
post your buzz!