A Guy Who Knows Nothing About Football Explains The Super Bowl
Featuring Tom Brady, who was busy with three boys of his own. Till the one day when the lady met this fellow. That's the way we all became the Brady Bunch.
by
,
,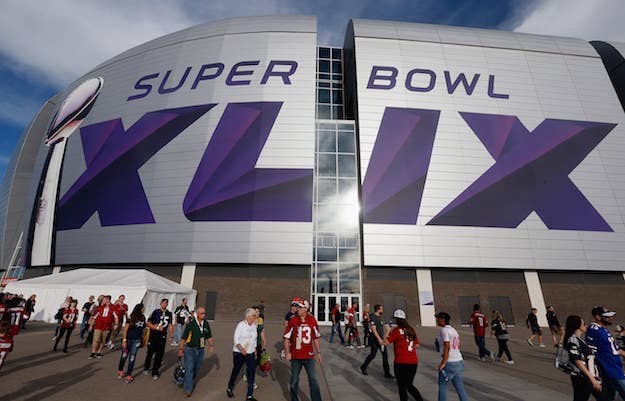 Matt Kiebus and Logan Rhoades: Where is the Super Bowl being played?
Tanner Ringerud: Aren't they all played in Hawaii? Isn't that why John Madden can never go? He's afraid of flying. Is that right?
Kiebus and Rhoades note: Close, just about 2,900 miles off. Super Bowl XLIX is in Glendale, Arizona. John Madden hasn't called a football game since 2008, but Tanner's right — he is afraid of flying.
Who is playing in the Super Bowl?
TR: Patriots? Are they the Boston Patriots? I don't know who they're playing against. If I had to guess, I'd say the Bills, but that's only because I've seen a few people around the office in Bills hats.
The New England Patriots are playing the Seattle Seahawks. But those Buffalo Bills fans in the office sound like some funny, handsome, loyal dudes.
What divisions are the two teams from?
TR: There are divisions?! Um… The Patriots are from the Wolves of Fenris and I guess the Bills are Chaos Space Marines. I don't know. That's probably not right. The Bills are Abnegation and the Patriots are faction-less. Tom Brady is Divergent.
I'm not entirely sure this was written in English, but the correct answer is AFC East and NFC West.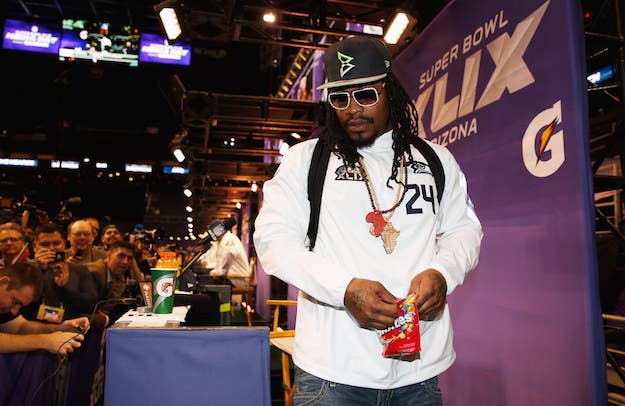 What player loves Skittles?
TR: This is a trick question. Who doesn't love Skittles? All of the above.
I can't argue with that logic, but the answer we were looking for was Marshawn Lynch.
Where do the New England Patriots play their home games (city, not the stadium)?
TR: Oh, NEW ENGLAND Patriots! Do they play in Boston? They must. Where else would they play? Like, Providence?
The Patriots play in bumblefuck Foxborough, Massachusetts, which is basically halfway between Providence and Boston.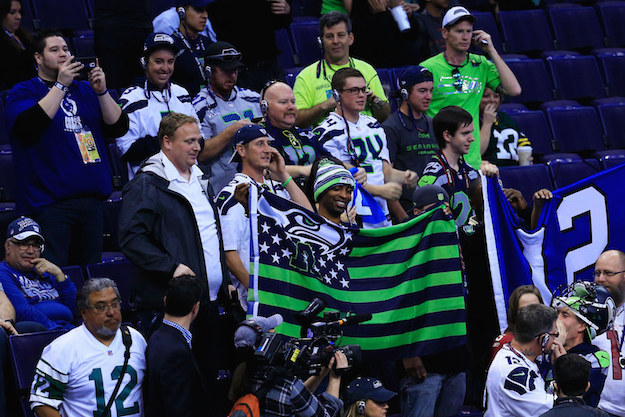 What is the Seahawks' fanbase nickname?
TR: Wait? Not the Bills? Was I wrong about the Bills.
Are they called the Seamen? That'd be pretty funny. I bet it's not that though. Hawkaholics? Oh! The Hawk Flock!
Sadly the Bills are not in the Super Bowl — it's bullshit — I know. But the Seahawks' faithful call themselves "The 12th Man."
What does does LOB stand for?
TR: "Love of balls." It's a saying football players have. It's like a secret greeting they have for one another. Don't tell anyone.
LOB = Legion of Boom. I'm actually surprised you didn't get this one considering what you thought the divisions were.
Who is the New England Patriots owner?
TR: I feel like this would only be notable if a celebrity owned them, and I sort of remember that Jon Bon Jovi used to own a football team, maybe. So, I guess my final answer is Jon Bon Jovi.
Robert Kraft is the owner of the New England Patriots. He has an "actress" girlfriend half his age and is friends with Jon Bon Jovi, who happens to be a part owner of an Arena Football team called the Philadelphia Soul. Jon Bon Jovi sucks.
Who is the Seattle Seahawks owner?
TR: Jon Bon Jovi. He's a football tycoon.
Paul Allen. He's a computer tycoon.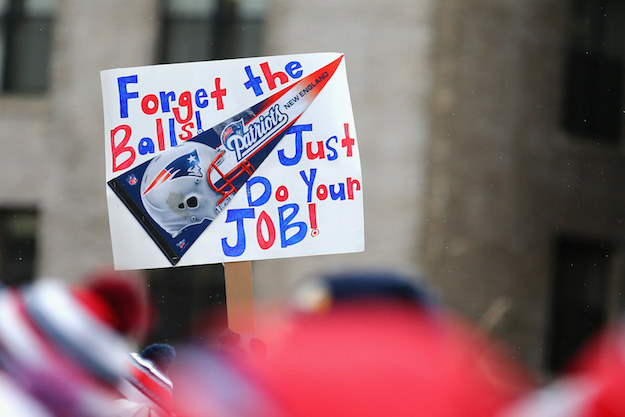 What is deflategate?
TR: Pretty sure it's something Catholic monks used to do back in the Middle Ages. They'd sort of whip their own backs. What's this have to do with the Super Bowl?
Someone took the air out of Tom Brady's balls, and everyone made a big deal out of it. So basically what you said.
Where did Richard Sherman go to college?
TR: What college is best at football? It's probably that. Marshall? Wasn't there a movie about Marshall's football team?
Yes. The movie was about the team tragically dying in a plane wreck. He went to Stanford, and is quick to remind everyone that he went to Stanford.
What is Marshawn Lynch's nickname?
TR: I bet his friends call him Shawn. No! Marsha! That's adorable.
Beast Mode.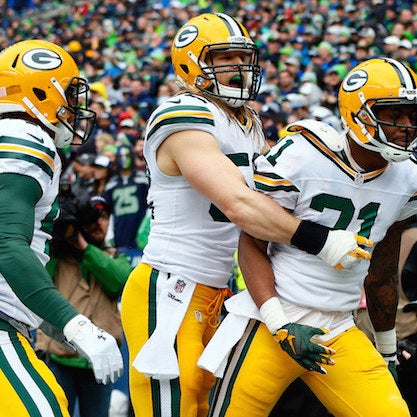 Who did each team beat to make it to the Super Bowl?
TR: Oh! Maybe the Patriots beat the Bills? Is that why you all wear Bills hats? Man, you guys got robbed. Does Portland, Oregon, have a team? Don't they have a team called the Timbers or something? That's probably who the Seahawks beat. Very close game. It was a real nail-biter.
Portland does not have a NFL team and the Timbers are a soccer team. The Seahawks did win a nail-biter though, against the Green Bay Packers, and the Patriots thoroughly demolished the Indianapolis Colts.
Who is performing the halftime show?
TR: I assume Taylor Swift, since she's a national treasure, and should be invited to play every Super Bowl ever.
Taylor is a treasure, but Katy Perry's boobs will be the halftime show.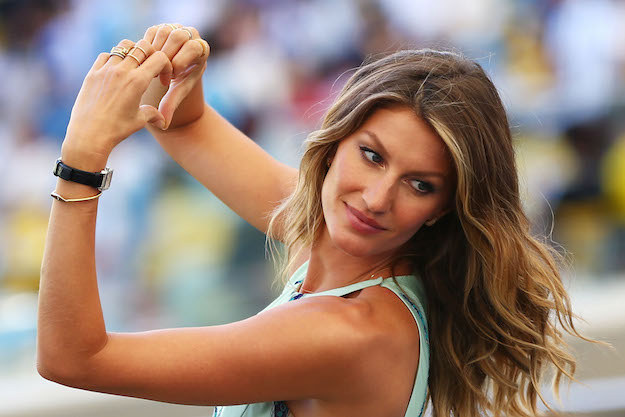 Who is Tom Brady's wife?
TR: Carol Brady. They have six kids together from previous marriages, and a lovable maid named Alice.
Mrs. Brady is actually Gisele Bundchen, the most famous and highly paid lingerie model in the world. Tom does have one kid from a previous relationship with ANOTHER model, Bridget Moynahan.
Where did Pete Carroll coach before the Seahawks?
TR: My mind is jumping right to the Carolina Panthers, but I think it's just because his last name is Carroll, so that's probably not right.
Did he used to coach the Patriots? It'd be fucked up if he was like a former longtime Patriots coach and he's using all his knowledge of their plays against them.
Before he took the Seahawks job, Pete Carroll was the head coach at the University of Southern California, where he won a couple of National Championships. Before that he coached the New York Jets, and BEFORE THAT he coached the Patriots from 1997–1999.
What position does Rob Gronkowski play?
TR: Ha. Funny name. I don't know. Tight End. Guy with a funny name deserves a position with a funny name.
CORRECT!!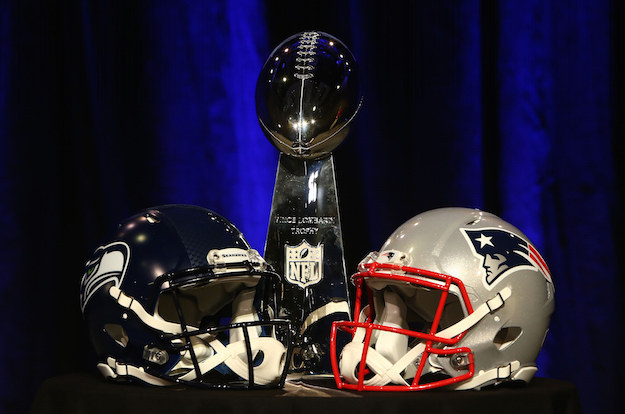 What is the name of the Super Bowl trophy?
TR: All I can think of is Cy Young Award and Heisman Trophy, and I'm pretty sure the Cy Young Award is for baseball, so I'm going to go with the Heisman Trophy.
At least he got the sport right, but the Heisman Trophy is awarded to the top COLLEGE player. The Lombardi Trophy goes to the Super Bowl champ.
What lewd gesture got Marshawn Lynch fined by the NFL?
TR: DX crotch chop? That'd be baller.
Marshawn Lynch likes to grab his crotch when he crosses the goal line. So right region of the male anatomy, but wrong gesture.