Think Stock

The first Dunkin' Donuts opened in Quincy, MA in 1950.

Think Stock

Most of the locals just call it Webster Lake though.

Think Stock

Basketball was first played in Springfield, MA in 1891, and volleyball was first played in Holyoke, MA in 1895, but baseball was baseball was famously first played in Cooperstown, NY in 1839.

Think Stock

This one is a little controversial, and not everyone agrees on who first played the Beatles in America, but WORC 1310 out of Worcester, MA received a Gold Record from Swan Records, giving them the official honors.

Think Stock

Natick Mall only takes up about 7 square miles. The Mall of America in Minnesota takes up 9.5 million feet.

Think Stock

Harvard University was first chartered by the Massachusetts Bay Colony in 1636, and as such, they claim to be the "oldest institution of higher education in the United States".

Think Stock

250,000 of the city's 645,000 person population is enrolled in an institution of higher education.

Think Stock

The first Gideon Bible was left in the Superior Hotel in Superior, Montana in 1908.

Think Stock

Paradise and Hell are actually in Michigan, not Massachusetts.

Think Stock

Yep! He was born John Chapman in Leominter, MA in 1774.

Think Stock

The fruit of the trees Johnny Appleseed was famous for planting wasn't suitable for consumption, but it was the type of apple that cider and applejack are made from.

Think Stock

It's actually Minnesota's state capital, St. Paul, that was once called Pig's Eye.

Think Stock

Every state in New England disagrees on the best way to make clam chowder, but the state of Massachusetts went ahead and outlawed tomatoes in clam chowder, so I guess the argument is settled there.

Think Stock

That happened! The cookie is actually named after Newton, MA.

Think Stock

20 people were convicted and executed during the Salem witch trials. Only 6 of them were men.

Think Stock

It's thought that a common ancestor on the island passed the recessive hereditary trait down, and in the late 19th and early 20th century, a significant percentage of the island's citizens were hearing impaired. MVSL was used so widely that deafness did not prevent someone from participating in public life.
Only People From Massachusetts Will Get More Than 10 Right On This Quiz
Sorry, maybe you misread the title of this quiz? Only people from Massachusetts were promised to do well on this one, and judging by how you did, you're clearly NOT from the Bay State.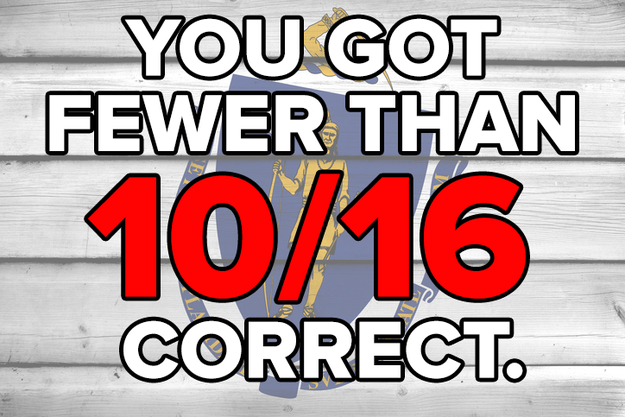 Congrats! You got more than 10 correct on this quiz, which means you're either from Massachusetts, or you just know a ton about the state for some weird reason.