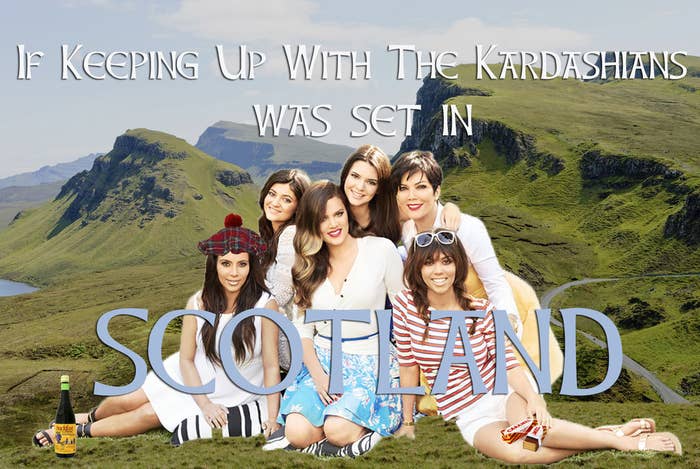 1. Their last name would actually be Kilpatrick, not Kardashian.
2. Kris, Kim, Khloe, and Kourtney would have mansions in Bearsden.
3. And the Jenner side of the family would all live in Morningside.
4. Kendall would be modelling for Cruise.
6. Dash's flagship store would be on Edinburgh's George Street.
7. And would probably be called 'Trick's.
8. It would have its own range of Kilpatrick tartan kilts.
9. Kim would have started out as a stylist for Amy MacDonald.
10. And would have a sex tape with Darius.
11. She would have had a brief engagement to James McAvoy.
12. But would now be happily married to Kenny West, one of Scotland's three hip-hop artists.
13. Kenny would have proposed to Kim at Hampden Park; it would have been a lot less classy and a lot more stabby.
14. They would have had their wedding at Balmoral Castle.
15. It would have featured many more brollies.
16. And definitely a ceilidh.
18. TayTay and Calvin Harris wouldn't be a thing; he'd already be dating Kendall.
19. Kendall would be BFFs with Karen Gillan and Rose Leslie.
20. And would have been spotted this summer getting MWI at TITP, sneaking in tons of Buckie.
21. The special holiday episodes of KUWTK would take place in Gleneagles or Aviemore.
22. Where most scenes would have to be filmed inside because of the dreich weather.
23. In fact, most episodes of Keepin' up wae the Kilpatricks would include at least one amazing adventure getting rained off.
24. For example, when Khloe organised a bonding day for the Dash Dolls (or the Bearsden Burds) at Aberfoyle but one step oot the door and they were aw drookit.
25. Kylie would be Edinburgh's new top lass.
26. And would regularly be cuttin' aboot the likes of Tigerlily.
27. She would have rented out Kushion for her 18th birthday and spent the night gettin' pished and geein' it laldy.
28. And started a hair extension line with Claire's Accessories.
30. And her show would be called Khloe Kens it Aw.
31. Khloe and Scott would make guest appearances on River City and Taggart.
32. And Scott would regularly be caught steamin' on top of the Duke of Wellington statue.
33. Or being sick outside Hive.
35. And Penelope's middle name would be America.
36. Caitlyn Jenner would have debuted her new look on the cover of No.1 Magazine.
37. But would have probably chosen the name Katie-Lynn instead.
38. Kris would be a chain-smoker with a LOT more wrinkles.
39. Rob would be called Rab.
40. And would have a Scottish-themed sock line at House of Fraser.
41. KUWTK would need English subtitles for the rest of the world to understand.
42. The family would regularly be spotted at star-studded events, like Old Firm games and the Ayr Races.
43. And in the days before, all the girls could be spotted gettin' aw done up at Taylor Ferguson.
44. Together they would have a ton of endorsement deals, from Irn-Bru to Tunnock's, not to mention Mackie's crisps.
45. Kim would have an iOS and Android app called Kim Kilpatrick: Holyrood, a game about overthrowing Nicola Sturgeon as first minister.
46. And spin-off shows would include Kourtney and Khloe Take Dumfries and Kourtney and Kim Take the Highlands.