We hope you love the products we recommend! All of them were independently selected by our editors. Some may have been sent as samples, but all opinions and reviews are our own. Just so you know, BuzzFeed may collect a share of sales or other compensation from the links on this page if you decide to shop from them. Oh, and FYI — prices are accurate and items in stock as of time of publication.
Hey, all you cleanliness enthusiasts out there! I know there's been a lot of hype around a brand that rhymes with Shmyson in recent years, but I'm here to tell you there's a new vacuum in town that can get the job done just as well (and arguably better!).
The Tineco Pure One S11 Cordless Vacuum is a total innovation with a 40 minute run time and a detachable battery. And its four-stage filtration system — which includes a HEPA filter for all you allergy-prone folks — obliterates dust and dander by trapping 99.97% of particles as small as 0.3 microns and delivering cleaner air to the environment.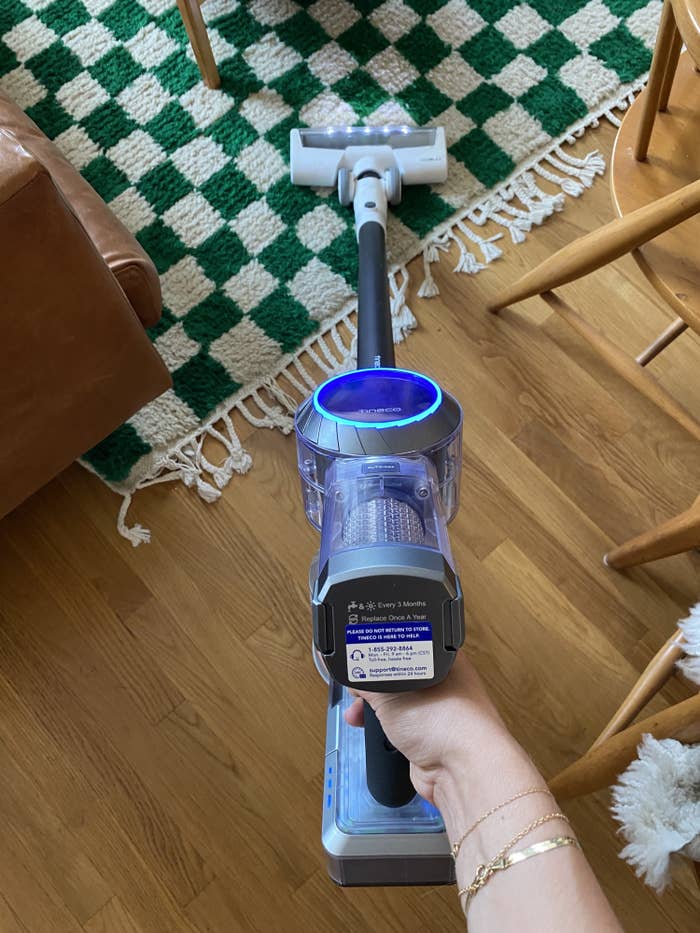 It easily converts from a full length to a handheld vacuum with just the click of a button. Plus, it comes with a wall mount so you can make charging as easy as possible — say goodbye to all those cords getting tangled together!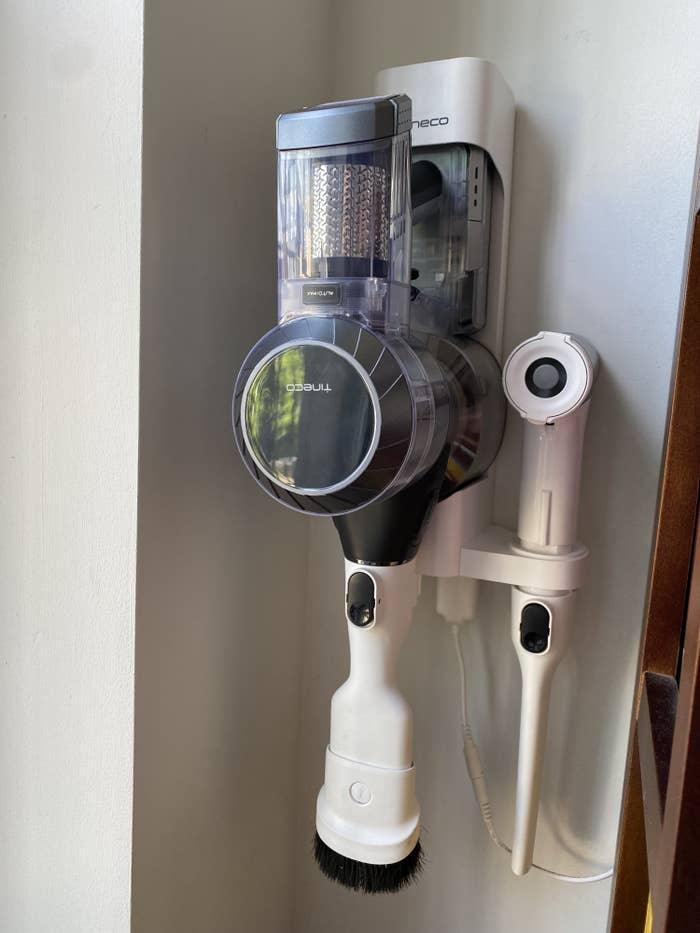 Not only does it have a super long run time, but it also has smart sensor technology, detecting and picking up dirt before you even know it's there for maximum efficiency.
It's also super quiet so you won't bother your housemates or the neighbors with a noisy disturbance morning, noon, and night (that's how often you're going to be reaching for the vacuum bc it's just that fun). I've used this vac on every surface imaginable and even on the coarse ones like tile it's virtually silent.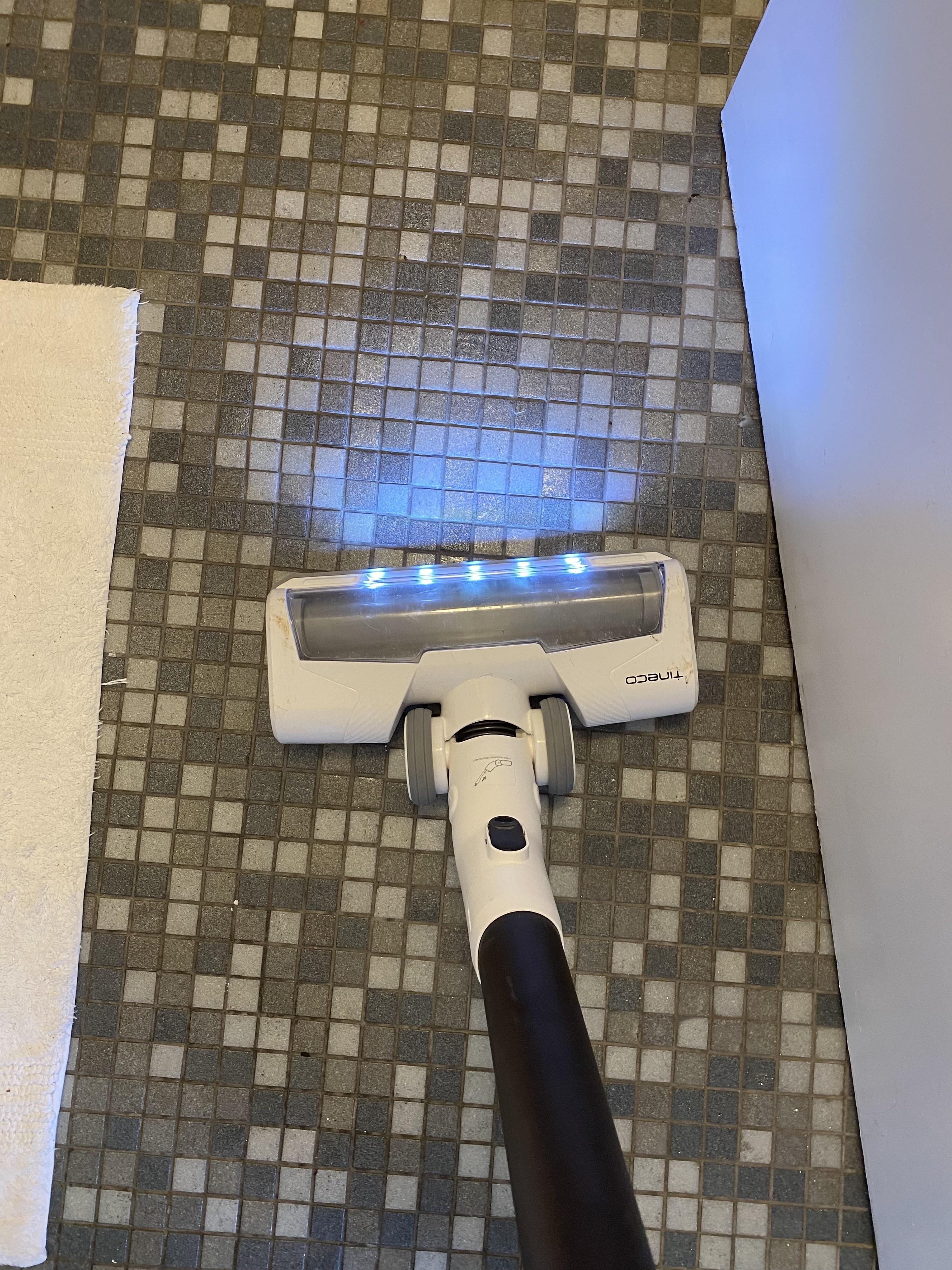 If you're wondering, "Just how well does this actually work?" the proof is in the pudding... these pics are before and after one run over with the hand vac using the multi-surface bristle head attachment.
Speaking of cats... I have one with so much hair it can literally be braided. The blanket she's laying on? My greatest chore challenge before Tineco.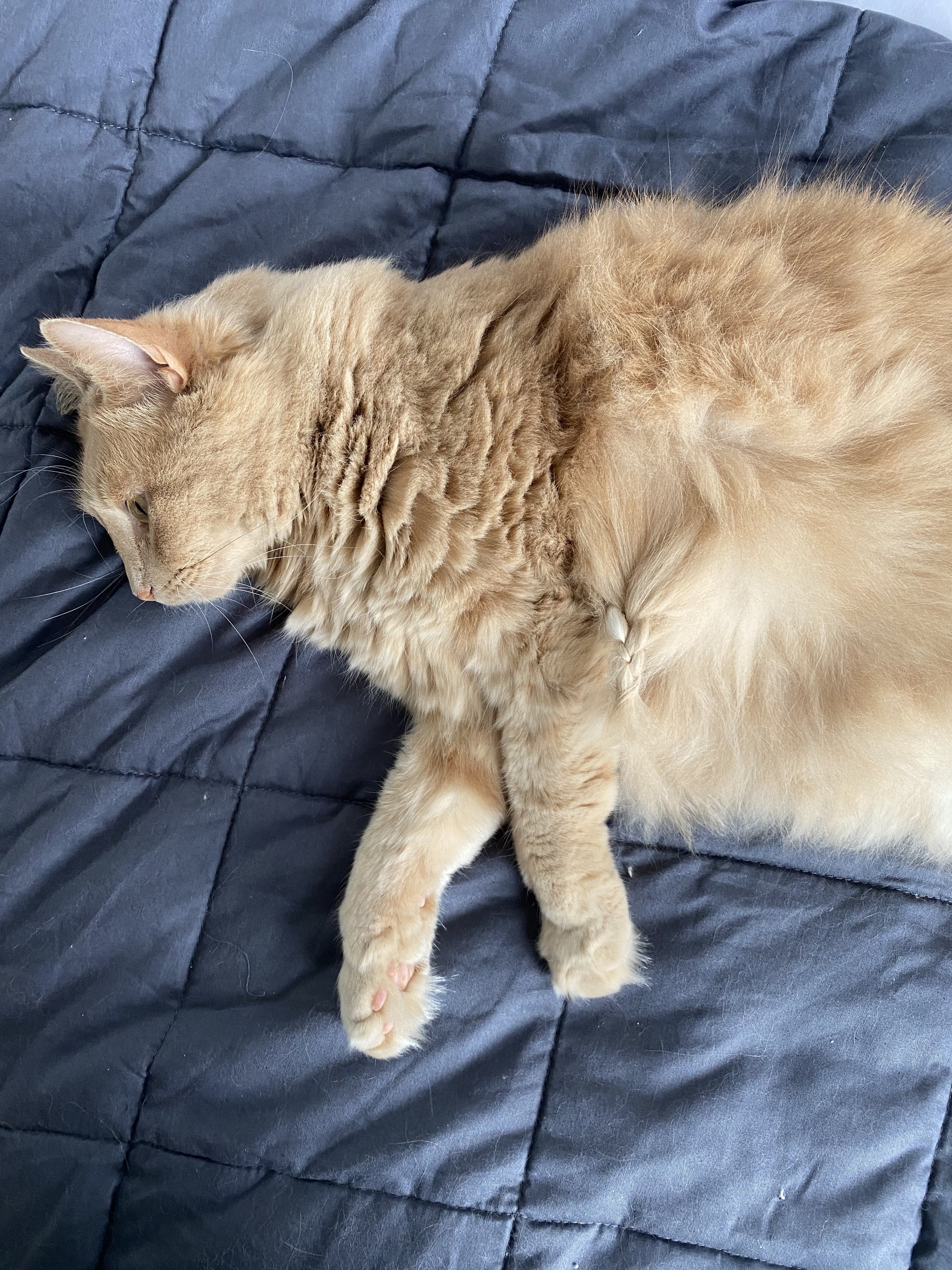 If you have pets, you know things can get messy. Quickly. The Tineco has become my saving grace when it comes to all things cat hair, dander, and even tracked litter. See for yourself!
It's also perfect for picking up the tiny fuzz tumbleweeds my cat leaves around.
Did I mention it has a night vision light that's both awesome and horrifying? This incredible feature allows you to see just how much gunk (and cat hair) has been caked on your floor, which isn't pretty. But good thing you know it's there now, so your Tineco can take care of it for you!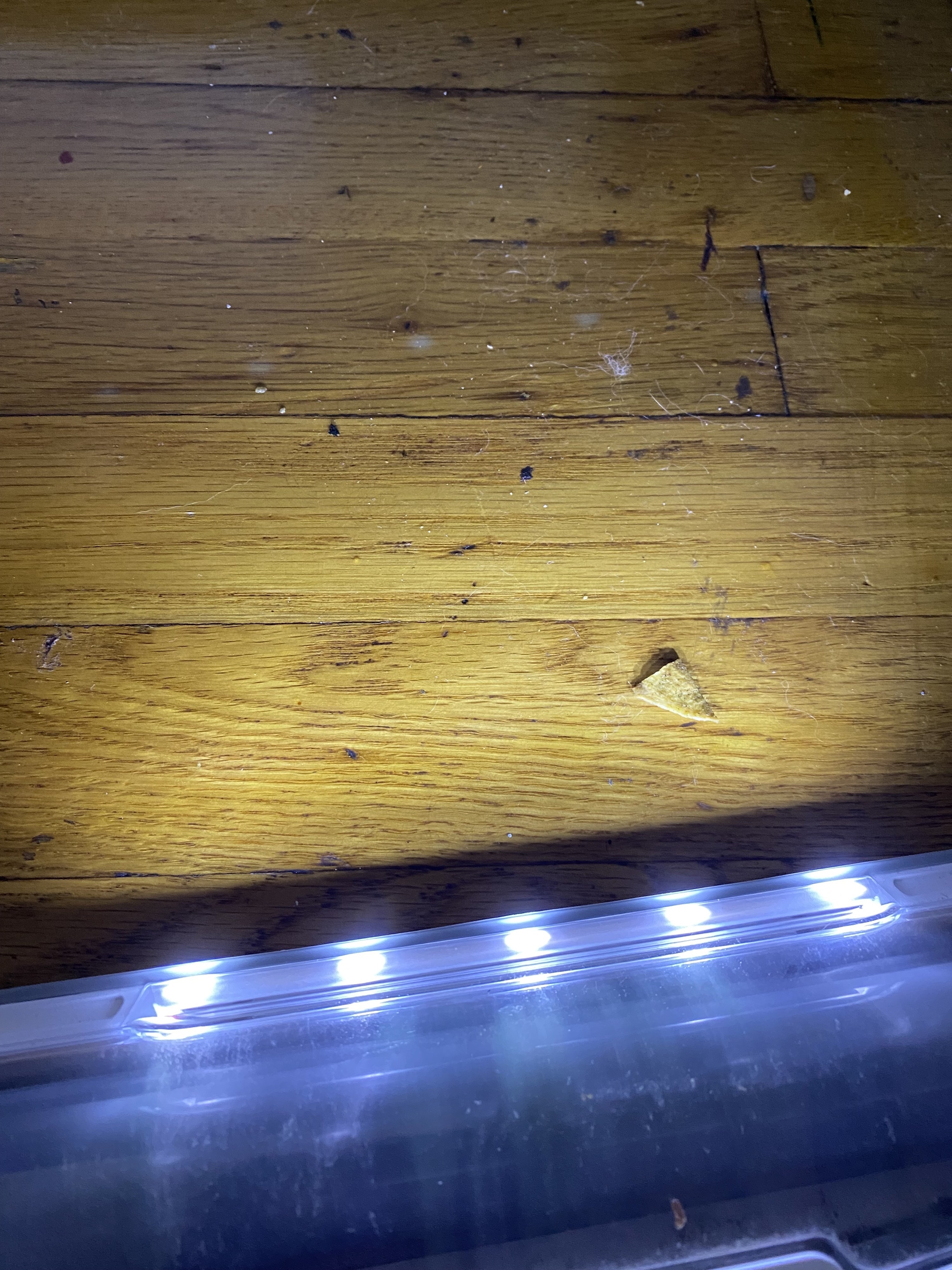 Another example, you ask? Sure, I've got plenty! This is before and after a quick run-through with the floor vac. It has unbelievable suction technology that's powerful enough to pick up hair (human and pet!) from even the periphery of the vacuum.
While the vacuum comes two vacuum heads, one for carpets and one for hard floors, it also comes with four extra attachments! Their functions from left to right: 1. Cleans the vacuum filter. 2. Reaches small spaces a hand cannot get to. 3. Does a detailed clean and picks up small particles. 4. Takes your rug from drab to fab.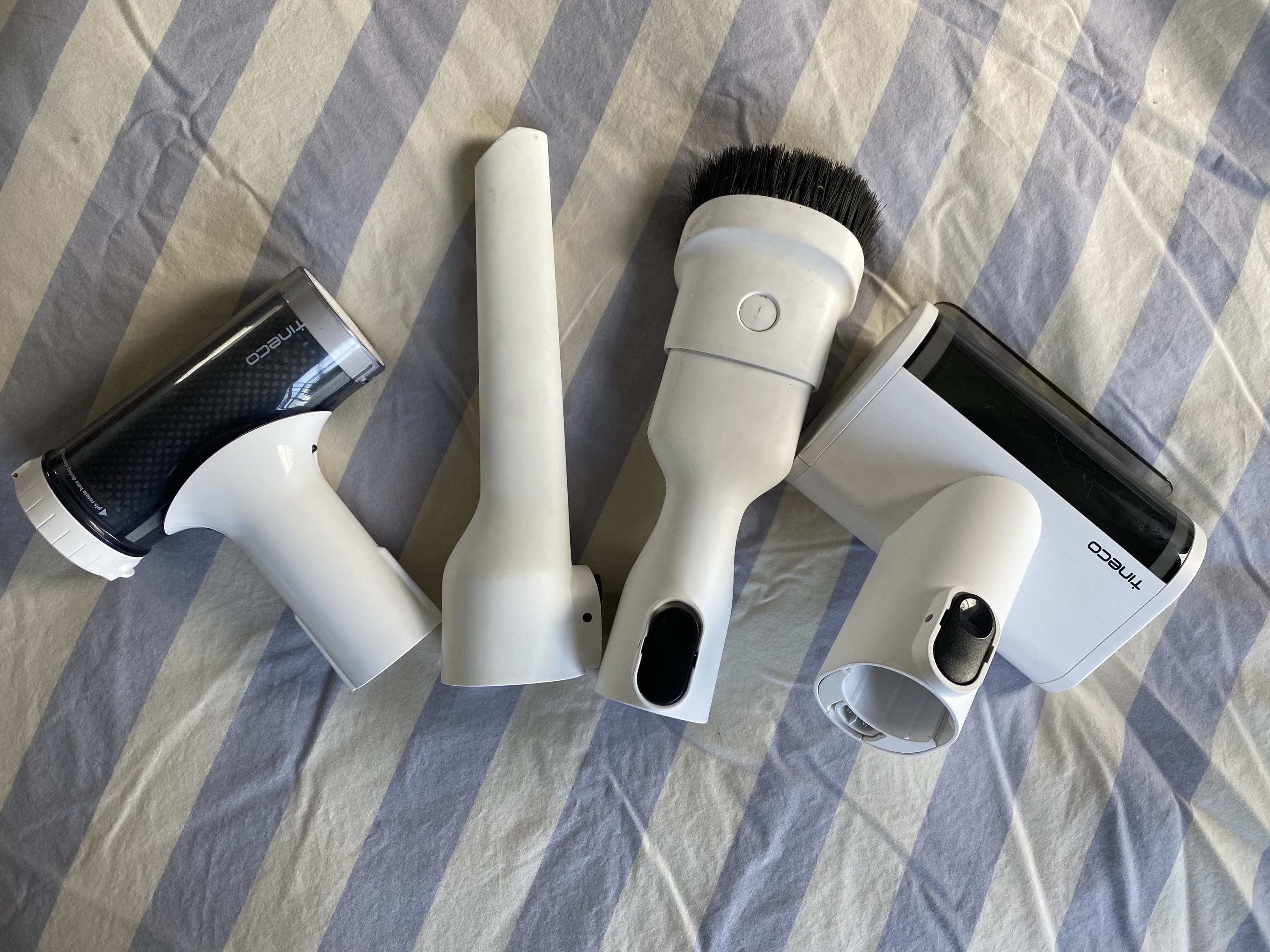 Not only is this vacuum a total lifesaver when it comes to dropped food bits, dust, and dander on hardwood floors, thanks to those attachments, it's also perfect for rugs, bathmats, and nooks and crannies that you forget could use a little sprucing up. Tineco really can do it all!
If you're wondering just how effective it really is, take a look for yourself! It picks up tons of grime and I'm always slightly grossed out yet amazed when emptying the tank — in this pic, it had only been one day since my last vacuum. Plus, emptying it is as simple as pressing a button and dumping all the gunk in the trash.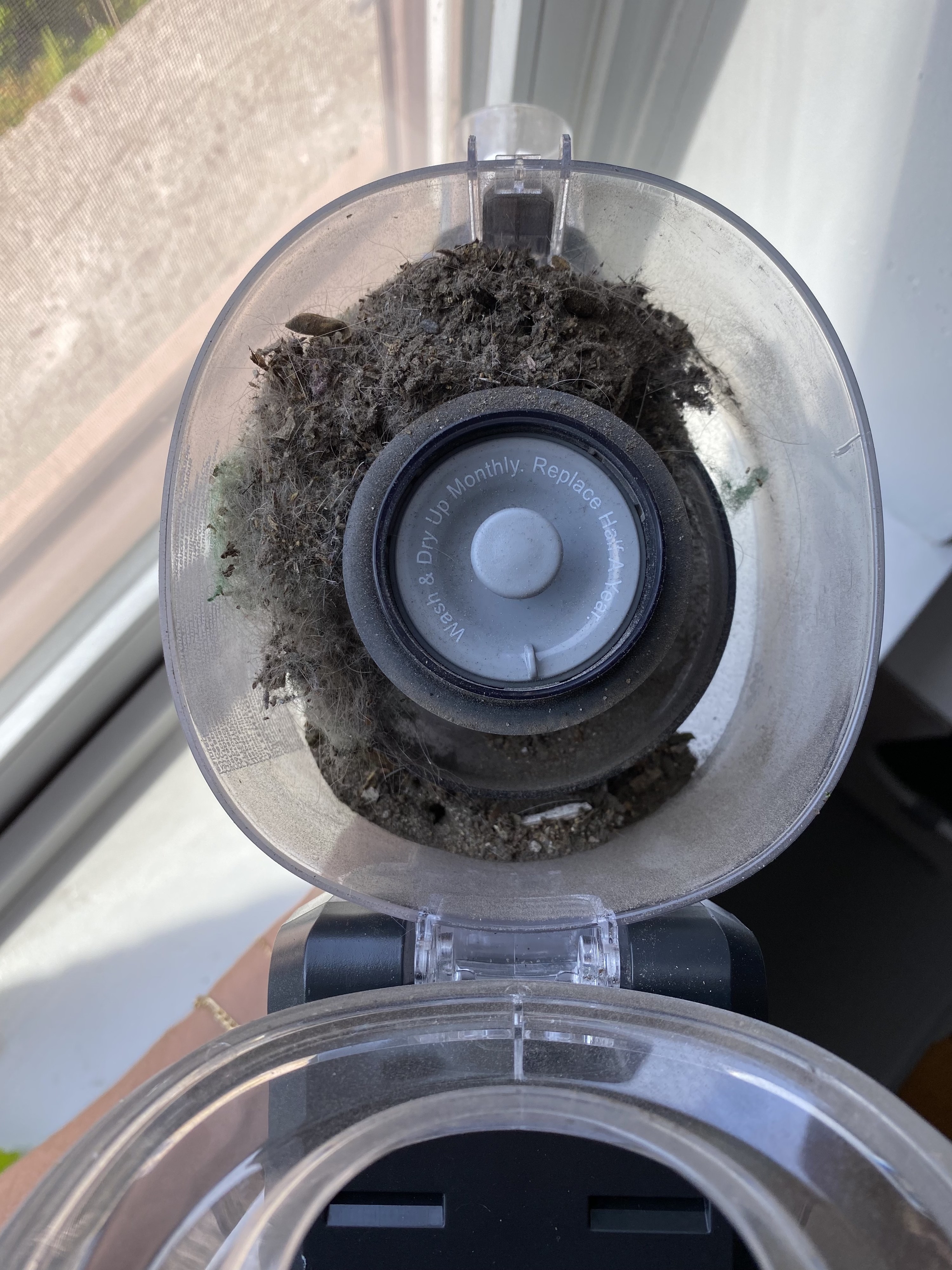 Just in case you had any doubts about how well your Tineco will work for you, you can check out the just shy of 1,000 reviews on Amazon singing its praises. If you appreciate well-researched products with thoughtful construction that you'll have for years, go get this vacuum!
If you feel like vacuuming your pet directly is a better use of your time than using your current vacuum, make sure to check out the Tineco Pure One S11. You can get it from Amazon for $399.99 and I can assure you it's a gadget you'll be shocked you lived without for this long.
The reviews in this post have been edited for length and clarity.