Well, well, well, it looks like our little work from home stint is turning out to be quite a bit longer than anticipated! Maybe you bought a desk, but not the exact one you wanted because it was pretty expensive, and hey, you'll only be working at home for another few weeks, right?
Perhaps you've taken the leap to invest in a comfy office chair, but it's already starting to wobble and Craigslist doesn't have a very good customer service policy... If any of this sounds familiar, you're gonna want to go ahead and scroll on.
These three office products saved my life during the pandemic! And still are.
Plus, it moves up and down so it can easily be converted from a sitting to a standing desk. I use it to improve my energy levels when I start to feel groggy in the middle of the day and when I notice that my posture is slipping from focusing too intently on my screens.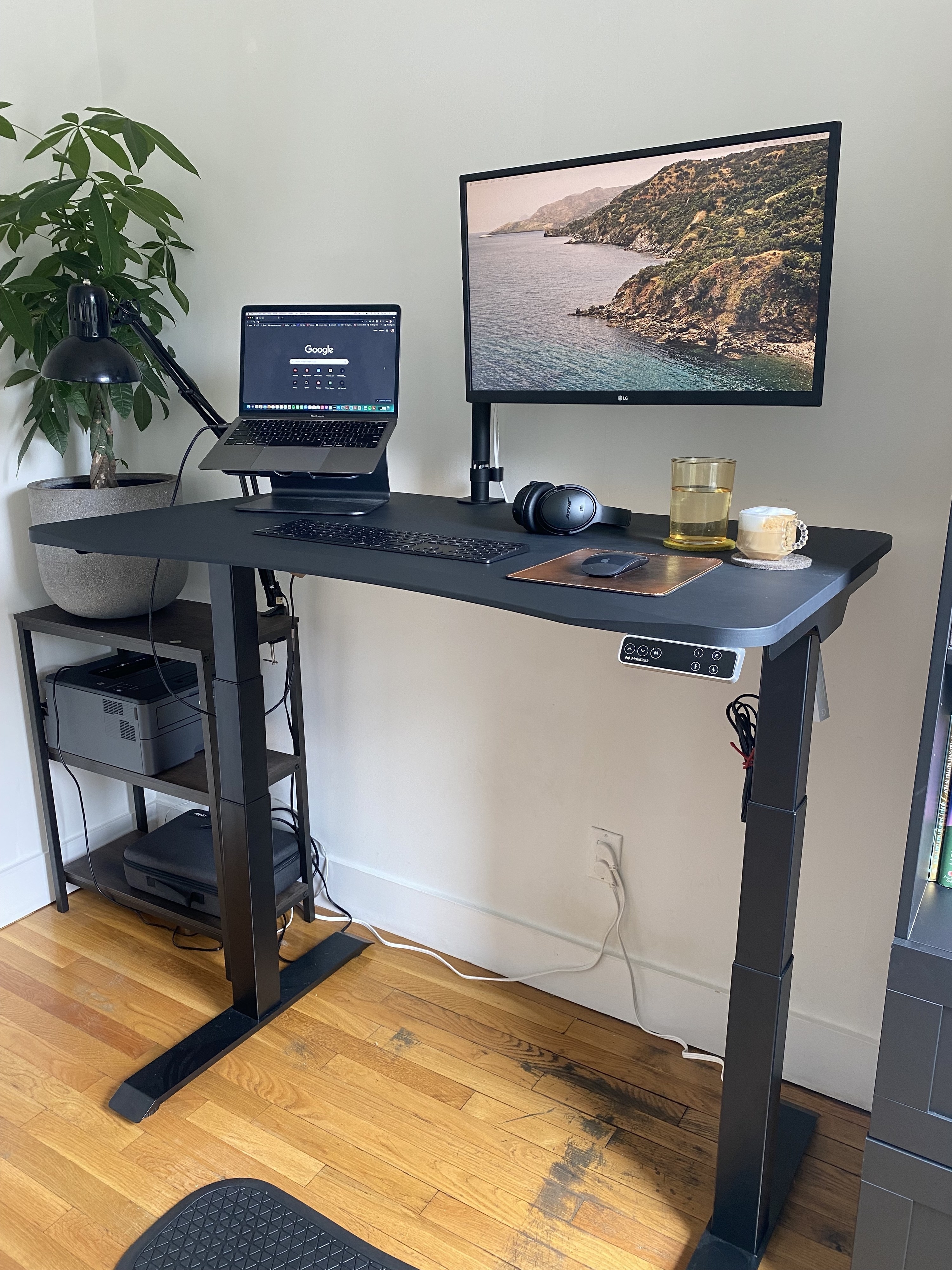 All you have to do to set the MojoDesk to your personal height is hold the up or down arrows until it reaches your preferred level. From there, you can set it to remember your settings by holding any of the four programable preset buttons so anytime you want to adjust your position it's as easy as clicking a button!
Plus, it has motion sensor technology that will cause it to immediately stop if it senses there's a child or pet underneath the base of the desk, so it's totally safe for all households.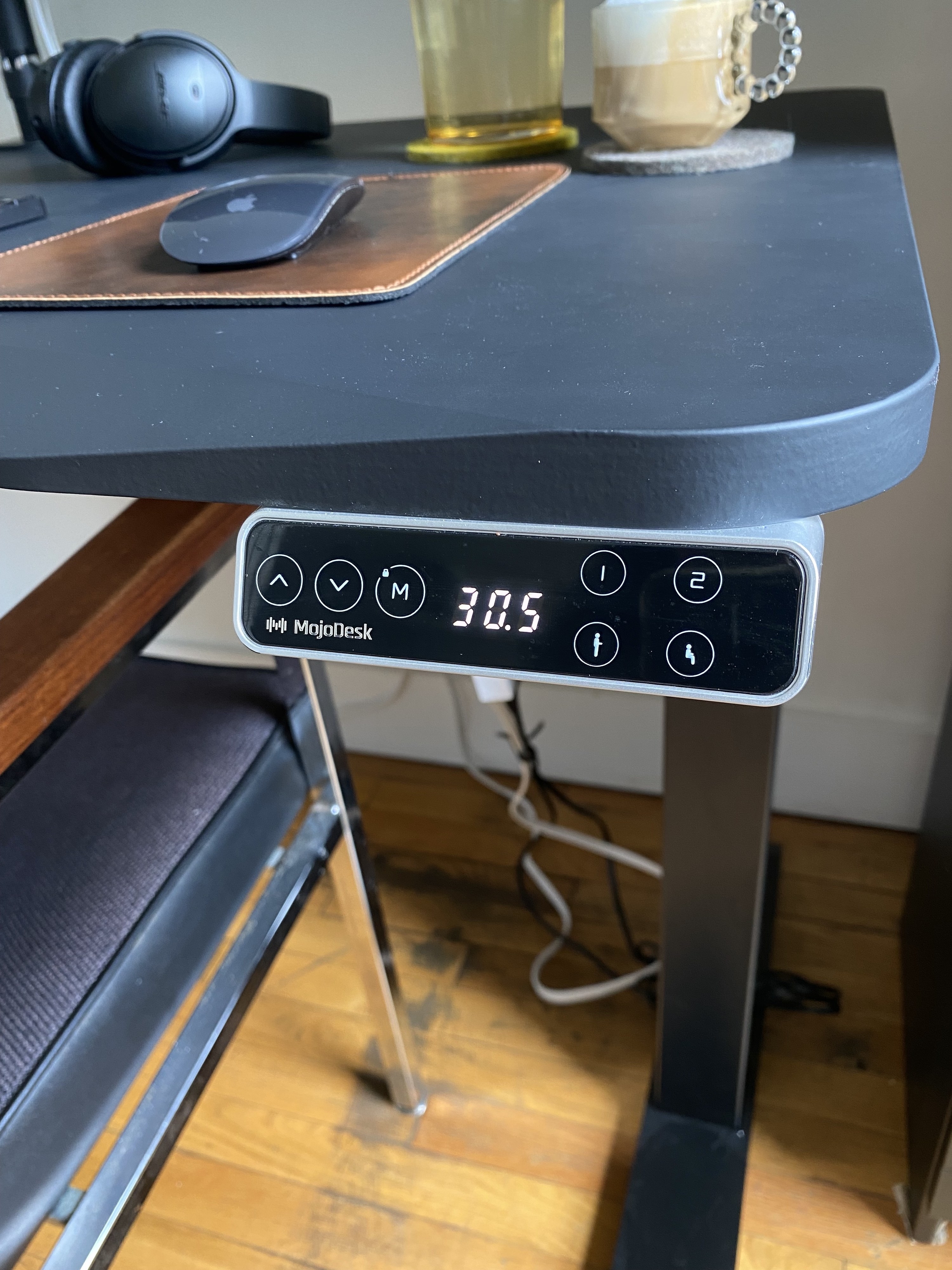 Another cool feature of MojoDesk is its rounded shape that allows you to feel like you aren't being stuck in the stomach with something throughout your whole workday. Plus, it has tons of surface area so you can really spread out with your laptop, monitor, notebooks, headphones, coffee, water, other vessels for beverages — you know the drill.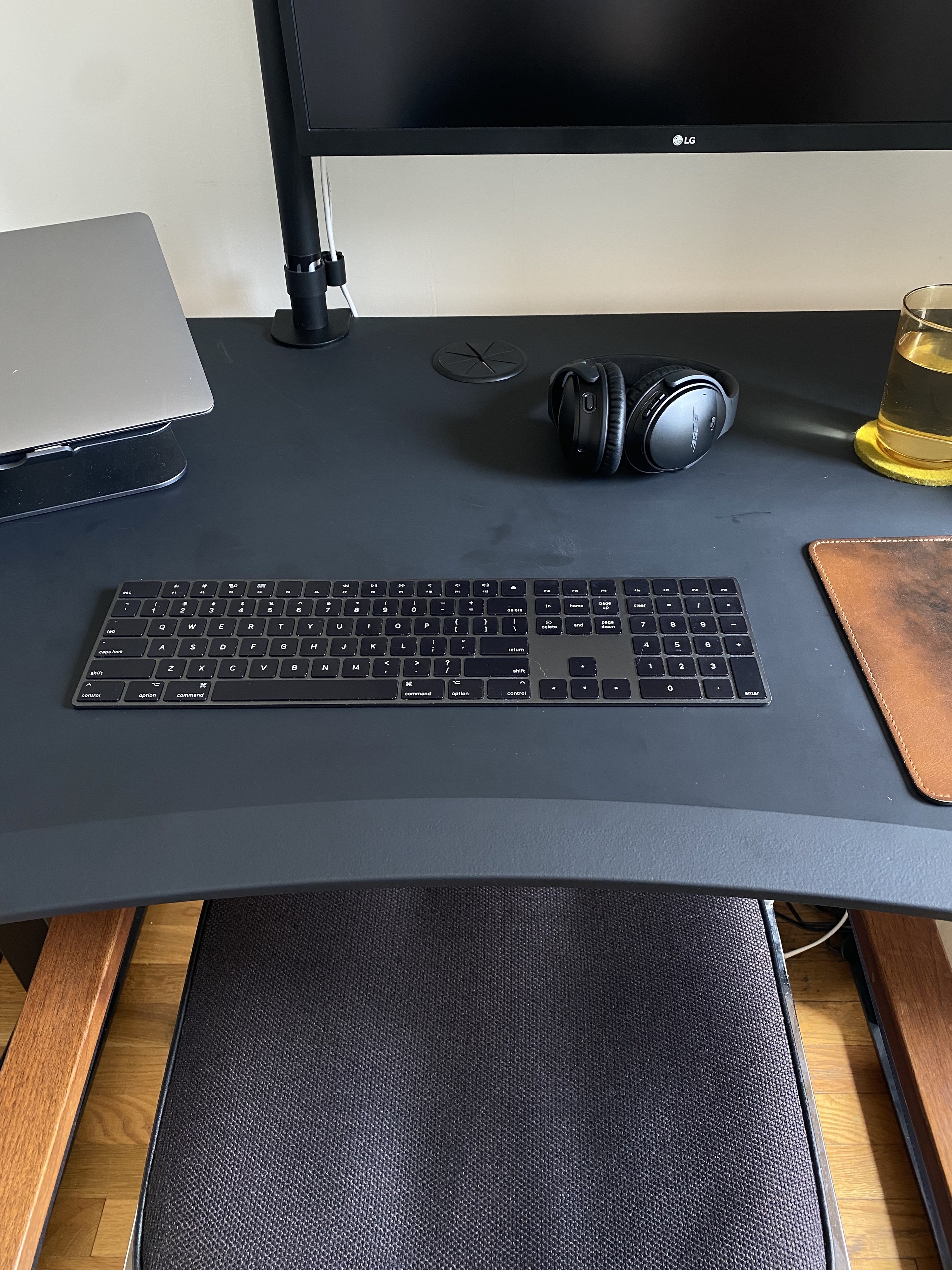 The final thing I have to rave about is this hollow tube that helps hide your computer cords. I know mine are still showing, but that's just because I have a ridiculous number of cords and recently ran out of tape (I don't wanna hear it!). It's so well disguised (thank you, MojoDesk!) that it may be difficult to see, but it's ideal for running the cable that plugs into your computer from your monitor, which is how I use it.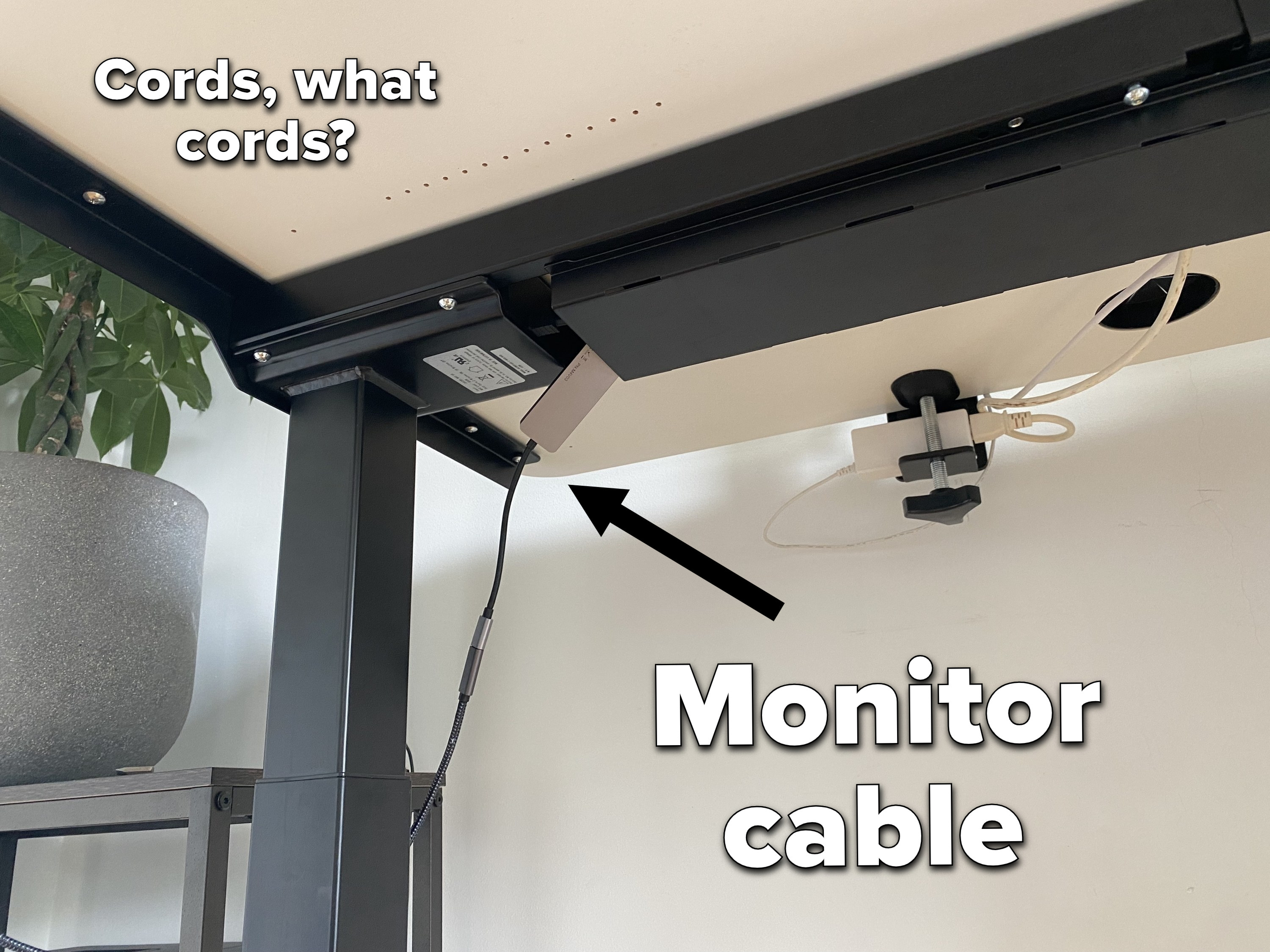 The best addition I've made to my MojoDesk AND my posture? The absolute MVP of my home office, the Fluidstance anti-fatigue mat ($69 from Fluidstance), which has totally saved my knees and cured my brain fog induced by standing for hours on end. It's super cushy and will give your feet a much-needed break so your brain can operate at full capacity without your body having to.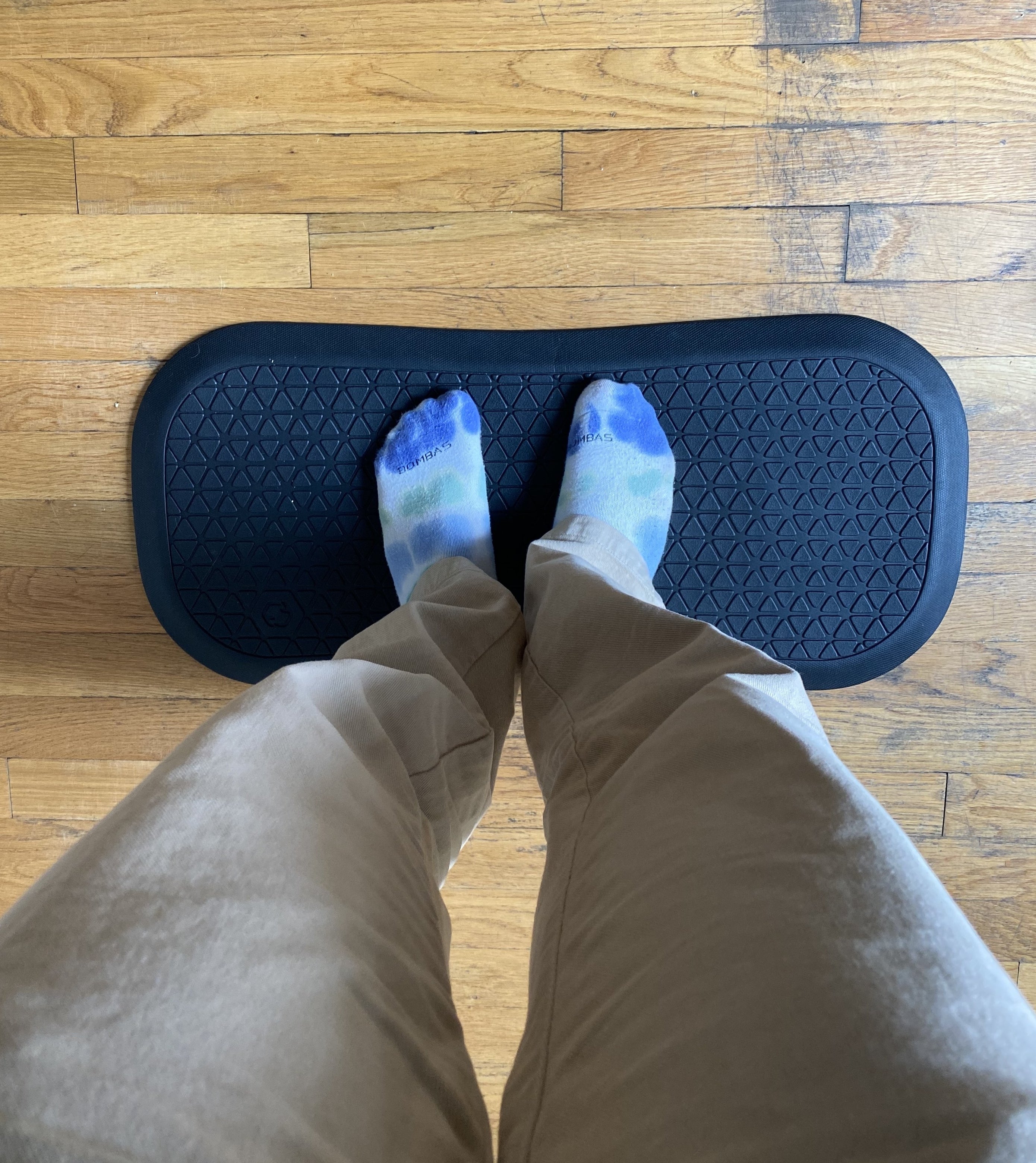 If you suffer from midday exhaustion but really can't risk coffee jitters at the peak of the day when you're just trying to bring everything to a close, this might be the best solution. Paired with a pair of sneakers, this mat will help you become immune to the part of the workday that feels like a slog to the finish line.
If you're wondering how this mat keeps from slip-sliding around your floor, here's the answer: it has adhesive gel pads that can easily attach to any textured surface. It can easily be detached so it doesn't get stuck under your chair if you're using your desk in the seated position and can be used as an extra cushion under your feet during the work day.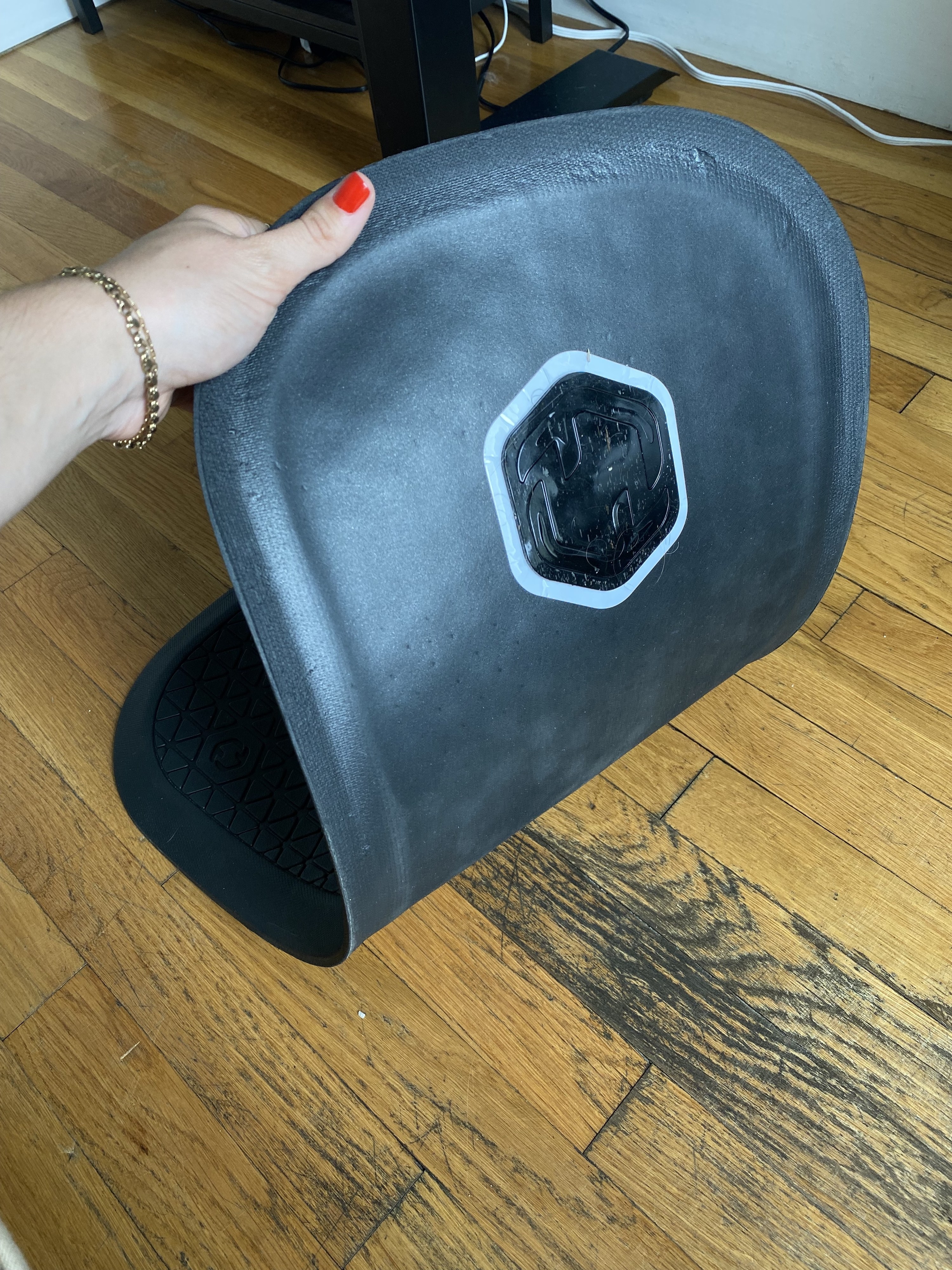 Now for some techy stuff, which, as you can tell from that terminology, I know a LOT about. No, but seriously, I found this LG computer monitor ($347 on Amazon) after a lot of searching and sleuthing on different product review websites. I am so glad I landed on this one because it really does everything I need it to without all the frills.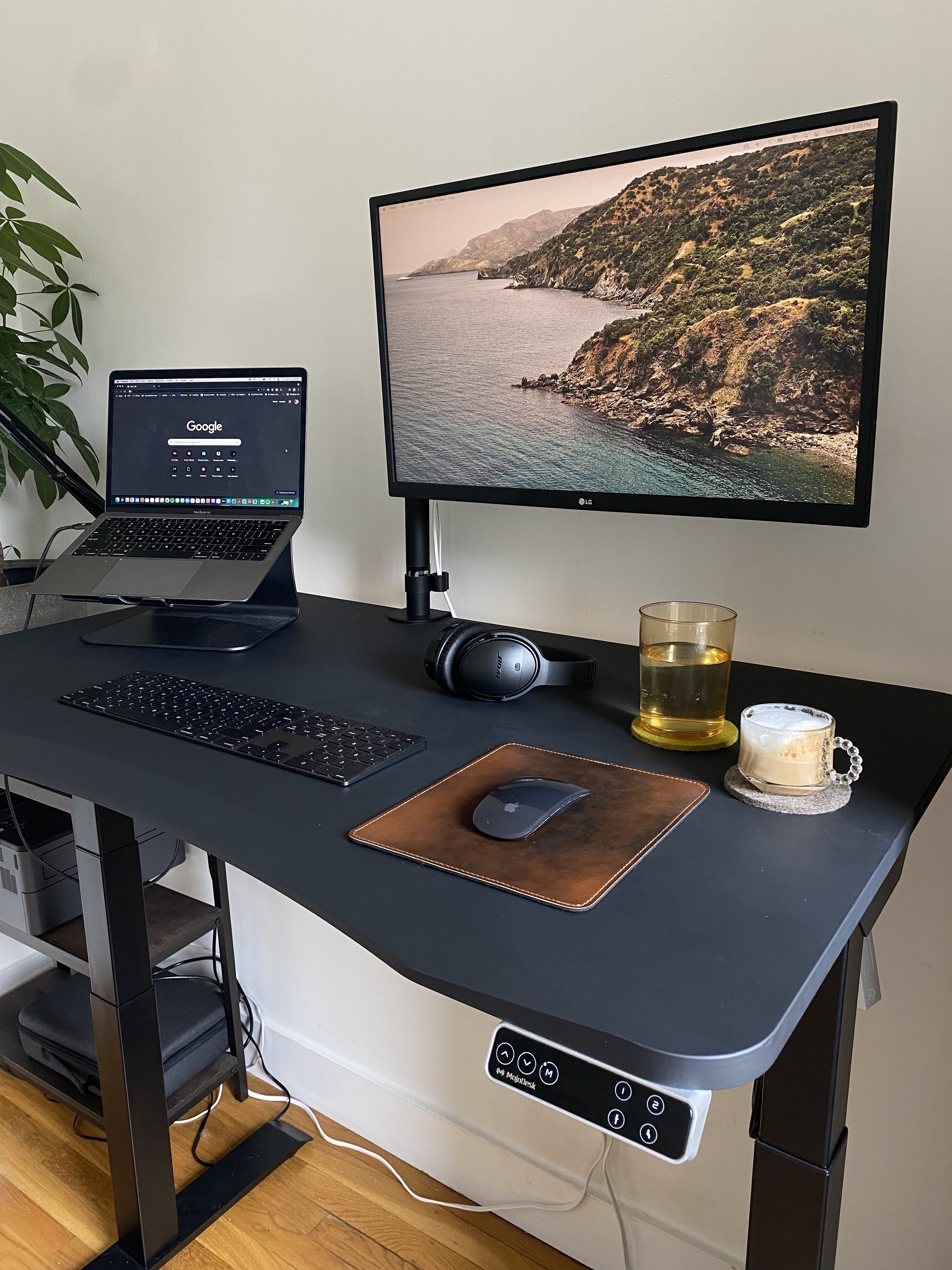 It has a super-high-resolution screen quality and is super user-friendly. I'll be the first to admit that I don't know much about tech products beyond what Consumer Reports tells me, but this monitor was incredibly well-reviewed on so many sites that I definitely got my hopes up. The fact that it exceeded my expectations is just a testament to how fine-tuned a product it is.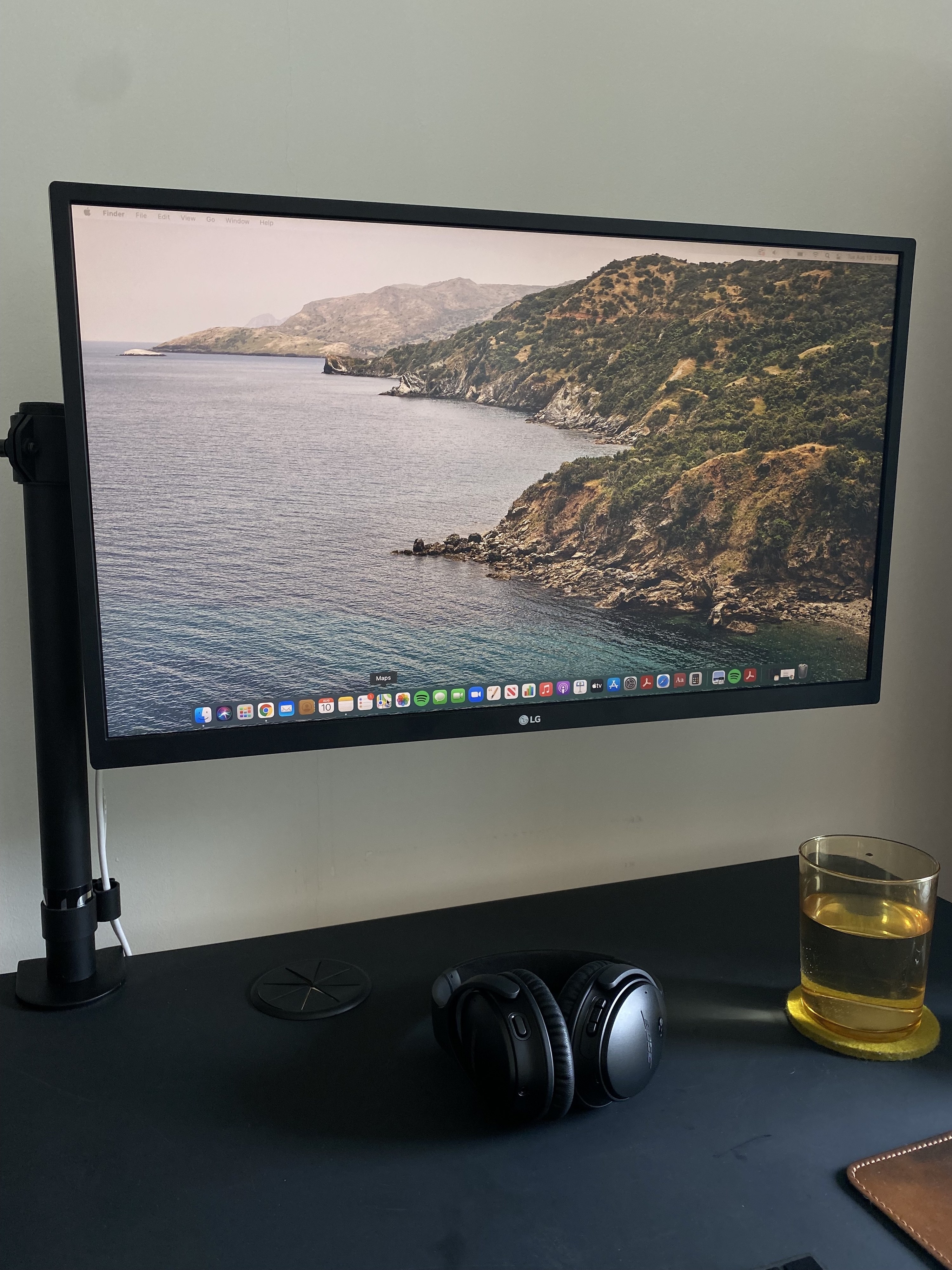 Another huge bonus is that the monitor couldn't have been more simple to install via this mount stand ($29.99 on Amazon) that I purchased separately, which was probably one of my top requirements after going through multiple monitors in the past to no avail. No shaking when you type or breathe or move a muscle. Just stable, quiet peace. Truly a breath of fresh air.
So if you're inclined to believe that your WFH setup is here to stay, it might be time to upgrade to a real home office now that the office is, well, at home. Get the MojoDesk from Amazon for $589 (available in three colors), the anti-fatigue mat from Fluidstance for $69 (available in four colors), and the LG monitor from Amazon for $347.