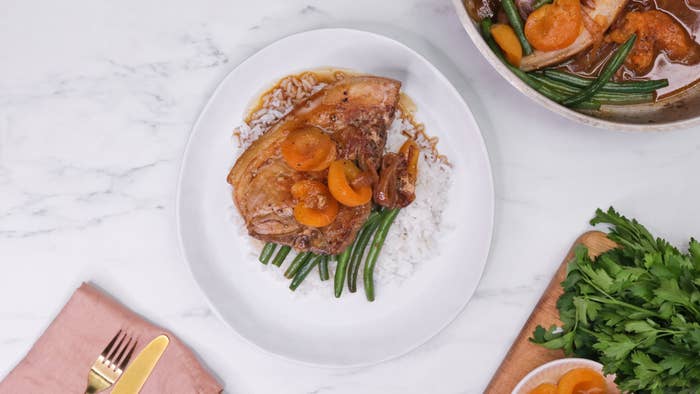 Ingredients
4 (700g) pork chops

1 large red onion, sliced thickly
1 cup vegetable soup liquid
200g green beans, trimmed
410g can apricots halves with juice
Staples
2 tbsp olive oil
1/2 tsp salt
1/2 tsp pepper

Method
STEP 1: In a large deep frying pan over high heat, heat olive oil. Fry the pork chops for 1 minute on each side. Remove the pork chops from the frying pan and set aside.

STEP 2: Reduce the heat to medium, fry the sliced onion in the same pan for 5 minutes over low heat, stirring often or until caramelised and soft. Return the pork chops to the frying pan.

STEP 3: Add the green beans, apricot halves with juice and vegetable soup liquid to the pan. Season with salt and pepper and simmer for 15 minutes, or until thick.

STEP 4: Serve apricot pork chops with fresh steamed rice.
STEP 5: Enjoy!