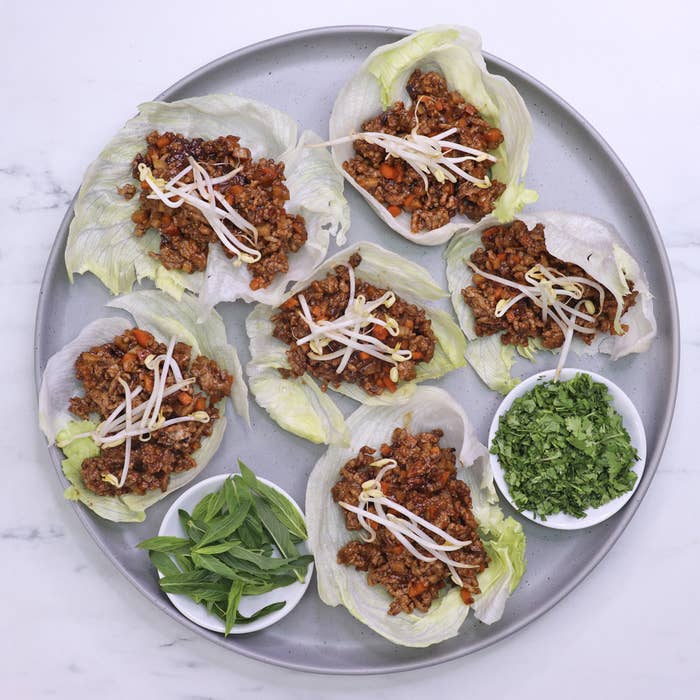 Ingredients
500g Australian Pork mince
Salt, to taste
Pepper, to taste
1 tbsp olive oil
1 onion, finely diced
2 garlic cloves, minced
100g shiitake mushrooms
2 carrots, finely diced
227g water chestnut, finely diced
¾ cup hoisin sauce
To serve
1 iceberg lettuce head
1 cup bean sprouts
1 bunch of mint
1 bunch of coriander
Method
STEP 1: Lay the pork mince on a flat surface, then season with salt and pepper.
STEP 2: In a large pan over high heat add olive oil. Then once heated, add onion and garlic. Stir occasionally until the onion becomes translucent.
STEP 3: Add the pork mince to the pan and cook until it starts to brown, stirring occasionally every few minutes to separate the meat.
STEP 4: Once the pork has been cooked, add the shiitake mushrooms, carrots and water chestnut to the mix. Then stir to combine and continue cooking for another five minutes.
STEP 5: At the last minute, add the hoisin sauce to the pan and mix through, then take the pan off the heat.
STEP 6: On a chopping board, cut the iceberg lettuce in half, then separate each layer carefully to create lettuce cups.
STEP 7: Add large scoops of the hoisin pork mixture to each lettuce cup, then garnish with beach sprouts and your choice of coriander and mint.
STEP 8: Enjoy!