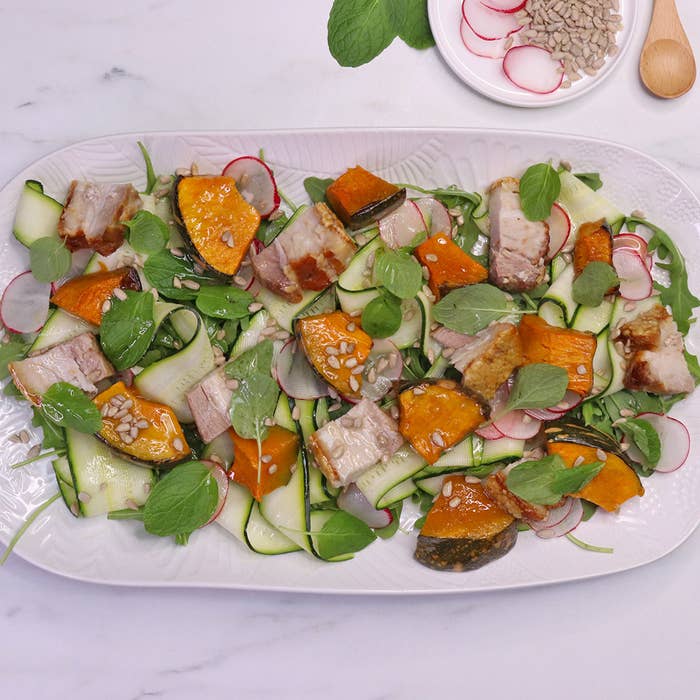 Ingredients
600g kent pumpkin, cut into thin wedges
2 tbsp olive oil
1 tbsp maple syrup
3 cups baby rocket leaves
1 medium zucchini, shaved thinly sliced
3 radish, thinly sliced
1kg cooked crispy pork belly, cut into 4cm pieces
Salad dressing
¼ cup olive oil
1 tsp mirin
1 tbsp lemon juice
1 tbsp white wine vinegar
To garnish
2 tbsp sunflower seeds, toasted
1 cup mint leaves
1 red chilli, sliced thinly (optional)
Method
STEP 1: Preheat the oven to 180° fan-forced. Line a large baking tray with baking paper. Place pumpkin slices on the prepared tray, then drizzle with olive oil and maple syrup. Roast the pumpkin slices for 30 minutes until caramelised.
STEP 2: Meanwhile, to make the salad dressing, place all ingredients into a jar with a lid and shake to combine.
STEP 3: Remove the skin from the roasted pumpkin, cut the pumpkin into small pieces.
STEP 4: To serve the salad, scatter rocket leaves, zucchini slices, radish slices, pork belly pieces and roasted pumpkin pieces on a large plate.
STEP 5: Garnish the pork salad with sunflower seeds, mint leaves and red chilli slices. Pour the salad dressing over the salad and serve.
STEP 6: ENJOY!