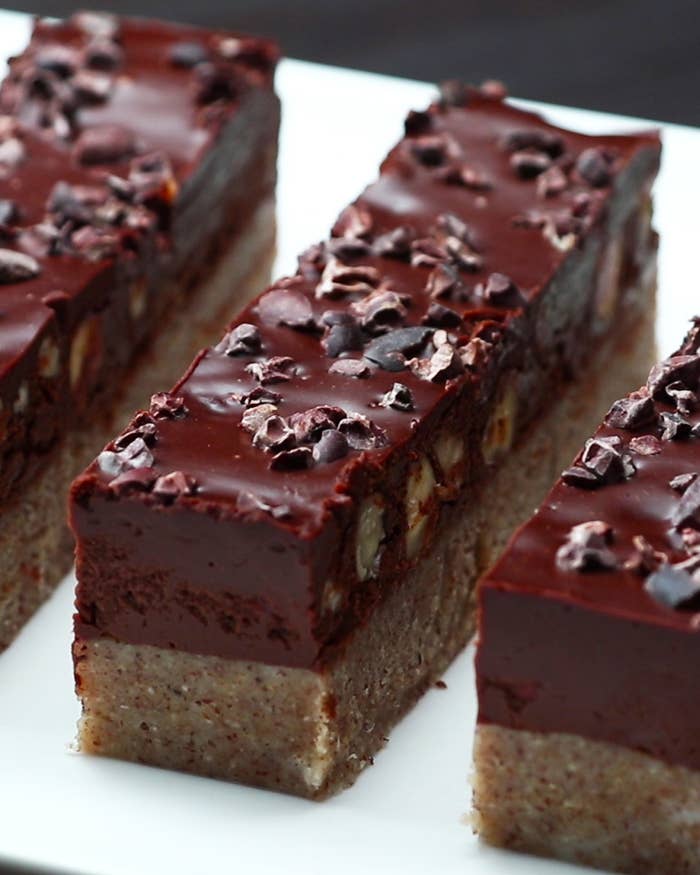 Recipe by Yoko at Shoku Iku
Ingredients:
Base
1 1/2 cup activated and dehydrated hazelnuts
1 cup desiccated coconut
1/2 cup rice syrup
Coconut oil for greasing the pan
Filling
1 cup raw cacao powder
1/2 cup almond milk (or any other plant-based milk)
3/4 cup rice syrup
a pinch of salt
30g organic cacao butter, melted
1 cup activated and dehydrated hazelnuts, roughly chopped
1/2 cup coconut oil, melted
3/4 cup cacao nibs
Method:
1. To make the base, place the hazelnut and coconut in a food processor and process until it becomes as close to flour as your processor will allow.
2. Add rice syrup and process again until crumbly.
3. Grease a pan with melted coconut oil (this works well in a standard loaf tin).
4. Press mix firmly into the base of the tin, and put in the fridge.
5. For the filling combine cacao powder, almond milk, rice syrup, cacao butter, and salt in a blender, then blend until smooth.
6. Add the coconut oil slowly and blend gently. The consistency should be smooth and thick.
7. Roughly chop hazelnuts and stir through the mixture, then pour mix on top of the base.
8. Top with cacao nibs and place it in the fridge until firm (at least 3 hours).
9. Slice the tart into squares and enjoy!