1.
Essence's Lash Princess mascara to make you look super attentive (and glamorous) during those back-to-back Zoom meetings — even if you're actually bored out of your mind.
Promising review: "Hello, that is my face above, because I bought into the hype of over 110,000 5-star reviews and now I will never look back!! Putting it on is like giving my eyelashes butterfly wings. It doesn't get clumpy, it stays put ALL the live long day (I spent all of last year's ridiculously hot pandemic summer wearing it, so I can speak to that), and you can apply it on very lightly if you don't want it to look so dramatic, or continue applying for longer lashes each time." —Emma Lord
Promising review: "I am a 30-year-old who has been wearing mascara since I was probably 15 or 16 and this is by far the best mascara ever. This beats Dior's almost-$40 mascara. A few times I made make up purchases based off of what reviewers and make up influencers hyped up and was disappointed, this surely wasn't a disappointment." —Mary
Get it from Amazon for $4.99.
2.
A box of fine line-reducing face masks that'll tighten your pores and lift your skin. Be prepared to be a little freaked out at first when you see yourself in the mirror and realize you look like an extra from The Walking Dead with this mask on. But once you take it off, it'll all be worth it.
Promising review: "Smells great! This face mask does exactly what it says. My skin is nice and lifted, hydrated, noticeable reduction in fine lines, improved texture, reduced my pore size, and eliminated some newly developed rough patches forming around the hairline. Couldn't be more satisfied with this product! I have pretty good skin for 37, but this mask has really helped take my skin to the next level" —Samantha
Get a box of eight masks from Amazon for $30.99.
3.
Or this brightening face mask made with 100% pure, edible, vitamin C-packed fruits like lucuma, papaya, and sea buckthorn perry. It's basically an exfoliating fruit platter stuffed into a tiny little jar — "serving face" just took on a whole new meaning (you can use that joke during your next meeting, free of charge).
4.
An anti-dandruff shampoo to save you from having to shell out a co-pay at a dermatologist's office. Whether you have a relatively mild case of dandruff or your scalp and shoulders resemble the Swiss Alps during ski season, this thing will become a staple of your shower routine.
Promising review: "MIRACLE PRODUCT! If you have a flaky scalp from dandruff, BUY THIS. I was about to go to the dermatologist if this stuff didn't work. Thank goodness I saved myself hundreds of dollars by giving this product a shot. I used it four or five times (over a month) and it cleared my scalp almost completely. One more use and my scalp will be 120% healed! This stuff blew my mind. Totally worth it." —Chris
Get it from Amazon for $14.84.
5.
Or a bottle of sulfate-free Biotin shampoo infused with tea tree, jojoba, and argan oils to help treat hair loss. This is a potential option for folks whose hair is thinning a bit sooner than expected, or people simply looking to go a few extra rounds with Father Time.
Promising review: "I love this shampoo! I had gastric sleeve surgery and my hair was very, very thin. I started taking biotin and switched to biotin shampoo as recommended by my doctor. It doesn't make your hair grow by washing it but it makes your hair and roots stronger. And it worked. After using the whole bottle, my hair was stronger. I had a lot of new growth that was sticking around (the previous new growth fell out early on) and my hair was getting thicker. Eight months later, my hair is back to normal. It's longer and thicker than ever. I still use it twice a week and love it! I'm not crazy about the way it smells but others love it when they smell my hair." —Diane J. Huff
Get it from Amazon for $9.85.
6.
A deeply nourishing hair mask with aloe vera and castor oil that'll add softness without weighing down your natural texture. This is also a game-changer for people who generally have trouble managing frizzy hair.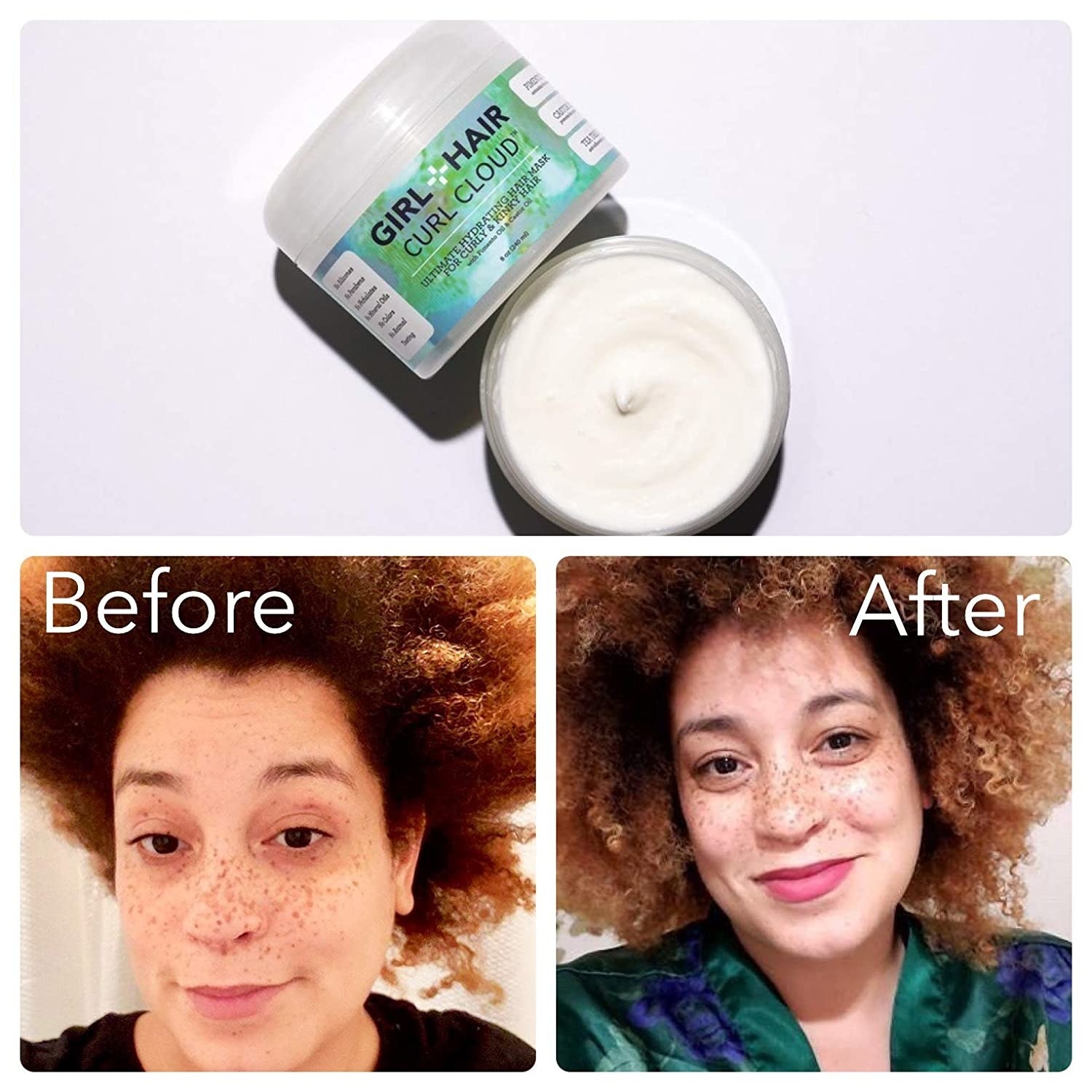 Promising review: "I'm a natural hair girl! I often struggle with finding a product that helps me manage and keep my hair safe for the next styling. Although I wear protective styles, the in-between time really counts, so this mask is a lifesaver. I love to see the hydration of my natural curls and I feel this product gives them the love they truly deserve! This product has helped me redefine my hair experience. Love it!" —Ashley Jennings
Girl + Hair is a Black-owned, woman-owned small business.
Get it from Amazon for $12.99.
7.
Or a bestselling argan oil hair mask that works in just seven minutes. A product that'll give your hair a glossy shine in less time than it takes to boil an egg may seem too good to be true, but if you don't believe us, at least believe the 20,000+ 5-star ratings it's gotten on Amazon!
Promising review: "My hair is very thin and curly. The ends are damaged from heat and color, causing my hair to look even more unruly. I do oil treatments once a week and only wash my hair two to three times a week but NOTHING has made my hair feel like this product does. There is an immediate difference as soon as this product touches my hair. It leaves my hair feeling so silky, even after I rinse it out and dry my hair." —Melissa
Get it from Amazon for $12.95.
8.
A tub of rejuvenating eye cream to firm up those bags under your eyes that you got from reading BuzzFeed shopping posts all night when you should have been getting your beauty sleep. That wasn't a wise choice, but who are we to judge?
Promising review: "Exactly as advertised. Great price, super creamy, and moisturizing. Will definitely purchase again." —Amazon Customer
Get it from Amazon for $19.99.
9.
Or a pack of cooling, hydrating eye gels with hyaluronic acid and collagen for those days you wake up and get straight to work. All you need is a solid15 minutes to wear and remove these patches before your morning meeting, and you'll instantly bring those tired eyes back to life (although some reviewers wear them for 30 minutes).
Promising review: "First of all, amazing deal for the price! Secondly, they work amazingly!! I have issues with tired eyes and I used the patches for about 30 minutes after I washed my face, while I was in the shower, then took them off when I did my makeup and my under-eye was so moisturized and rejuvenated!" —Tiara Baker
Get a pack of 20 pairs from Amazon for $14.27.
10.
A wildly popular Wet brush that's absolutely earned its cult following. If you're looking for something that'll detangle your stubborn (yet somehow very tender) head of hair without feeling like someone is trying to yank gorilla glue off your scalp, this brush is for you.
Promising review: "I am that girl who wakes up in the morning with a HUGE knot in the back of my head! I DREAD getting out of the shower, with a wide tooth comb and painfully brushing out my hair. It takes about 15–20 minutes! With this new brush, at first I couldn't believe it was actually brushing my hair (no pain) by the end of a few minutes, ALL of my knots were gone and my hair felt silky and smooth! WOW! Thank you Wetbrush!" —Chrissy
Get it from Amazon for $7.99 (available in 33 colors and patterns).
11.
A Schick Silk Touch-Up Tool you can use to remove peach fuzz and shape your eyebrows. It also works to exfoliate dead skin, and people with beards can even use it to trim the hair near their edges with as much precision as possible.

Promising review: "These are great for trimming eyebrows or even facial hair. They are sharp but not too sharp. They work in pesky areas that are hard to reach too (think chin, lip and more). I keep one in my car too! HIGHLY RECOMMEND!" —baby momma knows
Get a three-pack from Amazon for $4.99.
12.
A hair-finishing stick to tame those rambunctious flyaways at the nape of your neck when you put your hair up. There's no reason a messy bun has to be *so* messy.
Promising review: "I don't usually write reviews but this product blew my expectations away! I've always suffered from messy ponytails (thank you baby hairs) but not anymore. I'm able to wear my hair in a pony to work without it looking messy and unprofessional." —Shannon Hurley
Get it from Amazon for $7.98.
13.
A bottle of CND Essentials nail and cuticle Solaroil so that broken and peeling nails will be a thing of the past.
Each day, work the oil into your nails and cuticles and they will begin to grow and strengthen so you don't have to worry about weak nails anymore!
Promising review: "I had peeling, weak nails for years. Tried everything. I bought this in February. This size bottle lasted a bit more than a month religiously applying it two to three times a day. I was really seeing great improvement so I bought another bottle in late March. By May, all the peeling had grown out and my nails were getting stronger every day. I then bought the big 4-oz refill bottle because I never want to run out of it again! Cannot recommend this stuff enough!" —Diana
Get it from Amazon for $8.50.
14.
A cruelty-free vitamin C serum that'll brighten and soften your skin while drastically reducing hyperpigmentation. The 44,000+ people who gave this serum a 5-star review love it so much there should be a fan club for it.
Promising review: "I never thought that I would find a serum that didn't just irritate my skin. I've spent WAY more money on fancy serums just to have them purge my skin and leave me red and angry-skinned. This stuff is amazing. It isn't sticky or heavy. I used it every day, and it's still lasting me forever. I'm in love. I'd give it 10 stars if I could." —Makayla Fryman
Get it from Amazon for $19.99.
15.
A variety pack of 40 acne patches made with tea tree and calendula oil that'll basically redefine the way you think of "beauty sleep." Place this on before bed to draw all that pus and oil out of your pimples, and inflammation will go down by morning.
Promising review: "The amount of gunk this took out of my pores AFTER washing and exfoliating my face is literally crazy! I have very oily skin and acne (cystic and 'normal' acne). Also works great on popped pimples. Sucks all the crap out!"—Amanda
Get the round ones from Amazon for $8.49 or the large patches for $8.49.