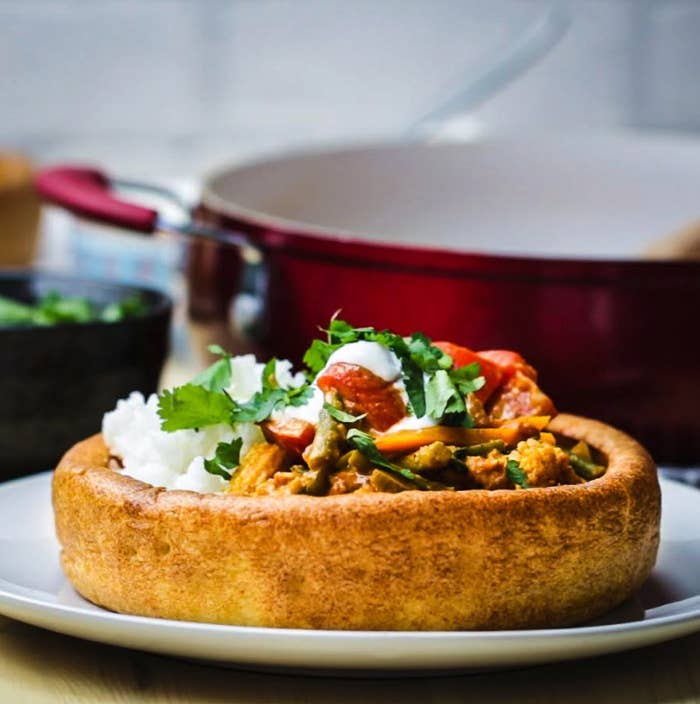 Ingredients
Vegetable Curry
1 tablespoon vegetable oil
100g white onion, chopped
3 cloves garlic, finely chopped
1 tablespoon fresh ginger, finely chopped
1 tablespoon curry powder
1 teaspoon ground coriander
½ teaspoon ground cumin
¼ teaspoon turmeric
¼ teaspoon sea salt
1 400g tin chopped tomatoes
180 millilitres vegetable broth
1 400g tin chickpeas, drained
200g cauliflower florets
150g carrots, sliced diagonally
150g red peppers, chopped into ½-inch pieces
100g green beans, chopped into ½-inch pieces
75g baby corn, chopped
240 millilitres coconut milk
75g fresh spinach leaves
To Serve
4 Aunt Bessie's Giant Yorkshires
Basmati rice, cooked
Yogurt
Fresh coriander, chopped
Preparation
1. Preheat the oven to 200˚C.
2. Heat the oil in a large pot over medium heat.
3. Add garlic and onion; cook until they begin to soften (2–3 minutes), stirring frequently.
4. Add ginger, curry powder, coriander, cumin, and turmeric. Stir to combine.
5. Add chopped tomatoes, broth, and chickpeas to the pot. Bring to a boil over medium high heat.
6. Add cauliflower, carrots, red peppers, green beans, and corn. Mix to combine.
7. Reduce heat and cover. Let cook for 15–20 minutes, stirring occasionally, or until vegetables are tender.
8. Meanwhile, cook Aunt Bessie's Giant Yorkshires as per package instructions.