This is where I would put an introduction, but unless you're a hydrothermal lifeform living 12,000 feet under the ocean, you know that Khloé Kardashian is pregnant. She's expecting a boy with her boyfriend Tristan Thompson.
Khloé has been very earnest since she announced her pregnancy in December. She's talked about everything from how her body's changed to what sex is like while pregnant.
But in a recent string of tweets, it seems like Khloé has gotten one of the most famous pregnancy symptoms: weird food cravings.
And I'm not pregnant but I relate 954%. Like, do you guys ever get those times when you're eating dinner and halfway through you say, "I want something sweet?" BAM. Khloé gets you.
Then, less than an hour later, you see something on that food porn Instagram account you follow and you say, "Those are the fluffiest effing pancakes I've ever seen in my life, and I need them inside me right now?"
And you turn to the person who you always eat with and ask them, "What do I actually want?"
But you say that you found a recipe, and they should help you make these pancakes because it looks so easy.
Then you go to the store and look for the ingredients (because, let's be real, you never have all of the ingredients for a recipe at home), and — what are those? ICE CREAM SANDWICHES? Yep. You need those, too.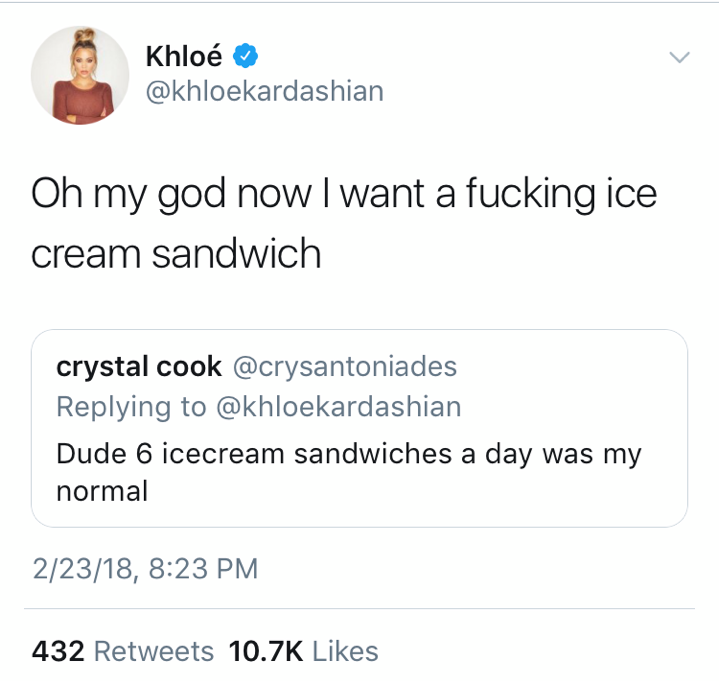 I have them every damn day.