Watch This Crazy Dude Jump Out Of Tiny Capsule 23 Miles Up In The Sky (For Real This Time)
Felix Baumgartner will attempt the first supersonic space jump today, weather permitting. He will leap from just below the stratosphere (without any mechanical help) at roughly 120,000 feet in the sky and will free fall for more than five minutes — breaking the speed of sound in the process. NO BIG DEAL. UPDATED: The jump is supposed to happen at 8:45am MDT on 10/14. UPDATED: New launch time is 10am MDT.
If all goes well, this will be Felix Baumgartner's second attempt to skydive from 123,000 feet in the air — higher than anyone before — after Tuesday's failed launch.The jump is scheduled for 10am MDT, watch the live feed here:
[UPDATED 10:40am EST]: Still waiting on the final OK, but Felix is getting ready to go.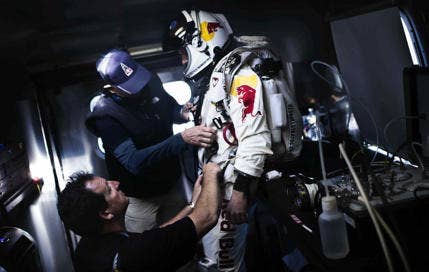 [UPDATED 10:45am EST]: New launch time set for 10am MDT (12pm EST).
Below is everything that happened (or didn't happen) from Tuesday's attempt.
-----
[UPDATED 12:05pm]: They're opening the balloon! Inflation will start at 10:15 MDT and the launch at roughly 11 MDT.
[UPDATED 12:25pm]: Felix gettin ready to go; "pre-breathing" inside the capsule.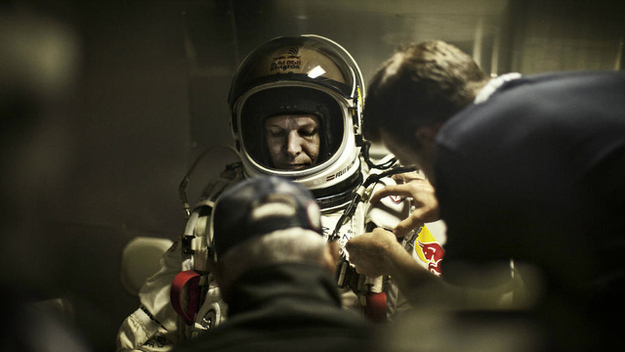 [UPDATED 12:45pm]: Popular Science says the capsule is now suspended from the crane; once the balloon becomes vertical they'll release the capsule with Felix inside. (The balloon has to be perfectly vertical when it launches or it might tear.)
[UPDATED 12:55pm]: Looks like the jump is going to be at 11:30 MDT now.
[UPDATED 1:25pm]: "We're told permission was granted to begin inflation but there's been a subsequent delay. Yesterday meteorologist Don Day told us that weather at mission control can be totally different than the weather at the launch site a couple hundred yards away," says Popular Science.
[UPDATED 1:30pm]: Five minute countdown!
[UPDATED 1:40pm]: CANCELLED.
[UPDATED 1:50pm]: Apparently things were pretty windy on the tarmac, and the balloon twisted and touched the ground — meaning no jump — because it's that delicate. Rumors of a reschedule for tomorrow...