Recently, we shared a post in which people told us the wedding moment that made them think the couple wouldn't last, and their stories made us cringe and shake our heads: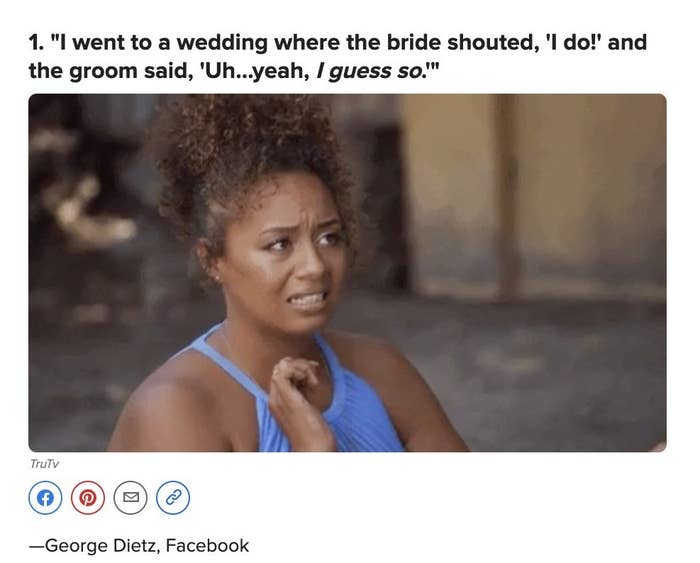 Well, we asked members of the BuzzFeed Community to tell us the wedding moment they've witnessed that made them think a couple was going to last forever, and their responses — along with some from the brides and grooms themselves! — gave me alllll the feels:
1.
"My Hispanic friend got engaged to a Jewish man she met in college, and neither of their families were happy about it. As a compromise, they agreed to a quasi-traditional Jewish ceremony followed by a reception with a mariachi band. I knew the marriage would last when the mariachi band played 'Hava Nagila,' and suddenly the tension was gone and everyone was smiling!"
2.
"I attended a wedding once where the officiant addressed the congregation and told us that during their marriage counseling, he asked the groom how he knew he wanted to marry the bride. The groom responded, 'It's like finding your keys — you can be looking everywhere for them, but once you find them, you have everything you need.'"
"It's still probably one of my favorite metaphors for finding the right person."
3.
"I went to a wedding where the groom was French and the bride was American — they had met in Ireland in a study-abroad program. Well, when it came time for their vows, he surprised her by reading his twice — once in his native French for his family, and a second time in English for hers..."
"To make it even more special, when it was her turn next, she surprised him by doing the same thing too! And with no prior introduction to French! It was so beautiful for everyone there!"
4.
"When I got married, my now-husband said he 'forgot' to get me a wedding ring, but that he would get me one as soon as we got back from our honeymoon. I was disappointed, but I love him, so I agreed. Well, it turns out he did have a ring for me — my mom's wedding ring, which I thought she had buried with my Dad 25 years earlier!"
5.
"My husband and I got married at one of those quickie chapels in Nevada, and my husband has speaking anxiety, so his one request was that we not write our own vows, but just repeat what the officiant said. Well, the officiant didn't know that, so he asked me why I wanted to marry my husband..."
"I gave a super heartfelt answer, but when he asked my husband the same thing, he totally froze. Then after a few seconds, in front of both of our families, my husband said, 'Because of the baby.' I wasn't pregnant, and it was the funniest thing anyone has ever said. If I hadn't known before that, it solidified that I had met my soulmate."
6.
"I knew my sister and her spouse would last forever when during the first dance, nobody could take their eyes off them."
"My aunt told my mum that you could see the love in their eyes."
7.
"My best friend had come close to dying in a car accident in which she lost some mobility in her neck and one arm, and had to spend months in the hospital. Her boyfriend at the time broke up with her a few weeks after we found out she was going to survive, so that made it even worse...until she met her now-husband online a year and a half later..."
8.
"I knew we were going to last when I got so drunk by the end of my own wedding that I fell down a few stairs, then started crying because I would miss my 5-year-old nieces while on my honeymoon, and my husband just comforted me, carried me, and put me to bed."
9.
"I attended a wedding last summer in which every detail was perfect because the bride was so type-A. Well, when she walked into the chapel, she looked absolutely perfect, and I figured it would be a stoic walk down the aisle with every hair in place. But just as she and the groom made eye contact, she winked at him."
"I know it doesn't sound like much, but that little gesture was so candid and heartfelt that I thought, 'She's more than just all these details. They really like each other.'"
10.
"I knew at the wedding when the bride and groom spoke to each other like they were the only ones in the room."
11.
"When gay marriage was legalized in my state, my friend went all out. The wedding they were planning was really fancy and elaborate, and part of me was worried they were getting lost in the minutiae. But when my friend and his now-husband finished walking down the aisle, they took one look at each other, and they both started laughing and crying!"
"I knew then they'd be happy together for a very long time."
12.
"One of my best friends had been divorced twice when we went out for karaoke one night and a cute younger guy bought her a drink. A few years later, I watched them exchange vows under a windblown chupa, each absentmindedly bopping their heads in time to the rabbi singing in Hebrew..."
"When they noticed each other doing it, they broke out in a little impromptu dance. They are endgame."
13.
"When the venue manager caught us and the groom lighting up in the stairwell and said, 'I'm telling the bride!' and the groom said, 'Go right ahead, she just left!'"
14.
"When my mom's best friend got married in her late fifties, they asked my mom to sing a few days before the wedding. I thought that was kind of strange, but it turns out they were so excited to just get married and party with all their friends and family that they had totally forgotten to plan a ceremony!"
"These two are the most organized people I've ever met, and they literally threw a 10-minute ceremony together the week of, and beamed the whole time. That's when I knew this was a 'til death to us part situation."
15.
"I knew we were going to last forever when I saw the proud smile on my husband's face as we walked down the aisle after the ceremony — he looked like he won the lottery and then some! And I felt the exact same way."
Tell us more, tell us more! Do you remember a cool or touching wedding moment that made you feel like the couple was going to last forever? Tell us about it in the comments section, and you could be featured in an upcoming BuzzFeed Community post!
Some responses have been edited for length and clarity.