There's A Vibrator That Strengthens Your Kegel Muscles And I Asked All The Questions So You Don't Have To
Squeeze. Release. Smile. Repeat.
Vibrators. You know 'em. You love 'em. Yours probably has a name and a favorite color.
Well, we heard that CalExotics recently released a line of electric stimulation sex toys — including vibrators — specifically built to strengthen and tone moms' kegel muscles which, let's face it, may not be quite what they used to be.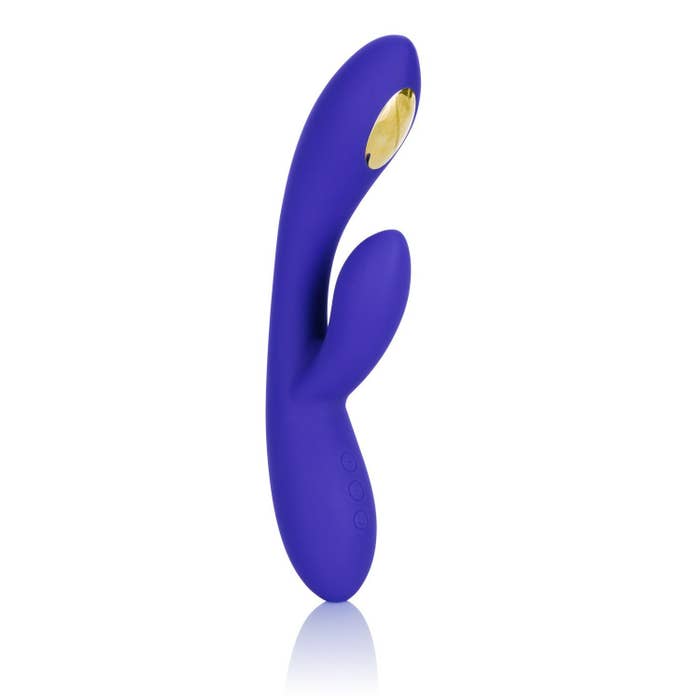 The line includes four different toys with seven vibration settings and five levels of mild, painless electro-impulses which cause the kegel muscles to contract without the user even thinking about squeezing.
Obviously, the idea of LITERALLY SHOCKING YOUR VAGINA instead of the good ol' squeeze and relax is slightly intriguing, but mostly terrifying.
So BuzzFeed spoke to Mary Jane Minkin, MD — a clinical professor of obstetrics, gynecology, and reproductive sciences at Yale School of Medicine — and Dr. Jill McDevitt — CalExotics' resident sexologist — about the new toys and all things kegels, because we got questions, y'all.
First of all, can you clarify for us what a kegel exercise actually is and why it's important for women — especially those who've had children — to do them?
McDevitt: The vagina, uterus, bladder, and other internal organs are held up and supported by the pelvic floor muscles, which can become weak over time from childbirth, heavy lifting, and just getting older. Kegels are exercises in which you alternately squeeze and relax the pelvic floor muscles to develop strength.
Minkin: I'm a great believer in doing kegels. It really helps strengthen the pelvic floor, especially after you've had children, and can help with leaky bladders. But they're great even beforehand. I always say age twelve isn't too early to start doing them and age ninety isn't too late!
And exactly how often should we actually be doing all this squeezing and relaxing?
Minkin: Most doctors recommend a set of 10 kegels three times a day. But I encourage my patients to do them any time they can — stopped at red lights, during commercials. Twenty years ago, one of my patients told me that when she pumps gas, she does a kegel squeeze with each click. And ever since then I've done that with every single tank of gas I've put in my car!
McDevitt: Yep, to be effective, kegels have to be done frequently — around 20 minutes each time, 2-3 times per day.
Besides helping with bladder control, what are the benefits of kegels? Do they really give women stronger orgasms?
Minkin: Absolutely! Having good kegel tone does help with orgasmic response — so yes, there is good payoff for doing them!
McDevitt: Better orgasms, increased arousal, better bowel control, reduction of the risk of prolapse, and better recovery outcomes after childbirth or gynecological surgery are the major benefits.
OK — but what makes a vibrating sex toy a better option for strengthening kegels than say, actual kegels?
McDevitt: It saves you time! Plus, studies show the electrostimulation is equally as effective as the old school squeeze and relax model, but has two major benefits over the other way: it doubles as masturbation and it does the work for you! For example, the Remote Kegel Exerciser goes in like a tampon, and sends an electrical impulse telling your muscles to contract and relax. So you can totally forget about it while it's in. And the E-Stimulator Dual Wand has an attached clitoral stimulator, so you can get a workout while you play!
Minkin: I am always suspect about claims that electrical impulses without doing the actual kegel exercise will do much for you. That said though, I would think that at the very least if you are being stimulated vaginally, you might do better kegels.
Now the big question. Is LITERALLY SHOCKING YOUR VAGINA — even mildly — really safe?
Minkin: I doubt these electric gadgets would harm anyone, but I'm thinking you might need to do the actual kegels to get results.
Well, there you have it, from the mouths of the sexperts. You can have your cake and eat it, too.
If you're about that life, you can get your Impulse Kegel Exercising Sex Toys here. Just be sure to read the safety disclaimers first.