NSYNC Is Releasing 20th Anniversary Merchandise And It's Like Totally 1998 Again
Dust off your retainers, girls.
So you probably remember the first time you heard a catchy little tune called "I Want You Back" on your local Top 40 station by a little-known boy band called NSYNC.
Well, March 2018 marks 20 years since the 1998 release of the song that changed your entire existence and the official introduction of the five guys your husbands will never live up to: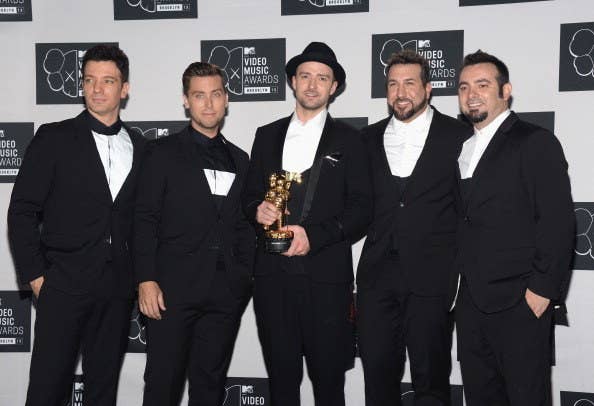 And in celebration of the release of their debut single, NSYNC is partnering with Epic Rights to release a brilliantly retro line of merchandise next year.
The '90s-inspired collection will include fashion apparel and accessories, games, electronics, and collectible figures, as well as seasonal and home decor, and even...slot machines?
While they haven't yet released photos of the products we'll all be blowing our money on next year, here's an example of something awesome Epic Rights helped put on the market for AC/DC and Def Leppard:
And to further mark NSYNC's 20th anniversary, our boys (nope, I don't care that they are grown-ass men with kids and mortgages and shit – they will forever be "our boys") are also set to receive a star on the Hollywood Walk of Fame next Spring.
And any true NSYNC fan knows that there's only one way to describe all this earth-shattering news: