Recently, we shared a viral Reddit thread in which married women shared the moments they knew their husbands were The One, and it was all things romantic and real: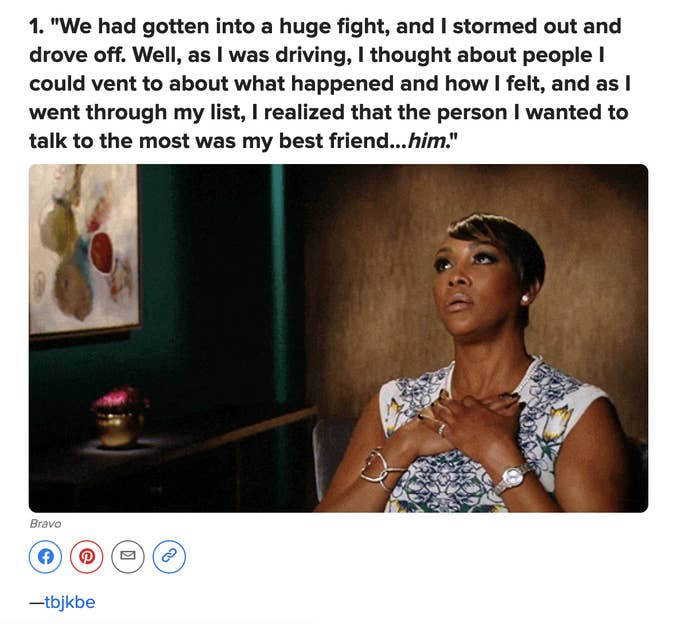 Well, our readers chimed in in the comments section with the reasons they knew their husbands were The One, and these are just as swoonworthy:
1.
"A week after our first date, I got knocked over in a bike accident and ended up at the hospital with a broken neck and a fractured spine. While visiting me in the hospital, he wasn't allowed anywhere near my head, so since he couldn't reach my hand, he held my foot the whole time instead."
2.
"We were at brunch when a disabled vet came over and started a conversation with him about his motorcycle jacket. My man had just gotten laid off, but he looked at his budget and bank app right there at the table to figure out where he could cut a corner to pay for that vet and his wife's meals. I almost cried."
3.
"I thought I was going to have to do the 'walk of shame' from his place at 6 a.m. one morning after we'd been out, and I was putting my dress back on when he got out of bed and put on jeans and a dress shirt to walk me home instead."
4.
"My (now) husband and I were on our first date, and we wandered into a café with a live band that was so loud we couldn't hear each other at all. Well, the music was really good, so rather than ignore me or suggest that we leave, he started texting me questions about my dreams, fears, and hopes for the future."
5.
"I found out I had cancer on our third date, and I found out a few months later that I probably couldn't have kids. I was crying during our car ride home when he took my hand and said, 'We can always adopt.'"
6.
"We were supposed to have a fourth date when I called to tell him I couldn't make it because my dad had just gone to the ER with metastatic colon cancer. Well, he could tell in my voice how stressed I was about it, so he drove two hours to be with me at the hospital. And we had that fourth date in the hospital's cafeteria."
"We've been married for six years and have been through hell and back together. But we find new ways to love each other all the time."
7.
"When I saw him chasing a random stray cat because he wanted to pet it."
8.
"When we were chatting about amusement parks and he said, 'I love...Universal Studios,' and I realized that I thought he was going to say, 'I love you,' and that I wished he did."
9.
"Neither of us likes soup. But we attend a lot of events that have soup courses. So without a word, he'll eat all his soup and quietly switch his finished bowl with my full bowl then eat mine, too. Then he'll whisper sweetly, 'Good job eating your soup, hun!'"
10.
"When I met my partner, I was embarrassed about my job as a manager at a food chain, which I took after being left with no home or money by my cheating ex-fiance´. I had really lost faith in men and myself, and I always avoided telling him where I worked so I wouldn't get hurt again..."
11.
"We had just moved in together, and I wanted to blast some Huey Lewis while washing my car, but my ex always made me feel silly for liking '80s music, so I was embarrassed..."
"Well, I finally decided to just do it — and he looked at me and said, 'Oh my god, I LOVE Huey! Are you playing 'Hip to Be Square'?!' I knew then that we were meant to be together."
12.
"We were visiting his parents in the Bay Area, and just as we were leaving, his mom — who was very ill — asked him to cut her toenails. Most men wouldn't do that in front of a new girlfriend, but he just went into her bathroom, got the clippers, and cut her nails. I knew that if he took care of her like that, he'd take great care of me. And he did."
13.
"I was divorced and tired of the dating scene when I prayed to my Grammy in heaven to please help me find The One. Well, I met a man from a dating site and noticed he had the same hazel eyes as she did and that his dream trip was Hawaii, which was also hers."
14.
"My husband won my heart when he jokingly called me an asshole on our first date. I had been internet dating for a while, and first dates were usually stiff and felt like job interviews. So it was refreshing for someone to be authentic."
"I felt like I knew him well as soon as I met him."
15.
"The first day I met him I noticed that the way he talked about the things he was passionate about was so moving — his eyes lit up, and he smiled the whole time in a way that made my heart melt."
16.
"I was renting my sister's basement apartment when I caught a terrible stomach bug that left me sitting on the toilet and throwing up every 20 minutes. He stayed up all night with me, cleaning up my mess, and the next morning when he went to my sister's room to ask her to check on me while he was at work, he realized she had the bug, too..."
17.
"He would tell me I was beautiful, and when I said, 'I wish I could see myself through your eyes,' he responded, 'You would never stop loving yourself.'"
18.
"My dad died a month ago at a routine hospital visit, and we had just signed the DNR when my husband walked into the waiting room and immediately took my mom into his arms. That's when I realized it isn't just me he loves and cares for."
Some responses have been edited for length and clarity.