These popcorn treats for Halloween are so good, it's scary.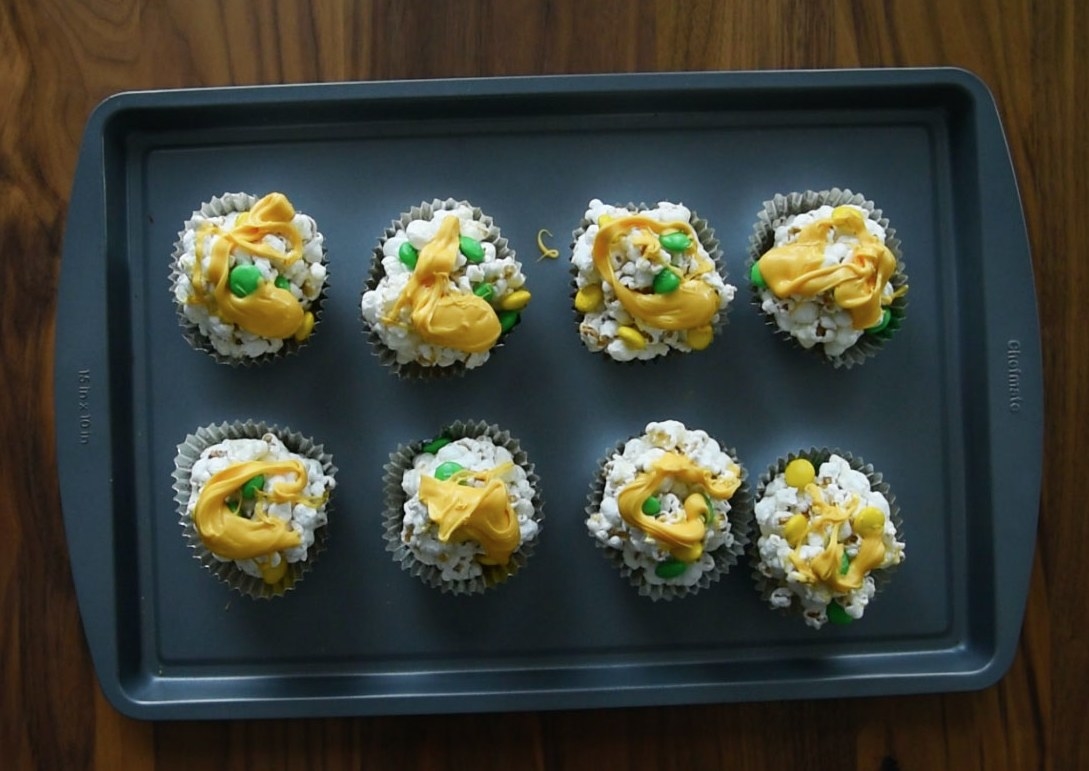 Ingredients
* 1/2 cup butter
* 4 cups marshmallow
* 8 cups popcorn (no butter), popped
* Green and yellow candies
* 2 cups white chocolate
* 1 teaspoon green food coloring
* 1 teaspoon yellow food coloring
Preparation
1. Place candy in freezer for at least 15 minutes to firm before using.
2. Pop your popcorn and set aside.
3. Melt butter over medium heat. Add marshmallows. Stir constantly until marshmallows are melted. Remove from heat immediately.
4. Fill a large bowl with popcorn. Pour marshmallow mixture over popcorn and fold gently with a spatula.
5. Add candy, continuing to fold to mix evenly.
6. Grease a cookie sheet or plastic cutting board. Apply a thin layer of oil or cooking spray to your hands and grab a small handful of the popcorn mixture. Gently form into a ball and place on the cookie sheet. Repeat for the rest of the mixture.
7. Place popcorn balls into the refrigerator for at least 15 minutes to set.
8. Melt white chocolate (see melting tip below). Spoon equally into two bowls.
9. Drizzle both colors evenly over the popcorn balls with a spoon.
10. Return to the refrigerator for at least 30 minutes to set chocolate.
11. ENJOY!

Melting Tip:
Add food coloring to solid chocolate BEFORE melting.
Stove: Use a double-boiler. Melt on low, stirring continuously.
Microwave: Adjust your microwave to 50% strength. Heat in 30 second intervals, then stir with metal or silicone spoon. Repeat until the pieces are mostly melted, remove from the microwave and let the remaining bits melt in the residual heat.
This post was created by a member of BuzzFeed Community, where anyone can post awesome lists and creations.
Learn more
or
post your buzz!