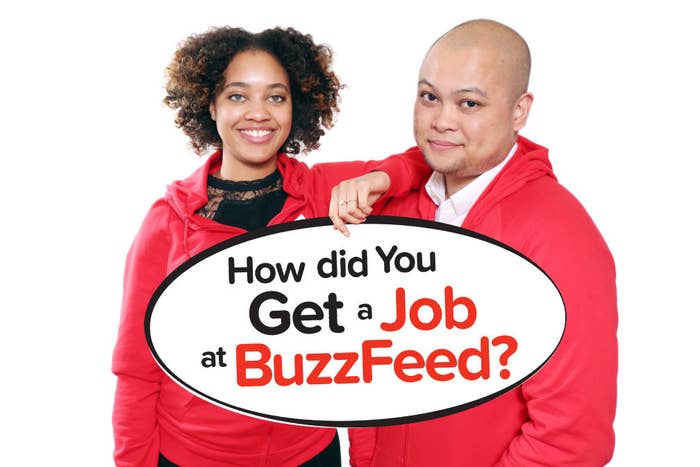 What's your background?
Jess: Growing up, I split my time between Cape Verde in Africa (where my family is from) and the South End area of Boston. I thought being surrounded by a ton of different cultures was totally normal…until I went to college in the suburbs. The reverse culture shock encouraged me to learn more about African American History, so I minored in Black Studies.
Chris: I was born and raised in Allentown, Pennsylvania. My father and mother immigrated to the U.S. from the Philippines in 1979 and 1982 (respectively), making me a first-generation Filipino-American. I have a B.S. in Chemistry with a minor in Biology from Temple University in Philadelphia, PA.
What were you doing before BuzzFeed?
Jess: Around this time last year, I was in a dorm room, contemplating which direction I should start my career path. I majored in Communication and Mass Media, which meant I could do everything and nothing. I knew I wanted to work somewhere young and fun, but wasn't sure what that was.
Chris: Being the eldest son in an Asian family, I was bred to have aspirations to one day become a doctor. The majority of my college life was dedicated to this. After graduation, I began work as an oncology research analyst for Mount Sinai Hospital. I worked directly with patients on clinical trials in Queens, NY. Around this time, I realized that, although I was knowledgable, the medical field was not for me. As luck would have it, a stand-up comic, Jo Koy, who I had previously worked with in college, asked if I could work for him full time. I was hired as his head of marketing, social media chief, traveling field manager, and personal assistant.
How did you find out about the BuzzFeed Creative Fellowship?
Jess: After graduation, I spent time networking with alumni who worked at startups. One of them suggested I apply to this, so I did. :)
Chris: After my contract ran out with the comedian and in the middle of my job search, I came across the BuzzFeed Creative Fellowship from the company's job board.
Tell us a brief timeline of how long it took to get hired at BuzzFeed.
Jess: The fellowship was a month-long application process, and once I got accepted, I had two weeks to relocate to NYC I moved into my new apartment the morning of my first day — I dropped off my box of stuff, showered, then immediately headed to the office. I worked as a fellow for three months, which was a great way to learn the ropes. Then I got hired, so the rest of the story is yet to come! ;)
Chris: I initially found out about the BuzzFeed Creative Fellowship toward the end of June '14. After writing a couple of Community posts, I applied through their job board toward the end of July. The interview process consisted of a phone interview, an assignment to create a post from a generic Request for Proposal (RFP), and an in-person interview. I was hired as a fellow at the beginning of September. The fellowship wrapped up by receiving a full-time offer in November.
How was the Creative Fellowship different than a traditional internship?
Jess: Unlike the internships I've had in the past, I appreciate that this fellowship had an end goal. From the beginning it was clear that you have three months to grasp Buzzfeed's style of native advertising and, if you did a stellar job, you would join the team full time. Immediately emerging into the office culture, establishing a voice, and working with real brands gave me a thrill. I value the responsibility and trust my managers invested in me my first month here; it's a great feeling.
Chris: BuzzFeed is an incubator of talent. Through the Creative Fellowship, someone with zero background in advertising and raw creative skills is able to be molded into someone who creates content in line with a brand's voice. The fellows are actually working on live campaigns, getting trained in areas essential to the job, and interacting with real clients with guidance from Creatives and managers. This isn't an internship where you're just "observing" and fetching coffees. This isn't an internship where you're thrown into the fire without any direction and left to figure things out on your own. This isn't an internship where your labor is abused to do the submissive dirty work. This fellowship actually leaves you with the feelings of growth and appreciation; it hones your creative skill set and directs you to become an integral asset to the Creative department.
What's your favorite thing about working at BuzzFeed?
Jess: I love the way we have to challenge ourselves with multiple campaigns; I could be working on something fashion related at the same time as something health related. It's great having creative control over both, but most importantly, I appreciate having a team that's willing to support me — which makes asking questions less overwhelming.
Chris: Without a doubt THE PEOPLE! I LOVE LOVE LOVE the positive and collaborative atmosphere that is created in the office. On a daily basis, you are working with extremely smart and talented individuals who are constantly teaching you new things and challenging you to be better. All opinions are heard, all questions are answers, and all concerns are put at ease.
Besides BuzzFeed things, what other projects are you working on?
Jess: Currently, I'm helping friends produce and edit their personal documentaries and web series. I really enjoy the experimental energy you come across on set or in a studio. I'm also new to NYC, so exploring and embracing the city is a project for me.
Chris: I try to keep busy as much as I can outside of BuzzFeed. Currently, I am serving as a social media consultant for various personal brands, in the preliminary stages of launching a production company, and try to stay proactive within the Filipino community.
What are your thoughts on the representation of diverse voices in advertising?
Jess: Having a diverse team of people in advertising helps us accurately represent and speak to our target audiences. Not because we're speaking on behalf of everyone, but because it gives us a better window into the actual identity.
Chris: Although we have come a long way since the Mad Men days of advertising, there is still room for improvement to represent diverse voices. Having a diverse group creating the ads is essential to creating an authentic message that will appeal to the target demographic. People can tell when you're not being genuine.
How do you feel advertising can do better?
Jess: I live by Divine Discontent: "the simple belief that, in order to be creative, one must be permanently dissatisfied and always seeking to be better than good." By poking holes in our best work and asking questions, it challenges us to keep growing and innovating.
Chris: Advertising is a medium that can lead to social change. For example, if ads simply used an Asian man as a model of desire or using a gay couple instead of a heterosexual couple in ads, the world of advertising can subtly impact the world we actually live in and better represent it.
What's your advice for people who want to work in the BuzzFeed Creative Services team?
Jess: Be your weirdest, but truest self. The Creative department is always rooting for "different," so show us why we need you. Those random hobbies and weird stories you may be embarrassed to share are what make great content.
Chris: You just have to SMILE
1.) Search the website to learn the BuzzFeed tone and voice
2.) Make posts from a BuzzFeed Community account
3.) Inform yourself about what native advertising is
4.) Love to challenge the status quo
5.) Engage your creativity through various outlets
Photography by Spencer Bergen. Design and animations by James Devogelear and Abbey Lossing.