From May 1991 to February 1996, The Real McCoy was a jewel in BBC Two's schedule. A landmark comedy show that emerged from the UK's thriving black stand-up comedy circuit, it aired for five series.

Featuring a plethora of black performers (and a handful of Asian comics), the show boasted an ebullient mix of rapid-fire sketches, songs, and stand-up. It became famous for its unique blend of riotous silliness, thought-provoking social commentary, and collection of indelible comic creations.

The snaggletoothed would-be ladies' man Mr Frazier and the patrons and staff down at the Rub-a-Dub (The Real McCoy's satirical answer to Eastenders) became fan favourites. Characters dreamed up by the charismatic Felix Dexter (who died in 2013) included Nathaniel the pompous Nigerian accountant, and Douglas, the lawyer who couldn't quite admit that he wanted to be white; both became British comedy classics.
Since the show's cancellation following its fifth series, it has never been repeated by the BBC, nor released on DVD. Rumours spread among fans that the show's master tapes had been destroyed. Many have uploaded VHS clips to YouTube, where sketches have racked up millions of hits. Black British newspaper The Voice led a spirited campaign to have the show released on DVD, but that came to an unsuccessful end in 2013. In April this year, however, BBC Worldwide confirmed in an email that it is seeking permission from the show's writers to finally release the entire series on its online platform BBC Store.

With such a tantalising prospect in the offing, it's high time to delve into the story of this trailblazing show 20 years after it lit up British screens for the final time.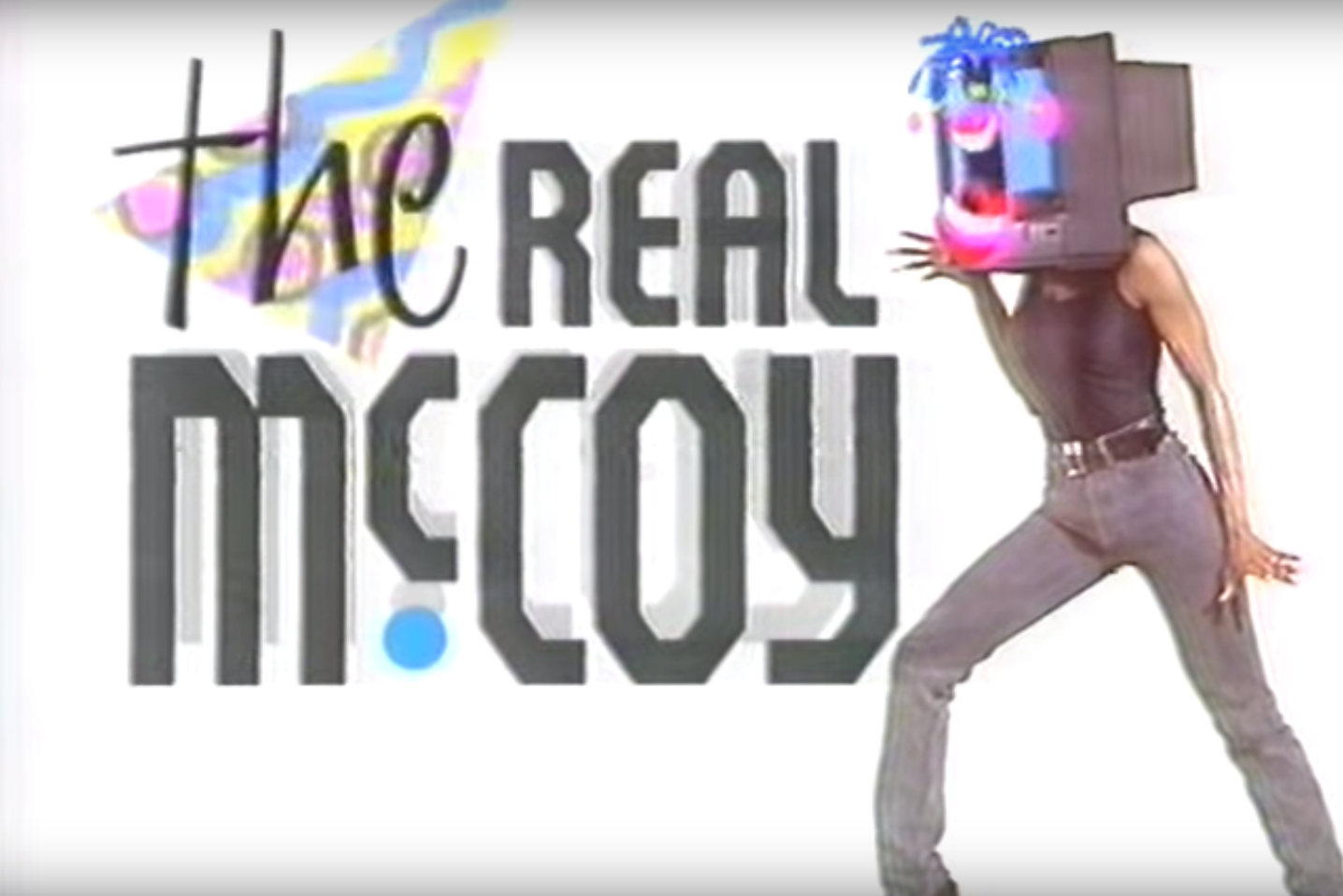 Cast of Characters
Charlie Hanson: Producer of Series 1. Hanson came to The Real McCoy having produced two pioneering black UK sitcoms, No Problem! and Desmonds (both aired on Channel 4). He has since produced a number of British comedies, including the Ricky Gervais vehicles Extras, Life's Too Short, and Derek.
Leo Muhammad: Inaugural cast member who appeared in all five series, and became a principal writer and performer in the second. Formerly known as Leo Chester, Muhammad is today an actor and an activist.
Llewella Gideon: Inaugural cast member and writer alongside her comedy partner Collette Johnson (who died in 2013); also appeared in all five series. Gideon is a prolific stage and screen actress.
Terry Jervis: Served as producer-director for two series following the departure of Hanson. Jervis continues to produce television internationally.
Judith Jacob: Joined the show in the third series as writer-performer, and remained until the show's cancellation. Jacob has appeared in Eastenders, Holby City, and Doctors.
Let's begin with the origins of the show. How did it all come together in the first place?

Charlie Hanson: The success of Desmond's eventually led the BBC to call and ask me if I would create for them a new black show, but not a sitcom, because Desmond's was already out there. They actually used the phrase "broken comedy" – I didn't quite know what that was, but it turned out to be a sketch show.
I'd been doing The 291 Club at the Hackney Empire on a Sunday night, which was a live show inspired by Live at the Apollo in Harlem – it was always packed to the brim. I got [then-head of BBC comedy] Robin Nash out to see acts who'd performed at The 291 Club, like Leo Chester (now Muhammad), Curtis [Walker] and Ishmael [Thomas], and also Llewella Gideon and Collette Johnson [aka "Short, Sharp, and Shocking"], who I'd seen perform in Deptford. He was laughing his head off. This was a guy in his mid-sixties. He soon called me and said, "You've obviously got the talent out there." He gave me a date in the studio in Birmingham and said, "Do a show."
Leo Muhammad: It was the early '90s, and black stand-up comedy was just taking root in the UK. Prior to that, there hadn't been any progressive black stand-up. There were people like Charlie Williams, who had to get his laughs by demeaning himself, mostly. You had Lenny Henry – a very talented brother – but much of what Lenny did was written by white people, so there was something lacking, something that wasn't authentic about the types of shows and programmes that had thus far been on British screens featuring black people.
Llewella Gideon: The initiative came from Lenny Henry, and then Charlie modelled the show on [American comedy] In Living Color – for the BBC it was a new phenomenon to have so many black people in the building. Charlie wanted to pair Collette and I with Curtis and Ishmael, and build the TV show around us. We said yes. It was a dream come true, and it happened very quickly. We'd only been on the circuit for about six months before we'd been picked up and asked to do the pilot. It was fantastic; a brilliant time.
The name of the new show had an intriguing origin.
LM: The working title, which came from Hanson, was Flick. When I asked him why, he flicked two fingers together as a symbol of what black people are supposed to do when we get excited. I wasn't too impressed. I'd been reading about a black inventor called Elijah McCoy, who is responsible for various lubricants, the ironing board, and also the drip cup: the internal mechanism that allows engines to be oiled continuously. His inventions were so good that whenever anybody wanted one, they would ask, "Is it the real McCoy?" [Note: There are many etymologies for the origin of this phrase.] I put that to the BBC and they seemed reluctant initially, but two to three weeks later they went with it.
Following a successful pilot, the BBC commissioned a six-episode series. The first episode aired on 10 May 1991.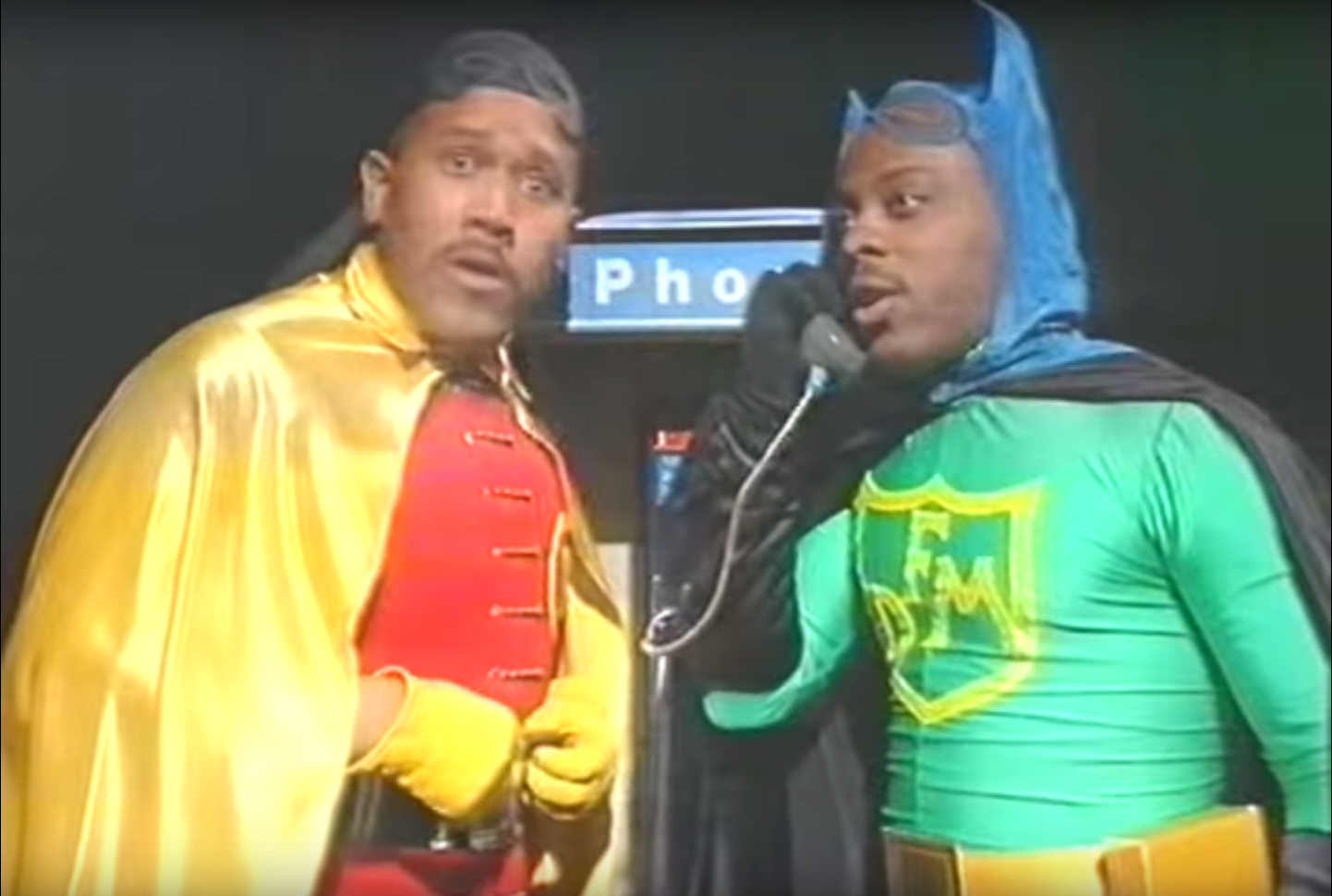 CH: There was a co-operative spirit between the initial performers, myself, and some of the writers. Inevitably, we didn't have enough black writers. We called in people who had a comedy track record, and would hopefully get [the vibe]. A lot of ideas came from the performers, but we had Kim Fuller who'd been writing for Lenny Henry, and would one day go on to write Spice World, plus another senior writer. Paul Henry, Lenny's brother, wrote stuff, and that was his first break. Curtis and Ishmael wrote sketches, like the superhero spoof "Dyam Fool Man and Stupid Bwoy" which was a great little thing.
Sadly, by the end of the first series Ishmael left, and didn't come back for the second series. Curtis suffered because he didn't have his comedy partner. Later, other cast members like Meera Syal, Judith Jacob, Robbie Gee, Eddie Nestor, and Kulvinder Ghir came in.
As always with the BBC, they took so long deciding on a second series that by the time they did, I wasn't available. So it went to some other in-house producer whose heart wasn't in it.
Terry Jervis: Charlie asked me to come in and help revamp the show. I became a producer-director — the producer after Charlie didn't have a clue about that type of comedy. I wanted to refresh the show's look and writing, so I'd keep the cast in the writing room working on ideas, not just relying on staff writers, about whom the cast would complain. There was a completely ridiculous Tarzan sketch written by a white writer who'd probably never once interacted with black people.
"There was a completely ridiculous Tarzan sketch written by a white writer who'd probably never once interacted with black people."

I came out of a news and current affairs background when I joined the BBC. I was also a producer and director on a show called Ebony in the early eighties, which emerged from the turbulence of riots in Brixton and Toxteth. There was apartheid, civil rights in America, unemployment among young black people in the UK. I had all of that history and I wanted to get the cast to think about it. I also brought in Felix Dexter.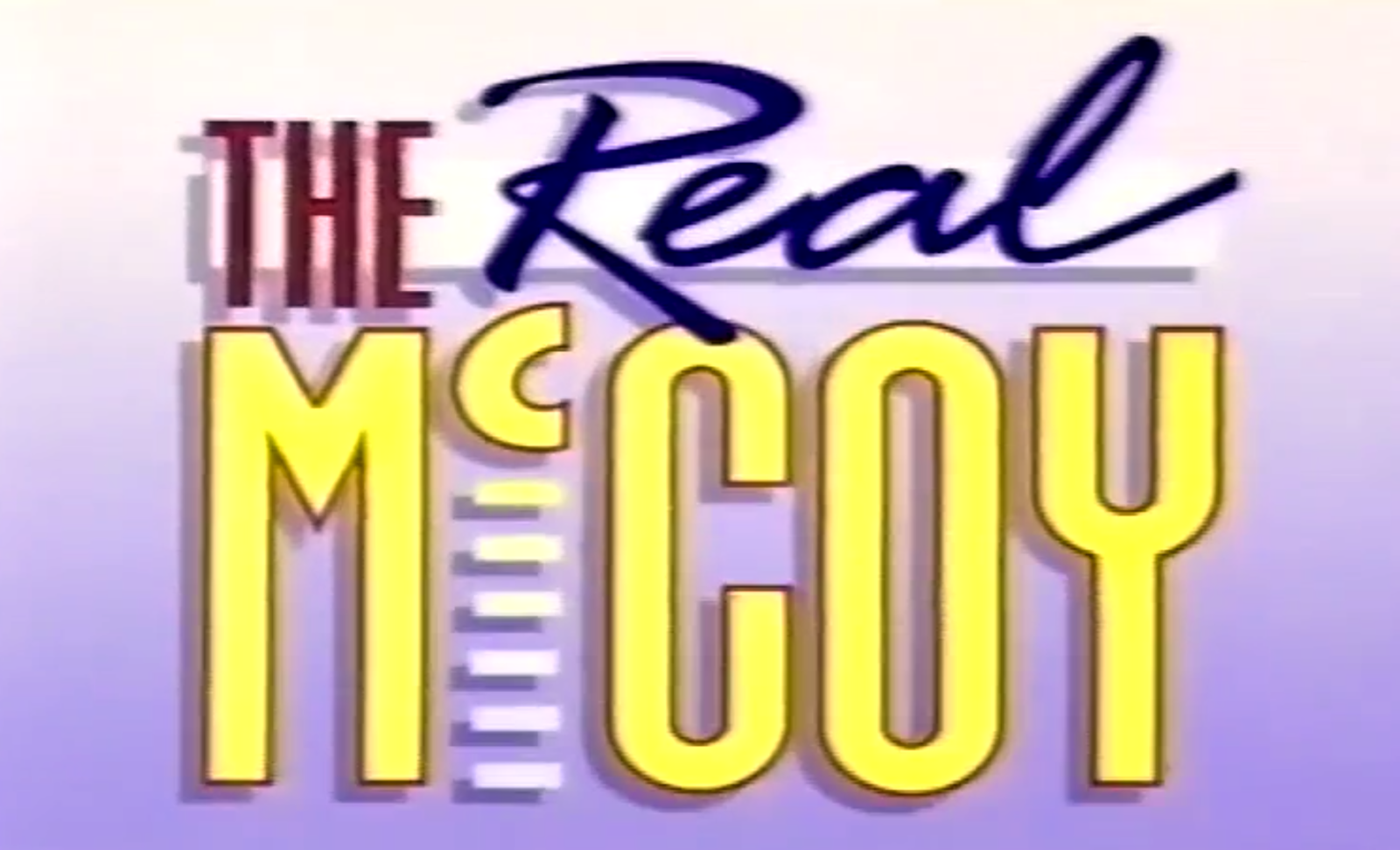 CH: Felix used to do The 291 Club. He was probably more established on the comedy circuit than anyone else, but he hadn't done much TV. The Real McCoy became a perfect vehicle for him. Initially he just did his own seven-minute, stand-alone pieces; it was only later that he did things with other people.
Judith Jacob: We didn't even know Felix was part of it until we had a producer's run-through. All of a sudden this man comes in and starts doing his bit – where had he been? He was like the secret weapon that they kept in the corner.
TJ: I think Meera Syal was encouraged that I'd be putting more politics and content into the production. That made her assert her Asian culture a bit more. I come from a time when the "black condition" wasn't just a colour of skin, it was a position and state of mind. If you were championing the cause for black people, you were championing the cause for any undermined people.
The Real McCoy developed a unique style: brisk sketches, choreographed musical numbers, and stand-up segments (including sets from Toju, Angie Le Mar, and Richard Blackwood, among others) incorporating audience interaction.
TJ: I used to love audiences coming in to see the live recordings, and I'd record their belly laughs. I didn't like the canned laughter of previous shows. On some days, the queue was a mile long – we couldn't cope with that many people at Television Centre!
I'd get stand-up comics and a DJ in to warm up the crowd. The BBC would say, "What the hell is this? This is like a party!" Everybody wanted to come on The Real McCoy's set: Steve Coogan, Tony Slattery, Stephen Fry, everybody. It was like a comedy night jam, and there was a symbiotic relationship between the cast and the fans.
Certain sketches quickly became iconic. Take, for example, "Misery's Caribbean Restaurant."
TJ: I told the cast I'd arrange for us to have West Indian food. There was a place in Harlesden that I'd get my PA to call up, take the orders for everybody, and tell them when I was coming to pick up the order. If you know anything about Caribbean restaurants, you got there, their faces were like stone, the food wasn't ready, and of course we were on a deadline … The cast had to eat before they went back into the studio! That's how "Misery's" was born. I'll never forget the day I went back in, after the sketch had become popular. The owner was almost refusing to serve me. I said: "What's up?" He said: "You put me on the telly!"
LG: There was a mixture of social commentary and downright silliness. In one sketch John Major and Bill Clinton were meeting in the Oval Office. They took off their masks, and they were actually black men underneath. And now we have Obama! We'd have had a whale of a time if we were doing it now, with Donald Trump, and all the stuff that's happening with Europe.
"There was a mixture of social commentary and downright silliness."
JJ: There was a great sketch where we were all in Africa, doing our thing, and a white man comes in with a piece of paper. Leo starts reading it aloud, and it's about how we're going to get free travel to England, and a lifetime of guaranteed employment. My character says, 'This sounds too good to be true. I bet there is a catch," and then the camera zooms in on the slave ship on the back of the paper. I liked the understatement of it. It says a lot without saying much, and then it hits you. Hard.

LM: We did a spoof of the Tango advert called "You know when you've been LAPD'd", which was a UK take on the Rodney King beating by police. We did a sketch set at the Notting Hill Carnival, where there were two black people dancing on their own, basically surrounded by police. I really liked the sketch when Eddie, Robbie, and I, as COMICS [Confederation of Original Man Immigration Control Service], marched into the BNP headquarters and confronted their boss. This is the type of thing that I would be writing. Many people are shocked that that type of sketch actually made it onto the television.
CH: Leo was always the most politically motivated in terms of the themes that he wanted to explore, but it's ironic that he could also come up with Mr Frazier — the silliest, stupidest character. It remains one of the most popular. I showed it to some people recently who are too young to know The Real McCoy and they were laughing their heads off.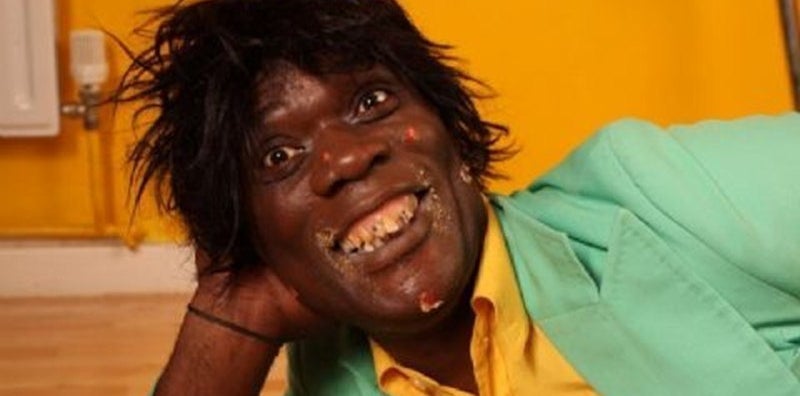 Audiences loved the show, but the BBC didn't know what to make of its hot property.

LG: It was a phenomenon. The BBC had no idea what the public would make of it, but we did. Producers would say, "That sketch isn't going to work." We'd say, "Trust us, it's going to work, because comedy from a black perspective is completely different." When you see a sketch like "Misery's" or "Dyam Fool Man", and people are literally screaming, stamping their feet, and howling with recognition, that was new to them.
JJ: [Our success] was about not being ashamed to stay in your culture and do it. Sometimes people want to water things down, and that's when it becomes a nothingness. But when you stand strong in your culture, that's what makes it funny. People can access it, learn something from it, and also go, "Wow. I didn't know you did that in your culture. We do that too!"
LM: We were told quite early on, in Series 2 or 3, that we were getting over a million viewers. If a white show was getting that kind of viewership, it would immediately have money pumped into it, and it would transfer to BBC One. There was a lot of shenanigans going on within the BBC. We weren't quite sure at any given time how things were going to unfold. The transmission time would change halfway through the series; people would be confused. We could never settle down with one director. I think the best director we had overall was Terry Jervis.
Scenes from a "Dyam Fool Man and Idiot Bwoy" sketch.
TJ: I did two series, and I was only really meant to be there temporarily. I had other departments, and things I was doing in the US, but I ended up on it for that period because I believed in the cast and crew and I wanted to maintain the quality threshold. There were lots of battles being fought internally to keep the show on air. I was one of the senior execs in a position to do that.

Jervis couldn't stick around forever, and the roles of producer and director continually changed hands. In February 1996, The Real McCoy screened on BBC Two for the final time.

CH: When it did get cancelled, there was no-one in an executive position to say, "This is my show, and I want to keep it going."
LM: I think Charlie genuinely wanted a good, strong, black comedy show, whereas some of the higher-ups, the suits, wanted a chimpanzee thing: a token black show. At a certain point in time, they got more than a little bit nervous because the show was too politically astute for them. In the end, the suits won the battle and removed it unceremoniously because it didn't fit the stereotypical type of show that they wanted black people to have.
LG: It was a challenge for the BBC. Towards the end the show did lose its way a little because it started to become a bit too politicised toward one agenda. The balance was lost, and they made it clear that if we didn't toe the line, we wouldn't be going on for much longer. Among the actors themselves, there were lots of strong personalities and people with different viewpoints and agendas.
JJ: In the 1990s, a school of thought emerged that if we have one or two black actors in a show, it's OK, we don't need to have a "black show", as such, because we're being "represented". However, when it comes to shows like Downton Abbey, they don't look at it like that…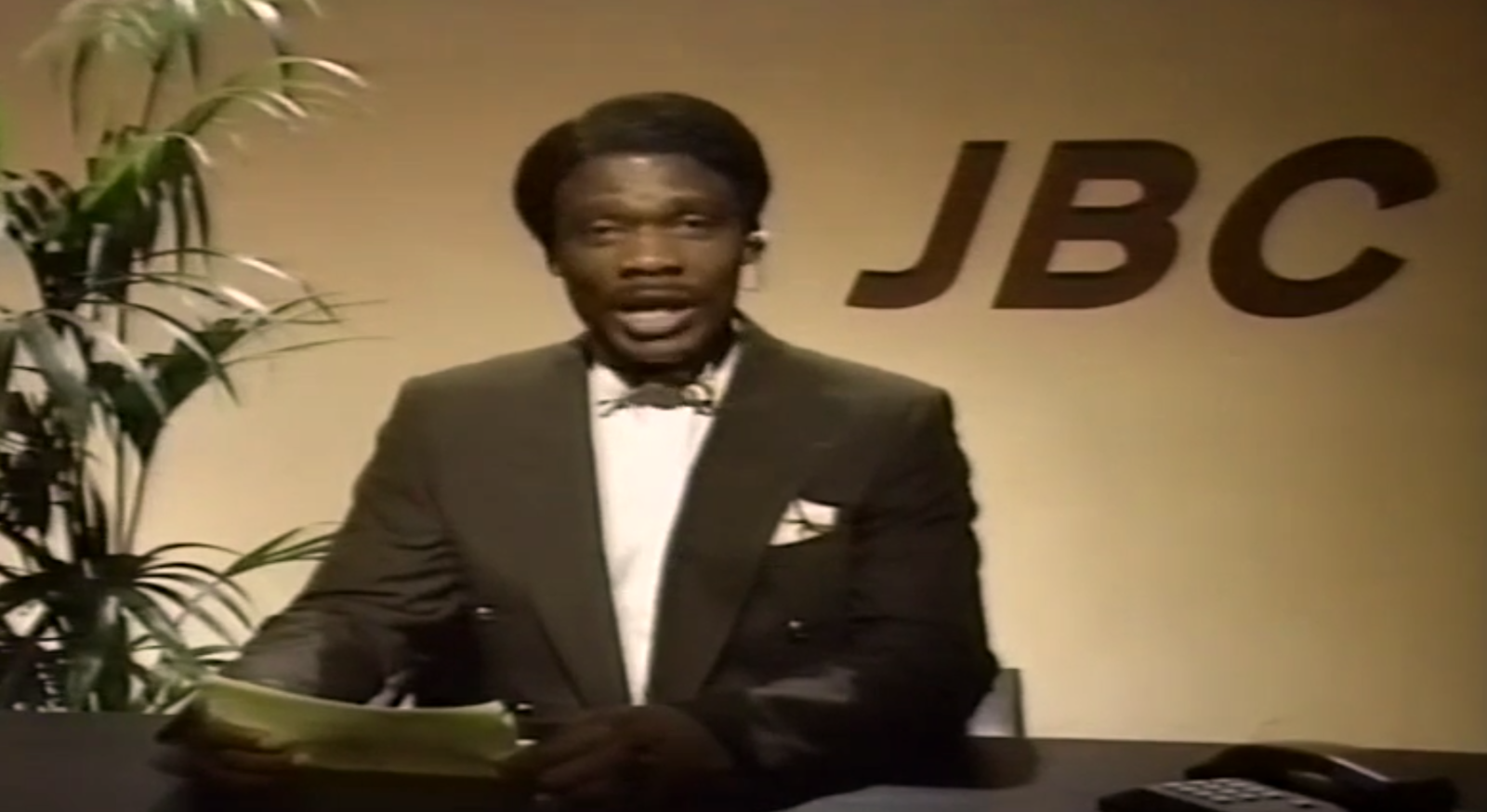 The Real McCoy had no spin-offs or sequels, and it was never repeated on the BBC. Nowadays, it lives on in YouTube clips, with comments sections acting as a repository for fond fan memories. In 2013, a BBC spokesperson told The Voice newspaper: "We do not feel there is a big enough market to justify the investment."
TJ: I was surprised that they ended it without any legacy programming. It didn't evolve into anything.
CH: There was no nurturing by the BBC, or following up with the talent that came through their doors. They just let it slip by.
LM: When they took off our show, you'll notice that Meera Syal, Kulvinder Ghir, and [sometime The Real McCoy script editor] Anil Gupta went on to do Goodness Gracious Me, The Kumars at No. 42, and more. But in those shows you don't see any black people; they can be exclusively Asian. But every time we have something, everybody else has to be incorporated within what we have.
LG: The BBC didn't realise what they had, or the impact it had on the community. They didn't understand how starved the community was of something that held its own identity. It was written by, written for, written from the perspective of, so that's why it totally resonated with its audience, and does so today. As for "diversity", it's not just about putting people of colour in front of the camera, it's about allowing them to contribute their story, their skills, their perspective, as well as their talent. That's what The Real McCoy did.
I've heard from many people who've grown up watching the show and then introduced it to their children and grandchildren. Those younger generations found the sketches absolutely hilarious, and today, in 2016, cannot believe that anything like that was ever on British television. That's a sad indictment of how the show wasn't built upon.

"It's not just about putting people of colour in front of the camera, it's about allowing them to contribute their story, their skills, their perspective, as well as their talent." –Llewella Gideon
CH: I was proud of all those shows: Desmond's, No Problem!, The 291 Club, and The Real McCoy. They were all landmarks for whatever channel they were on, and introduced new talent into television. But there was only ever one "black" show on at a time, never several at once. If you are the only one on at any given time, it's trying to serve everybody, and it's impossible to do that.

LM: It served a tremendous purpose, it did its job. It made some of us household names. It got us into millions of living rooms. There isn't a day that goes by today, 20 years later, that people don't come up to me in the street and ask me when it's coming back. Robbie Gee often says that if he had a penny for every time someone asked him about The Real McCoy he'd be a millionaire by now. It is fondly remembered and loved.