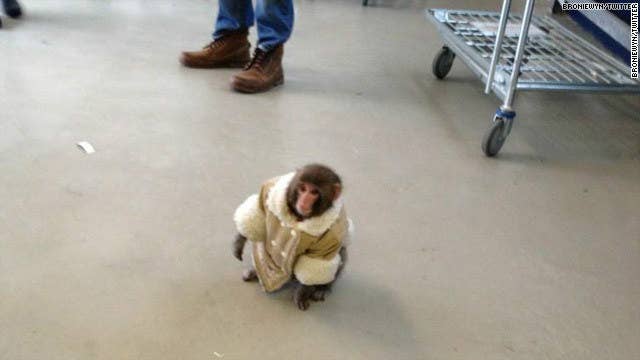 You may remember the "Ikea Monkey" from the now legendary video that came out of Toronto in 2012. The monkey went viral after it roamed the parking lot of Ikea with a fashionable outfit.
The internet all but exploded with the thousands of memes and jokes about the monkey who was let loose at every 20 year old's furniture haven. Soon everyone was wondering: where did this monkey come from?
We soon found out that the Ikea monkey's name was actually Darwin, and that he escaped out of his then-owner's car while she was shopping. His owner faced legal charges and she even tried to get the monkey back. However, Yasmin Nakhuda, (Darwin's original owner) lost her case. Darwin ended up staying in Story Book Farm Primate Sanctuary.
Darwin isn't the only famous primate who lives in the Canadian Sanctuary. Pocket Warhol (who you can follow on Twitter and Facebook) is a painter. Pocket Warhol is a Capuchin monkey and loves to paint. You can find and potentially buy some of the paintings here: pocketswarhol.blogspot.ca
Story Book Farm Primate Sanctuary, is the home to 20 primates. It is a home for animals without one. The animals found here come from various backgrounds, including exotic pet trade and biomedical experimentation, according to their Tilt page. But their home is going to be taken away and they have nowhere to go. They recently underwent an indigogo campaign to try to raise funds for a new location but didn't gain as much as they need to find a new location for this sanctuary. That's where you come in. They have recently launched a page on Tilt to try to raise funds to find a new location.
Need more convincing? Here's a quote from Dr. Jane Goodall found on the Sanctuary's website:
"Hello, this is Jane Goodall. All Canadians can be proud of the work done by the Story Book Farm Primate Sanctuary which rescues and cares for primates. But there's a big problem. The farm has been sold out from under them and they need to vacate by June 30th. The monkeys need a new home. Even more important, they need money for a new home. In fact, they could use all kinds of help. Please go to storybookmonkeys.org Primates are our closest animal relatives. They deserve our help. We've saved these monkeys' lives once. Now we need to save them again. Thank you."
Check out their campaign page and help save these animals (click link above) and DONATE. I realize this is cliche, but EVERY DOLLAR COUNTS. Everyone deserves a home!