The Natural Journey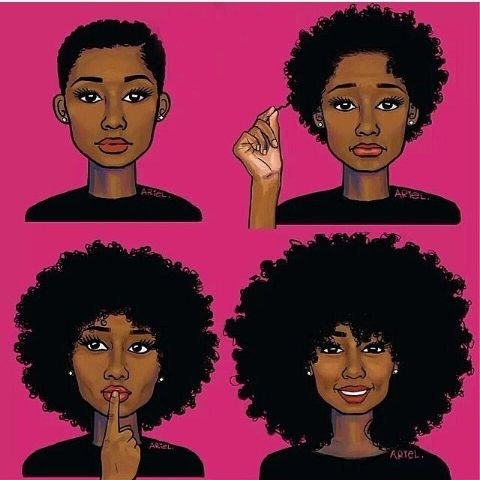 Why going Natural Rocks!
The ongoing debate in the African-American hair world is the split between natural and relaxed hair. Natural refers to leaving your hair unprocessed to its natural curly state. Relaxed is when you add a chemical relaxer that straightens your hair follicles leaving you with a straight processed finished. Whether you're natural or relaxed the ultimate goal is to maintain healthy, full-length hair.
It's no secret that Hair Relaxers are chemicals. There are two types of Relaxers: Lye and No-Lye relaxers. Lye relaxers contain sodium hydroxide and No-Lye relaxers contain calcium hydroxide. These chemicals can cause chemical burns on the scalp if not applied correctly or left on too long. Relaxers can also damage the hair leaving it dry and frizzy and in most cases loss of hair. When hair is unprocessed it has proven to be stronger and extra durable in comparison to relaxed hair. Natural hair is also more versatile and the amount of hairstyle opportunities only grow while your hair goes on its natural journey. From twist outs to braids the list goes on for the hairstyle options for natural hair.
My Personal Hair Journey: In June 2014, I officially decided to "go natural" , which is what previously relaxed hair people say before they make the decision to stop getting relaxers. So after deciding this I went through Stage 1 of "Going Natural" The Big Chop, this is where you cut off all of your processed hair and start over growing your natural hair. When I first cut my hair off it was hard for me to accept how short my hair was but I could instantly tell a difference from the hair I had left and from the processed hair I cut off. My hair was softer and held a tight coil curl. As the months passed by, my hair began to grow healthier and stronger than before. "Going Natural" was one of the best decisions I could have made for my hair. Although I am still on my journey, I am very pleased with the results.
So throw away your chemicals and embrace your natural curls!
This post was created by a member of BuzzFeed Community, where anyone can post awesome lists and creations.
Learn more
or
post your buzz!
Looks like there are no comments yet.
Be the first to comment!