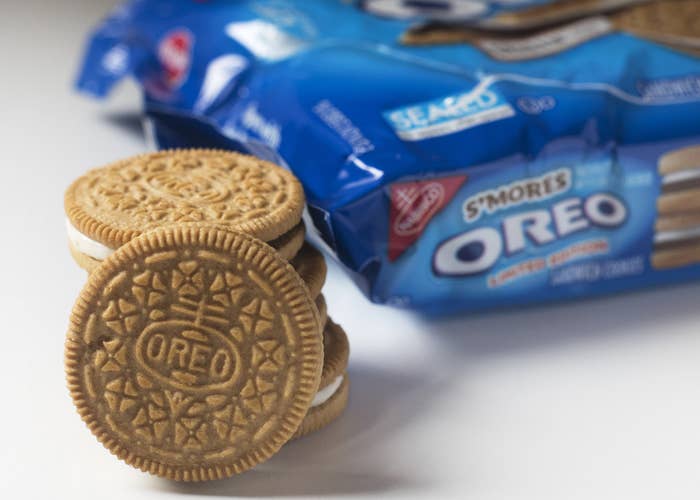 The rumors are true. The next Oreo flavor is S'mores, just in time for all those camping trips you're planning for summer*. The BuzzFeed staff had a chance to try the new flavor, and here's what they thought:
*lol yeah sure
Some people thought they didn't really taste like S'mores.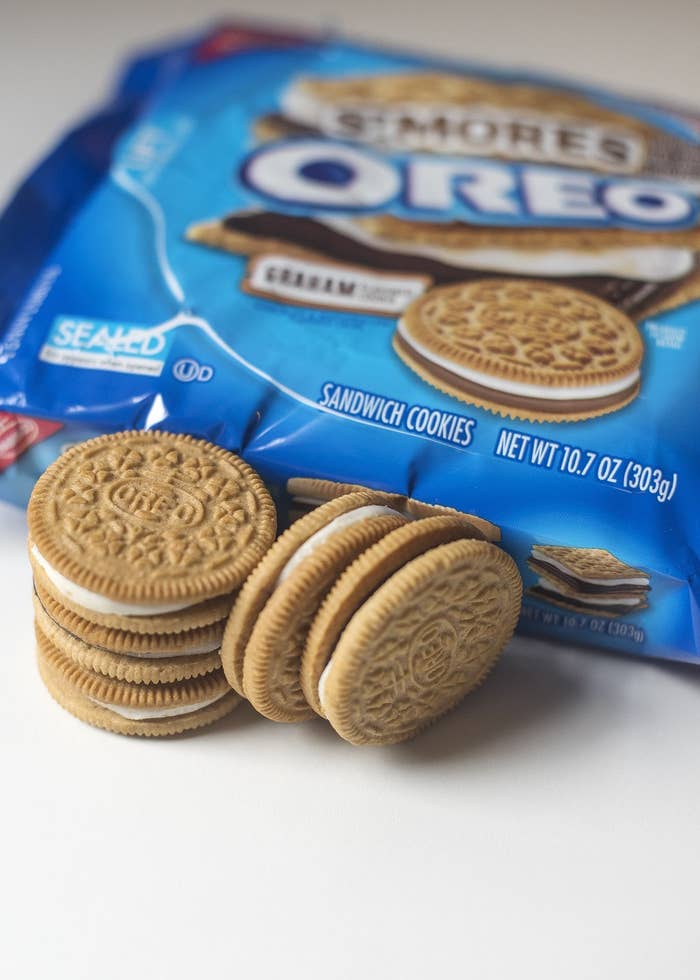 I thought it could have tasted more like s'mores. Still, it was really really delicious. And clearly, they should be called S'moreos.
I would not have called it s'mores flavored if you hadn't told me it was s'mores flavored. Tastes more like sweet toothpaste between cookies. That being said, I still finished it.
The s'more Oreo — the s'mOreo — is one of the better Oreo experiences I've had in my life. I don't know how much it tastes like a s'more, because it's a cookie, but whatever it is, I love it.
Some people thought they needed to be heated over an open fire.
Very enjoyable, really tasted like s'mores, curious what would happen if you stuck it over an open flame.
It's OK. To be fair, I was going into this with high expectations. Maybe I should go nuke this cookie in the microwave and give it another go. ¯\_(ツ)_/¯
The marshmallow half tastes like liquified Lucky Charms (the charm part), which isn't a BAD thing but is sort of too insanely sweet to handle. Also, I've long maintained that the beauty of a s'more isn't in its flavor, but in its gooey texture and in the act of preparation (whether it's over a campfire or in your kitchen) — you've got to earn a s'more to make it worthwhile, and I did not feel like I earned this, Oreo.
Some people were just like, "meh."
I don't hate this. The graham cracker taste is a nice change.
As cookies, they aren't a bad substitute for s'mores. However, nothing will EVER be able to replace the gooey, chocolatey, marshmallowy goodness of the real deal.
As someone whose first choice of cookies is never Oreos, I actually like this way better than regular Oreos. I wish the chocolate was chocolate-y-er, but it's still good!
And some people really LOVED them.
Holy crap, this is so good. Why waste time physically making a s'more, when Oreo did it for you?
They were, dare I say it, better than regular Oreos? I'm not going to say it. (They were though.)
It reminded me of that time I had to run from a bear when I was at summer camp: incredibly exhilarating. MOAR PLEASE.
The s'mores Oreos (S'moreos?!) are seriously delicious. It tastes a lot like actual s'mores, without the messiness. Which I appreciate.
And there you have it. S'mOreos are real and the majority of our taste testers liked them.
S'mores Oreos hit shelves nationwide May 22 for a limited time.
The Oreos in this post were furnished to BuzzFeed for review.