Smash, the TV show that was cancelled too soon, was every theater nerd's dream show come to life.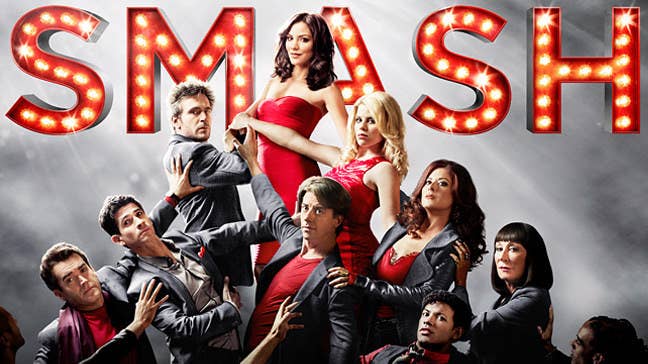 And for one night only, The Actor's Fund brought Bombshell to life, the Broadway show about Marilyn Monroe and the sole focus of Season 1 of Smash.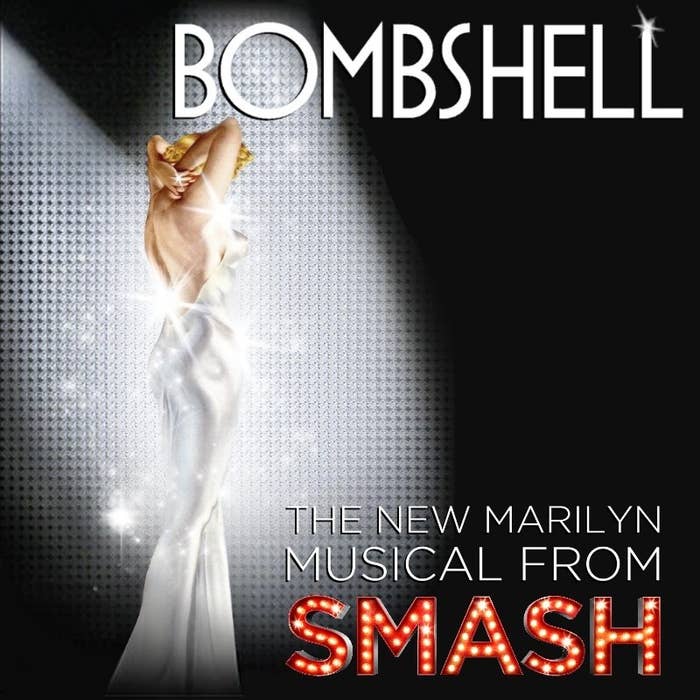 First my friends and I pre-gamed at a bar. We had a heated debate* about #TeamIvy vs #TeamKaren. We threw martinis in each other's faces.
We got to the Minskoff and it was chaos. There was a line around the block. These girls upstaged everyone with their shirts. Everyone was ready for this moment.
I ran into my cousin and aunt, who were randomly sitting two rows behind me. Apparently we were all too embarrassed and silent about our undying love for Smash to even know we would be at the same event. Whatever, we are loud and proud about it now.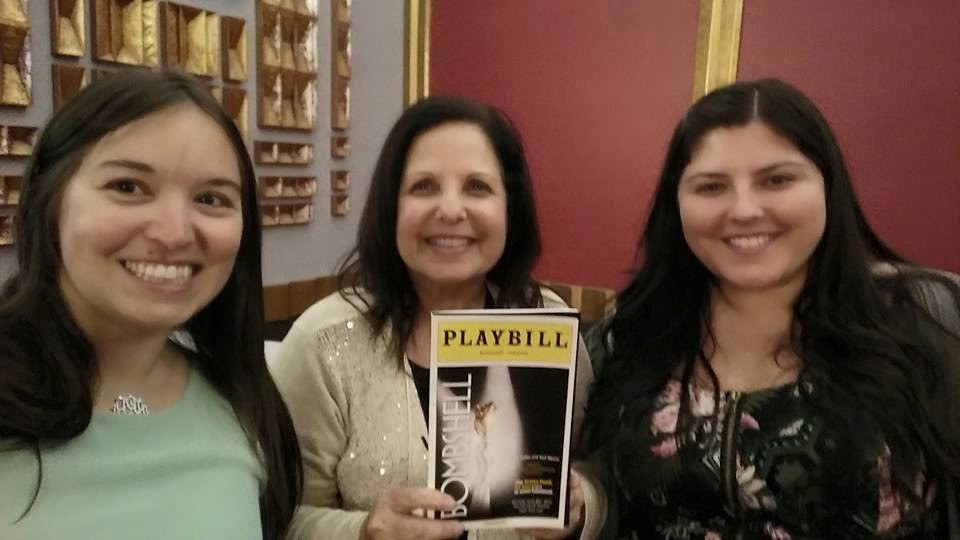 It's about to begin and everyone Instagrams the same picture. We are all in this together.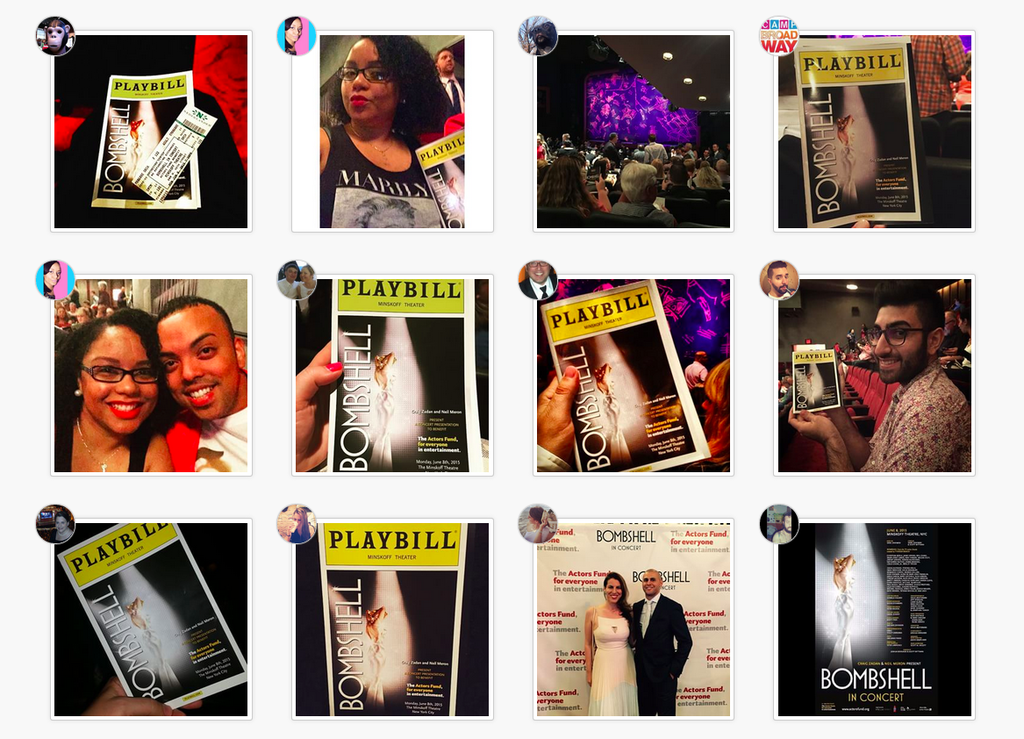 The show began with an orchestra medley, and then Tom (Christian Borle) and Julia (Debra Messing) walked out. Everyone screamed. They made jokes about writing this show.
And then Ellis walked out on stage to give Tom and Julia papers. We hate him so much, but we were happy to see him. So many conflicting emotions.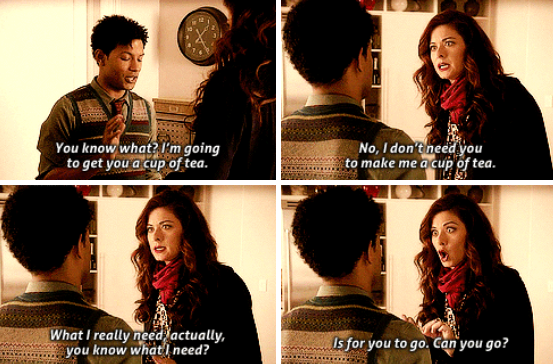 And then it really began. Karen came out first to applause. And then Ivy came out and everyone lost it. The guy next to me clapped so loud that I become partially deaf in my left ear.
Karen (Katharine McPhee) did "The 20th Century Fox Mambo" number. She was amazing.
Every now and then, a screen would come down with pictures of Marilyn and Debra Messing would tell her story in a serious tone. It was kind of uncomfortable.
Ivy (Megan Hilty) did "The National Pastime" and it was incredible. There were so many dick jokes. Everyone emotionally died.
Then we moved into "History Is Made At Night." I'm crying at this point. It's so beautiful.
Christian Borle (who won a Tony on Sunday) was joined by shirtless men in "Don't Say Yes Until I Finish Talking." I fangirled.
And then the most unexpected thing happened. Stage manager extraordinaire Linda (Ann Harada) sang "I Never Met A Wolf Who Didn't Love To Howl." Everyone went batshit crazy. The whole audience howled. It was genius.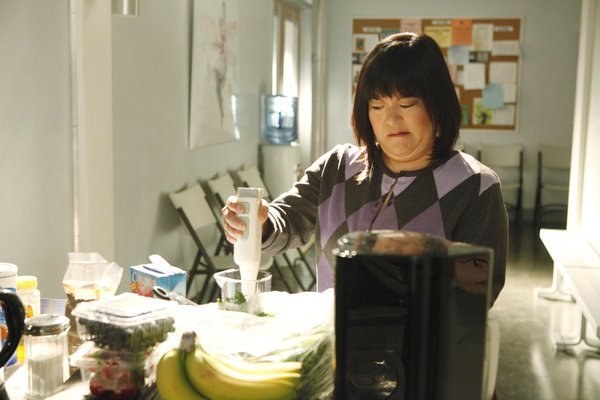 Fast forward to the last song before intermission, "They Just Keep Moving The Line." It was life-changing. Megan Hilty's pipes are solid gold.
During intermission, my friend Marc had to step outside to tweet. I was worried about him. He looked so focused.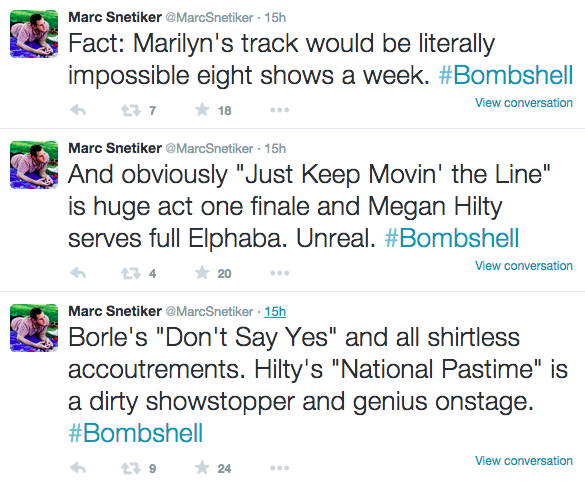 Act 2 opened with Jeremy Jordan. My heart exploded. So talented. So attractive.
There were a few songs I was less familiar with (sorry), but there were performances by Bobby (Wesley Taylor), Sam (Leslie Odom Jr.), and Frank (Brian d'Arcy James).
"Let's Be Bad" was brilliant. By now, thanks to the loud clapper on my left, I am fully deaf in one ear. I forgive him. I understand.
And then, just as it started, it ended with Megan and Katharine. The show received a standing ovation. People were crying. They just witnessed something so magical.
So to sum it all up, Bombshell was everything and more. And we would see it again in a heartbeat.
My only regret is that Anjelica Huston wasn't there. *sobs*