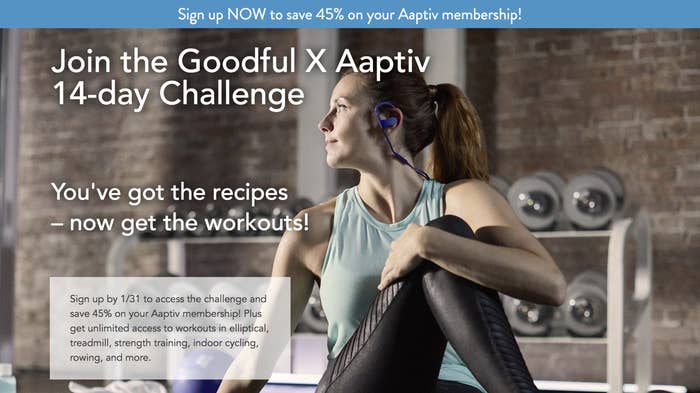 What is Aaptiv? It's a workout app that provides unlimited access to audio-based fitness classes, programs, and challenges created by expert trainers.
You can filter out what kind of classes you're interested in by workout type, trainers, duration, difficulty levels, and music genre, and then choose a class that fits your goals for the day.
What makes it so great is the coaching through your headphones — the trainers often correct your form, tell you how to improve performance, and encourage you to keep working harder.
Also, the music component is actually lit. You can pick by genre (pop, dance/electronic, etc) and the playlists correspond really well to the rhythm of the workout.
Goodful and Aaptiv have created a 14-day fitness plan, which you can access when you download the app. Here's a preview below of what's to come!

Special pricing is as follows:
Annual
* $99.99 plus 30 day free trial
* Discounted by 45% through end of January (equates to 5 months free)
* Can cancel any time during free trial
Monthly (not discounted)
* $14.99/month
* Can cancel any time
Just so you know, BuzzFeed may collect a small share of sales from the links on this page.