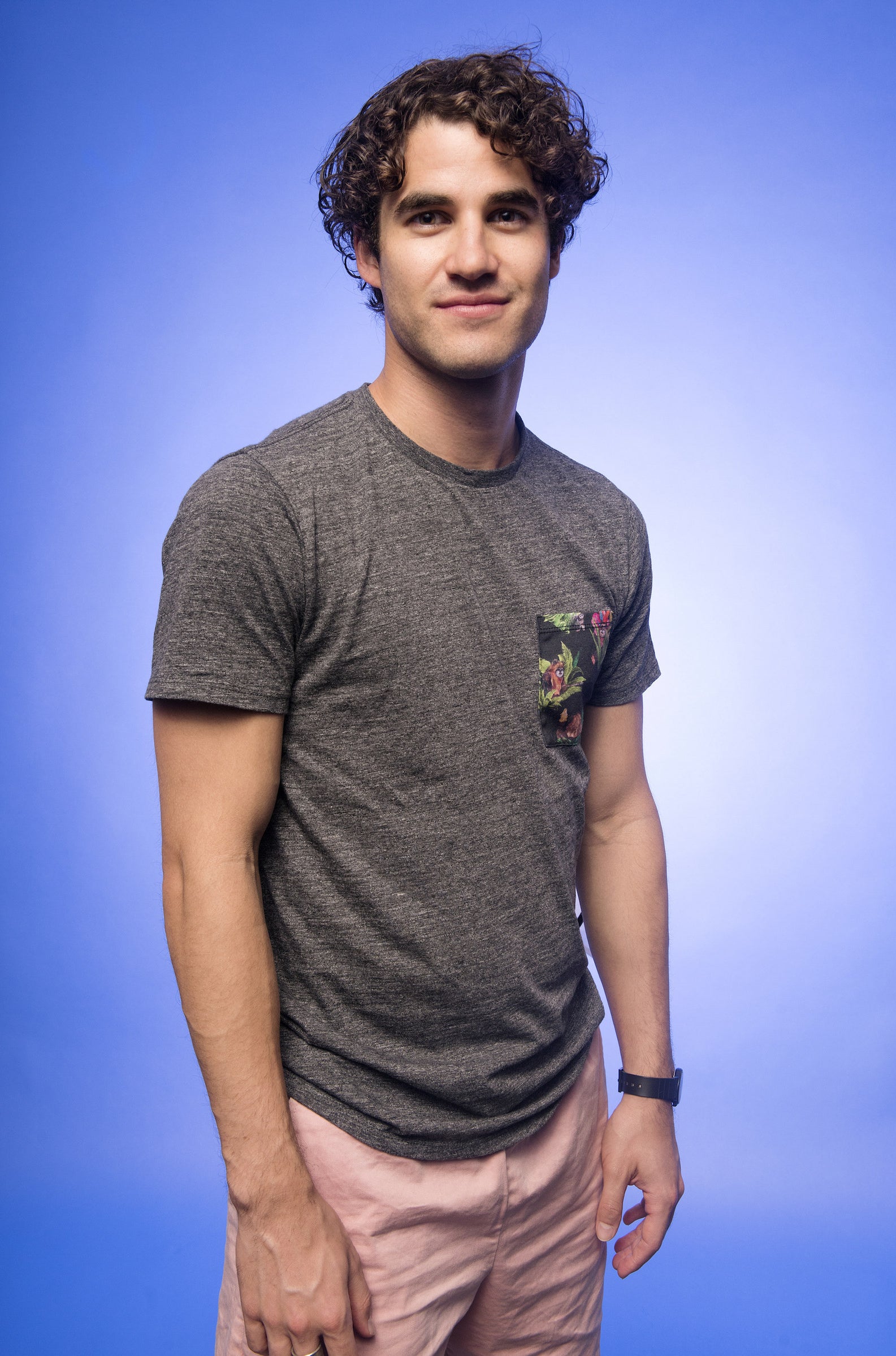 You may know Darren Criss as the ever-charming Blaine Anderson on Glee, or the transgender rock singer Hedwig from Hedwig and the Angry Inch, but the star is now focused on a new project coming to New York this September. Criss is producing Elsie Fest, the first outdoor music festival celebrating Broadway, Disney, and showtunes. The festival will include performances by Criss himself, Aaron Tveit, Lea Salonga, and even Starkid, a musical theater group responsible for the internet sensation A Very Potter Musical, which Criss starred in.
In promotion of this stellar new concert, we had Darren stop by BuzzFeed New York and play a ~magical~ sorting game! We read aloud some famous Broadway and Disney characters and had him sort them into Hogwarts houses. Take a look below!

Darren Criss: That's tough, because it would be between, and it usually is between, Gryffindor and Slytherin. But she's green, and even though she's not actually evil, she's kind of a go-getter with a strong personality. I would say Slytherin, because Slytherin is not necessarily evil.


DC: Glinda! She's an overachiever. It's funny, because the houses are always vibe-based, not necessarily intellect-based. Glinda isn't the smartest of the bunch, and she can be hapless, but she's also super well-bred and prissy. I don't know if those adjectives fit these two things, but she just seems kind of a Ravenclaw to me. Not to say if you're a Ravenclaw, you're well-bred and prissy. It's just that you can be.


DC: It's always kind of unfair if you pull this card because, you're like, "Hey what do you mean by 'I'm a Hufflepuff?'" And I say, "Well, you're kind of an Elder Cunningham." That's what I mean by that. Not the sharpest tool in the shed, but by golly you mean well.


DC: Definitely between Ravenclaw and Gryffindor. That's tough. I feel like, the hat ultimately puts you where you want to be, so if he had the option between those two, I'm not sure which he would choose. I feel like the hat would try to put him in Ravenclaw because he's wicked smart and on top of his shit, but I think the dreamer and idealist in him would sway him to Gryffindor. He would be like what Harry did.


DC: That's easy, I'll say Gryffindor. Oh look, there he is! (points to paddle) He can get in a little bit of trouble, he's a little hard-headed, but has really good intentions, and is sort of a natural-born leader. Literally, because he was born into a royal family. He is the lion king. He lives in the Buckingham Palace of Africa. Which is Pride Rock.


DC: Roxie Hart KILLED people. She was a MURDERER. So, she's kind of evil and conniving, albeit, sexy. So I'm going to go with Slytherin — conniving and sexy.


DC: Aladdin is kind of an idiot and the simpleton, so you'd think he'd be this (points to Hufflepuff), but because he's all dashing and charming and based off looks of Tom Cruise from the early '90s, he kind of goes into Gryffindor land. Because despite his shortcomings and ineptitudes, he does rise to the occasion and has a hero within. He is a diamond in the rough, as a sand lion once said.


DC: The cool thing about the Witch, and Into the Woods in general, is that everybody is not who you think they are. So good guys are the bad guys and bad guys are the good guys. So you think the Witch is evil, but the whole cool turnaround about Into the Woods is that she's pretty human, and just trying to do the right thing. She's pretty smart, I'm going to put her as a Ravenclaw. She doesn't have a name, just the Witch. Maybe it's Stacey, Stacey the Witch.


[Editor's note: We included Frozen since it's rumored to be coming to Broadway in 2017]

DC: Elsa! She gets antagonized a lot. Well, similar to Idina Menzel's other character, Elphaba from Wicked, they're both misunderstood baddies. So you think she's a Slytherin, but no. Something about her says Ravenclaw to me. I guess it's because she's the older sister type? I don't know why I'm associating that with it. Wait... (looks up at hat), the hat told me Ravenclaw.


DC: Hedwig! Oh, man. What is she? Again, she's one of these great characters that straddles the line between good and evil. She straddles the line between a few things. Oof, that's tough! Maybe because of the romantic in me, because she does redeem herself in the end, despite the terrible things she says, she's been a victim and a lot of bad things would happen to her... I don't know, I think I would argue both [Gryffindor and Slytherin]. I think the romantic in me will say Gryffindor, even though she thinks she's a Slytherin. I don't know, that's really tough, it's a good one! I'm stumped. It's a tie between the two. She's a woman who lives in dualities on a lot of levels, so I think there's room for a Slytherdor.

DC: He's also pretty conniving, I've got to say. He's a slithery type of guy. However, he's not evil, and he doesn't mean for anyone to get hurt or shoved in a corner, so I think most of his intentions are genuinely well-intended, he's just a go-getter and ambitious boy, I'll just say Gryffindor.


DC: Jamie is a Ravenclaw. He's a writer, he's kind of a bookworm, but he's charming and not so nerdy that he can't interact with people. Reminder that by this point, we've only had one Hufflepuff, and he is a Mormon. Which is not a commentary to Mormonism at all, it's just a coincidence.


DC: Ok, I would say Anna is a Hufflepuff. This actually takes us out of the place that people might have thought we were going, which is making fun of Hufflepuffs. Hufflepuffs are people with really, really big hearts. Hufflepuffs care about people, even despite their good judgement. They care about people, just as Anna does with her sister. She loves her sister and is just trying to make it work. Kind of crazy to go out into the freezing Scandanavian cold — she could have died several times, but she fought an ice monster, befriended an enchanted snowman — these are all things that my judgement would be like, "Eh I'm going home, I tried." Her heart is bigger than her brain.


DC: OOOO, the Emcee. Well it depends on how you play the Emcee. Just because he's so slithery, and not just because it's called Slytherin, he can kind of weave his way around a lot of situations — not necessarily in a sinister way, but a snidely satirical way. You never know if you've been made fun of or if you're part of the crazy party. So I'll say he's a Slytherin, because again, he's sexy and conniving.

Elsie Fest will take place in New York City on Sunday, Sept. 27!