This Is What Happens When You Audition For A Televised Singing Competition
Open call auditions are long, exhausting, surreal, and full of undying optimism. Maybe this is why I keep returning.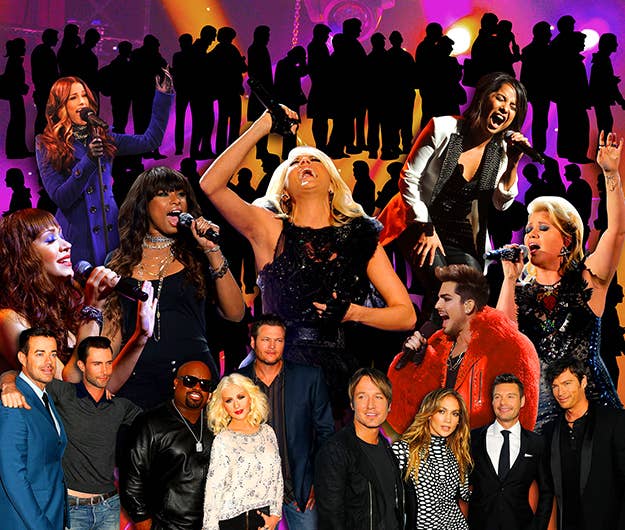 I am not a singer.
I used to be, or, at least, there was a point in my life during which I would have identified as such, maybe when I was taking weekly voice lessons, or reading music in the school choir, or providing vocals for a friend's band. But it's a version of myself that has died down slowly throughout the past decade.
Except, of course, when it's urging me again and again to audition for televised singing competitions.
Auditioning had been in the back of my mind since American Idol debuted in 2002. The concept was novel, and the entirety of my high school jazz choir killed time around the piano discussing what they would sing if they were in front of Paula, Randy, and Simon, each assuring the other how undoubtedly he or she would blow them away. It wasn't until 2010 that I actually did anything with this latent desire, when one of our nation's many talent competitions came through town at the same time that I was in the unique position to take advantage of the opportunity, which is to say, unemployed.
OK, yes, I thought to myself, so I haven't sung anything besides karaoke in well over six years. So what? Haven't the regulars at The Hutch been giving me some pretty positive feedback lately? Didn't that drunk guy just personally request "that 'bad bad girl' song"? What? Am I to forget about the fact that I made it to round two of Smithtown Idol held at, fine, yes, Smithtown High School, but still?
And so the decision was made, the online application filled out, and not another thought or single rehearsal put in until audition day.
I did not progress in 2010, nor have I done so in the two auditions I've attended since. But there I stood, again, in a line outside of the Pennsylvania Convention Center, straight off of a two-hour bus ride from New York with audition pass and ID in hand, confident in the rejection that was soon(-ish) to come. And how could I not? If anything, it makes for an interesting day.
The Arrival
Auditions are held at convention centers, and the thing about convention centers is that they are enormous. What this means is that it takes roughly 10 minutes to locate the correct entrance once you've arrived at the building, even though once you get to that entrance, you will be met with a line so long it would seem impossible to miss.
Still, this is the line that moves the quickest, and it's also the only one that is relatively enjoyable. This is where the bonds are formed, because the people surrounding you will be your best friends for the rest of the day.
Meeting the neighbors
Maria Nunez has driven six hours down from Rochester, N.Y., with her husband and best friend, though she will be the only one auditioning today. She wears a faux-fur jacket with a camouflage shirt peeking from underneath, and her arms, chest, and shoulders are decorated with stars and music notes. Above her left eye, she has a delicate floral tattoo.
She and her husband met eight years ago at a singing competition, she tells me, and when they locked eyes, they "just knew." He came out the victor, but afterward they got drinks and the rest is history. He was supposed to sing today as well, but he woke up without a voice. Hers is raspy from years of smoking, and she is best when she sings in a bass range. (Today she'll be singing Toni Braxton.) She's one of the veterans, and had even gotten through multiple rounds on American Idol years back, but chose to bow out because she was seven months pregnant. She now has three children, all sending their luck from home.
Jose Jimenez, Maria's "bestie" and a tower of a man, stands in line for moral support, though his audition is actually tomorrow. He doesn't mind the trip or the wait, which he assures me will hardly be memorable once he gets through this round. He will get through this round, he says confidently, because he is phenomenal and he knows it. As we inch up the sidewalk, he cups his phone against my ear, playing YouTube video after YouTube video of his karaoke recordings. His rendition of "The Star-Spangled Banner" is formidable.
The teenage girl behind him — dolled up in flowing dress and cowboy boots — stands with a mother who already looks bored, and asks meekly if anyone has ever done this before.
Smile for the camera
This, at the onset of a day that will last six hours if we're lucky, is when the spirit of the crowd is at its optimistic peak. Interns with earpieces ask us to shout as a camera pans the line (and again, just one more time, like you really mean it!), and representatives from local radio stations want to know why you think you're this year's winner, and can you give the crowd just a quick little sample?
Tourists, homeless, and city wanderers shout messages of encouragement as they walk by. One elderly man in a long trench coat walks down the line and tells each of us individually that we are accomplishing our dreams. "God bless!" he sings, as he walks away, lingering on the note. Attendees swap tales of past auditions like war stories ("Oh, that's why I don't audition for them anymore. They want you to sing a song while swallowing a knife!"), and, if they're feeling particularly trusting, let each other in on which song they'll be singing.
As we turn the last corner before security, an employee issues a final warning: If we're carrying any glass bottles, lighters, knives, guns, or combs, it is time to get rid of them now.
The Waiting Rooms
Tension becomes almost immediately palpable as we enter the building and shuffle into the first of three holding areas. Hundreds of would-be pop stars are directed into eight different lines in one massive room, which inspires a sort of claustrophobia despite its size, as if the fact of its ceiling and walls remind us that we are, after all, competitors.
People are less forgiving of on-the-spot rehearsing here, which means the lines are filled with closed-eyed, hands-waving, whisper-singing people with headphones in ears. Those brave enough to ignore this unspoken rule by belting out the chorus of "Natural Woman" or "Jesus Take the Wheel" are inevitably met with a mocking echo from someone across the room.
This first waiting area has no chairs, and we stand for roughly two hours with little to no movement. Folks plop down on the floor. Some do mysterious warm-up stretches. Others, hearing predictions of total wait time, start dropping off. One girl says she's heard there's another two hours after we leave this room, and she's only paid parking for the next hour. She leaves, saying there's always next year.
No singing in the bathroom
Conversations that seemed exciting outside get repetitive, as everyone reverts to what is essentially a series of sound bites.
"Music is my life, I've always said that," says the twentysomething man with gelled, spiked hair, in between yoga poses and breathing exercises.
"The thing is, with my voice? I don't show off. I know what I can't do, but what I do, I do well," says the middle-aged woman in jeans and a Gap sweatshirt.
"I just feel like, I'm going to stand out, you know? Because I'm singing something different," says the tall 16-year-old in a studded skirt, pleather jacket, and platform sneakers who will be scatting some Jason Mraz.
I'm able to leave the room briefly for a bathroom break while Maria holds my spot, though the security man at the door warns me that if my line happens to move while I'm gone, I'll need to start all over again. High notes battle throughout the hallways and bathroom stalls, despite a sign that reads "PLEASE NO SINGING IN THE BATHROOM."
A dull melancholy
In the second and third waiting rooms, we are directed to snug aisles of folding chairs, and volunteers step up to perform their song in front of the crowd with the help of a megaphone. The mood softens, and every singer gets applause, especially if — as happens depressingly often — the crowd knows the singer won't be moving on.
But even more prevalent than the poor singers are the unbelievable ones, and the effect of all of this is a dull melancholy. Somehow it is as soul-killing to see people who believe so earnestly in a talent that the rest of the world doesn't see as it is to realize that, after a while, most incredible voices are rendered indistinguishable. I make mental notes of who to look out for in the upcoming season, and finally, five and a half hours after arriving that morning, an employee tells us it's showtime.
The Audition
I lead a group of 12 people — 10 singers, including myself, and two parents — out into the hallway, toward a man waving his hand at us. He lines us up against the wall, does another head count, collects our passes, and gives us a quick little pep talk. "Remember, we aren't curing cancer here," he says, seemingly oblivious to the terror in the faces in front of him. "Just sing your song! Have some fun with it!"
He leaves us, and everyone retreats again into their whisper-singing. This is where I begin to regret my decision. Why am I doing this again? I feel like I'm going to vomit. What if I vomit? Has anyone ever vomited in there before? Why am I even nervous? I'm not going to make it. Duh, of course I'm not going to make it. But also, I mean, what if I make it? I could make it. Am I going to make it? I'm not going to make it.
A woman who I had met in the second room stands in the line across from me and we nervously give each other a thumbs-up. The enthusiastic man returns and directs us into our audition room.
On your mark
And here is what many people don't realize: Before anyone gets to the audition we see on TV, they have to pass through up to three rounds of preliminary auditions. The first, in my experience, has always looked the same. Ten singers sit in a row of chairs facing a conference table where one or two anonymous producers act as judges, sitting and typing on laptops. One by one, singers are called to stand on a mark and perform one verse and one chorus of their song, while the judges, heads down, take notes. No feedback is given, and we are either told to sit back down or asked to sing a second song.
We are encouraged to "be excited for each other," and we watch anxiously to see which of the people we've been talking to all day is hiding the next big voice. Usually, and unfortunately, it's none of them, and after everyone is finished, the group is unceremoniously dismissed. Anyone who is impressive enough will be asked to hang back, but this is an occurrence I've seen only once despite hearing singers whose voices would strike real fear into the hearts of any regional talent show contestant.
The verdict
On this most recent audition, I sing the saddest song in existence: naturally, Bonnie Raitt's "I Can't Make You Love Me." It is the quickest way to channel my most insecure, vulnerable, teenage self, and my hands tremble the entire time. It is — while not one of my favorite song choices, which have included "Sunday Kind of Love" for my first audition and "Maps" after that — certainly my most accurate.
When all is said and done, I indeed cannot make the judges love me if they don't. And they don't, so out the door I go.