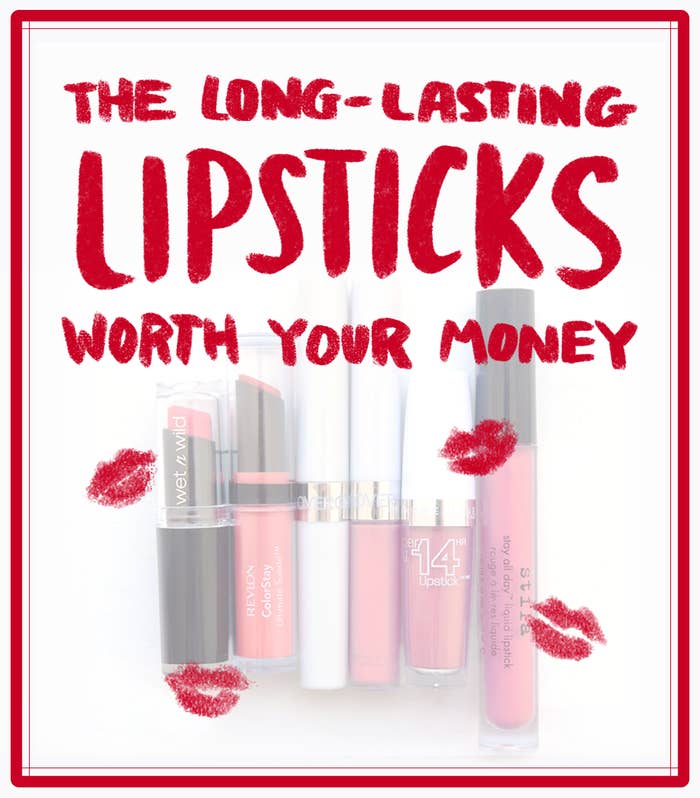 Each woman will wear five long-lasting lipsticks — no stains or glosses, but liquid lipstick is allowed — for a full work day, comparing four drugstore brands and one pricier outlier over the course of five days. The women will apply and wear as normal, with one exception: absolutely no touch-ups allowed. Photos will be taken at the beginning and end of each day. It's a simple test with telling results!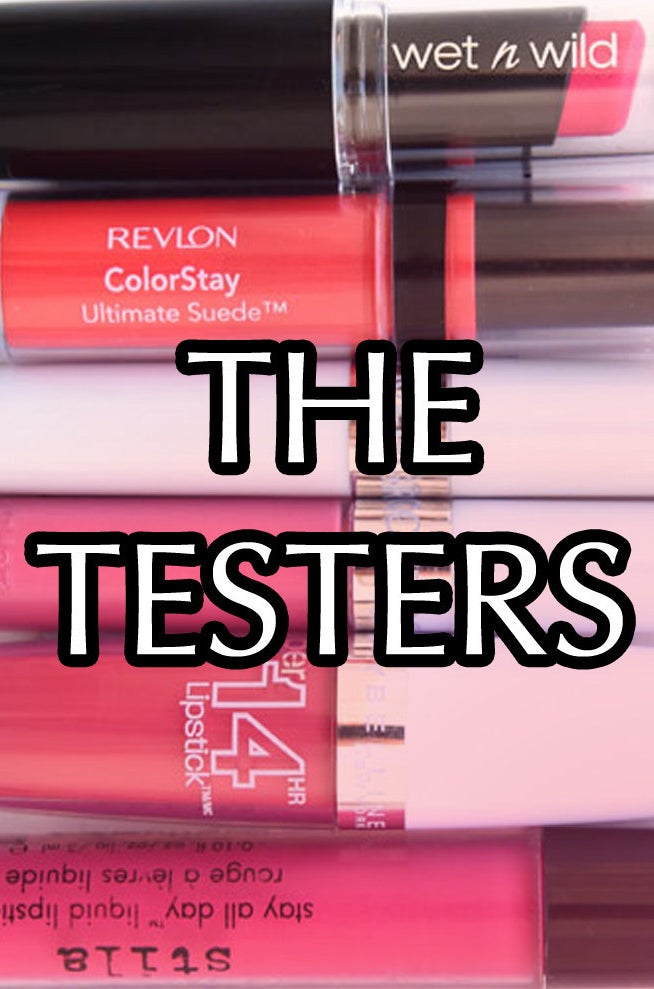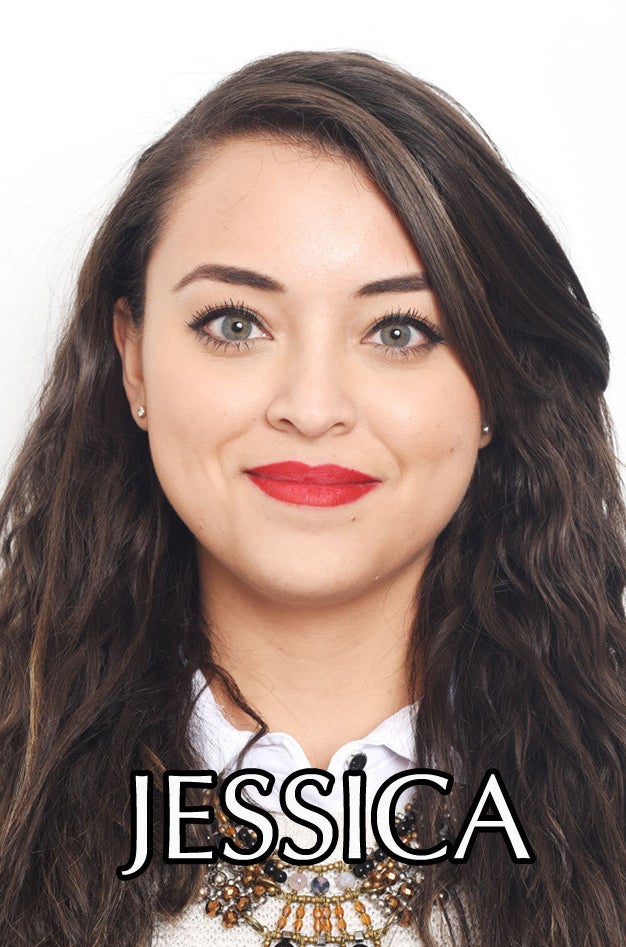 Augusta Falletta, hair and beauty editor: I wear lipstick on a regular basis so I know instantly whether I like something or not. I'm a pretty aggressive eater and I drink (water and coffee) CONSTANTLY so I'm always conscious of something lasting through all of that.
Jarry Lee, staff writer: I usually don't wear lipstick, but I do regularly wear Clinique's Almost Lipstick, which is more sheer than regular lipstick. As far as gripes, I usually find that most lipsticks wear off too quickly and need reapplication every few hours.
Jessica Lima, BuzzFeed Español associate editor: Lipstick is one of my favorite things to wear when I want to spruce up my look. I used to be terrified of wearing lipstick because I am a nail-biter and would always get it on my teeth, but I recently discovered lip stains, which have worked a lot better than regular lipstick for me.
Arianna Rebolini, senior editor: I LOVE lipstick, but probably only wear it once or twice a week, and only ever in a bright pink or bright red shade. I'm pretty low-key about application: no primers, no lip liner, just winging it. I'm a big nail-biter and snacker, so color strength and longevity are important to me.
Alexis Nedd, staff writer: While I appreciate the pop of color on my lips, I've always viewed lipstick as more trouble than it's worth. I've had a hard time finding a good red for me, because my brown skin tone makes a lot of shades look too bright and orange-y. If I was going to become a lipstick person, I would have to find a shade that really worked for me, stayed on, and that wouldn't need 20 minutes of primer/lining/prep to make it look good.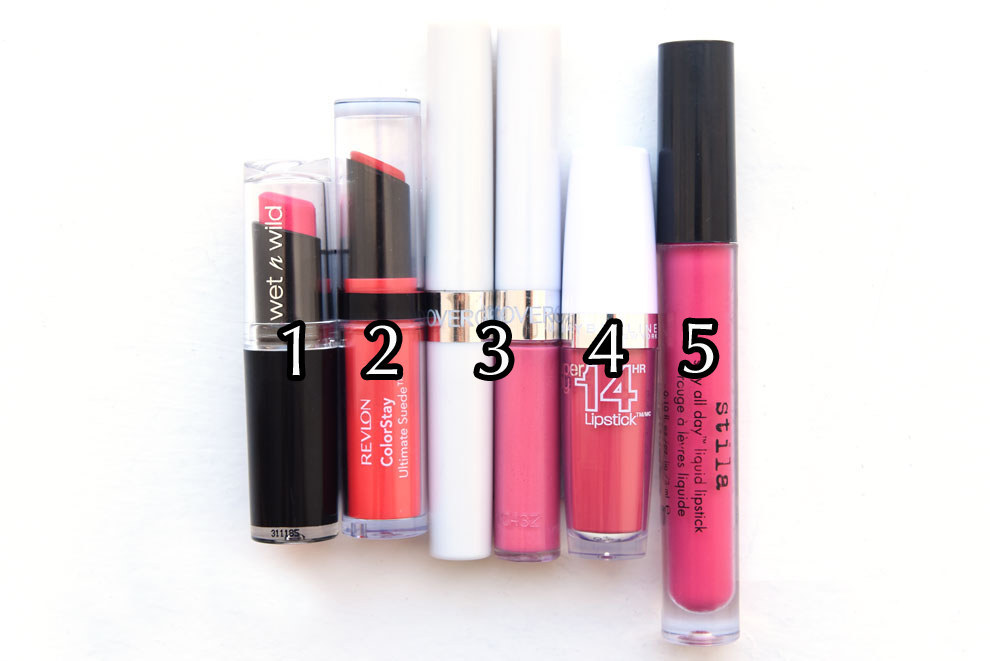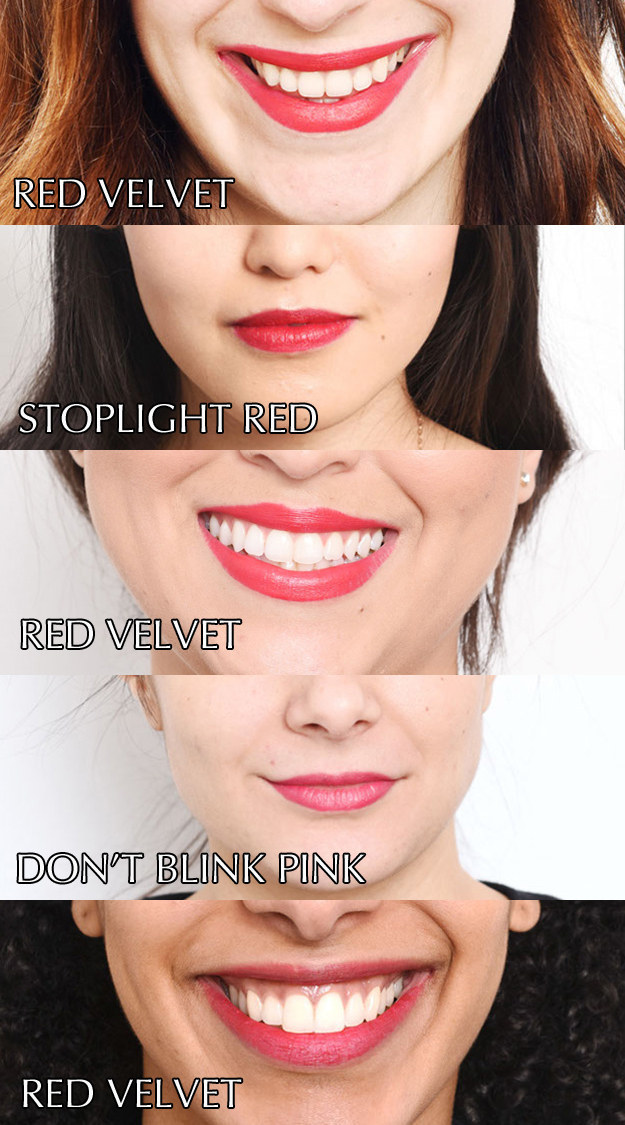 Augusta: It's a super pigmented, bright color, but it just felt really dry all day. It did fade a little bit, but the color actually stayed on really well. By the end of the day I was itching to take it off even though the color lasted, because it just felt really dry and cakey.
Jarry: I liked the color and it stayed on pretty well, but my lips felt increasingly dry as the day went on. By the end of the day, I was worried that there would be a red, cakey mess on my lips, and while it didn't look like that, it definitely felt like it.
Jessica: This one was in my bottom two. Although it did last the whole day, I felt like I had something sticky on my lips the whole time. It was an uncomfortable feeling because my lips were dry and sticky at the same time. The only positive thing about this one was that the color was really pretty.
Arianna: I loved this color, and it lasted well into the evening, but, boy, did it dry my lips out. Still, at 6:15 p.m., a co-worker looked at me from across desks and was compelled to tell me, "Your color has stayed on excellently!"
Alexis: Garbage stick. I would have gone into the photoshoot with this stuff all over my teeth if someone hadn't caught it for me right before I went to the studio. It goes on very easily, yes, but it will also get on everything you own and love. If there is one thing to be said, it's that they take the long-lasting part of the formula very seriously. I scrubbed my lips with coconut oil, took a washcloth to my lips, used makeup remover, and brushed my lips with a toothbrush and still had this spot of red on my lips that I couldn't get off. Use Wet N Wild if you want to apply lipstick once and have it last until you die.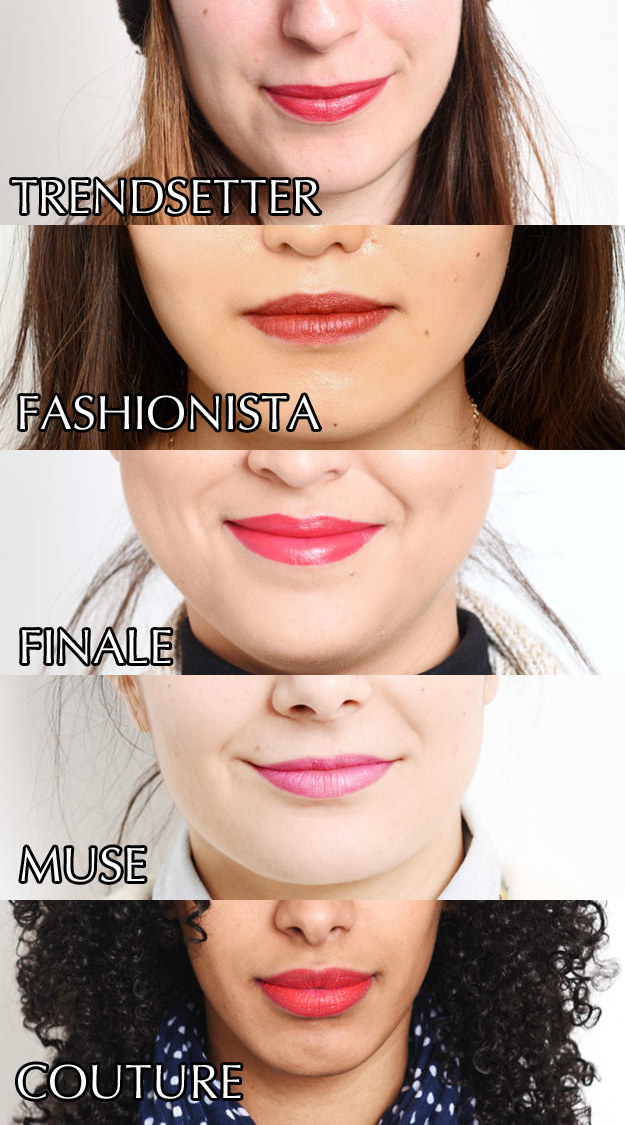 Augusta: This one felt really creamy when I applied it, then it went to being just a liiiittle bit sticky, and I immediately thought it wouldn't last the whole day. It wound up staying on really well through food and tons of coffee and water, and it still looked amazing at 5 p.m. It applies easily and it comes off when you want it to (at the end of the day).
Jarry: This was by far the most moisturizing — all of the others were drying. While I wasn't the biggest fan of the color, I did like this lipstick the best because of how smoothly it went on and how well it stayed on. It was also pretty easy to remove, so overall it was definitely my favorite.
Jessica: This was one of my favorites! When I put it on I thought it was going to come off within minutes, but it actually lasted all day. I honestly didn't really feel like I had lipstick on, and I was not mindful of what I ate or drank. Toward the end of the day it felt a bit dry, but other than that, I loved the shade of red I picked and I loved how the lipstick felt on my lips the whole day.
Arianna: This went on so smooth, to the extent that I was certain the color would be gone within the first hour. But it lasted! So much longer than I expected, and with a color so bold that when I I walked in the front door of my apartment after work, my roommate asked, "Why'd you put on lipstick to come home?" I ended up washing it off before bed, but it never felt too dry. This was my favorite, for sure.
Alexis: This one is a close second favorite for me. It went on very, very easily, and I didn't have a problem with it bleeding outside of my lip line or smudging anywhere. I thought the color was very bright when I first put it on but in natural lighting it looked a lot deeper and redder than I first thought. At the end of the day my lips still felt soft, which is amazing because my lips usually dry out fast, and the color came off easily with coconut oil. Loved it.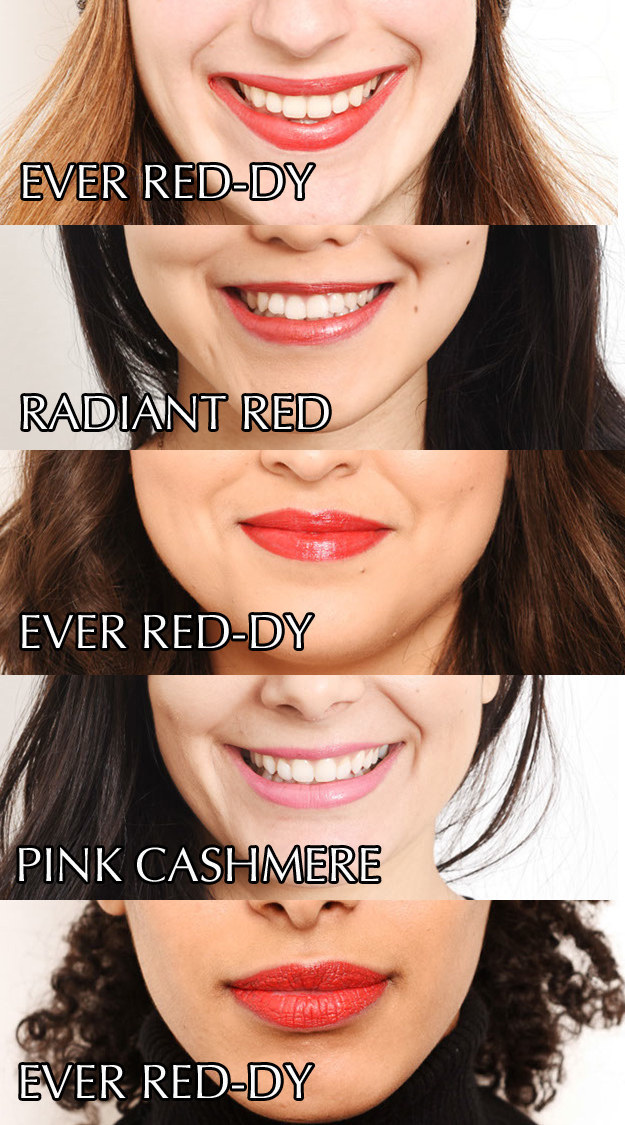 Augusta: I expected an opaque application and it was actually kind of sheer, so I had to really layer it on to get the color intensity I wanted. Also, I had to completely scrub the crap out of my lips to get this off, and they burned after all of that. Plus it didn't last through the day, so it got a thumbs down in my book.
Jarry: This wasn't even remotely opaque enough and seemed more like a gloss than a lipstick. I did really like the clear top layer that you were supposed to put on over it, though. Definitely my least favorite out of the five.
Jessica: This one was my favorite! My main problem with all the other ones was that my lips felt very dry when wearing them. However, the two-step process of this lipstick includes a layer of moisturizing balm that I applied throughout the day so my lips felt hydrated the whole time. During the day I forgot I even had it on, and had a bagel and a sandwich and it didn't come off at all. When I got home late at night, the lipstick was still on and it was even a bit hard to take it off. I would recommend this brand to anyone.
Arianna: Oh I just hated this so much. So, so much. The liquid color streaks and it only gets worse the more you try to layer it on, and then whatever you do get on hardens and cracks throughout the day regardless of how frequently you use the moisturizing topcoat. And then you're still scrubbing the remnants off the next morning! The topcoat is great though, and I still use it as a lip balm.
Alexis: There were two components to this lipstick — the actual pigment and this magical clear balm/sealant that comes with it. The pigment is very sticky and hard to apply. It got a little runny, not unlike the Stila but a lot worse, and felt very heavy on my lips. The clear stuff they give you with it is semi-liquid gold, though. It acts as a barrier between your lip color and the rest of the universe and it totally does that. You will not smudge your lipstick with that clear coat, nor will you get lipstick on your clothes or cups or what have you. It's a force field.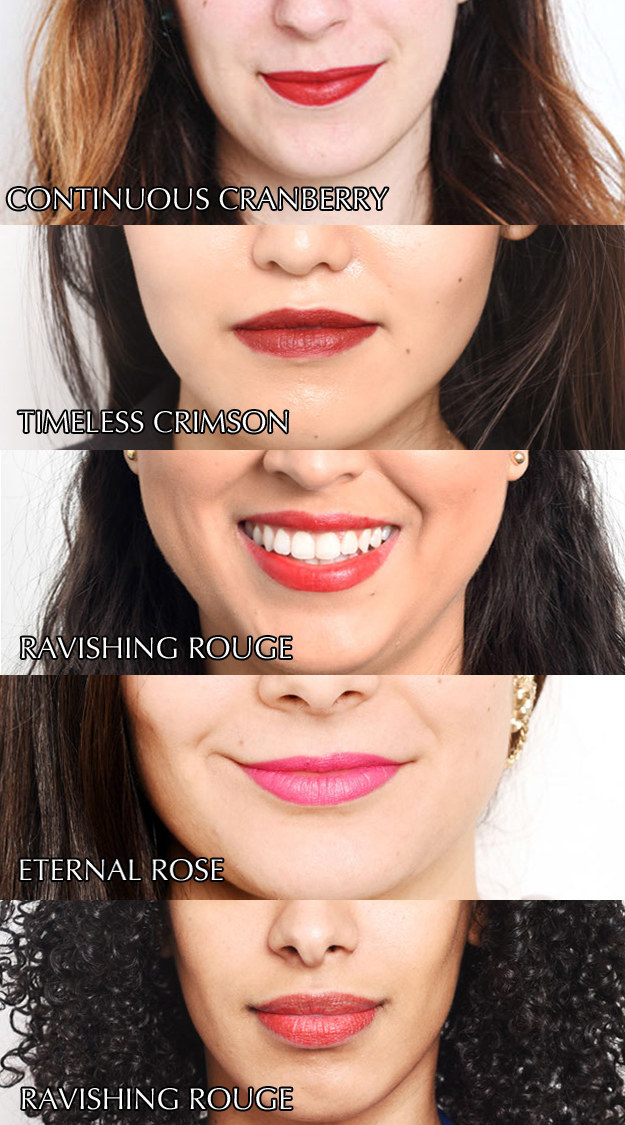 Augusta: When I first applied this, I couldn't get over how good it smelled. It lasted throughout the day and has a really solid, beautiful pigment. The bullet has a really good shape so applying this lipstick is super simple. It does require a little bit of elbow grease to get it off.
Jarry: This was my second favorite color, after the Stila, and probably also my second favorite lipstick out of the five. It was definitely not as moisturizing as the Revlon, but also not as drying as some of the others. Overall, a decent lipstick that smelled great and wasn't too difficult to take off!
Jessica: I was pleasantly surprised to see that this lipstick stayed on most of the day. However, since it was the first day I was being extra mindful of anything that went near my mouth. What I loved about this lipstick was the fruity scent it had because I could honestly smell it for most the day. It was very easy to apply it, and it didn't feel weird or extremely dry on my lips.
Arianna: My first thought was that it smells delightful. This was probably my favorite lipstick based on texture (very creamy, moisturizing throughout the day) and I liked the color, but it was probably the weakest in the long-lasting department — although it did go up against a sandwich. Close second behind the Revlon, overall.
Alexis: This stuff was OK I guess. It took more than one coat to get an all-over red look, which annoyed me because I spent a lot of time applying it. It also wasn't as long-lasting as any of the other lipsticks, so my "after" picture probably looks like I just hooked up with a napkin.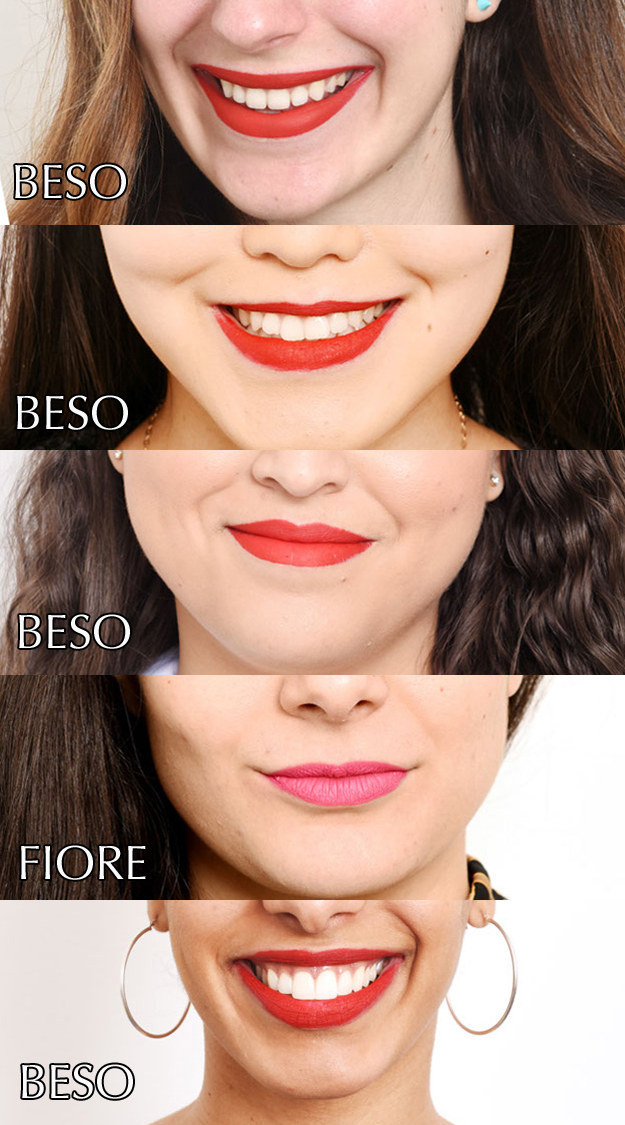 Augusta: I was pretty skeptical about this one because it's a liquid lipstick, so the application of those is usually super tricky. BUT, this one was actually one of my favorites. It's really, really dry, but the color is beautiful and it lasted through sushi, a milk test, and about six cups of coffee (reading this is making me rethink my diet throughout a day). At the end of the day, it had faded — mostly around the center of my mouth — but it's pretty solid otherwise. Downside: It's incredibly hard to get off.
Jarry: Maybe I put on too many layers, but this got incredibly cakey and dry. The color was my favorite out of the five, but the pigment actually ended up staining my skin— as did the Wet N Wild one — to an even worse extent because it was so dark. I'm also not a fan of liquid lipstick and this was no exception — very difficult to apply without a lip liner.
Jessica: This one was my least favorite. The first thing I did was to try it on my hand to see how the lipstick would feel and, if I didn't apply it properly, how hard it would be to take off. I am happy I did this because I immediately realized that if I messed it up a bit while applying it, I was going to be stuck with that mistake all day. I was very careful when putting it on and I immediately felt like my lips were drying within seconds of applying it. I had hoped this would mean no residue would come off during the day, but I was wrong. At one point I realized I had some lipstick on my teeth, and it was so embarrassing. However, even though residue kept coming off my lips all day, the lipstick also lasted on my lips the whole day, and it was very hard to take off. The color was very pretty, but I didn't like the feeling of it at all. I wouldn't wear it again.
Arianna: This lipstick smells so much like frosting it was distracting. I wanted to eat it. I didn't, though; instead, I just wore it and enjoyed it quite a bit. Probably my favorite color of the bunch, and pretty long-lasting, if a tad drying. Since it is liquid, though, I could have benefited from a nice clear lip liner. It's harder to control the application.
Alexis: This is my favorite partially because of the color but also because this stuff works HARD. It stays on very well and doesn't even dream about fading over the course of the day. I was eating, drinking, blowing my nose, coughing into my scarf (I had a cold this whole week so the lipsticks had to survive that) and this shit stayed locked on. I mentioned the color before but have to reiterate — it's the best red I've ever had on my lips. It's deep, it's dark, it's poisonous and a bit scary. Everything I wanted. If there is one caveat about this lipstick though, it's that the Stila is harder to apply than a regular stick. It's very liquid-y and I had to take a Q-tip and fix my lines while I was putting it on. Definitely not entry-level stuff.

Only one lipstick emerged as unanimously loved: The Revlon ColorStay Ultimate Suede — the second cheapest of the bunch, at $7.99 — was found to be long-lasting, moisturizing, and pleasantly pigmented by all, even if it wasn't everyone's top choice.
Maybelline was close behind, and would have been a clear winner for its texture and ease of application, if it weren't for the fact that it just, for some, didn't hold up by the end of the day.
In third place was Stila, which, though more than double the price of the other brands, didn't perform remarkably better — it was Alexis' favorite, Jessica's least favorite, and pretty much just fine for the others.
Wet N Wild, whose shades were liked by some, was uncomfortably drying across the board, and came in fourth.
But the least favorite was CoverGirl: It was almost unanimously hated — four out of five testers found it drying, tough to apply, and quick to crack and fade — except for the fact that Jessica named it as her favorite.
Want great beauty tips in your inbox every week? Sign up for the BuzzFeed Health & Beauty newsletter!