Here are some of the most heart-racing responses:
1. "Their bodies had met in perfumes, in sweat, frantic to get under that thin film with a tongue or a tooth, as if they each could grip character there and during love pull it right off the body of the other." (Michael Ondaatje, The English Patient)
—suggested by Amandine Riche, Facebook
2. "I was hers. She was mine. My body was her chariot, and she drove it into the sun. Her body was my river, and I became the sea." (Gregory David Roberts, Shantaram)
—suggested by erenah
3. "He was careful not to hurt her. She could feel how soft she felt to him. She could feel herself through him. Her skin. The way her body existed only where he touched her. The rest of her was smoke." (Arundhati Roy, The God of Small Things)
—suggested by aizehio
4. "And I mean to hear ye groan like that again. And to moan and sob, even though you dinna wish to, for ye canna help it. I mean to make you sigh as though your heart would break, and scream with the wanting, and at last to cry out in my arms, and I shall know that I've served ye well." (Diana Gabaldon, Outlander)
—suggested by kristinr4f9a16828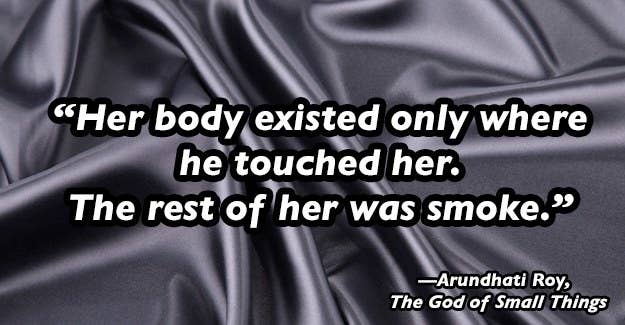 5. "The word love set his nerves ablaze. All his body thrilled with it, and he answered her in the same words, kissing her hot face over and over again, drinking in with adoration the scent of her body and her warm, honey-fragrant hair and her sweet, moist mouth that tasted of the little red fruit. Around them there was nothing but silence, as if all the world were holding its breath." (Philip Pullman, The Amber Spyglass)

—suggested by Keely
6. "I was trembling, afraid to put him to flight. I did not know what to do, what he would like. I kissed his neck, the span of his chest, and tasted the salt. He seemed to swell beneath my touch, to ripen. He smelled like almonds and earth. He pressed against me, crushing my lips to wine." (Madeline Miller, The Song of Achilles)
—suggested by Riley Blancett, Facebook
7. "To a man like that, for whom you have feelings like that, you can say all sorts of things, 'I'm starved' being the mildest of them. Words she would never have used, before. Vandal words. Sometimes she can't believe what comes out of her mouth; not to mention what goes into it." (Margaret Atwood, The Heart Goes Last)
—suggested by k42f52814a
8. "I love you so much more now than twenty minutes ago that there cannot be comparison. I love you so much more now then when you opened your hovel door, there cannot be comparison. There is no room in my body for anything but you. My arms love you, my ears adore you, my knees shake with blind affection." (William Goldman, The Princess Bride)
—suggested by Daya Subramanian, Facebook
9. "Then my hands go to sink into your hair, to cherish slowly the depth of your hair while we kiss as if our mouths were filled with flowers or with fish, with lively moments and dark fragrance. And if we bite each other the pain is sweet, and if we smother each other in a brief and terrible sucking in together of our breaths, that momentary death is beautiful." (Julio Cortázar, Hopscotch)
—suggested by Jime Pardo, Facebook
10. "'I love the smell of you,' he said. 'I love your red hair. I love your mouth, and the way you kiss me. I love your smile. I love your teats.' He kissed them, one and then the other. 'I love your skinny legs, and what's between them.' He knelt to kiss her there, lightly on her mound at first, but Ygritte moved her legs apart a little, and he saw the pink inside and kissed that as well, and tasted her." (George R.R. Martin, A Storm of Swords)
—suggested by Sarah Mountain Flower Nunn, Facebook
11. "Sometimes Gen will stop his memory there. Her skin, the night, the grass, to be outside and then to be inside Carmen. He doesn't know to want for more because nothing in his life has been as much as this." (Ann Patchett, Bel Canto)
—suggested by kalik40b6c5cec
12. "Janie awoke next morning by feeling Tea Cake almost kissing her breath away. Holding her and caressing her as if he feared she might escape his grasp and fly away." (Zora Neale Hurston, Their Eyes Were Watching God)
—suggested by Lianna Teresa Gonzalez, Facebook
13. "Wrapping the unbound laces of her corset around his wrists, Marco pulls her down to the floor with him. They continue to remove layer after layer until nothing separates them. Trapped in silence, Marco traces apologies and adorations across Celia's body with his tongue. Mutely expressing all the things he can not speak aloud. He finds other ways to tell her, his fingers leaving faint trails of ink in their wake. He savors every sound he elicits from her. The entire room trembles as they come together. And though there are a great many fragile objects contained within it, nothing breaks. Above them, the clock continues to turn its pages, pushing stories too minuscule to read ever onward." (Eric Morgenstern, The Night Circus)
—suggested by anikapayne
14. "I want to love you wildly. I don't want words, but inarticulate cries, meaningless, from the bottom of my most primitive being, that flow from my belly like honey. A piercing joy that leaves me empty, conquered, silenced." (Anaïs Nin)
—suggested by Chantal Gamble, Facebook
15. "His touch both consoles and devastates me; I feel my heart pulse, then wither, naked as a stone on the roaring mattress while the lovely, moony night slides through the window to dapple the flanks of this innocent who makes cages to keep the sweet birds in. Eat me, drink me; thirsty, cankered, I go back and back to him to have his fingers strip the tattered skin away and clothe me in his dress of water, this garment that drenches me, its slithering odour, its capacity for drowning." (Angela Carter, The Bloody Chamber and Other Stories)
—suggested by Danielle Tara Topaz, Facebook
16. "I want you splayed out on the table like my own personal feast." (Sarah J. Maas, A Court of Mist and Fury)
—suggested by sarahl4cd51def6
17. "'Let's not be unfaithful right now then,' he said, 'I can't wait,' running his hands along her ribs, down the tight plane of her stomach. She always brought his hands to her thin, expressive breasts; she would not be touched below the waist by hands. They moved together, blue diamonds on a green field." (Gregory Maguire, Wicked)
—suggested by jessh48bba0bda
18. "And then he was suddenly overwhelmed. It was as if a thousand bolts of lightning had converged to lift him. All he could see was blue, electric blue, wet shining warm blue, blue to no end, everywhere, blue that glowed and made him cry out, blue, blue, her eyes were blue." (Mark Helprin, Winter's Tale)
—suggested by Jacki Demchak, Facebook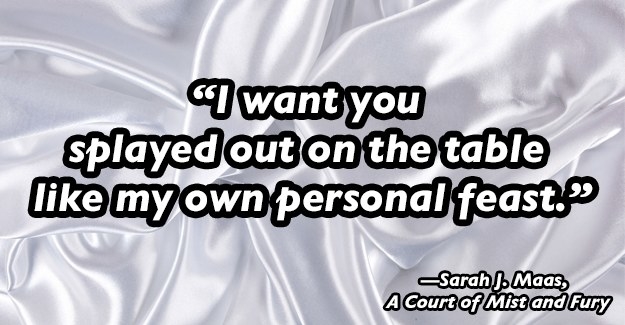 19. "I cannot let you burn me up, nor can I resist you. No mere human can stand in a fire and not be consumed." (A.S. Byatt, Possession)
—suggested by rachellynnh
20. "I crave your mouth, your voice, your hair. Silent and starving, I prowl through the streets." (Pablo Neruda, Sonnet XI)
—suggested by madccunning
21. "I'm in love with you, and I'm not in the business of denying myself the simple pleasure of saying true things. I'm in love with you, and I know that love is just a shout into the void, and that oblivion is inevitable, and that we're all doomed and that there will come a day when all our labor has been returned to dust, and I know the sun will swallow the only earth we'll ever have, and I am in love with you." (John Green, The Fault in Our Stars)
—suggested by Libby Pappendick MacInnes, Facebook
Did we miss your favorite line? Tell us about it in the comments below! And if you'd like to be featured similar BuzzFeed posts, be sure to follow the BuzzFeed Community on Facebook and Twitter.