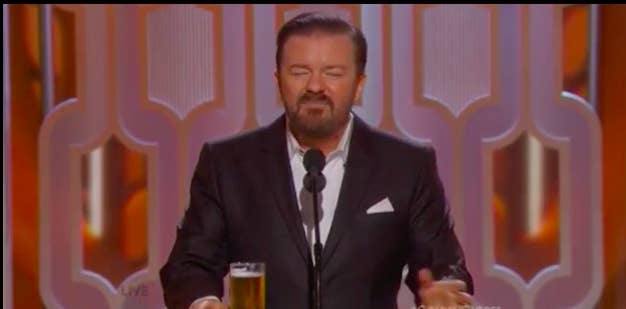 Ricky Gervais ruffled some industry feathers with his abrasive jokes while hosting the Golden Globe Awards in 2010, 2011 and 2012. He returned as host for the 2016 ceremony and made a joke about Caitlyn Jenner in his opening monologue, using her former name and employing a sexist stereotype.
"I'm gonna be nice tonight — I've changed," he said early in the monologue. "Not as much as Bruce Jenner, obviously. Now Caitlyn Jenner, of course. What a year she's had. She became a role model for trans people everywhere, showing great bravery in breaking down barriers and destroying stereotypes. She didn't do a lot for women drivers. But, you can't have everything; not at the same time."
The comedian was referring to Jenner's involvement in a collision that resulted in a woman's death, while echoing a cliché that women are not good drivers. He followed that joke with several about how difficult Jeffery Tambor must find it to convincingly portray a transgender woman on Transparent, wondering aloud what Tambor does with his testicles while playing Maura.
"I know his thing is to make fun of everything, but I think if more people understood the violence trans people face every day, it would be harder to make jokes about it," Transparent creator Jill Soloway told BuzzFeed News' Adam B. Vary at the ceremony.

Gervais told The Hollywood Reporter in December, "I can justify every joke I've ever done and if the joke is about someone, I can do it in front of them and tell them after why it's justified." He also said, "I don't really joke about things that people can't help."

Representatives for Gervais did not immediately respond to BuzzFeed News' request for further comment on his jokes.
UPDATE
While introducing Eddie Redmayne and describing the actor's role as a transgender woman in The Danish Girl, Gervais remarked with joke-surprise, "It's a dude!"
UPDATE
A representative for Jenner declined to comment to BuzzFeed News.
UPDATE
On Tuesday, Gervais defended his jokes about Jenner in several tweets, although he did not address the other jokes about Tambor's and Redmayne's transgender characters.