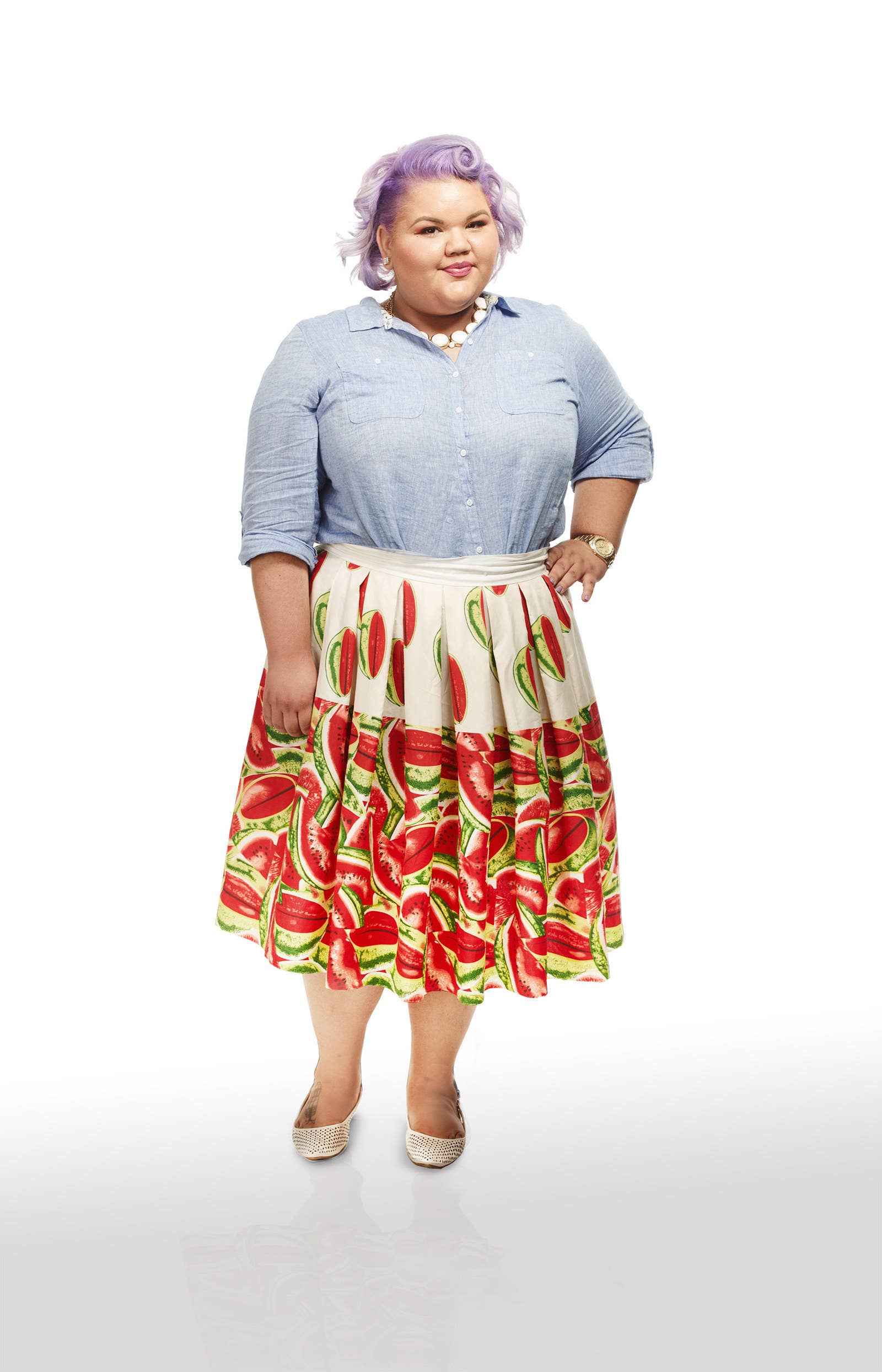 In a society that tells fat women not to draw attention to themselves, Ashley Nell Tipton is a rule-breaker from lilac head to fashionable foot. The Project Runway finalist was blunt about it: "We should just all wear what we want," she told BuzzFeed News in a phone interview. Some people think every fat person is leading "an unhealthy lifestyle," as she put it, but their judgment is pointless: "You need clothing to wear, so why are we going to make those people who decide to live that kind of life feel like crap and not have anything to wear?"
It's a feeling she herself has known, and it is part of the reason she was drawn to fashion design in the first place — to create the bold clothes she didn't see on the shelves. She held fashion leaders responsible for enabling a self-fulfilling prophecy: "This industry puts a bad view on plus-size women and the way we dress, and it's because we don't have options," she said.

Tipton, the first Project Runway contestant who has emphatically insisted she designs for a plus-size customer, and one of the few contestants who is emphatically fat herself, sees this lack of options as an opportunity. "The industry is really ignoring that they're missing us in the market — it's a multimillion-dollar market," she said. And the audience was eager to see that represented on the show: Tipton said many fans "praise me for being very brave for being on the show as a plus-size woman and a plus-size designer."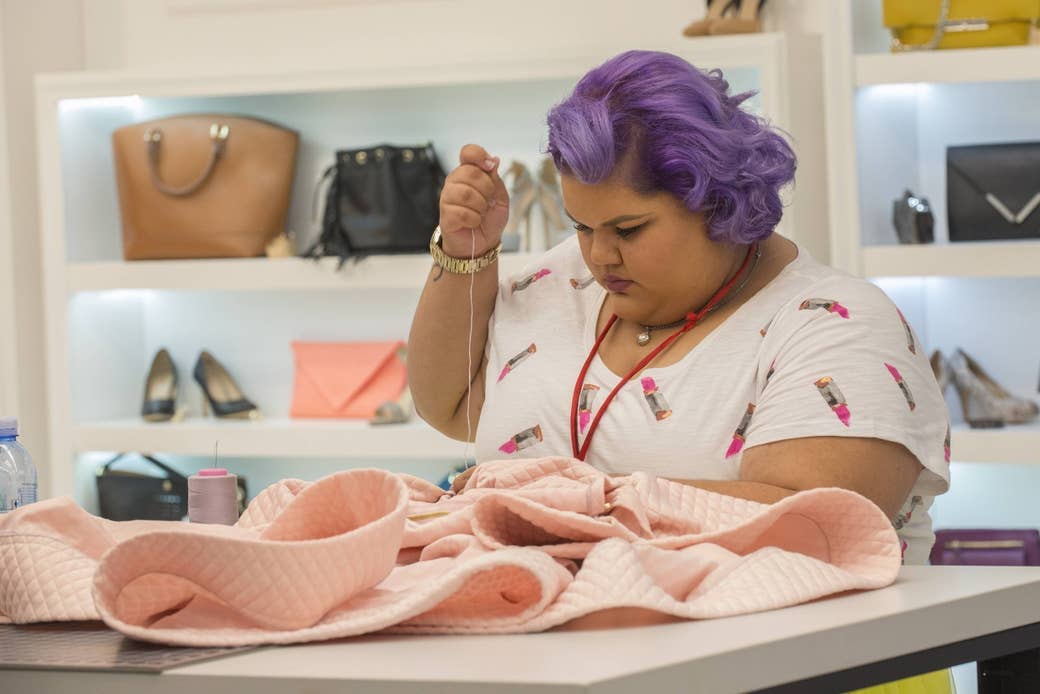 That affection wasn't universal: This season, she's consistently been one of the strongest designers, and yet in confessionals her competitors seemed quick to dismiss her ability. "It's pretty hurtful," she said of hearing those comments on television. "I was definitely bothered watching it, because I wish people would say something to me instead of saying it behind my back. I trust people until they give me a reason not to trust them."
Fellow contestants gave her a reason early in the season: During a challenge that divided the designers into two teams, Tipton was picked last despite having won two of the four previous challenges. She cried in the episode, and guest judge Kelly Osbourne described the obvious ostracism as "a bit of a bitch fest." It was one of many times Tipton cried throughout the season, an emotional openness that contributed to her accessibility.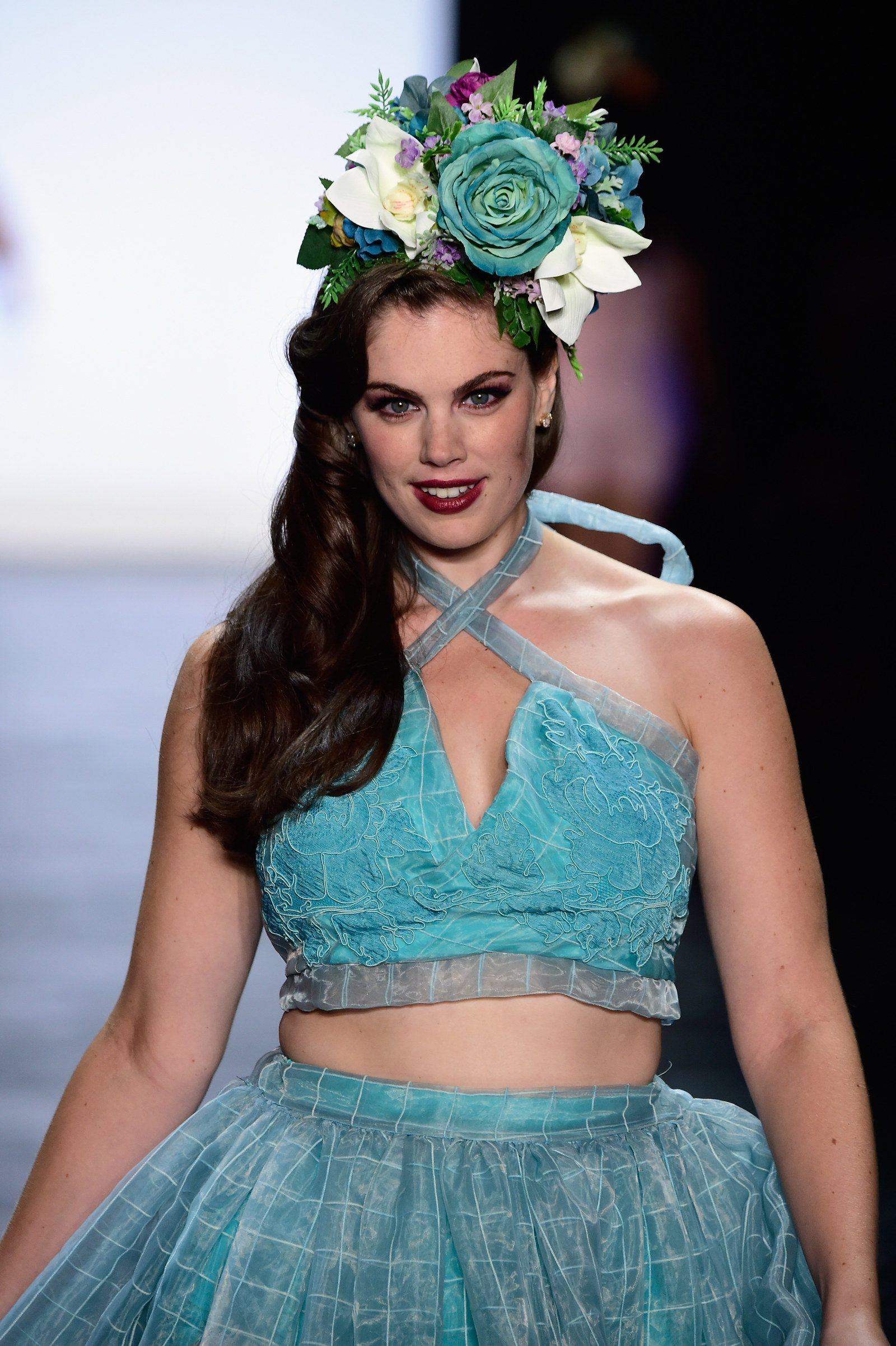 "I don't regret the crying, I don't regret feeling the way I did, because at that moment, I'm putting everything I had in it," she said. "Me showing my emotions...it's not a sign of weakness, it's a sign of passion." Tipton didn't directly address why she thought the other contestants were so quick to dismiss her, but she did say she was bemused to hear fellow finalist Edmond Newton call her headpieces "costumey," particularly since, by her estimation, both Candice Cuoco's Asian medley collection and Kelly Dempsey's shiny streetwear collection seemed more costume-like than her own collection, a series of plus-size looks inspired by her own heritage and specifically 1950s Mexico City.
Tipton interpreted this latest dismissal, at least, as a compliment. "At the end of the day, they know that I am a threat to them," she said. However, she was dismayed by the seeming slight from show mentor Tim Gunn, who was quoted in Entertainment Weekly saying most of the designers this season "just weren't hungry."
"It's kind of sad to really hear that," Tipton said. "We really fought for what we did, and we really wanted this so much. I don't know what to say, because it's kind of shocking to hear that." Later, she reasserted herself: "I'm talented, I know what I want, and I believe in myself, and I'm true to myself," she said, which, from her, is both a cliché and a war cry.
Tipton doesn't mind that the focus is on her plus-size collection and not the lack of plus-size collections from other seasons of Project Runway, though "I do wish that there was other designers who would embrace that," she said. "But I'm fine if I'm the one that's leading right now." She sees herself as a potential source of inspiration for other designers: "I'm trying to put plus-size on the map," she said. "We can be fashion-forward."
Tipton, who was open about her self-esteem issues throughout the season, started to answer a question about being a trailblazer: "I never thought that I would be that person, but it's always been," she paused, and checked herself: "I've always wanted to do it. I just didn't know when it would happen."
Project Runway's finale airs Thursday at 9 p.m. ET/8 CT.