Just one night after Pretty Little Liars revealed that a mysterious sociopathic tormenter is a transgender woman, the gender identity of a non-passing transgender woman of color scarcely even registered on Mr. Robot. The USA series' vigilante hacker protagonist, Elliot (Rami Malek), assumes that the head of a powerful Chinese hacker group is a man, and refers to Whiterose (B.D. Wong) as "he" moments before meeting her. When Elliot sees Whiterose, he seamlessly switches pronouns: "She's trolling me," he thinks to himself.
Mr. Robot's creator and showrunner, Sam Esmail, is matter-of-fact about it: "There are obviously people on all different [points] on the spectrum of gender and sexuality that make up this world, and I just try and portray that reality, as sort of — I don't want to say the word 'casually,' but be as up front as possible," Esmail said in a phone interview. It is not remarked upon in the show because it should be unremarkable. "We display it full-frontal, without any apologies."
The head of the dangerous hacker group the Dark Army was always going to be a woman, Esmail noted. "We want to subvert those expectations," he said. "One of the things, especially in technology, that we play with is that it tends to be a man's world, and we want to destroy that concept. … In walks Whiterose, and she's not the man everyone thought she was gonna be." For reasons he could not explain, he always pictured Wong playing the role. "He was perfect for the part, he just wasn't the right gender," Esmail recounted. "And then I realized, 'Well wait a minute, that's faulty logic.'" Gender identity doesn't have to be limited by that kind of logic.
Whiterose's scene is only a handful of minutes long, but it leaves a mark. She is ultracompetent, intimidating, deliberate, controlling: seemingly the opposite of unstable Elliot. However, this wasn't intentionally subverting the stereotype that binds transgender identity to insanity (for an example of the cliché, see Pretty Little Liars).
"I never checked the rule book on what tropes there are with trans, and then tried to do the opposite," Esmail said. "We just thought about the character … What was her path like? What if she was a very controlled person? What if she was incredibly ambitious? What if she had leadership skills? And then that's sort of what formulated Whiterose."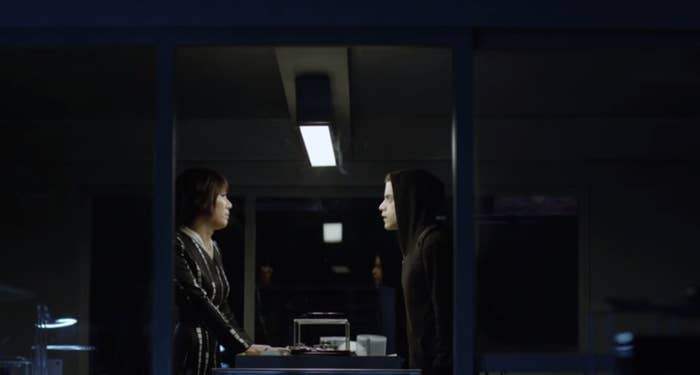 Esmail was hesitant to answer whether Whiterose's gender identity was integral to the story, because it might reveal too much of the series' plot, but he did say, "Identity is a huge theme in our show … We have these disparate identities, and the reality of who we are is ever shifting." Whiterose fits into this theme because "she clearly was born a man, but she identifies as the exact opposite, and she makes that very bold decision to show that. Again, without getting into spoilers, I think this kind of hits our theme on the head right there."
It's unclear whether Whiterose will return in a later episode, but Esmail gave a "strong suggestion/hint" that the audience should watch all the way through the credits in the Aug. 26 season finale. Suggestion/hint notwithstanding, Whiterose has already chipped away at Elliot's assumptions, much like the other female characters around him. Elliot's attempts to save damsels in distress backfire, sometimes with dire consequences — when he unsuccessfully speaks up for his friend Angela (Portia Doubleday) at work, he alienates her; his attempt to save his girlfriend Shayla (Frankie Shaw) from sexual violence over her protestations results, ultimately, in her death.
"It's a little tough, because it's not as if I have conceived of the story or I conceived of character attributes as a way of analyzing masculinity in America," Esmail said with a chuckle. "Elliot is trying to be a man, is trying to find what that means, 'to be a man,' and part of that is being a hero, and that's the lie he tells himself."
"When I decided we'd do the show, I did not consider Elliott a hero, but what I thought would be interesting is if Elliot considers himself a hero," Esmail said. For the showrunner, Elliot's flaws and illusions "reflect a potential fractured masculinity." This is also reflected in Whiterose herself — the malleable nature of identity, and the insufficiency of gender norms.
Mr. Robot airs Wednesdays at 10 p.m. ET/9 CT on USA.