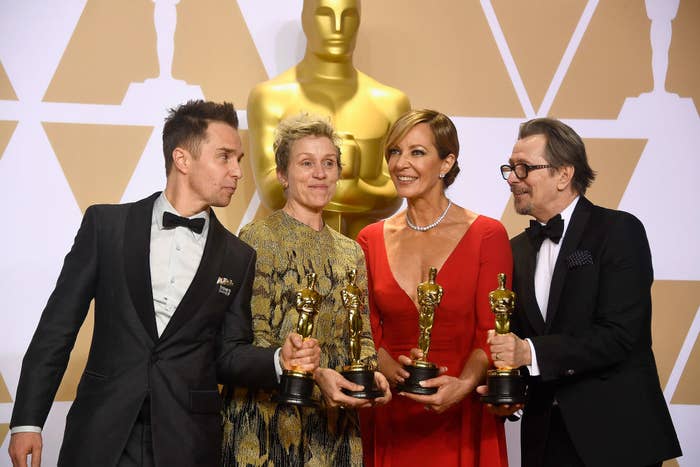 Frances McDormand gave an electrifying speech Sunday as she accepted the Oscar for Best Actress for her role in Three Billboards Outside Ebbing, Missouri.
While the majority of winners did not address gender disparities on the red carpet or during the ceremony, McDormand used her time on stage to call for more opportunities for women in Hollywood.
After the perfunctory Oscar thank-yous, McDormand placed her gold statuette on the floor and asked all the female nominees in the room to stand up. When she was finished cackling, she said that all those women needed financial backing for their own projects. At the end of her speech, the actor suggested that more powerful people should include language in their contracts demanding diversity and equity.
"I have two words to leave with you tonight, ladies and gentlemen: inclusion rider," she said.
After giving a shoutout to Olympic snowboarder Chloe Kim and thanking her fellow filmmakers, among others, the actor set her Oscar down and said:
If I may be so honored to have all the female nominees in every category stand with me in this room tonight. The actors. Meryl, if you do it, everybody else will. Come on. The filmmakers, the producers, the directors, the writers, the cinematographer, the composers, the songwriters, the designers. ... Okay, look around, everybody, look around, ladies and gentlemen. Because we all have stories to tell and projects we need financed. Don't talk to us about it at the parties tonight. Invite us into your office in a couple days, or you can come to ours, whichever suits you best. And we'll tell you all about them. I have two words to leave with you tonight, ladies and gentlemen: inclusion rider.

Notably, some of the categories she gestured to — Best Director and Best Original Score — had only one female nominee or no female nominees this year. She did correctly refer to the single female cinematographer, Rachel Morrison, who became the first woman nominated in the category this year.