Herpes Simplex Virus is is one member of the Herpes virus family that, surprisingly, most of us have come into contact with. Herpes Simplex Virus 1, which is more commonly know as a 'cold sore'. At least 6 in 10 people in the UK have been exposed to this strain of the virus, and I think we can all accept that, apart from an irritating blemish on our lips, its really not that big of a deal.
The more 'scary' strand of herpes is HSV-2. This is what is commonly referred to a genital herpes, however the difference between the two strands is practically non-existent. They prefer to hang out in different areas; strand 1 in the mouth, strand 2 in the genitals, but can be transferred between the two areas.
So if genital herpes is really just a cold sore below the belt, why is there such a stigma attached to it?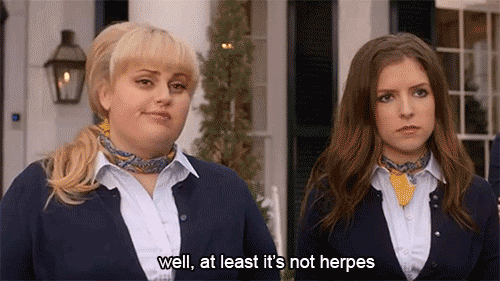 STD's are often linked to promiscuity or uncleanliness, but herpes is extremely common, as up to 90% of the people who have it do not know, simply because they are asymptomatic or their symptoms are so mild they are dismissed for something else. So, even if it is your first time, and you are in a serious, monogamous relationship, it is possible to spread or catch herpes, simply because neither you nor your partner knew you had it.
Perhaps the fact that it is incurable is another reason that it is often portrayed in a bad light. People hate the idea of a virus living within them for the rest of their lives. But do we feel the same way about Chicken Pox or Glandular Fever? If you have had either of these diseases, you were never truly 'cured'. We are all still infected, its just the virus is lying dormant, instead of actively attacking us, as we have produced antibodies to manage outbreaks. The same happens with oral and genital herpes; for most people outbreaks are often rare and infrequent, after the primary infection, because the body learns to recognise and fight the virus before another serious recurrence can take place.
So all in all, why is herpes such a big deal? Yes, the initial outbreak may be a bit of an inconvenience, and we would all choose no herpes, over any herpes, but apart from the occasional cold sore down below, it really poses no real threat or strain on your life. The chance of spreading it is very low when sores aren't present, and practising safe sex should be routine anyway. The chance of transmission alone is 4%, with a condom is 2%, and with a condom and an antiviral pill a day is 1%: compare that to the chance of getting pregnant with typical use of the pill, which is 5%! It does not affect fertility, intelligence, or you general well-being. As far as I'm concerned, it's a mild skin affliction, that should not be looked down upon or change how we view those around us; the stigma is unnecessary and unfair.
For more information, please visit herpes.org.uk