9 Super Cute Stories Of Couples Who Met On The Road
Love is the best souvenir.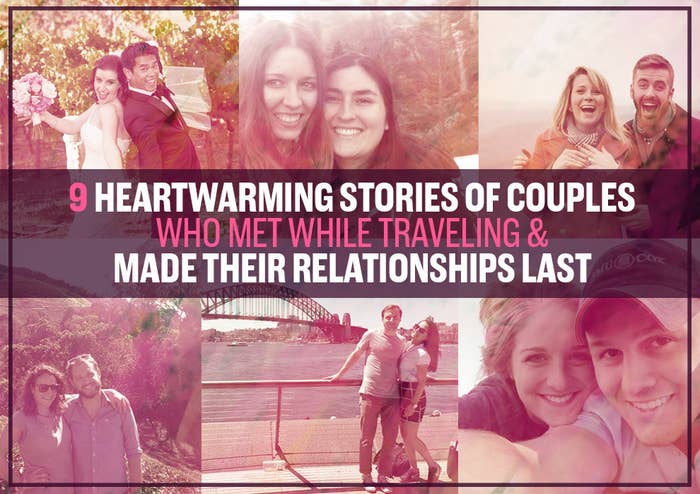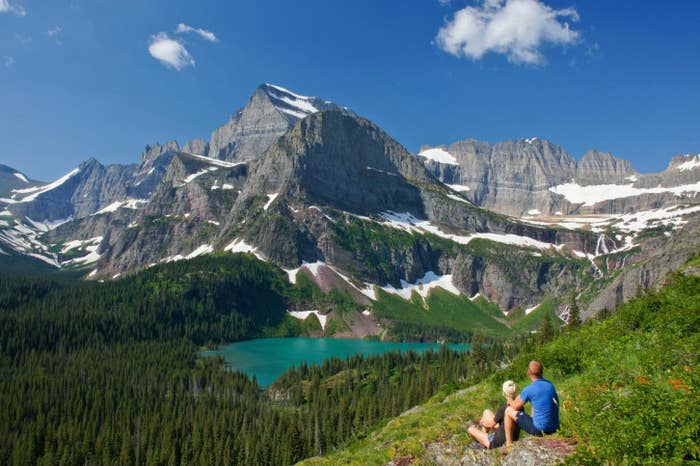 1. Patrick Khoo, 34, and Christina Bellantoni, 36, met at a bar in Santorini, Greece: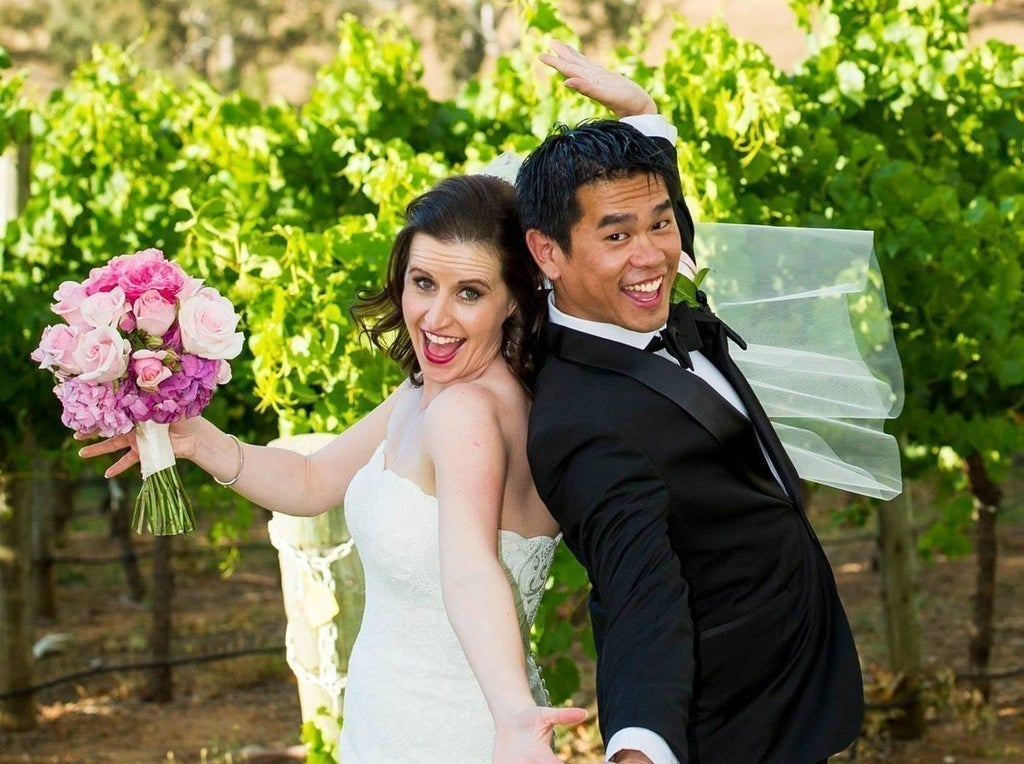 She's from: San Jose, California
He's from: Adelaide, Australia
Relationship status: Married
"Back when I lived in London, I went to Greece with a friend for my 32nd birthday. On the night before my birthday, my buddy and I were at a bar when two lovely ladies walked in and sat down next to us. I tried to engage in conversation, but while one smiled, the other blew me off — and then they left. After midnight (my official birthday!), my buddy convinced me to go to one last bar, and those same girls were there. My friend told them it was my birthday, so the rest of the night went much better, especially because I hit it off with the one who'd originally smiled, Christina. We spent the night drinking, laughing, and dancing. Christina told me that she lived in Washington D.C., and I told her about my pre-existing plans to visit D.C. later that year (sort of — I actually had tickets to New York but was taking a gamble).
We spent the next day together, exchanged info at the end, and stayed in touch via Facebook over the next few months. I visited her in D.C., and a couple weeks after that, Christina had a work conference in Zurich, so I flew over from London — and that's when we talked about making a long-distance relationship work. We dated for about a year, with many flights between D.C. and London, and then I proposed in D.C. She said yes! We've since moved to L.A., where Christina got a new job, and we couldn't be happier. What a whirlwind."
—Patrick Khoo
2. Rachel, 25, and David, 29*, met at a birthday party in Paris: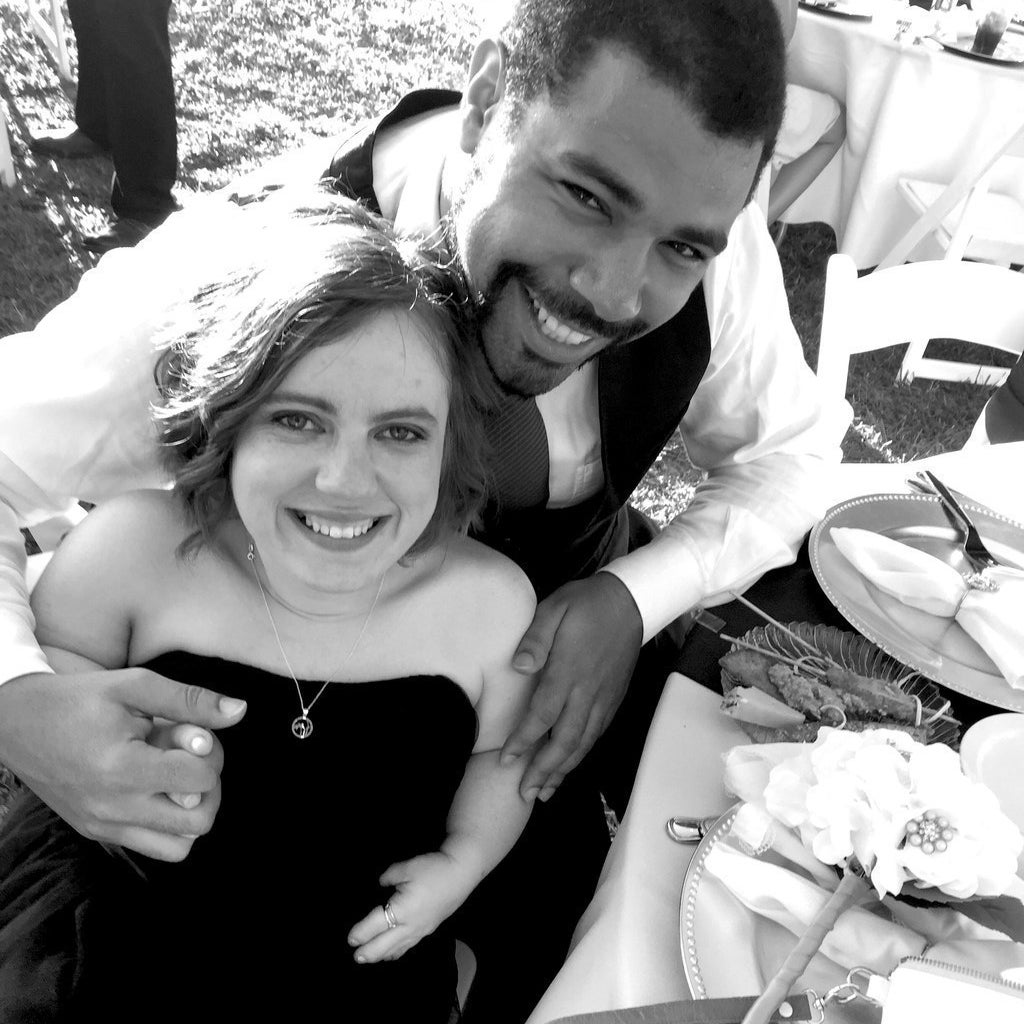 She's from: Missoula, Montana
He's from: Paris
Relationship status: Long-distance dating
"I am a little person and finally got the courage to travel to Europe for the first time two years ago. I spent time in Germany, Poland, and the Czech Republic, and wanted to spend my last few days in Paris. The last night of my trip, my friend who lives in Paris had a birthday celebration, and invited a bunch of her friends. That's when I saw this beautiful man enter the bar. He was a friend of hers, and was the first to arrive to the party. We drank wine, champagne, and beer, and ate plenty of great food. We were like magnets, totally drawn to each other.
I didn't have the courage to give him a 'bisous' or a 'merci' or slip him my number that night. But a couple months after I was home, we reconnected over email. A year later, I convinced myself to travel back to France to see if it could be real. It was. Now we are (temporarily) long distance, traveling back and forth, counting up those air miles — and we're so happy."
—Rachel
*Last names have been withheld because they didn't want them on the Internet.
3. Sarah and Patrick Grace, both 25, met while standing in line at a museum in Florence: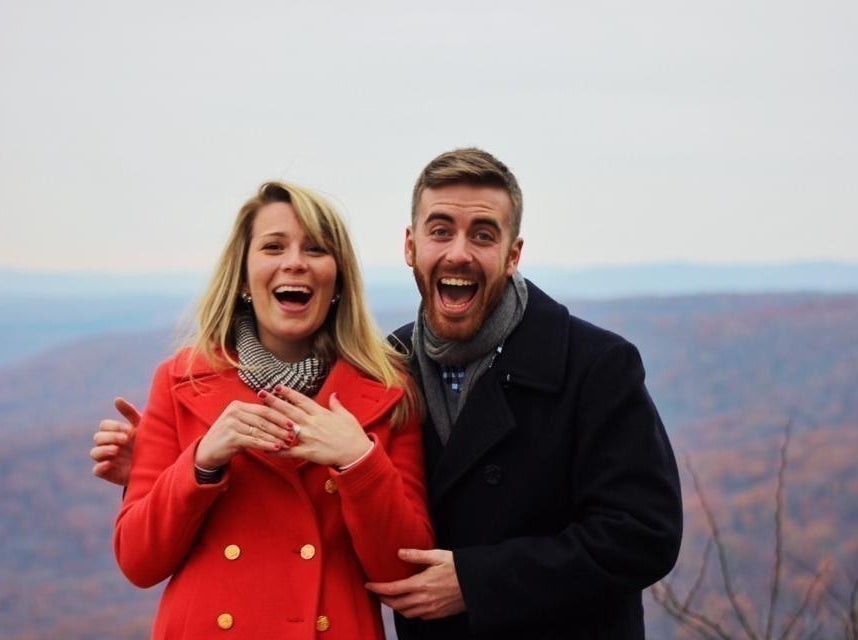 She's from: St. Louis
He's from: Little Rock, Arkansas
Relationship status: Married
"After I graduated college, I backpacked through Europe with a friend for six weeks. While we were standing in line at the Galleria dell'Accademia museum in Florence, Italy, we started talking to four boys our age who were also American. One of the boys, Patrick, caught my attention. He was charming and had the biggest blue eyes. We met up with the boys again a couple days later in Cinque Terre to go hiking, during which Patrick and I talked and sang Disney songs. That night, we sipped Chianti while watching the sun set over the Bay of Riomaggiore. I was bummed when we said goodbye, because I was certain it wouldn't work past that point.
I was wrong. We kept in touch through Facebook, and eventually started texting and calling each other. We lived ten hours apart, but we decided to try dating long distance. After a couple months, a career opportunity made it possible for me to move to his city. Getting to date in person was a blast, and after 14 months, we got engaged — and now we're married. It's crazy to remember how this all started. And now I have a travel buddy for life!"
—Sarah Grace
4. Alex Herrera, 25, and Amanda Crane, 25, met on a tour group trip in Europe: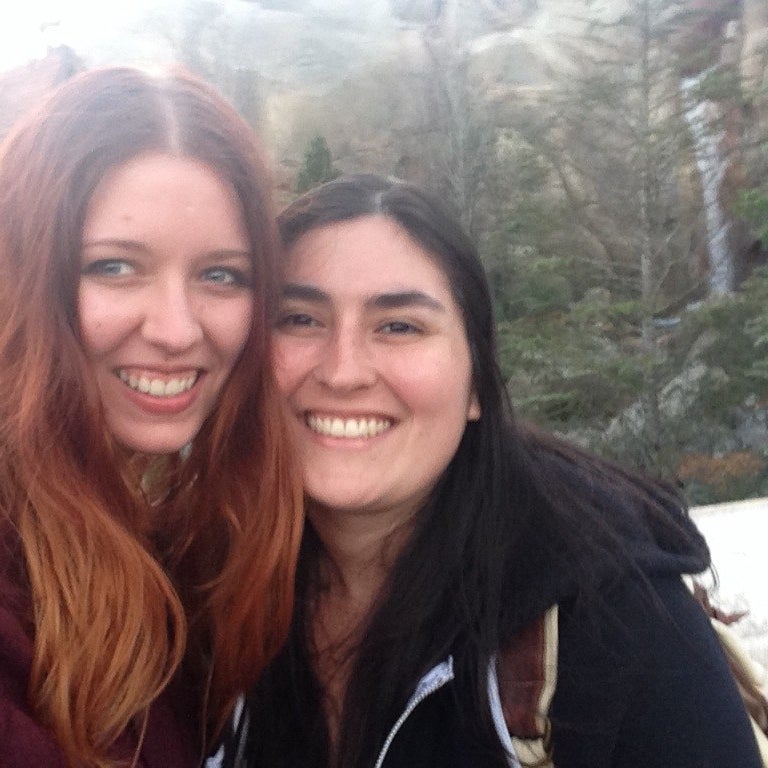 Alex's hometown: Cooper City, Florida
Amanda's hometown: Los Angeles
Relationship status: Long-distance dating
"I met Amanda on my first trip to Europe with a tour group called EF College Break. I had a crush on her right away, but it was unrealistic because she had a boyfriend. Regardless, we became really good friends, and texted each other day and night when we got home from the trip. A couple months later, she broke up with her boyfriend, at which point some of our texting turned into light flirting.
Four months after our Europe trip, we decided to plan a reunion trip to Disney. On the first day, there was so much awkward flirting, and then pretending not to flirt, from both of us — but we finally kissed. Now we're in a long-distance relationship. It's frustrating, yet amazing at the same time. It's still undetermined where we'll end up once she graduates, but we know that wherever it is, we want to be together."
—Alex Herrera
5. Phil Vincent, 33, and Brionne Abramowitz, 30, met through a friend in Bali, Indonesia: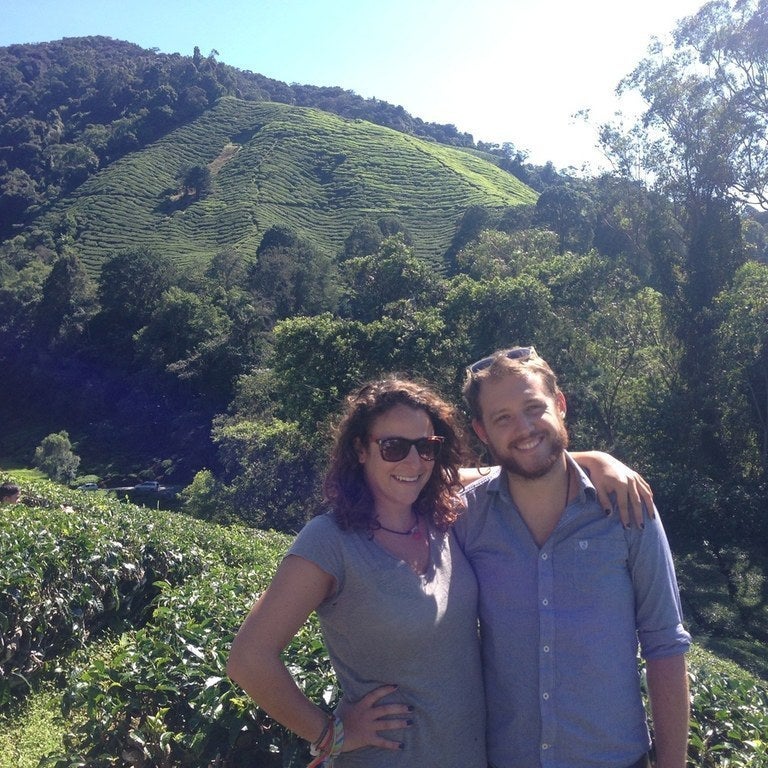 She's from: New Rochelle, New York
He's from: Fleet, Hampshire, UK
Relationship status: Engaged
"When I was 31, I felt burned out at my job in London, so I booked a one-way ticket to Indonesia and planned to stay on the beautiful island of Gili Trawangen, just a little east of Bali, for one month. Being a modern man, I had Tinder on my phone and was one day casually swiping through when a familiar face appeared: an old DJ friend of mine. We met up and started hanging out, and one night, she brought a new friend of hers. I hit it off with the new girl, Brionne, who lived in New York City, and we all went to an island bar, where we soon lost my DJ friend. The two of us danced the rest of the night away and ended up going night swimming in the ocean, where I kissed her.
We've been together ever since. We've traveled through Asia, Europe, North America, New Zealand and Australia, before finally settling in Sydney. We got engaged exactly one year after we met, and we're getting married in July. There is simply no way we would have met if we both hadn't gone to travel."
—Phil Vincent
6. Ryan Wattrus, 24, and Haley Dietz, 23, met at a rental house in West Virginia: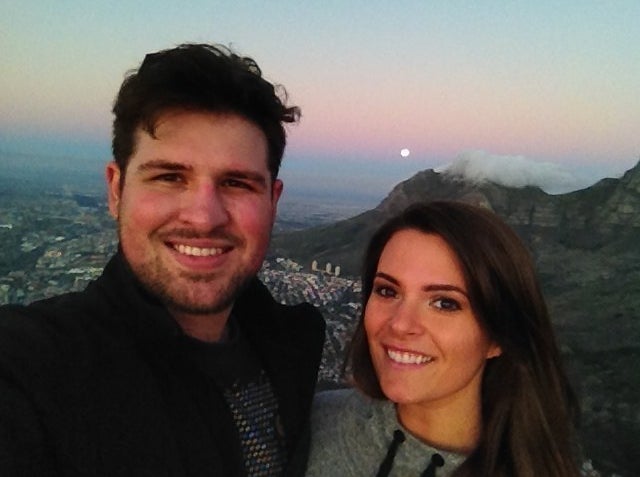 She's from: Radford, Virginia
He's from: Durban, South Africa
Relationship status: Long-distance dating
"After I graduated college, my two best friends convinced me to leave South Africa and travel to the U.S. for our summer to work on a ski resort in West Virginia. We shacked up in a three-man apartment with a random American guy from a small town in West Virginia. The American's friends came to visit for New Year's, and on the day they arrived, I walked in the door of our apartment wearing ill-fitting khaki pants, snow boots, and dorky glasses, and I see this super attractive girl drinking wine straight out of the bottle. After some liquid courage of my own, I ended up making a move, which resulted in her visiting quite a few times that month to see me.
Five months after I left, she came to visit me in Cape Town, South Africa. We hiked a mountain and I asked her to be my girlfriend, and five months after that, I flew to America to spend Christmas with her family. She's coming back to South Africa in May. International love is complicated and very difficult, but I know that whatever challenges face us, one day I will be with her for the rest of my life — and meeting her was the best thing that ever happened to me."
—Ryan Wattrus
7. Lauren Fontaine, 25, and Jake Bricknell, 31, met at a hostel in Northern Ireland: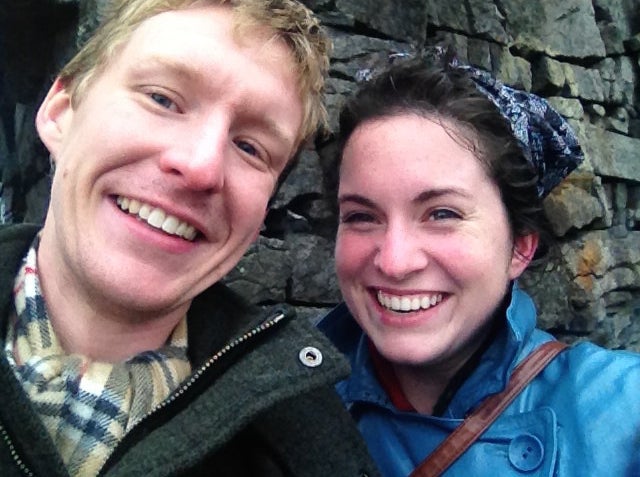 She's from: New Port Richey, Florida
He's from: Loretto, Ontario
Relationship status: Married
"After I graduated college, I took off to Ireland for a five-month adventure. Barely two weeks in, this guy wandered into the hostel where I was staying, in Londonderry, Northern Ireland, and we started talking. We ended up exploring the town together for a few days, and right before he left, I gave him a code to work on — and he promised he'd come back for the answer if he couldn't figure it out before leaving for Canada.
Two weeks later, he showed up on the hostel doorstep, and later that night confessed that he felt something more. He stayed two more days before leaving to continue his travels. We promised to write, and I promised to visit when I got home. We wrote long letters on Facebook every day for two weeks, and one morning, he posted a photo of our 'spot' on my wall, along with a bottle of wine, a plate of truffles, and a note that read, 'If you're not busy...' I ran across Londonderry, and we had this movie moment of running into each other's arms. Turns out, he'd put everything on hold — rented his house, gotten leave from work — and he stayed in Ireland for all five months. We got engaged and married about a year after we returned to North America, and now we live in Canada and I'm still the happiest I've ever been."
—Lauren Fontaine
8. Parwana Nawabi, 27, and Tom Mikos, 27, met at a hostel in Madrid: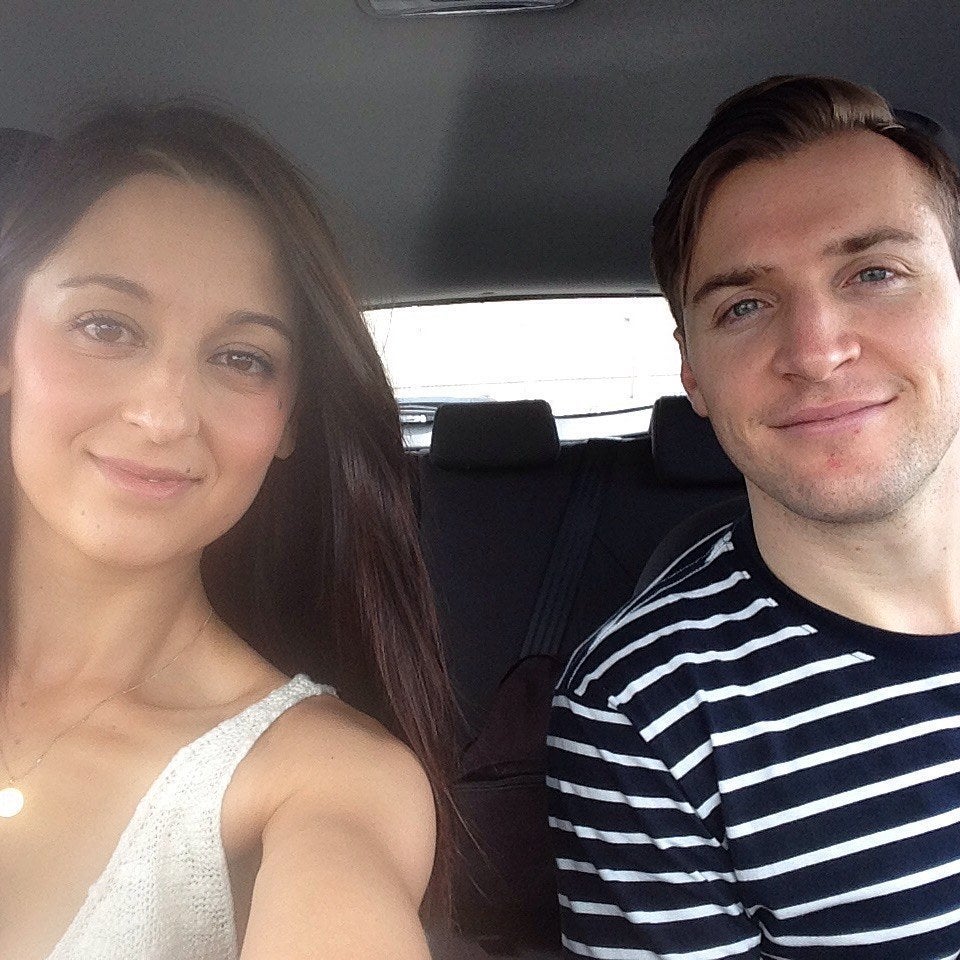 She's from: Melbourne, Australia
He's from: New York
Relationship status: Long-distance dating
"When I was 23, I traveled solo through Europe for five months. At the very end of my trip, I stopped in Madrid, Spain, and stayed in a hostel in a four-bedroom dorm. A few nights in, I invited two of my dormmates, Tom and Matt, to join me at a bar with some friends. We had a few drinks and shots, and ended up staying out and partying. Tom and I kissed, but that's all.
The next day, Tom left for Valencia, and I went to London to fly home. We exchanged email addresses, and that was that. But immediately after we said bye, we started to email each other a lot, and those emails turned into regular Skype dates and texts. I thought Tom, who lived in New York, was a really cool guy, but we eventually lost contact. Nine months later, my best friend and I moved to New York for working visas, something we'd always dreaming of doing. I didn't contact him right away, but when I eventually did, we started hanging out and then dating. When my two-year visa ended, it was tough talking about our future and what was going to happen, but we ultimately decided that Tom would move back to Melbourne with me. We lived together for a year until Tom's Australian visa expired, and he moved back to New York. Now, I'm still in Melbourne, and we're trying to figure out which country to live in next together. We'll be reunited soon, who knows where, but that's the beauty of our relationship. It's a constant adventure."
—Parwana Nawabi
9. Kelly and Jimmy Marks, 27 and 29, met on a cruise to Cozumel, Mexico: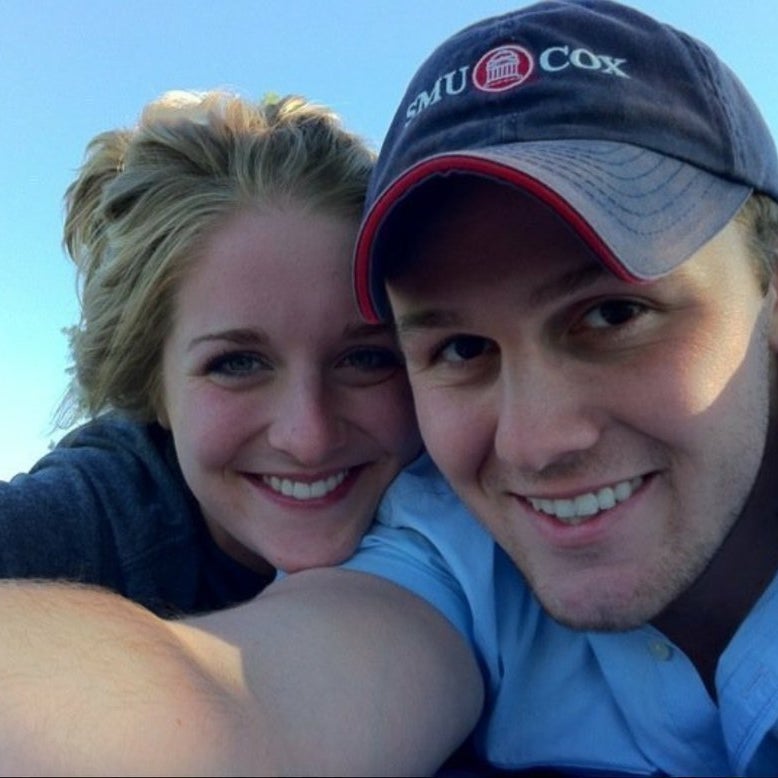 She's from: Houston
He's from: Dallas
Relationship status: Married
"I went on a Carnival Cruise to Cozumel for my last Spring Break hurrah during college. On our first day on the cruise, I was in the elevator with my friend when I noticed a cute guy smiling at me. He didn't say anything, but over the next couple days, I kept running into him on the boat. Every time he would look right at me and smile, but I didn't do anything. Then, one day, my friend Cassie and I passed the smiling mystery man, and it turns out she knew him — they went to high school together! And it turns out we both lived in Dallas. On the last night of the cruise, he came up to me and started a conversation, and then he asked for my number. One week after the cruise, he asked out over Facebook message.
I said yes, and we had a great first date that led to many more. After three years as a couple, we got married, and this June will our three-year wedding anniversary. That spring break was one of the best things that ever happened to me."
—Kelly Marks
Note: Answers have been edited for length and clarity.