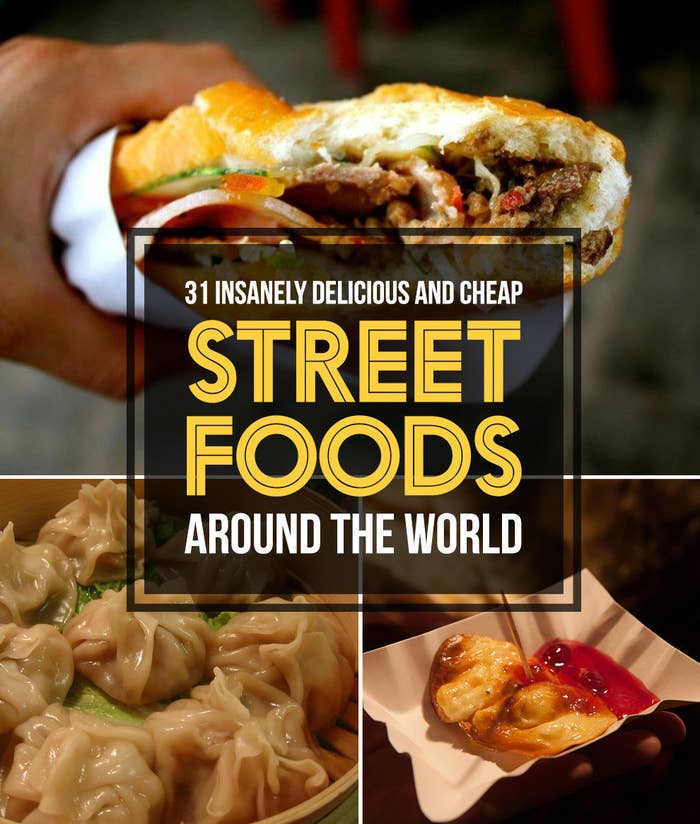 We asked members of the BuzzFeed Community, travel bloggers, and our international editors for their favorite cheap street food around the world that costs under $4. Here's what they came up with ...

1. These tacos in Queretaro, Mexico: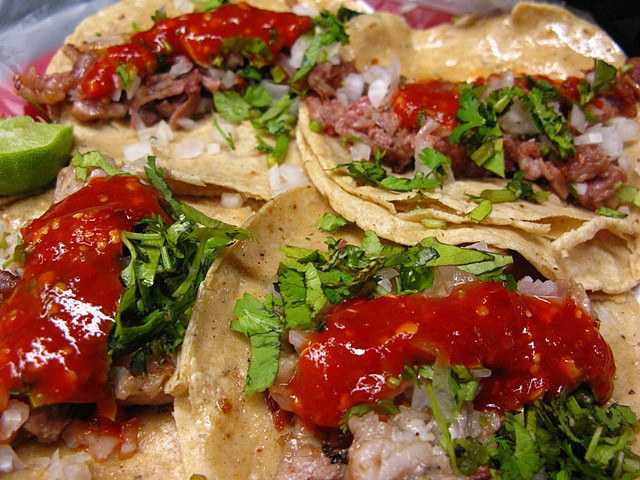 2. This poutine in Canada:
Poutine is made up of French fries smothered in gravy and cheese curds. You can find it in on the streets for less than $4, but you can also get it with fancy toppings in a Poutinerie, if you're willing to pay a bit more.
Submitted by Laurel Robbins, Monkeys and Mountains
3. This reindeer hot dog in Alaska: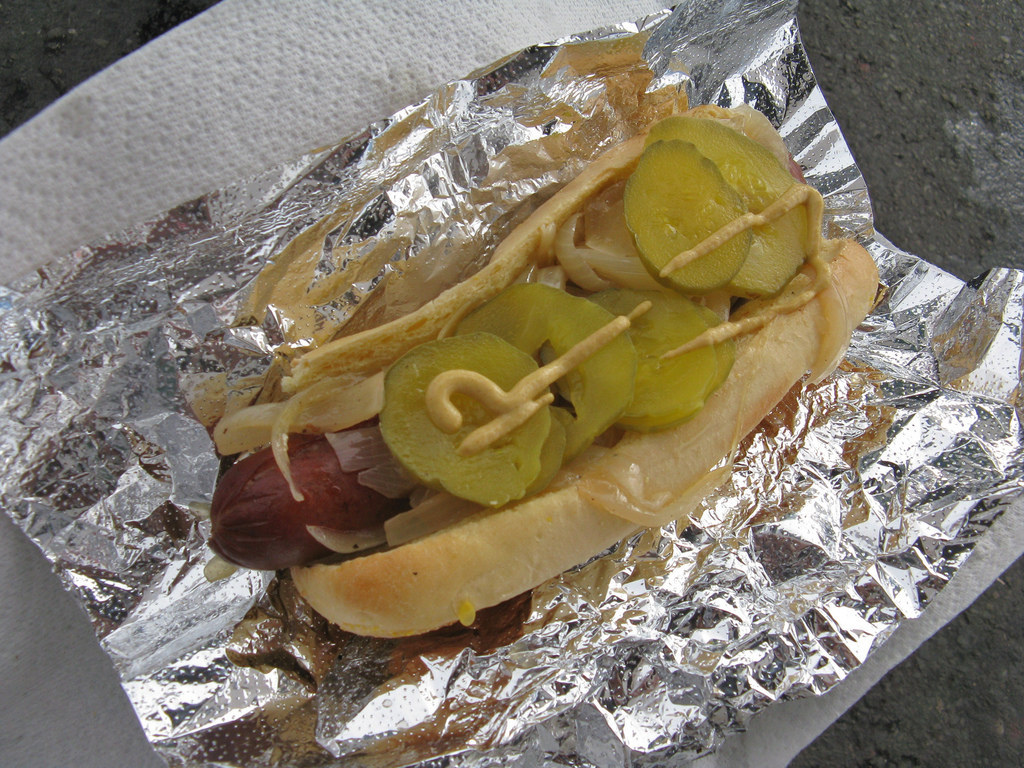 4. This foil of jerk chicken in Jamaica: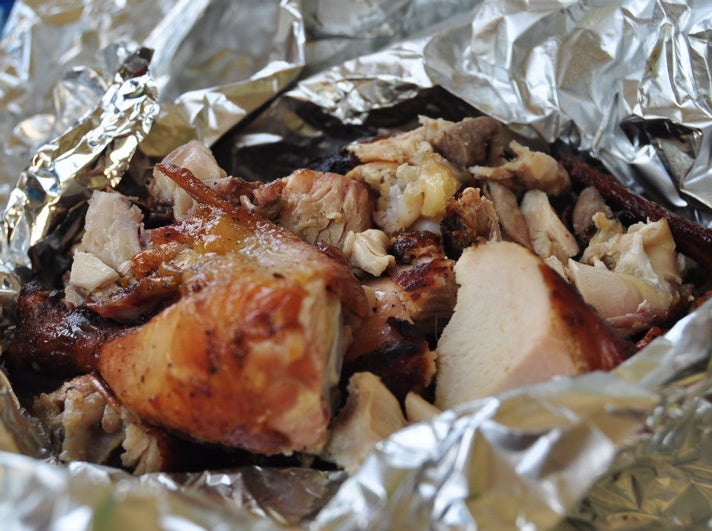 You can get jerk chicken all over Jamaica, but Boston Beach in Port Antonio is particularly famous for it. A foil of jerk is typically around $3 or $4, depending on where you go.
Submitted by Annie Daly, BuzzFeed
5. This torta and soda combo in Mexico: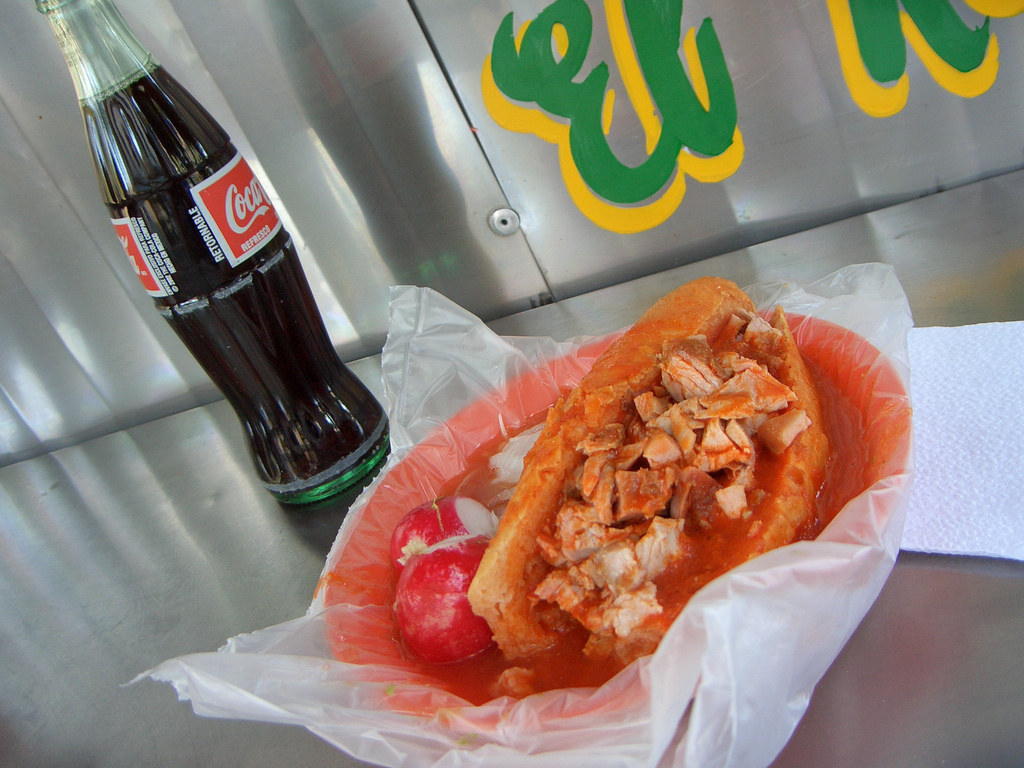 6. This pastel in Brazil: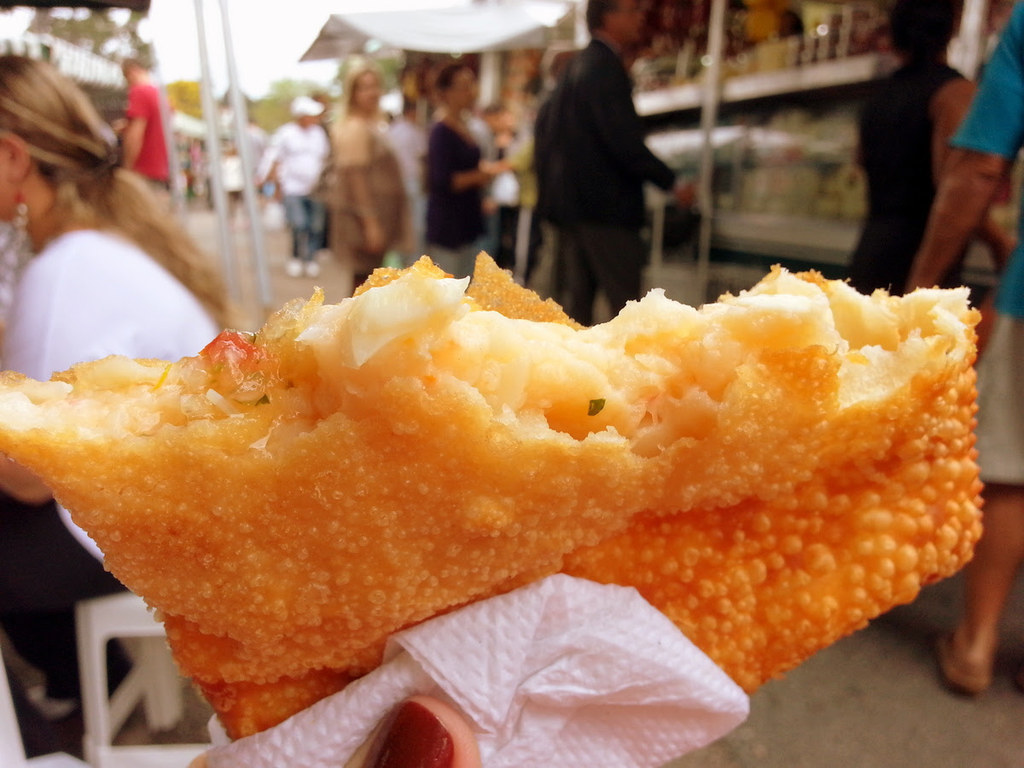 7. These sopaipillas in Chile: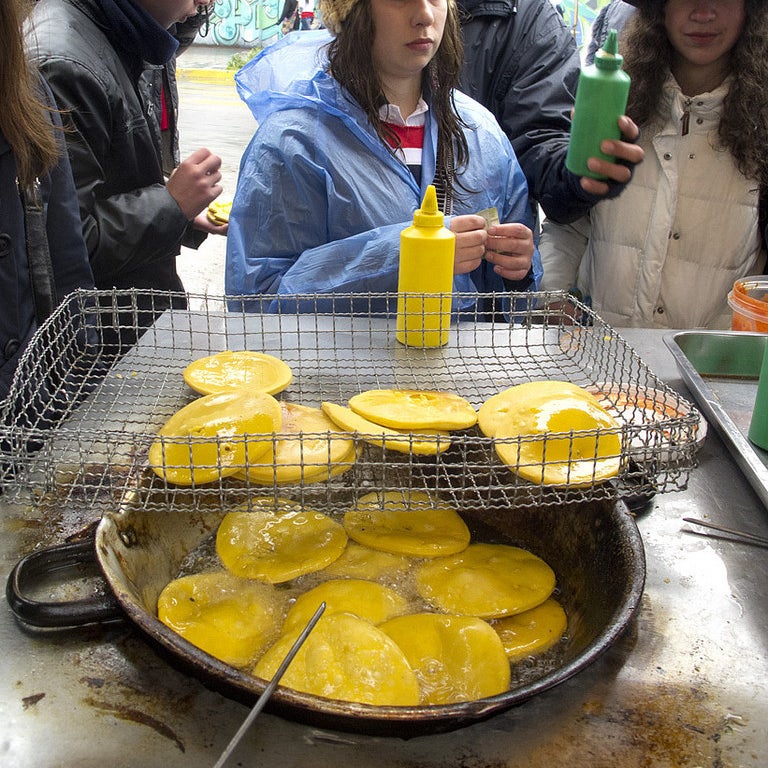 Sopaipillas are fried pastries made from wheat dough and butter or shortening that are served in many Spanish regions in the world. You usually buy about one or two, so $4 can get you about 12.
Submitted by Caro Villaseca Bustos, Facebook
8. These shucos in Guatemala: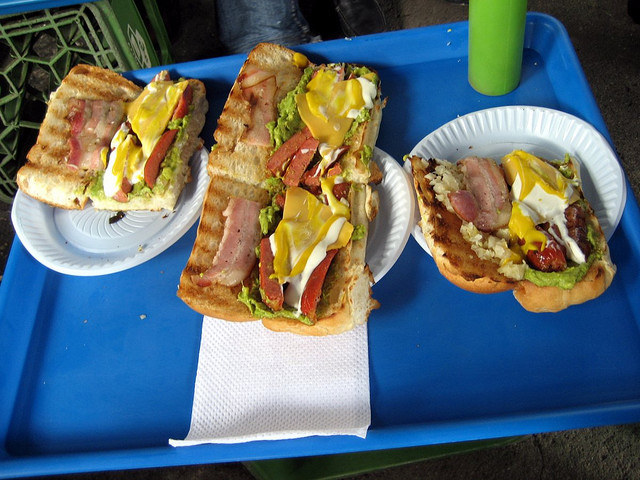 9. This choripán in Argentina: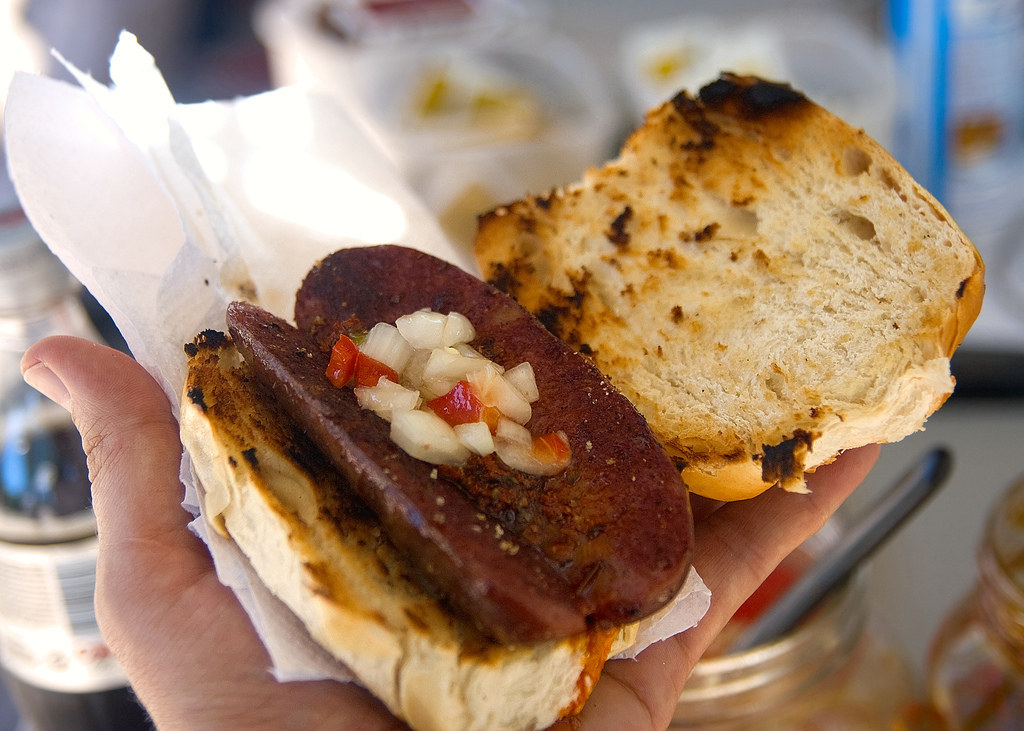 10. This acarajé in Brazil: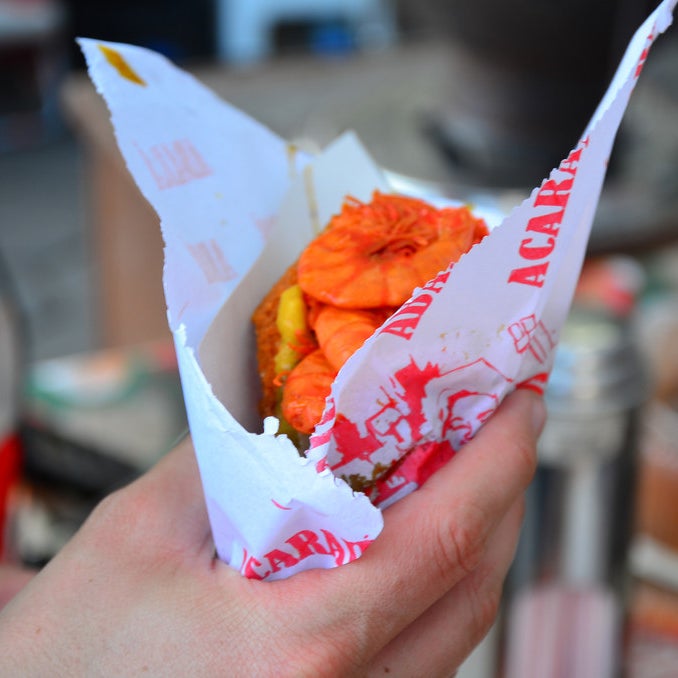 Acarajé is a bean fried dumpling stuffed with a sauce made of palm oil and dried shrimp.
Submitted by Juliana Kataoka, BuzzFeed
11. These empanadas in Pisac, Peru: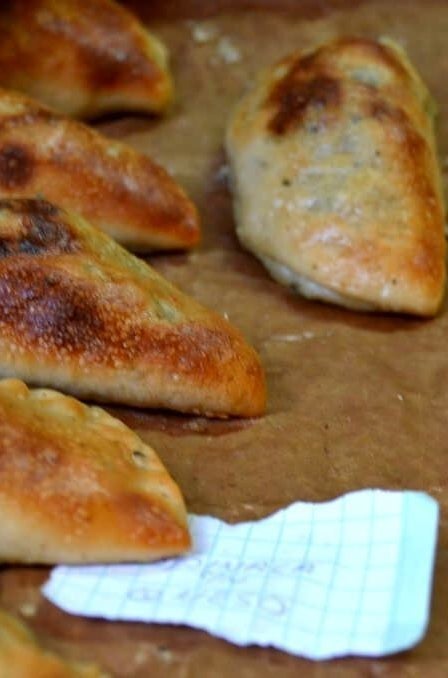 Empanadas are a stuffed bread or pastry filled with tons of savory ingredients — and you can get them in most South American countries. "The reason these are better than all of the others I've tried is that they cook them in dome-shaped clay colonial ovens."
Submitted by Matt Long, LandLopers
12. These churros with dulce de leche in Brazil: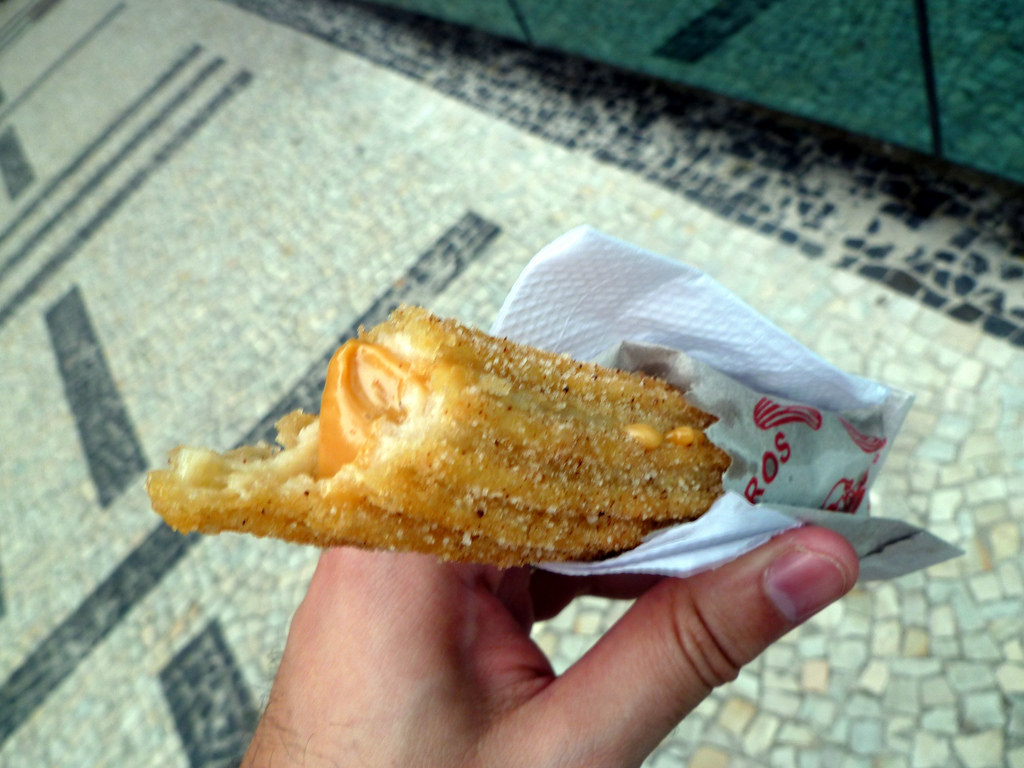 13. This tray of poffertjes in Amsterdam, Netherlands: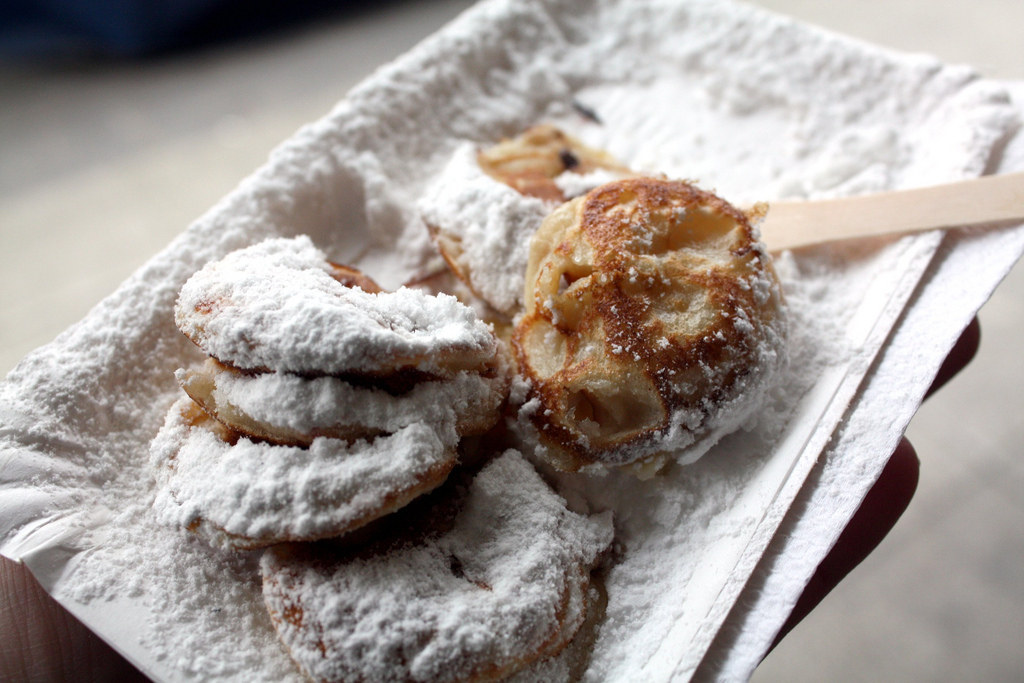 14. These patatas bravas in Spain: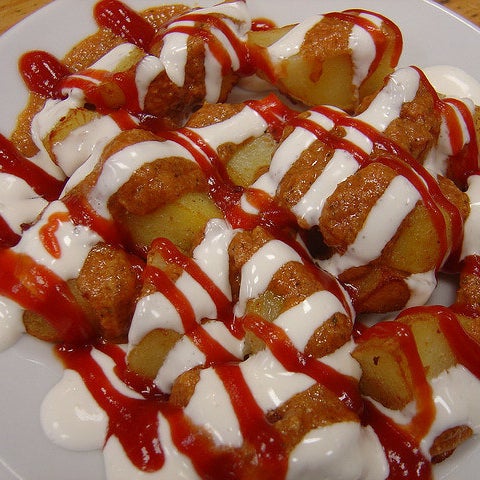 You can get some delicious patatas bravas pretty much anytime of day or night. "They're especially great after blowing all your money on booze!"
Submitted by Jon-Michael Poff, Facebook
15. This klobásy in Prague, Czech Republic: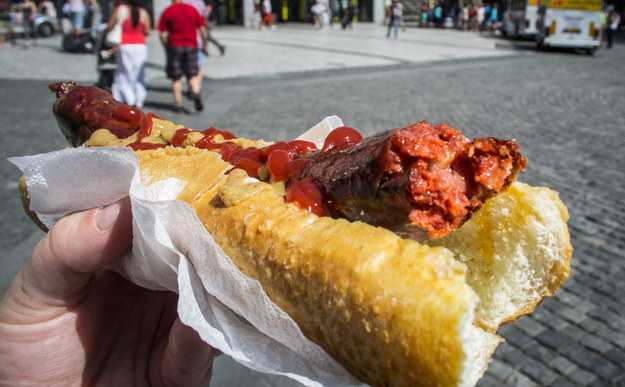 16. This döner kebab in Berlin, Germany: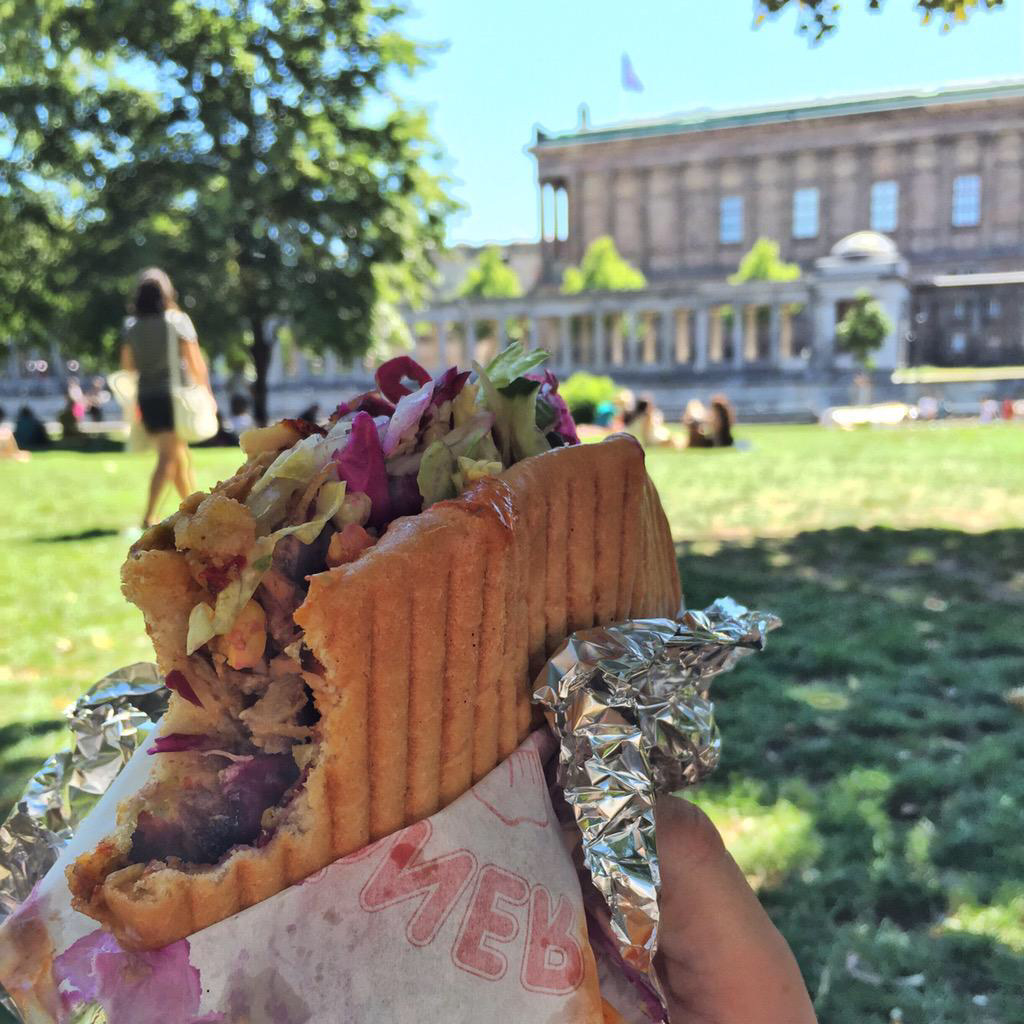 17. This oscypki in Poland: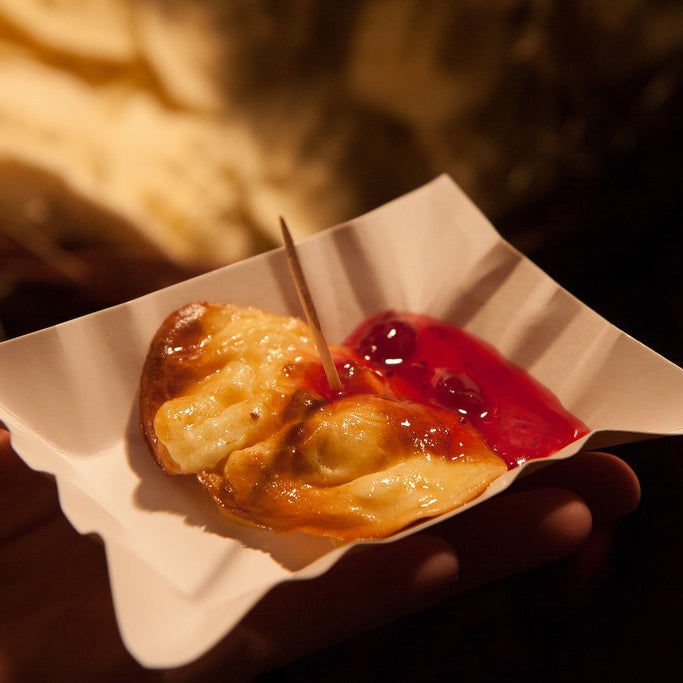 Oscypki is a traditional Polish smoked cheese made of salted sheep milk — and then cured in hot smoke for up to 14 days.
Submitted by Natasha M Braham, Facebook
18. This bacon sandwich in Scotland: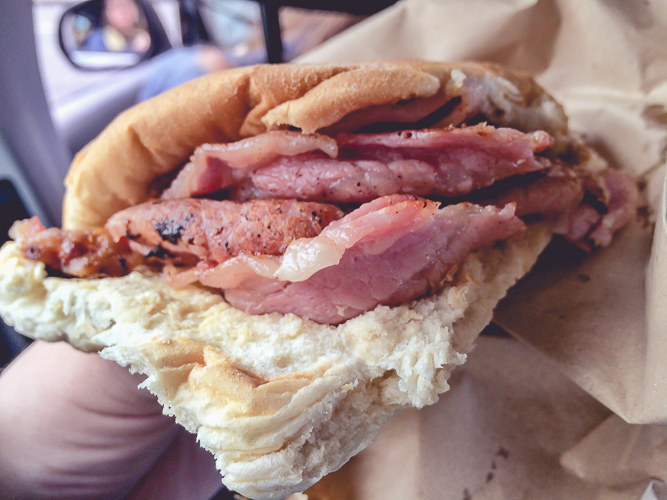 19. This kürtőskalác in Budapest, Hungary: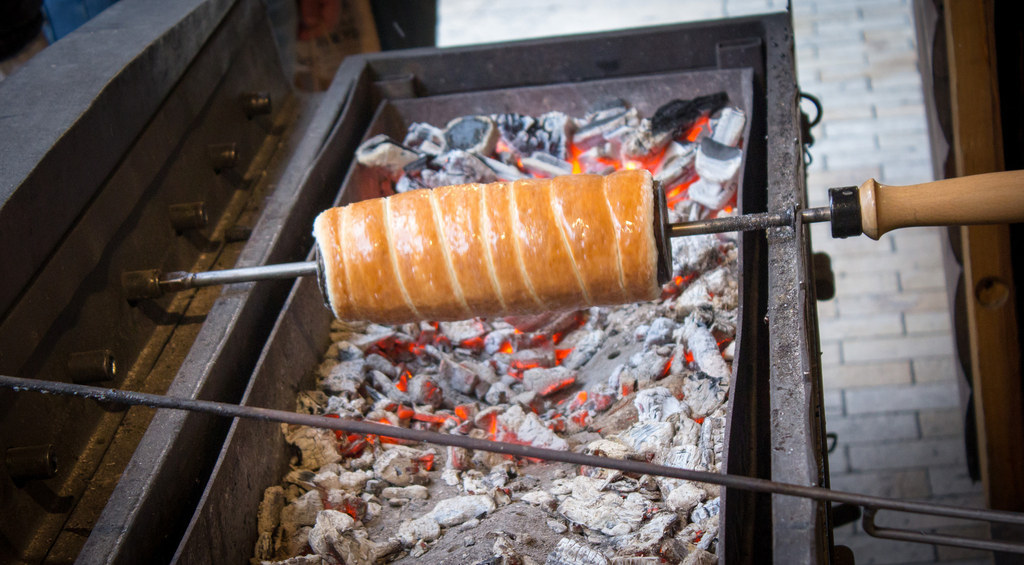 20. This assortment of dessert pastries in Morocco:
"There are people walking around the markets with wheeled tables that are covered in sweet pastries of countless varieties. You can get a mixed box of ten for around $2."
Submitted by Lucy Tan, Facebook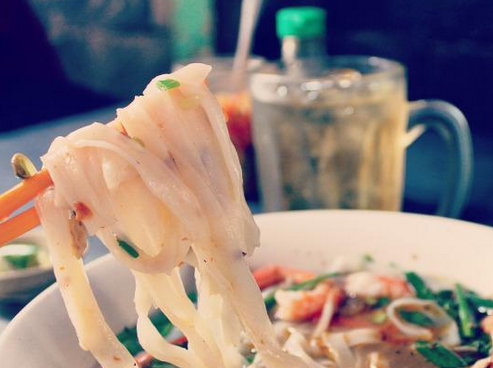 Pho is a rice noodle soup that has other stuff in the bowl, like meat (chicken or beef) and some herbs. You can get street pho all over Vietnam, for basically around $1.
Submitted by Annie Daly, BuzzFeed
22. This gua bao in Taiwan: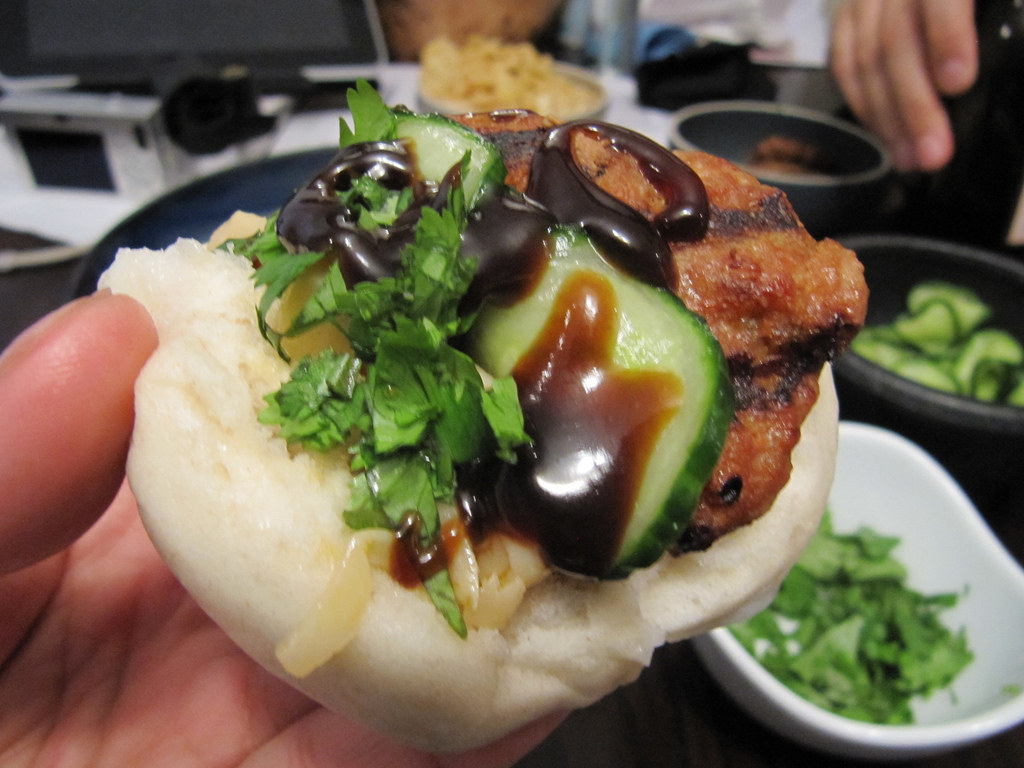 23. This bao zi in Xi'an, China: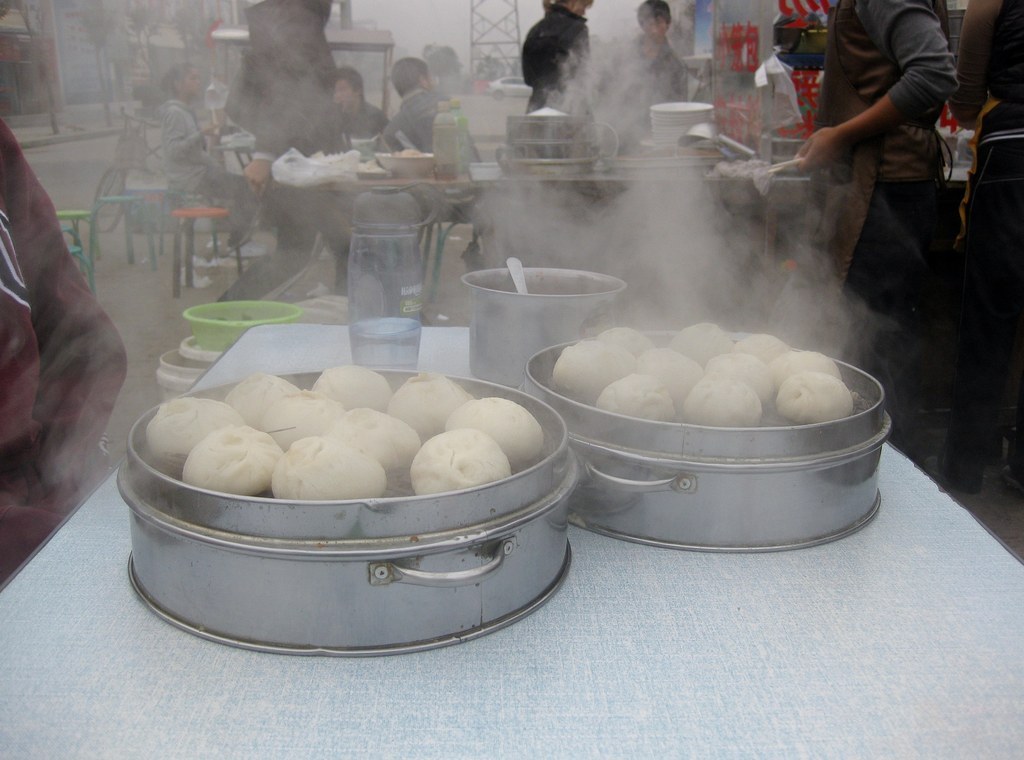 24. This chicken pita sandwich in Railay, Thailand: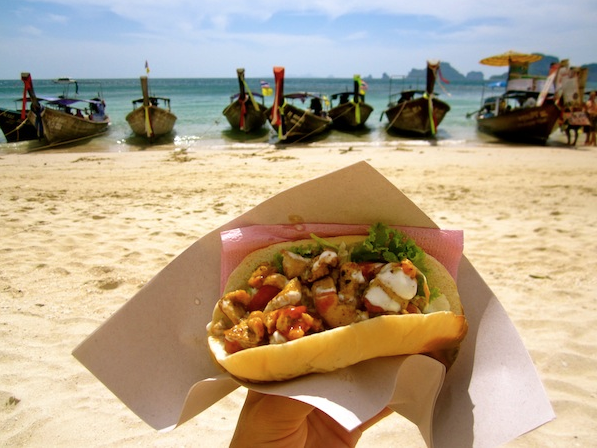 25. This bakso soup in Indonesia: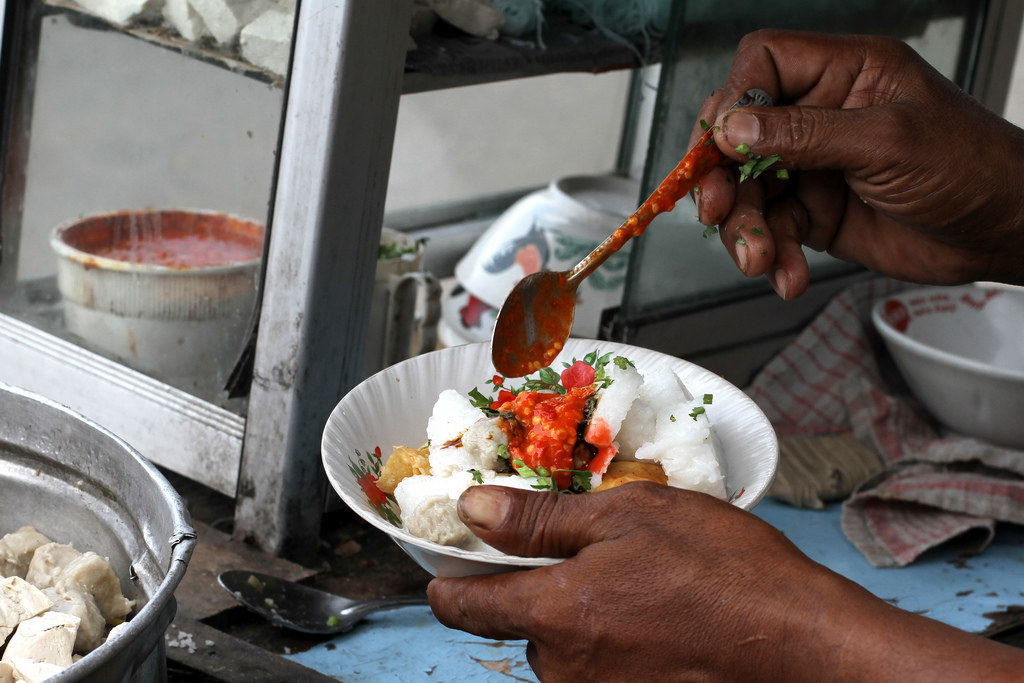 26. These dishes from Soi 38 or the night market in Bangkok, Thailand: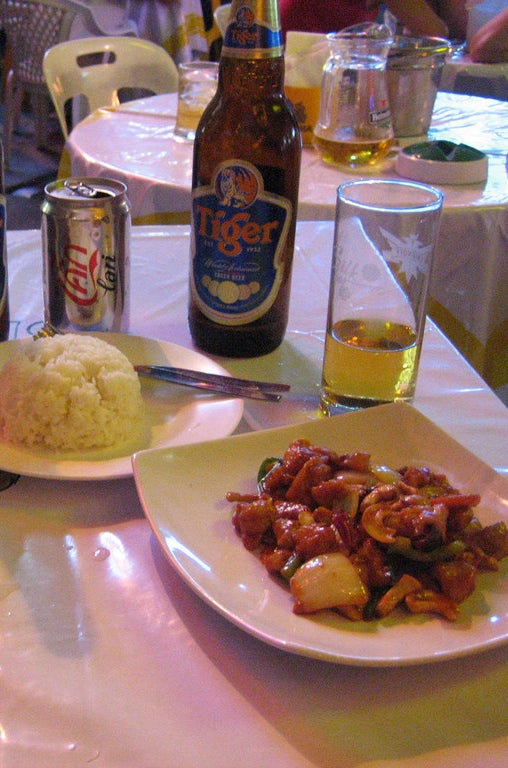 Soi 38 is a well-known street that serves some of the most delicious street food in Bangkok. The night markets there also have great options. "I get a fresh smoothie and chicken cashew dish for about 60 baht that's about 2 dollars and it's so filling!"
Submitted by Jac Connolly, Facebook
27. These xiaolongbao in Shanghai, China: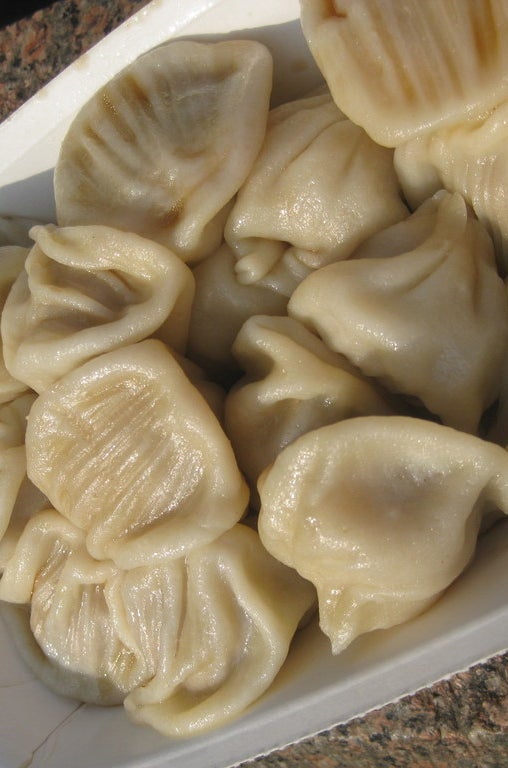 These are soup dumplings, which means there is actually soup inside those dumplings! "But be warned, the soup inside the dumpling can burn your tongue. A servings of 12 small dumplings will set you back 12 Yuan, which is roughly $2."
Submitted by Meg Collins, Five Dollar Traveller
28. This bánh mi sandwich in Vietnam: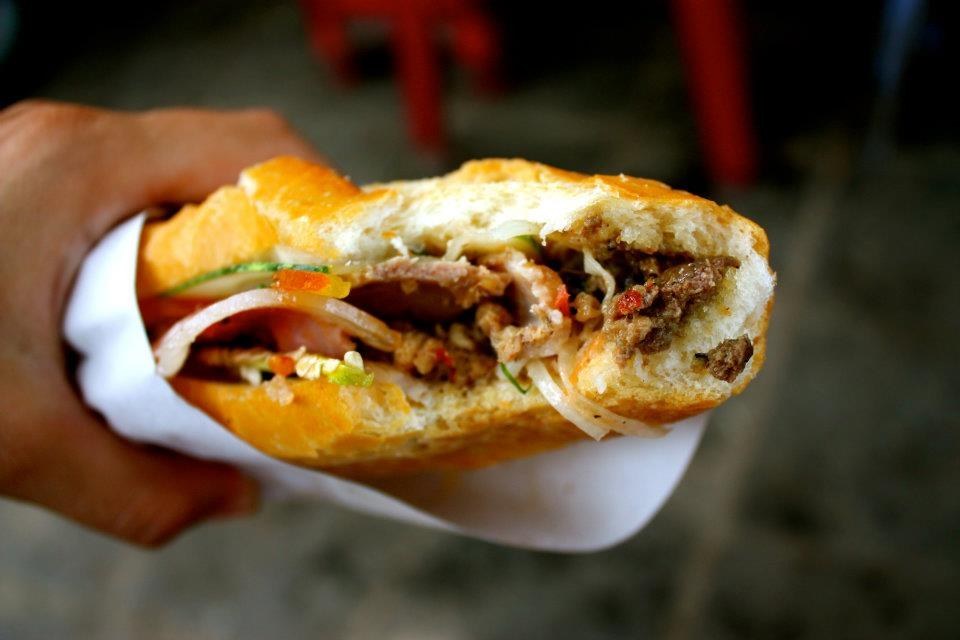 29. This fried carrot cake in Singapore: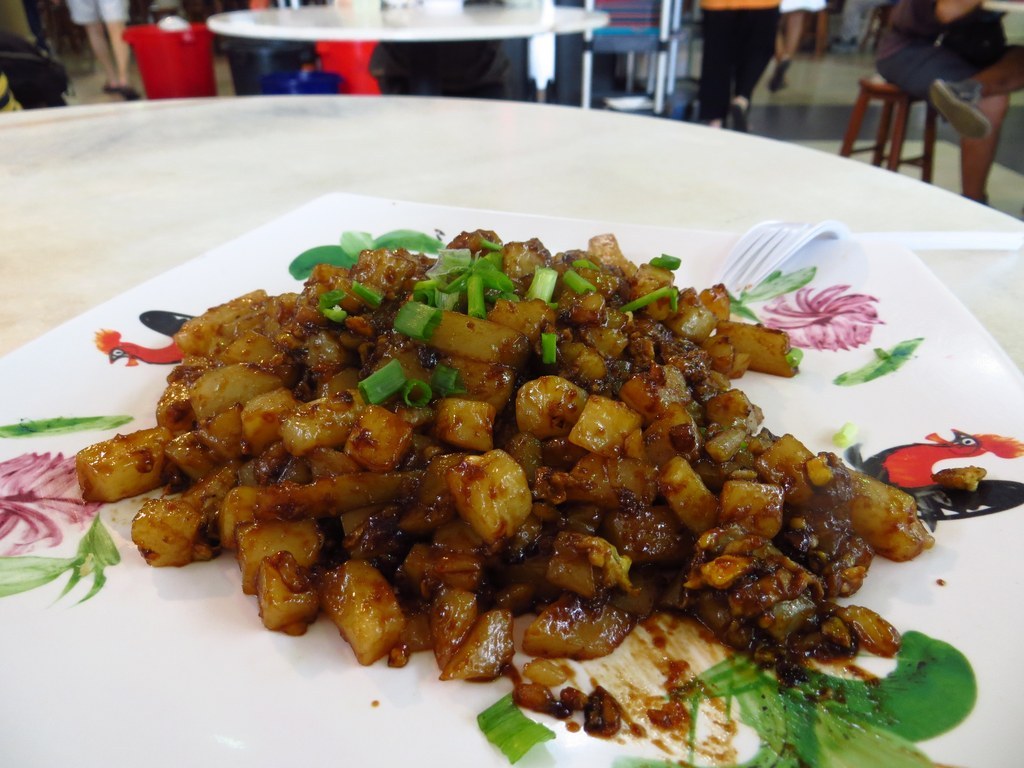 30. This khachapuri in Tbilisi, Georgia: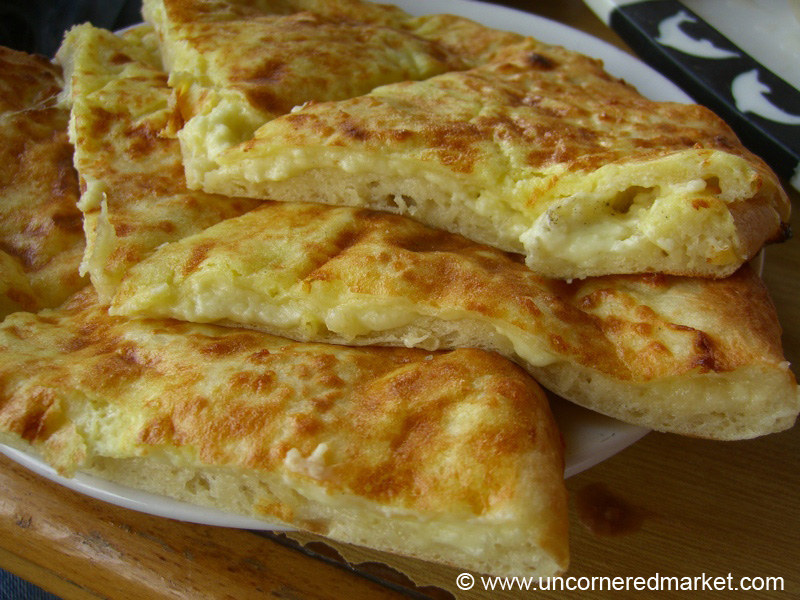 31. This meat pie in Australia: