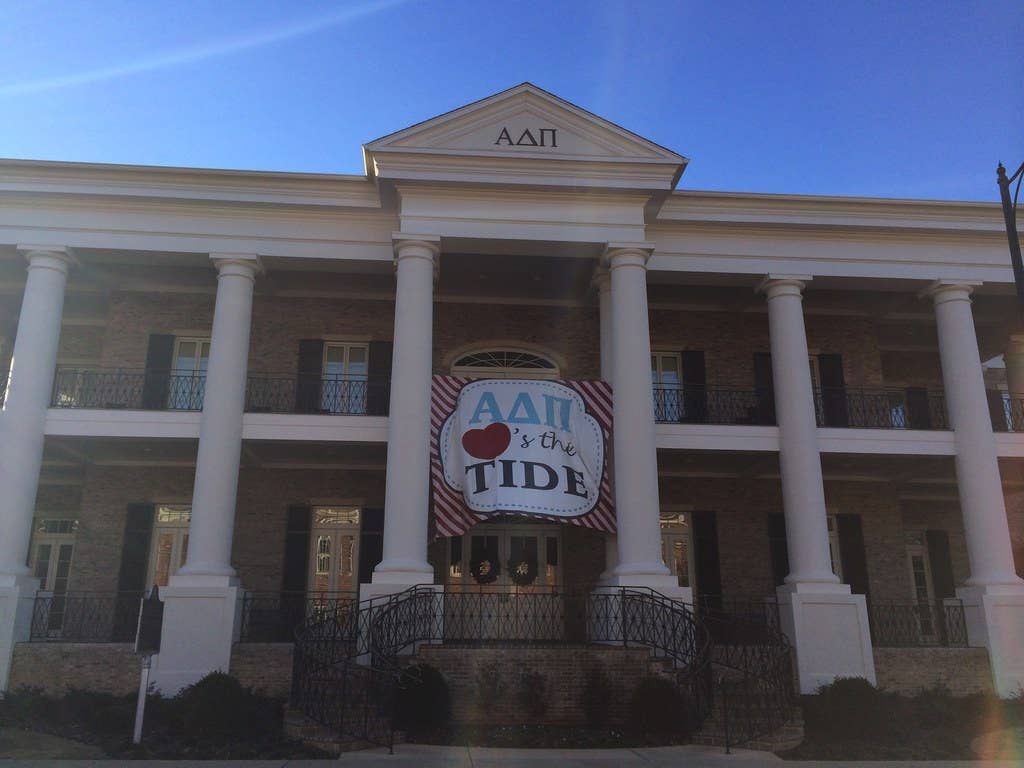 Silence.
That was the response from an auditorium of 200 University of Alabama Kappa Delta sorority members who, this past fall, were called together to freely and openly discuss ongoing racial diversity issues within their chapter and the campus Greek system as a whole.
Standing before the podium, UA senior and fellow Kappa Delta sister Kirkland Back scanned the assembly for raised hands. Two minutes had passed, Back said, and there wasn't a gesture in sight. Dead air filled the room.
From the back of the auditorium came a sudden voice of dissent: "Can we just fucking leave?"
The outburst, shouted by a senior sorority member, spurred enough chaotic uproar to halt the conversation and send everyone out the door. Questions were left unanswered, the status quo unchallenged.
"The whole university is in turmoil, the state is in turmoil, we're the shit mark on the entire country, and they wanted to leave," recalled Back, Honors Association president and the Kappa Delta member elected to spearhead the diversity initiatives within the chapter.
Now, nearly seven months following allegations of systemic racial discrimination in the Greek system, the dust of the conflict has settled, but sororities remain largely segregated with little evidence of substantive change. And despite a campus with a history of repeated injustice, not everybody wants to be the first test case for equality.
UA sophomore Khortlan Patterson, a black woman from Houston, was offered multiple bids to join Alabama's traditionally white Panhellenic sororities but turned them down. "I don't want to pay $6,000 a year to get criticized and ostracized," Patterson said. "I don't want to pay money to be a part of that."
Instead, Patterson pledged Alpha Kappa Alpha, the first historically African-American sorority. She considered joining a Panhellenic chapter in order to push change from the inside, but ultimately, Patterson decided it would have been more of a trial than an opportunity.
"No one's going to say flat out, 'You can't hang out with us because we don't consider you to be our sister.' But I think that in their actions it would probably be communicated in that way."
In many ways, the passive-aggressive dynamics Patterson attributes to Greek life mirror the attitudes of campus as a whole. Repeated incidents of civil injustice and subsequent media uproar have left much of the University of Alabama student body apathetic to controversy.
Pointing to the Kappa Delta meeting as a prime example, Back said many freshman and sophomore sorority women lack the infrastructure, or access to infrastructure, to even voice their opinions at all.
"When you come to campus and pledge a sorority at 18 years old, what are you going to do? What are you going to say, who do you even talk to? Because nobody around you — even if they are having the same fears and thoughts — is going to say anything," Back said. "There is a strong sense of 'There's nothing you can do about it.'"
Allegations Unwind
The short-lived gathering came in the wake of a controversy that, once again, put the University of Alabama in the national news spotlight: In September, the school's student newspaper reported that at least four of the 16 traditionally white sororities denied pledge bids to two black women during formal August recruitment.
Melanie Gotz, a member of Alpha Gamma Delta, became a whistleblower when she came forward with the allegations, detailing the case of one African-American student who was rejected, one by one, from all 16 Panhellenic sororities.
The recruit, who refused to be interviewed for this story, graduated salutatorian of her high school class with a 4.3 GPA and is the granddaughter of a member of the UA Board of Trustees.
The problem, as many sorority members tell it, stems from powerful alumnae stuck on preserving the tradition of their all-white sororities — even if that means threatening to withhold donations and other financial assistance.
"People are too scared of what the repercussions are of maybe taking a black girl," Gotz told The Crimson White. "That's stupid, but who's going to be the one to make that jump? How much longer is it going to take till we have a black girl in a sorority?"
That question burned in the minds of many eager to tackle enduring racial segregation on the Southern campus.
News broke of the charges and media coverage was loud and immediate. The morning after The Crimson White ran the story, CNN was on the UA campus in Tuscaloosa attempting to interview Greek members.
"Anywhere I walked on campus there were reporters on the side of the road trying to get people to say stuff," said Mariah Wnuk, a senior transfer student who isn't affiliated with a sorority but who "[doesn't] have a single friend who is not in Greek."
Abiding by a strict no-media policy enforced by their chapters, the majority of sorority women declined to comment on the situation. Other students, faculty, and alumni spoke out against discrimination and expressed dissatisfaction with the UA administration, which waited two days before issuing a statement acknowledging the allegations.
Then, on Sept. 16, following an emergency meeting with UA President Judy Bonner, the Alabama Panhellenic Association announced a mandatory policy: In an effort to increase diversity, each Panhellenic sorority would reopen the bidding process to any new members, whether they had participated in formal recruitment or not.
Four days later, Bonner released a video statement with news: 14 bids had been extended to minority women, six of which had been accepted. Victory bells rang out; a historical barrier had been broken.
A Culture of Silence
A well-known diversity advocate within her chapter, Back was elected Continuous Open Bidding director for Kappa Delta. Two weeks later, she quit the position.
"It was the most miserable thing I've been through in my entire life," she said. "I was honestly being a glutton for punishment by sticking with that position. Nobody in Kappa Delta was going to budge about pledging a minority."
In accordance with Continuous Open Bidding, Kappa Delta welcomed 16 new young women in the fall and seven in the spring. None of the women are black, Back said.
"I think the way they got around that was somebody might have claimed they were one-fourth Vietnamese," Back said. "But it's not like we have a black girl, someone from the Middle East, or someone who's clearly not from suburban white America."
UA Kappa Delta President Greer Turner, contacted to confirm the exact minority count, redirected the inquiry to Heidi Roy, media spokesperson at Kappa Delta's national headquarters. Roy didn't provide an answer either — every call went straight to voicemail. About a week later, she left a message saying national Kappa Delta doesn't track the requested information and has "nothing to share."
The only constant, visible aspect of racial diversity within Kappa Delta, said Back, is the staff. "There's six of them that work in the house around the clock — they are all black."
Twelve percent of the Alabama student body is black, and 24% of students are members of Greek organizations. Yet 2003 marked the first — and last — year a black student successfully pledged a traditionally white Panhellenic sorority during formal recruitment, according to a 2013 Inside Higher Ed report.
One week after the allegations surfaced, hundreds of students rallied together to protest long-standing racism in Alabama's Greek life. Brian Kraus is president of the Mallet Assembly, a freethinking honors residence program that led the demonstration. Kraus said when administrators learned of the students' plan to protest, Mallet was forced to negotiate with President Bonner the night before the event.
"They said, 'Well, you can either do it in a more peaceful way or we'll probably arrest you,'" Kraus said. "That way, the president of the university could come out, wave her hand, and make it seem like a unified thing so it wasn't so aggressive against the university."
In many ways, Kraus said, the university has successfully shut down the conversation in order to protect the school's reputation. "[The administration] likes for things to be quiet," he explained. "They view the media attention as negative; they'd rather have press coverage for football and things like that."
If the campus seems quiet, it's because aside from a select group of rabble-rousers, nobody is talking. Not only are sorority members themselves not talking to the press, the administration has failed to provide straight answers.
Kat Gillan, director of UA Greek Affairs, was unwilling to verify any detail regarding Panhellenic membership. Weeks later, InsideEC contacted Gillan to fact-check a statistic provided by a source. Gillan ignored the calls. When she did answer, the question was forwarded to university PR.
Cathy Andreen, UA director of media relations, said the university cannot provide demographic information regarding Kappa Delta, or any other sorority. She did not give reasoning for this policy.
"It's a culture of silence," said Back, who has fought against campus injustice ever since being exposed to it freshman year, when she was naively elected to a student senator position by The Machine, a secret coalition of 28 traditionally white Greek organizations that has guided UA politics for more than 100 years.
"Nobody's going to say, 'Isn't it kind of weird that there are literally no black girls in our pledge class and there's 84 of us?' Nobody's going to say that. You just don't talk about it."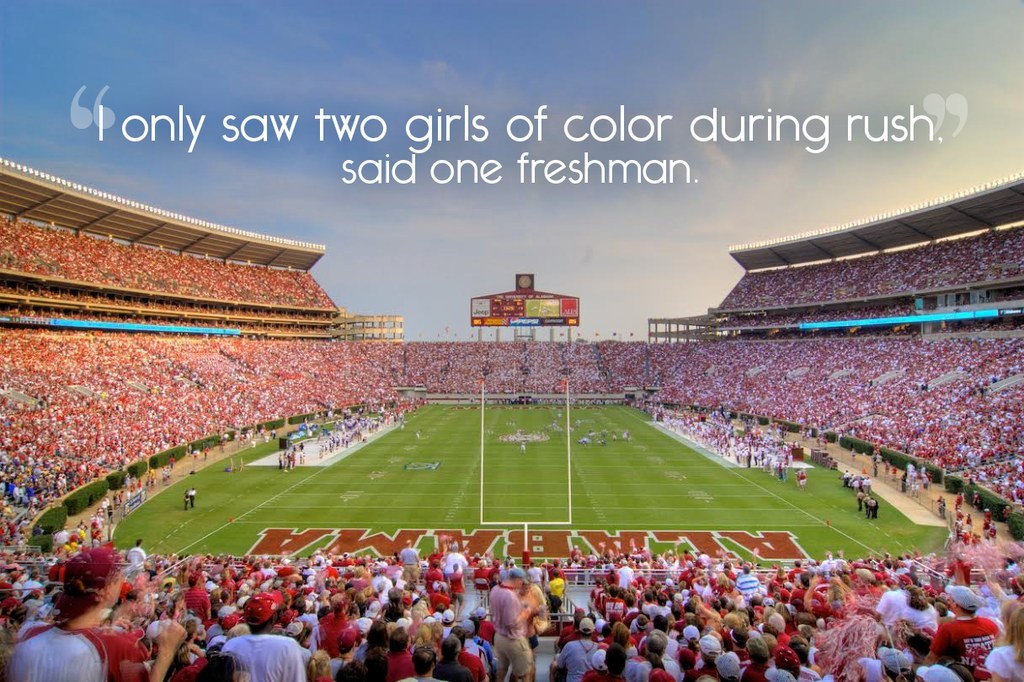 Color, Class, and the Lines That Divide
Rush week is the highly anticipated week of festivities held at the end of every summer. The UA Panhellenic Association hosts the tradition and releases an annual sorority "rush guide." Emily Levy, a Vocativ journalist, pointed out that the 2013 version contained "no more than five African-American faces" in its 79 pages.
"I only saw two girls of color during rush," said Brooke Garner, a UA freshman from Washington, D.C. Garner was the first to accept a COB bid from Kappa Delta after initially being rejected in August. Moving to Alabama came as an unexpected adjustment to Garner, who went to a high school so diverse she was the minority as a white woman.
"I think people of different races are scared to interfere," Garner said. "They don't apply to COB, they don't come to Greek events that are open to the campus, because they don't know how well they'll be accepted."
The controversy at UA didn't surprise Matthew Hughey, a University of Connecticut professor of sociology who
studies
racism in Greek life.
"These organizations were designed to be exclusionary. We shouldn't forget that," he said. Hughey began researching inequality within Greek organizations after pledging a traditionally black fraternity as an undergraduate student.
Many of the white fraternities and sororities around today, up until the late '60s and '70s, still had whites-only clauses in their constitutions. "They operate in many of the same ways even though they have dropped the language," Hughey said. "Still to this day, we have a very separate and unequal Greek system."
Hughey stressed that cases of exclusion and inequality in Greek life exist all over the nation — not just in Alabama or the Deep South. And further, the system is not only segregated, but segregated with unequal resources.
"It's tradition and it's a way of keeping resources amongst people who already have resources," Hughey said. "It's a club. And it's a club that costs a great deal of money to join and be active in."
According to the UA Panhellenic website, the average out-of-house living fees (meals and chapter fees) are $3,330 per semester, and the average in-house fees are $5,933 per semester. In addition, members must pay initiation fees, which can run as high as $913.
A hefty price tag, but, apparently, one many are willing to pay. Alabama has over 8,600 Greek members — more than any other campus in the nation, according to one 2012 study.
In November, the Associated Press reported that Alabama Greeks have spent more than $202 million on building expansion in the past 10 years. Big figures for big houses — or, more accurately, mansions. Manicured lawns and towering white columns span the two-block Sorority Row, located in the heart of campus.
On a gray January day, Ben Hubbard, a senior who grew up in Tuscaloosa, walked past Sorority Row on his way to the administration building, where he works. Through a thick Southern drawl, Hubbard explained how the expenses tied to Greek life prevent him — and other diverse individuals — from joining. "It costs more than in-state tuition," he said. "A lot of African-American kids — even white kids — can't afford it."
Steps, but No Solution
In 2007, UA welcomed multicultural sorority Sigma Lambda Gamma. Today, the chapter is no longer in existence — fall 2013 was its last active semester.
Recent UA alumnae Brittney Knox, a black woman and graduate business student in North Carolina, once served as president of Sigma Lambda Gamma. When she joined in 2009, the chapter had 14 members.
According to Knox, the administration allocated them an adviser and helped with funding, but it wasn't enough to fight low enrollment numbers. "You have to have so many members before you're able to be established on campus with an actual physical house," Knox said.
Another challenge, Knox said, was competing against the immediate allure of the Sorority Row houses. "When you ride past Sorority Row, that's not only where people live — it's kind of [an] advertisement," she explained. "When prospective students are coming to campus they're thinking, Oh, well, will I live in that house?"
Knox said news of her chapter's suspension was "saddening," but she knows her work wasn't in vain. "We made a huge difference in the lives of the girls we were able to touch," she said over email. "I do feel the chapter has the chance to be active again in the future with more recruitment efforts."
The structural issue of unequal resources afforded to non-white Greek organizations is a focal point in Hughey's research.
"You've got to start admitting more students [of color], encouraging them to apply and retaining them," Hughey said. "Maybe if you gave them more resources and reasons to come to school here with housing and so forth, they would want to come."
Among the first black women to accept Panhellenic bids and publicly announce it were Halle Lindsay and Cami McCant. Lindsay tweeted the news of her acceptance, prompting a warm welcome from their sisters.
About a month later, Hannah Patterson, a UA senior from Pittsburgh, was widely congratulated for being
elected
the first black president of a traditionally Jewish sorority.
For many, integration comes as a step, but not necessarily a solution. Rashawn Ray, a professor of sociology at the University of Maryland, examines racial stratification in social life. Like Hughey, Ray reiterated that letting one or two people in doesn't change the system or culture.
"For me it doesn't necessarily change the narrative in any way. It still comes down to the fact that certain members aren't allowed in primarily related to their race."
While director of the COB process, Back was closely attuned to reactions from the Greek community. Although Kappa Delta didn't show much interest in pledging a black woman, Back noted that soon after the public outcry, many other Panhellenic sororities began pushing to be the first to desegregate.
"It was a thing," she said. "Everyone wanted to be the one who took the bullet and 'did the right thing.'"
Back blatantly started breaking her chapter's no-media policy this year, knowing well the larger implications of her political rebellion would outweigh any serious disciplinary action. Rescinding her membership would be bad, Back said, but the news story that would follow? Far worse.
So how does Back reconcile being both an outspoken critic of the system and a member of one of the most financially powerful sororities on campus?
"Honestly, I really don't know," admitted Back, adding she isn't very popular in the house. "Somewhere deep inside I think they can get better. It's almost like a bad relationship."
Traces of Change
In some ways, things have gotten better.
Administration and faculty members have formed a special task force designed to review and recommend diversity initiatives. In recent meetings, Back said university officials have taken a more pragmatic approach to the situation.
"They're at least admitting that there are houses that are not integrated, and dealing with the reality of the situation — which is that not everybody is getting with the program."
As president, Kraus said Mallet Assembly is working to elect a student government that reflects a more diverse student. This reform, coupled with a sustained campus dialogue, is the only way to combat an issue much bigger than the scandal indicates, Kraus said.
"Racism in the South is not so much yelling the n-word from your car," he explained. "It's institutional things, it's not really allowing people to participate in all the ways that they should and it's not letting people speak when they have valid opinions."
Destyne Brown, a UA freshman from Miami, recently accepted a bid to Alpha Omicron Pi. She is the first and only black woman to join the 350-member Panhellenic chapter.
Brown received her bid in an unconventional manner: First, a surprise knock on her dorm door. "They came in, I got the little paper that said, 'Congratulations, you have just received a bid,'" she said. "They were all crying, taking pictures, and there was a huge video."
Approached by CNN for interview this past fall, Brown was told by her chapter to keep her mouth shut. "They were just like, 'No, you don't need that.' I would have. The Crimson White tried to interview too, but I couldn't."
Last month, UA Panhellenic held Greek Preview Day, an event where prospective high school recruits from all over the country visit UA to learn about Old Row sororities.
Alpha Kappa Alpha is the only black-lettered Greek organization that has residence on Sorority Row. Patterson, who chose not to join a Panhellenic sorority, lives in the house, and planned to participate until Panhellenic advisers told them there was no need; none of the incoming students were interested in pledging a traditionally black sorority. The day before, Alpha Kappa Alpha withdrew from the event.
"I was pretty hurt by that," Patterson said. "It really hurts that that stigma exists."
The Beginning of Closure
When posed with complex questions about race and diversity, society tends to respond with simplistic solutions, explained Ray, one of the two experts interviewed by phone for this story.
If the University of Alabama wants to implement permanent change, it will require a concerted effort. "They need diversity training," he said. "Training as it relates to race relations, gender relations, and class relations."
Highly involved in various campus organizations, Patterson said she tries to maintain a positive attitude about continued campus justice. "You really can't hate the person; it isn't progressive." she said. "You have to hate the institutions."
As for the institution of Greek life at the University of Alabama, parties on all sides are waiting to see where the latest conversation on race will lead.
With the academic year coming to a close, shouts have turned to murmurs. UA's Greek demographic is still overwhelmingly white, and with every step toward progress, there have been setbacks.
Most recently, a nearly yearlong effort to dismantle the Greek system came full circle with the decision to finally integrate. On April 14, UA student senate passed a resolution proposing full integration within Greek sororities and fraternities. The bill is a follow-up from March 21 — when the initial proposal to integrate was immediately shot down without vote or formal debate.
Even for a zealous diversity advocate like Back, the bill is a notable positive effect, but doesn't offer much sustained promise. "While it's awesome to see students talking about these issues, a senate resolution doesn't mean much," she said in a recent email.
"This vote doesn't mean that the administration is on board, or that there's personnel assigned to the situation, or that money is flowing in that direction to help bolster programming. It's all just words, but that's what we're used to anyway."