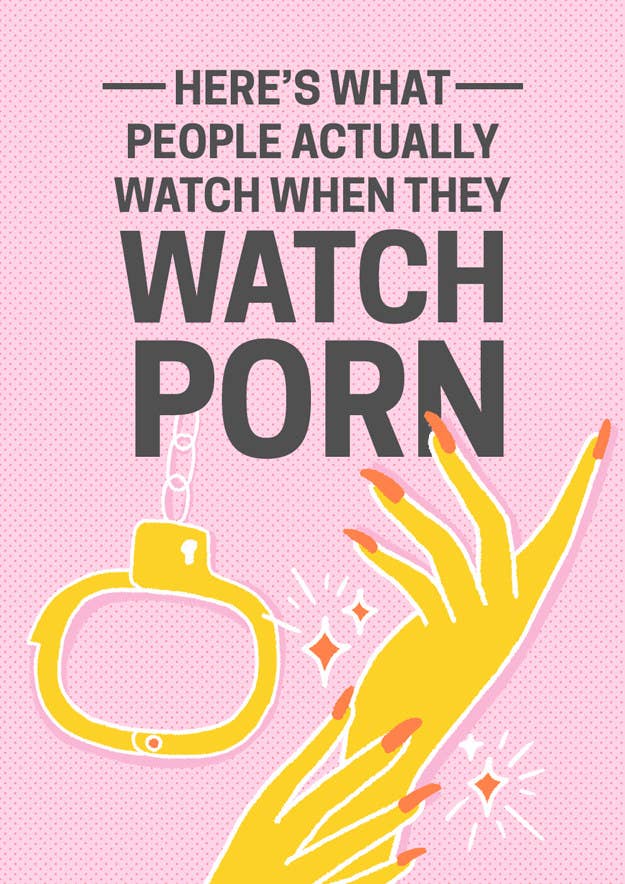 It's no secret that a lot of people watch porn as part of their ~masturbation routines~ — but what people actually watch on the privacy of their own screens is a little more of a mystery.

To get a better idea of what people are into, BuzzFeed asked people of all ages, genders, and sexualities to describe what they do when they masturbate — and many people talked about porn, porn, and more porn. Here are just some of their open, honest, and fascinating responses.
1.
"I usually choose lesbian porn because what's important to me is to hear the women getting off. I get easily distracted by any other voices or even music and usually straight porn is worse about both of those."
—25/F/Bisexual
2.
"Very finicky with what porn I use. There needs to be sound, it needs to sound real and like the people in the video are passionately enjoying themselves. Production porn is generally off the list by that standard. I don't look at the porn itself a lot (the visual aspect of sex doesn't do much for me). I go with the noise, my mind, and the sensation of my hand."
—23/M/Straight Ace
3.
"I love watching gay porn — male gay porn that is. Friends have told me that's kind of odd and would expect me to want to see either two women or a man and a woman because I'm a bisexual woman, but it's just not as sexy as watching a couple of cute guys getting it on!"
—23/F/Bisexual
4.
"I'm pretty particular with my porn. It has to have a hot girl, seem somewhat realistic. Bonus if she seems like she's enjoying it for her own sake and not just the guy's."
—24/M/Straight
5.
"Sometimes I scour non-porn websites for porn, like YouTube and Instagram. It sounds really weird and probably a little sleazy, but when you find a sexy thing in a place where they most certainly should not exist — it's a huge thrill."
—22/M/Gay
6.
"I like men, but I watch all kinds of porn: lesbian, older men with young women, anal, vaginal, BDSM, you name it. Just not into body fluids."
—23/Trans Male/Gay
7.
"I don't take long to orgasm once I've started masturbating, but I have to find just the right video to watch before I start or I can't do it. BDSM turns me on, as does threesomes, gangbangs, and public humiliation. I hide my interest in these areas from my fiancé as I'm worried he'd think I was weird. I generally only get off when women are treated badly. It makes me feel ashamed."
—26/F/Straight
8.
"I go on PornHub and look at straight porn and pretend to be the one with the penis."
—19/F/Gay
9.
"There are a lot of fandom-based porn Tumblrs that find GIFs and videos that look like the casts of TV shows or movies. My favorites are Porn Stars Who Look Like The Cast Of Supernatural, as well as the Teen Wolf, Marvel, and Game of Thrones ones. It helps because I'm demi and don't have sexual attraction unless I have strong romantic feelings for someone. I don't currently have a boyfriend, but I have a strong emotional attachment to a few fictional characters. Watching two guys who look kind of like Cas and Dean from Supernatural and pretending it's them makes it actually sexy to me."
—25/F/Demisexual
10.
"I enjoy masturbating watching girl-on-girl porn, no toys involved — just two pretty girls having sensual, passionate, hot sex."
—23/F/Straight
11.
"The type of porn and fantasy is super important for my arousal, with older men/younger girl scenarios being pretty much always being my go-to ever since I started to masturbate. So, I may either watch young, pretty, natural-looking girls having sex with much older, far less attractive men, preferably in gangbangs, or rough sex scenes, with the girl rimming the men, and I fantasize about myself in the same scenarios."
—23/F/Straight
12.
"I am straight, but I get so turned on by lesbian porn. Straight porn doesn't do it for me. I'll watch girls eat each other out and grind and I'll rub my clit till I come."
—20/F/Straight
13.
"I'll usually put some porn on [to masturbate], something that is definitely female-friendly — no POV, no cum shots, nothing that I feel is too degrading (except for maybe a bit of a kink!)."
—25/Trans Female/Asexual
14.
"Spend about 20 minutes looking for the perfect porn on XNXX. Always different, but I really like vintage German porn."
—21/F/Heterosexual
15.
"I look for porn clips with straight guys with nicely sized balls. They gotta be straight, though, so usually I look through the couples videos. Sometimes when the search results aren't good that session, I search for 'gay for pay,' but as soon as I see two guys start making out, I move on to a different video with a straight guy with a nice package."
—26/M/Gay
16.
"I really like 'creampie' porn — not for the image of a vagina full of cum, but for the moment the man ejaculates. The little grunt or tension released gets me off."
—26/F/Straight
17.
"I start with Tumblr since it has the best amateur porn. I usually watch male-on-female or lesbian or basically what ever is good. I kind of have a checklist when it comes to the porn I watch: I have to like their make-up and hair, so no shimmery eyeshadow and eyebrows from the '90s. It's such a turn-off, as well as dry-looking dicks and most of all BITTEN NAILS! Seeing that can just put me off all together."
—18/F/Bisexual
18.
"Although I don't personally enjoy BDSM on myself, I get very aroused watching it being done to someone else. As a feminist, I don't condone the mistreatment and rape of women, but watching it for arousal with an actor who has consented is entirely different...and sexy."
—30/F/Bisexual
19.
"I actually have a sneeze fetish, so getting myself turned on is as easy as going onto YouTube and finding a good video."
—25/M/Straight
20.
"I probably spend more time on [Reddit's] /r/gonewild than most of my straight guy friends. It's weird how something can be physically arousing while at the same time completely unattractive to me. Porn is fine as long as I don't think about it too much: If I actually start picturing myself as part of it all, I immediately lose my boner and optionally might have a minor panic attack."
—21/M/Ace
21.
"XVideos is the best website. I'm married, so something about gay porn or rimming seems taboo because of my husband's aversion to those things."
—28/F/Straight
22.
"I'm really into spanking, so I start by looking at male/male Tumblr spanking GIFs and pics while imagining I'm the spankee."
—30/Trans man/Masculinity
23.
"Usually I will open my secret Twitter account where I following porn accounts, watch porn GIFs or 30-second videos to get myself turned on before masturbating."
—24/F/Straight
24.
"I prefer gay porn to lesbian porn — have you seen the nails of those supposedly lesbian porn stars? Those are not the nails of someone who loves vagina. Anyway, I watch a lot of porn, as opposed to 'using my imagination,' which is apparently how most people think girls do it (surrounded by candlelight, of course), which is a lie. GIRLS WATCH PORN TOO."
—18/F/Pansexual
25.
"I have three or four go-to videos that I cycle through because I'm pretty nitpicky. Basically I love threesome porn with two girls and a guy, but I don't like it if it's too degrading to the women or centers on the guy too much — which is pretty much most MFF threesome porn. So I have a few downloaded that are more amateur, usually like 'two best friends have their first threesome together,' so the girls are actually into each other."
—27/F/Straight/Bicurious
26.
"Usually I look at porn pics on Reddit. I primarily enjoy 'tgirl' (transgender women) porn, but occasionally I will watch straight or very rarely lesbian porn. Sometimes I will use some audio, but not always."
—18/FtM/Bisexual
27.
"I am gay and like women and enjoy watching lesbian porn, but for some reason straight porn, especially blow jobs, is what really gets me off."
—23/F/Gay
28.
"I have kind of a weird method when it comes to masturbating and porn… I love hentai, but the noises of it are a boner killer for sure. Too shrill and unrealistic. So what I do is match up 'real' porn with my favorite hentai videos on mute (I like a lot of the tentacle stuff, don't judge). That way I can enjoy the visuals with better noises in the background."
—22/M/Straight
29.
"I like to look at porn GIFs on Tumblr, not actual whole videos of porn. They focus on the sexiest parts and don't have any fake-sounding sex noises that can pull me out of the mood. Much hotter."
—32/F/Straight
30.
"Obviously I watch a lot of porn, but I always go back to watching videos with pregnant chicks. Turns me on like no other. Must be some evolutionary shit? But the more pregnant the better."
—29/M/Straight
31.
"I like to watch a little bit of softcore porn to get started (usually the sex scene from Blue Is the Warmest Color). Anything with girls who seem into each other and porn that doesn't seem catered to the male gaze."
—25/F/Gay
32.
"I'll usually go to YouPorn and open up a few tabs of whatever videos I see on the front page that catch my attention. After I get hard from a few videos, I'll open up Facebook and go to a girl's profile that has hot pictures. I'll flip back and forth between some of those pictures and porn until I come."
—24/M/Straight
33.
"Since dating my boyfriend, I've been interested in straight porn, where the women HAVE to genuinely like it, and not be demeaned. But before him, it was 98% lesbian porn."
—28/F/Straight
34.
"I'll look for GIFs of porn on Tumblr or audio clips of people (mainly women) moaning or dirty talk. Lady Cheeky is a favorite website of mine for GIFs, and in the vastness of Tumblr-verse I can always find what I'm looking for — from specific genres like BDSM to M4F dirty talk."
—19/F/Straight
35.
"I prefer very degrading, rough sex in porn. Anal is something I prefer when I'm in a particularly rough mood. From there I pretty much imagine myself as the subject getting pounded."
24/F/Bisexual
36.
"I watch a video of myself masturbating."
—30/M/Straight
37.
"I lie on my bed and look through my Instagram. I follow accounts like 'allbootyguys,' which turns me on. This eventually leads me to porn sites."
—32/M/Gay
38.
"I mostly get off to POV blow job stuff — the kind where it's like looking down at a girl sucking on your own dick."
—28/M/Straight
39.
"Ethical queer porn vids, all day, every day."
—26/Agender/Asexual