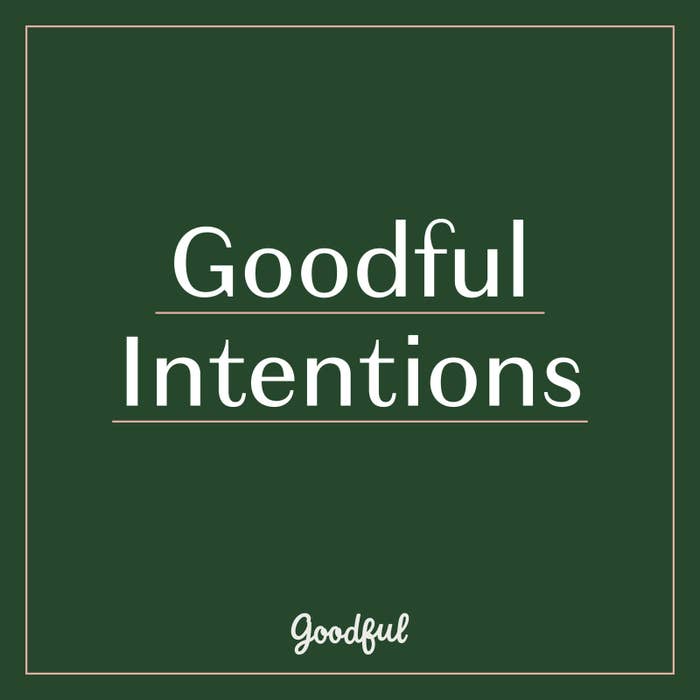 Hi! I'm Anna, a senior writer for Goodful, and I'll be honest — it took me a while to come around to setting intentions. AKA the core part of this Goodful Intentions newsletter I write.
No one would ever accuse me of living unintentionally. My life exists in to-do lists and goals and five year plans. I make bullet journal spreads to keep my responsibilities on track and to stay focused. I consider spreadsheets and Google Docs necessary tools for existence. I haven't not been called a bit Type A on multiple occasions.
On the other hand, intentions felt too intangible, too impractical, too incompatible with the deliberate way I lived my life. I thought of intentions as nothing more than weightless wishes like you put into the universe so everything you want will waft your way simply because you spoke it into existence. And that was some woo-woo shit I didn't have time for.
But frankly, I was really underestimating what intentions have the power to be. And you might be, too.
Intentions, once you get over the mental image of a Gwyneth lookalike chanting them while doing yoga by the moon, really boil down to one thing: making a plan where you might otherwise operate on autopilot. They give you a way to focus on who you want to be and what you want to do, and they help you create a roadmap for getting there. Otherwise, it's so easy to just...not.
Because here's the thing about taking a moment to think intentionally (ha ha) about guiding principles for your life: it makes a huge difference in helping you create the life you want!!! Shocking, I know. It's about taking the time to say, This is my purpose, this is the energy that will carry me, this is what I'm going to concentrate on, this is how I want to live. Once you know that, it's wild how other things — like what to say yes and no to, or which parts of or your life to change or nourish — just become so much clearer.
So, our weekly prompts will help you focus on becoming who you want to be and teach you how to celebrate and take care of the person you are along the way.
Every Sunday, you'll get a word, a single verb — a call to action, an affirmation, a word of comfort, an intention — and a bit of advice on how to apply it to your life. You can choose what you do with it. You can read it and say, "Aw, that's nice," and reenter the fray of your busy life, if you want. You can meditate on it. You can jot it down in the corner of your weekly bullet journal spread. You can maybe even let it change your life a little, week by week.
Sign up below to start getting the Goodful Intentions newsletter sent straight to your inbox: