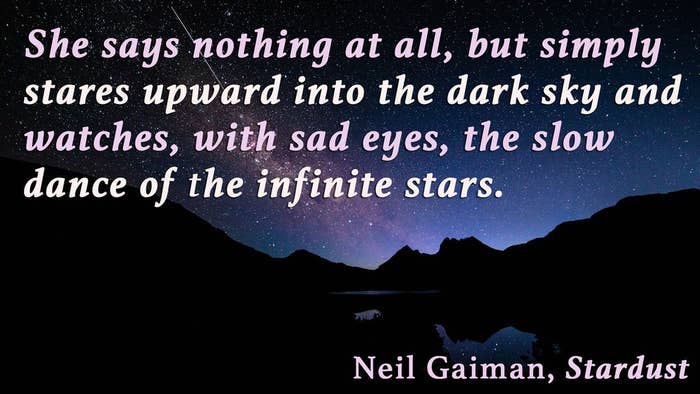 2. "The Potters smiled and waved at Harry and he stared hungrily back at them, his hands pressed flat against the glass as though he was hoping to fall right through it and reach them."
—J.K. Rowing, Harry Potter and the Sorcerer's Stone
Suggested by Minjee Kim, Facebook
3. "Every atom of me and every atom of you...We'll live in birds and flowers and dragonflies and pine trees and in clouds and in those little specks of light you see floating in sunbeams...And when they use our atoms to make new lives, they won't just be able to take one, they'll have to take two, one of you and one of me, we'll be joined so tight..."
—Philip Pullman, The Amber Spyglass
Suggested by Annie Hedlund, Facebook
4. "You know nothing, Jon Snow," she sighed, dying.
—George R.R. Martin, A Storm of Swords
Suggested by Mario Sanz, Facebook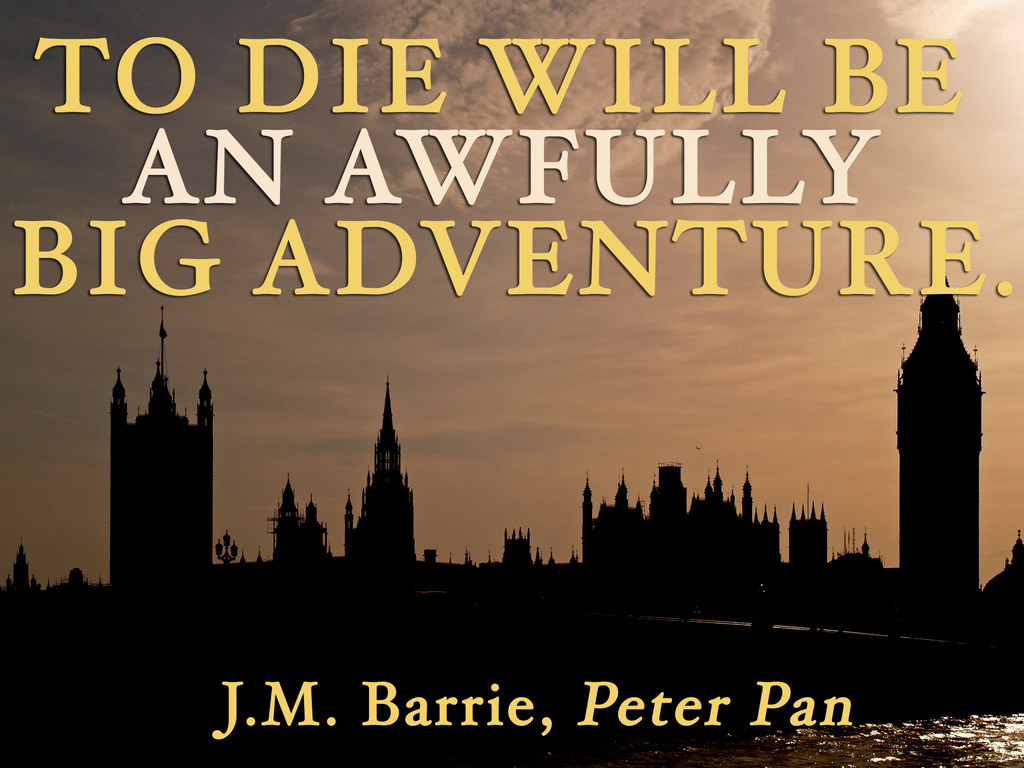 6. "The worst moments, when, sitting alone at breakfast, she had realized that she had forgotten the precise blue of his eyes or the depth of his laugh; that like the sound of Jem's violin, they had faded into the distance where memories are silent."
—Cassandra Clare, Clockwork Princess
Suggested by Cristina Gonzalez, Facebook
7. "All paid homage but the king of Avaric, who wept, and the bandit queen, who could not console him."
—Meredith Ann Pierce, The Pearl of the Soul of the World
Suggested by Ali Phelps, Facebook
8. "I love you too, but my time with you has passed."
—Garth Nix, Abhorsen
Suggested by Ginger Lee Thomason, Facebook
9. "As much as I might wish for a reason I could understand, in my heart, and not only in the dark intuitive part of me that shuddered away from such comprehension, it would never come."
—Jacqueline Carey, Kushiel's Dart
Suggested by Sara Benjamin Takacs, Facebook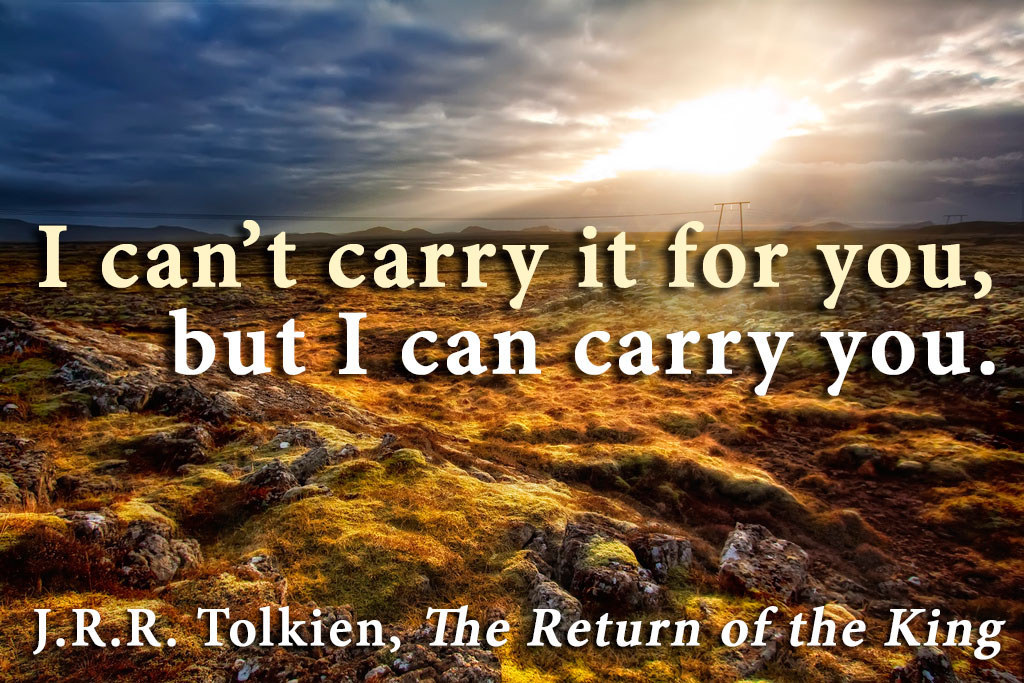 11. "He howled and he howled, and abandoned himself to his agony, not caring what the future might bring, for Oromis was dead, and he was alone."
—Christopher Paolini, Brinsingr
Suggested by mariekeg2
12. "You have a stone in your heart, and some days it's so heavy there is nothing to be done. "
—Patrick Rothfuss, The Wise Man's Fear
Suggested by Mathew Johnson, Facebook
13. "He had ecstasies innumerable that other children can never know; but he was looking through the window at the one joy from which he must be forever barred."
—J.M Barrie, Peter Pan
Suggested by Sasha Greene, Facebook
14. "My parents emptied their pockets of me and left me to evaporate on a concrete slab."
—Tahereh Mafi, Shatter Me
Suggested by Kelly Ferguson, Facebook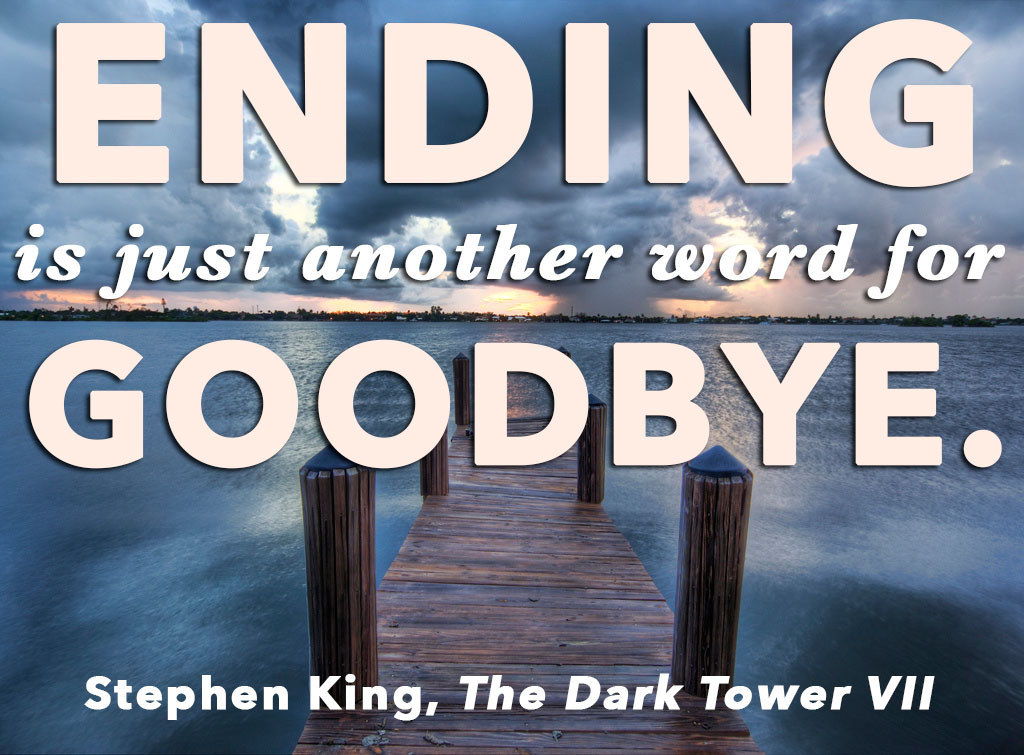 16. "Everyone and everything has a time to die."
—Garth Nix, Sabriel
Suggested by Lindsey Cepak, Facebook
17. "This was no child's tale, where the sleeping one would wake again at the magic touch of the one who loved him."
—Mercedes Lackey, Magic's Pawn
Suggested by Kim Jamie Granvik, Facebook
18. "All the tears women shed, they leave no mark on the world…"
—Marion Zimmer Bradley, The Mists of Avalon
Suggested by angels4d4906ef4
19. "He thought, or said, or sang, I did not know that I was so empty, to be so full."
—Peter S. Beagle, The Last Unicorn
Suggested by Megan Elizabeth, Facebook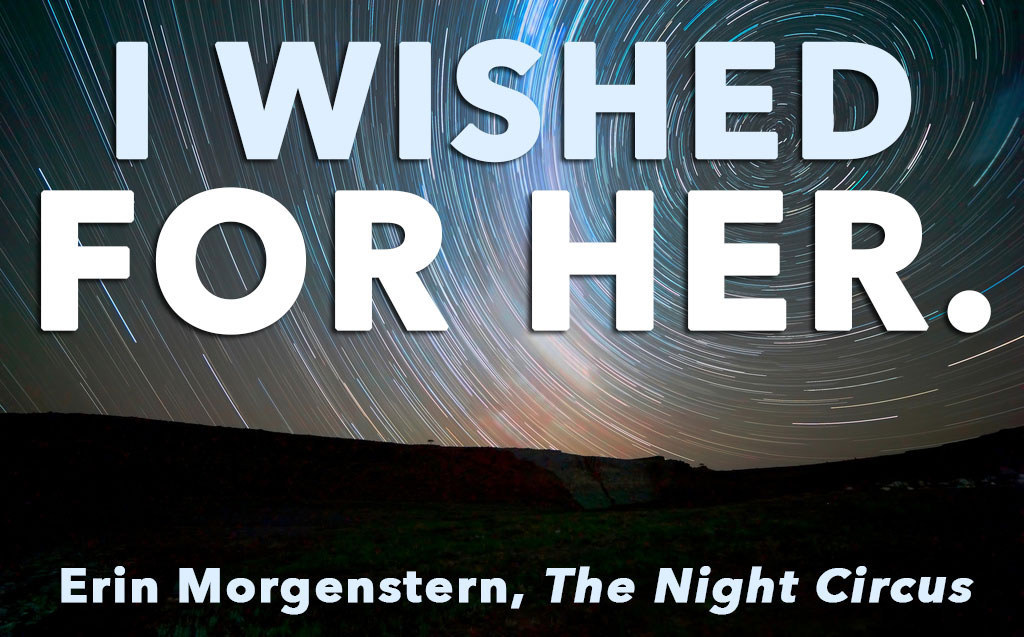 21. "Don't go where I can't follow!"
—J.R.R. Tolkien, The Two Towers
Suggested by Kimberly Stoessel, Facebook
22. "That was what death was like: trapped in a small space with a big weight holding you down for all eternity."
—John Connolly, The Book of Lost Things
Suggested by Jwalsh1105
23. "And Percy was shaking his brother, and Ron was kneeling beside them, and Fred's eyes stared without seeing, the ghost of his last laugh still etched upon his face."
—J.K. Rowling, Harry Potter and the Deathly Hallows
Suggested by Ilana Morgan Spiegel, Facebook
24. "The trouble with miracles is, they don't last long."
—Jerry Spinelli, Star Girl
Suggested by Alexandra Melikian, Facebook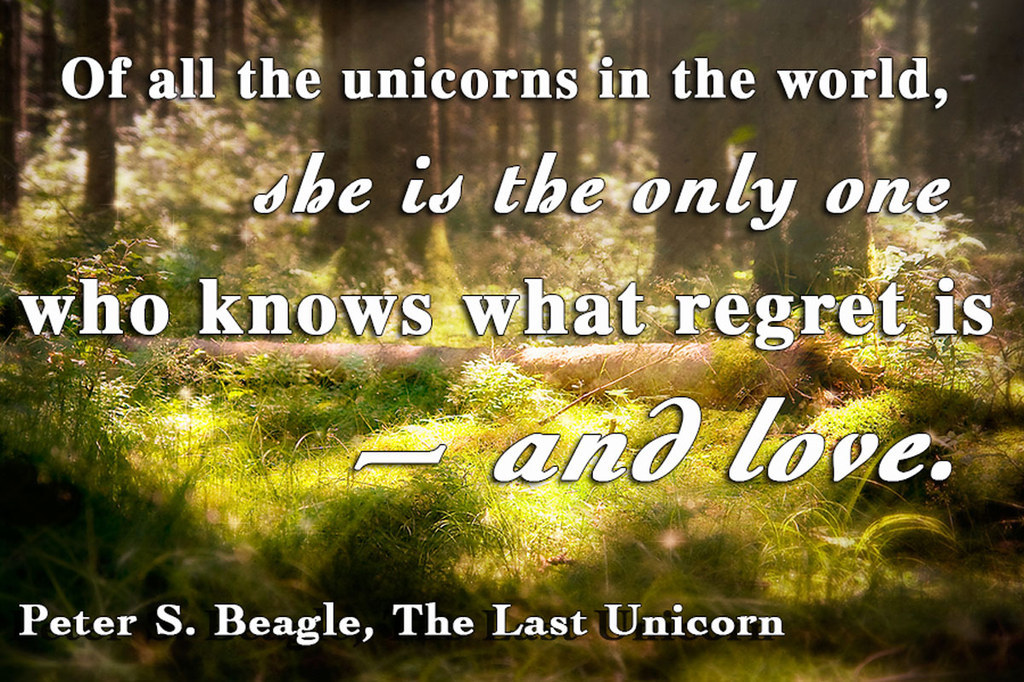 26. "Sometimes, we give the best of our hearts uncritically — to those who hardly think of us in return."
—T.H. White, The Once and Future King
Suggested by Amy Krintz, Facebook
27. "She waited to change, and I waited to change, and we both wanted what we couldn't have."
—Maggie Stiefvater, Shiver
Suggested by Emma Timewell, Facebook
28. "I am tired of denying myself what I want for fear of breaking things I cannot fix."
—Erin Morgenstern, The Night Circus
Suggested by Jen Moir, Facebook
29. "My life wasn't worth any more than his, but he's the one who's buried, while I get to enjoy at least a few more hours above the ground."
―Christopher Paolini, Inheritance
Suggested by sebastianthebutler
31. "There was a girl, and her uncle sold her."
—Neil Gaiman, American Gods
Suggested by Richard Philbin, Facebook
32. "'Be well,'" he said, and then an orange flame blossomed in the center of his chest."
—Eoin Colfer, The Opal Deception
Suggested by muggleborntorun
33. "She was tired in her bones, but she rallied her energy one last time and told him of the years in Rifthold, of stealing Asterion horses and racing across the desert, of dancing until dawn with courtesans and thieves and all the beautiful, wicked creatures in the world."
—Sarah J. Maas, Heir of Fire
Suggested by oliviae4f710cd76
34. "The man in black fled across the desert, and the gunslinger followed."
—Stephen King, The Dark Tower VII
Suggested by timothyjc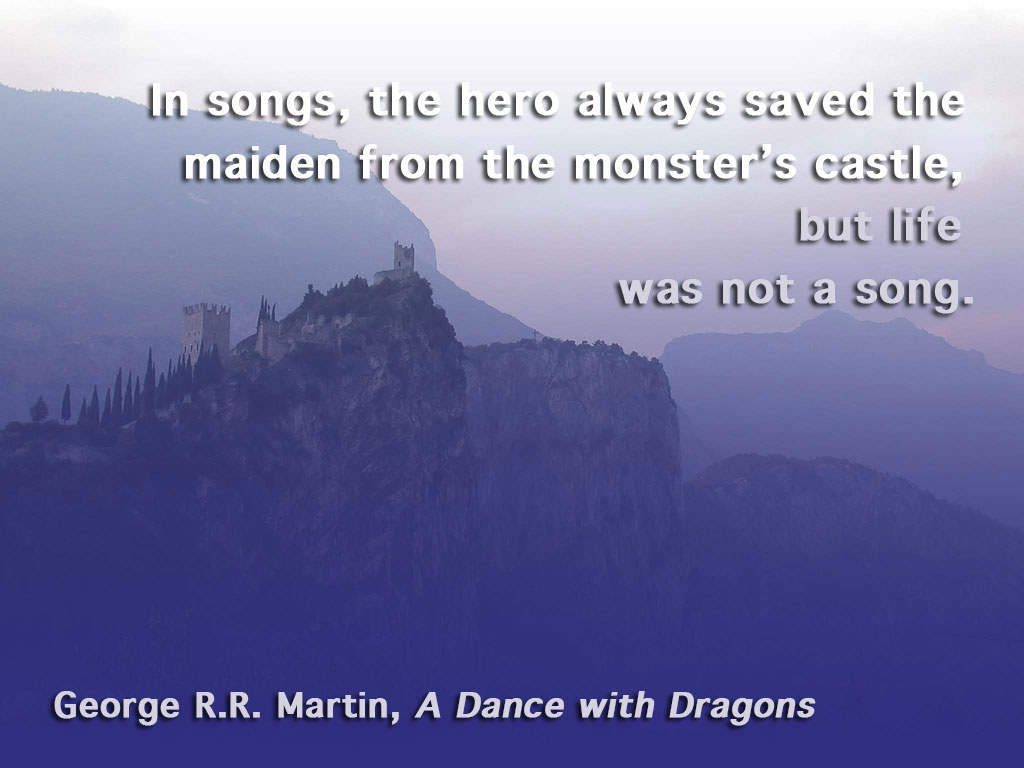 36. "She had made him leave his old self behind and come into her world, and then before he was really at home in it but too late to go back, she had left him stranded there—like an astronaut wandering about on the moon."
—Katherine Paterson, Bridge to Terabithia
Suggested by ChelleGBelle
37. "Then she was pressing her little proud broke self against his face, as close as she could get, and then they died."
—Phillip Pullman, The Subtle Knife
Suggested by isabellem49a01e24a
38. "With his heart falling into a black abyss, Thomas pulled the trigger."
―James Dashner, The Death Cure
Suggested by Afnan
39. "He can sleep anywhere, Jace had said, and he almost looked as if he were sleeping now, in his father's lap, but Clary knew he wasn't."
—Cassandra Clare, City of Glass
Suggested by alicen6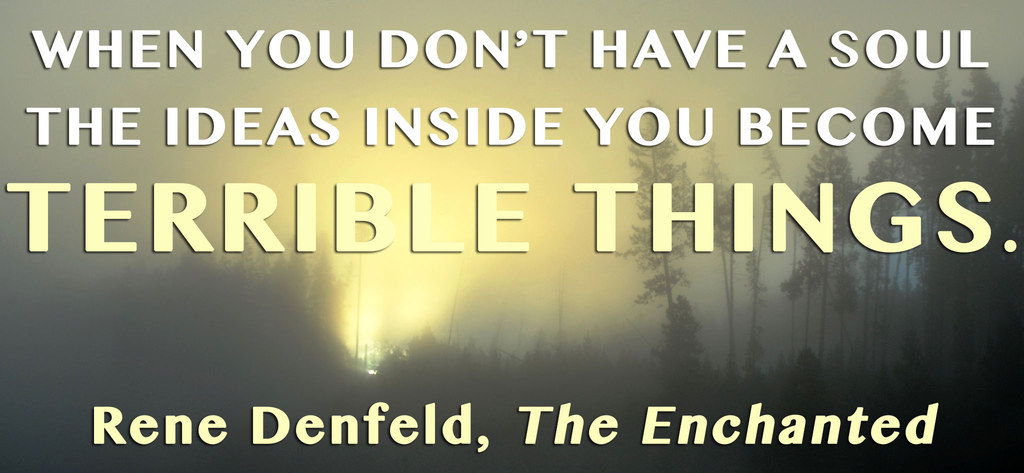 41. "I can feel his presence here in every stone he has touched, every person he has lifted up, every street and alley and city that he has changed in the few years of his life, because he is the Republic, he is our light, and I love you, I love you, until the day we meet again I will hold you in my heart and protect you there, grieving what we never had, cherishing what we did."
—Marie Lu, Champion
Suggested by abbylllll
42. "Then Percy let go of his tiny ledge, and together, holding hands, he and Annabeth fell into endless darkness."
—Rick Riordan, The Mark of Athena
Suggested by An'Elise Magnuson, Facebook
43. "It was the patient, cut-flower sound of a man who is waiting to die."
―Patrick Rothfuss, The Name of the Wind
Suggested by pennyalenat
44. "I hope no one who reads this book has been quite as miserable as Susan and Lucy were that night; but if you have been - if you've been up all night and cried till you have no more tears left in you - you will know that there comes in the end a sort of quietness."
—C.S. Lewis, The Lion, the Witch, and the Wardrobe
Suggested by danalil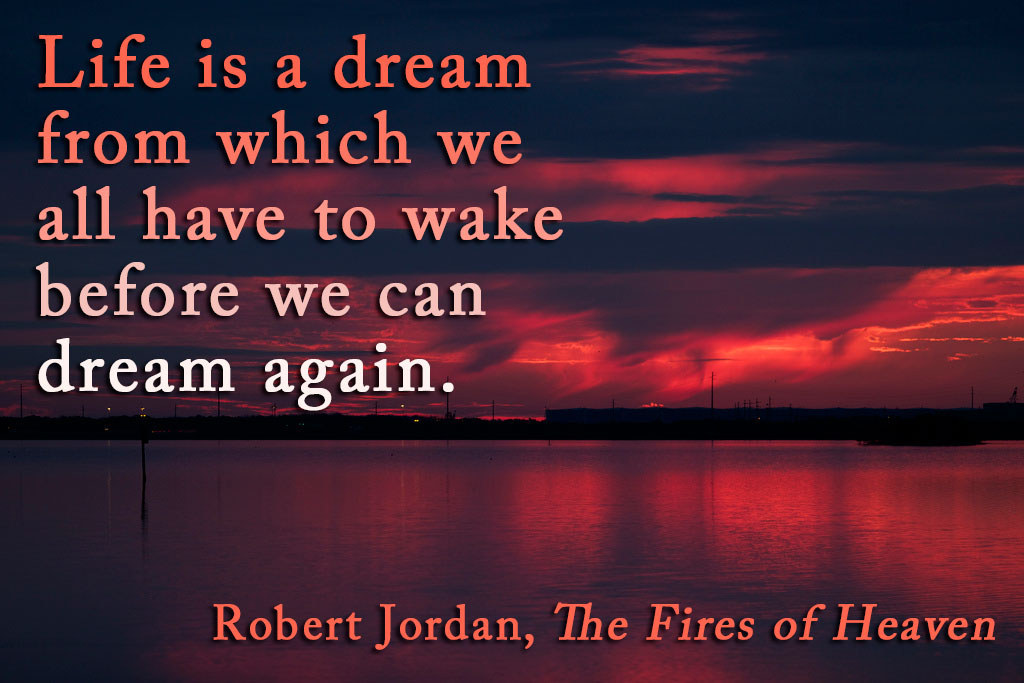 46. "'I've never felt so… light,' he said softly, and then he smiled, and closed his eyes, and died."
—Cassandra Clare, City of Heavenly Fire
Suggested by annas496f481b5
47. "One never learns how the witch becomes wicked or if it was the right choice for he — is it ever the right choice?"
—Gregory Maguire, Wicked
Suggested by pawise2014
48. "Finally, I said, very quietly, 'I don't know if I'm one of the good guys anymore.'"
—Jim Butcher, Skin Game
Suggested by lauragelderh
49. "Every day, thousands of confessions are kept from their would-be confessors, none of these people knowing that their never-admitted secrets all boil down to the same three words: I am afraid."
—Maggie Stiefvater, The Dream Thieves
Suggested by MagicandMusic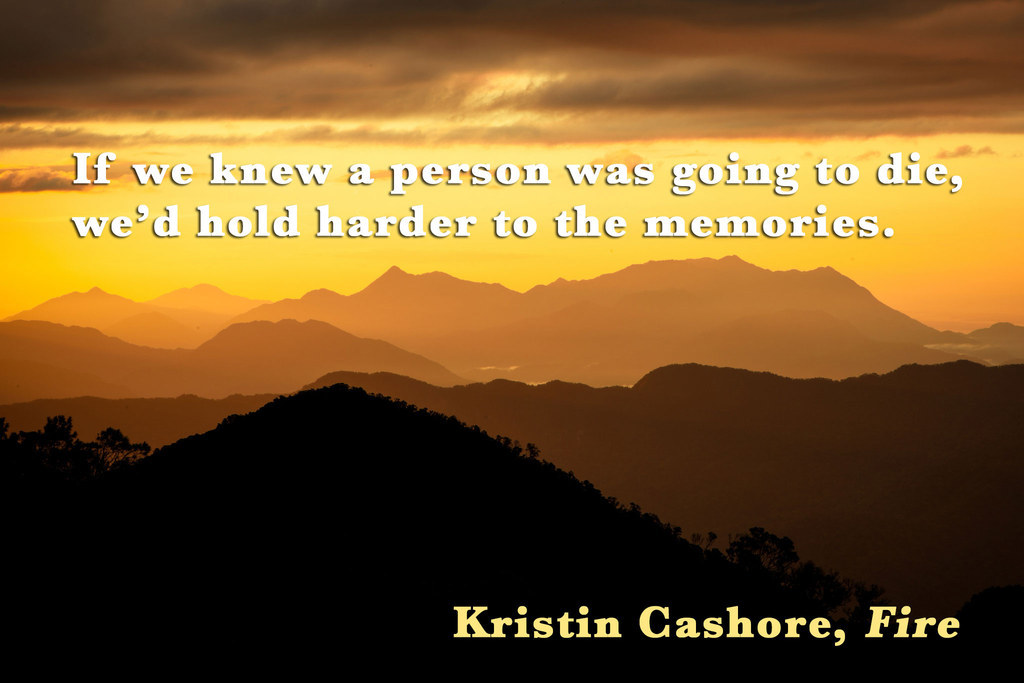 51. "And now, all these years later, it seemed to him that the most horrible fact of human existence was that broken hearts mended."
—Stephen King, Wizard and Glass
Suggested by HanSteffen
52. "He ripped his cold magic from the air and turned it inward, wrapping it around his heart."
—Sarah J Maas, Heir of Fire
Suggested by Rabbipaula