Hi, I'm Angelica, and for ~scientific purposes~, I decided to try every fast-food taco I could get my hands on to determine once and for all which one is the best and which is the worst.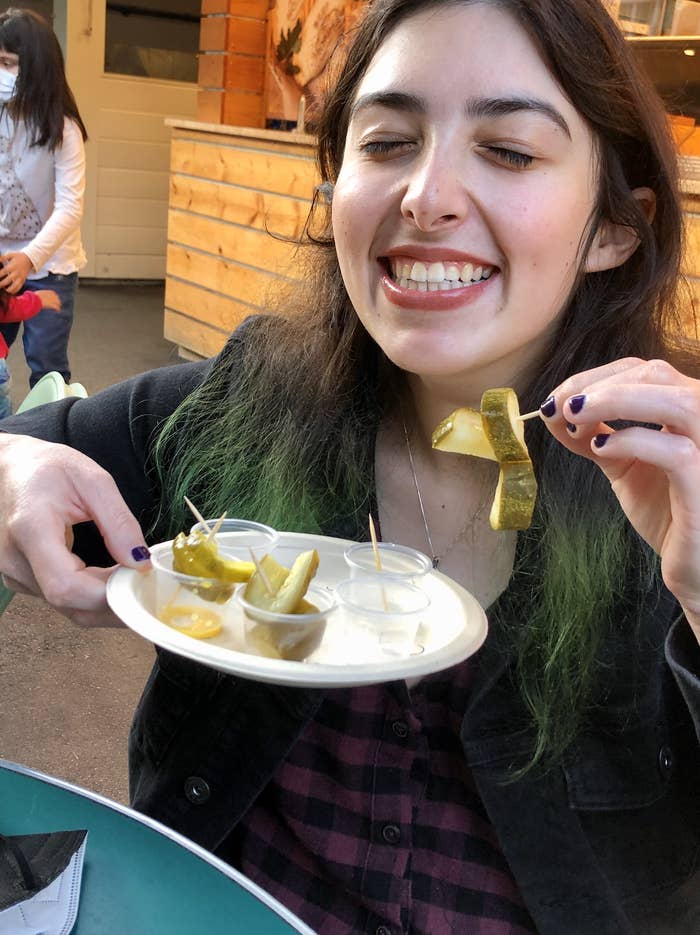 I visited nine fast-food chains and ordered their equivalent of a beef taco — whether that was ground beef, steak, or both. If a restaurant allowed me to pick my own toppings, I opted for lettuce, tomatoes, cheese, and sour cream where available, just to keep things fair.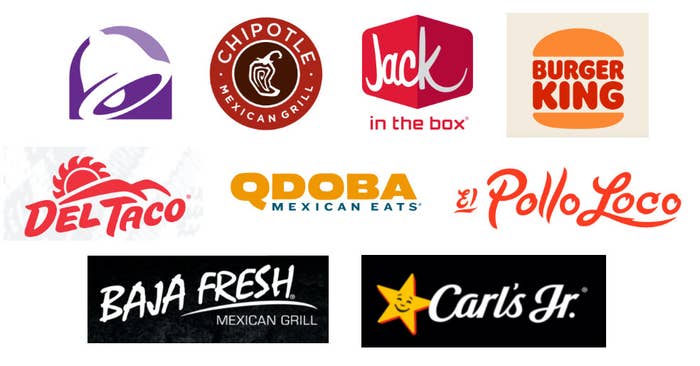 I rated each taco based on five criteria — toppings, meat, shell/tortilla, flavor, and price — and gave them an overall rating. Each rating is out of 5, with 1 being the worst and 5 being the best.
I tried 11 tacos in total, and here's how they held up against each other:
11.
Jack in the Box's Two for 99¢ Tacos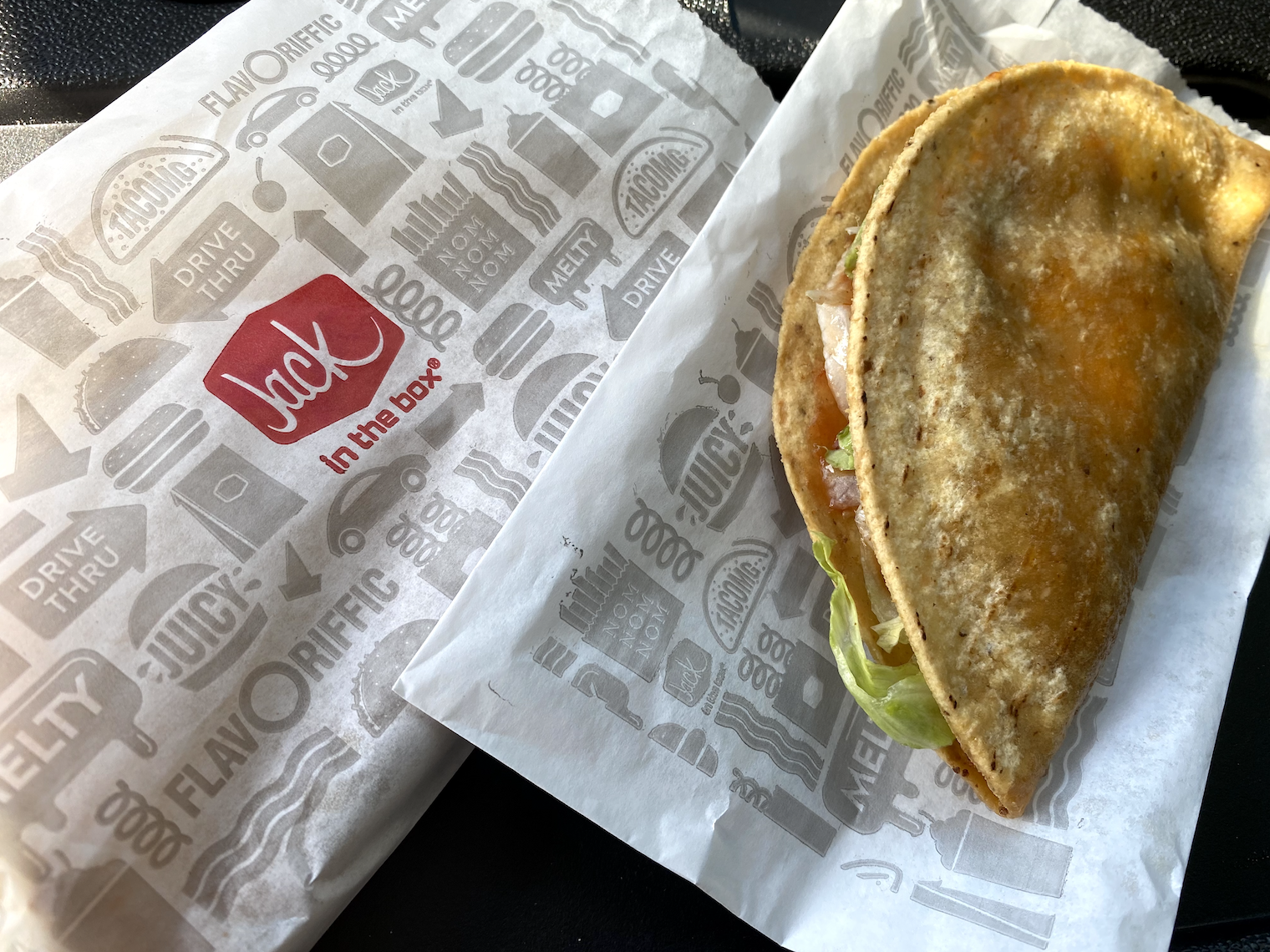 I'm gonna be honest, I was a little scared to try this one. Something about getting two tacos for less than a dollar seemed like a major red flag to me. Trust your gut, kids, because I was definitely right.
This taco had ground beef, melted cheese, lettuce, and hot sauce, and somehow, I could not taste absolutely any of it. Well, I could briefly taste the hot sauce, but it more or less felt like a warm mush in a chewy, greasy tortilla. The meat was especially soft and watery; I was not a fan.
I only took a couple of bites because the texture was absolutely Not It™️, but my partner — who was certain that it had to taste like something — ate about half the second taco before coming to the same shocking conclusion that you can, in fact, have cheese in a taco and not taste it at all.

The closest thing I could compare this to is a frozen taquito, but soggier, greasier, and with less overall flavor. I will give it some props, though, for being the most convenient taco. It definitely stays together and comes in a handy little pouch if you're trying to snack on the go. Personally, though, I wouldn't eat this again.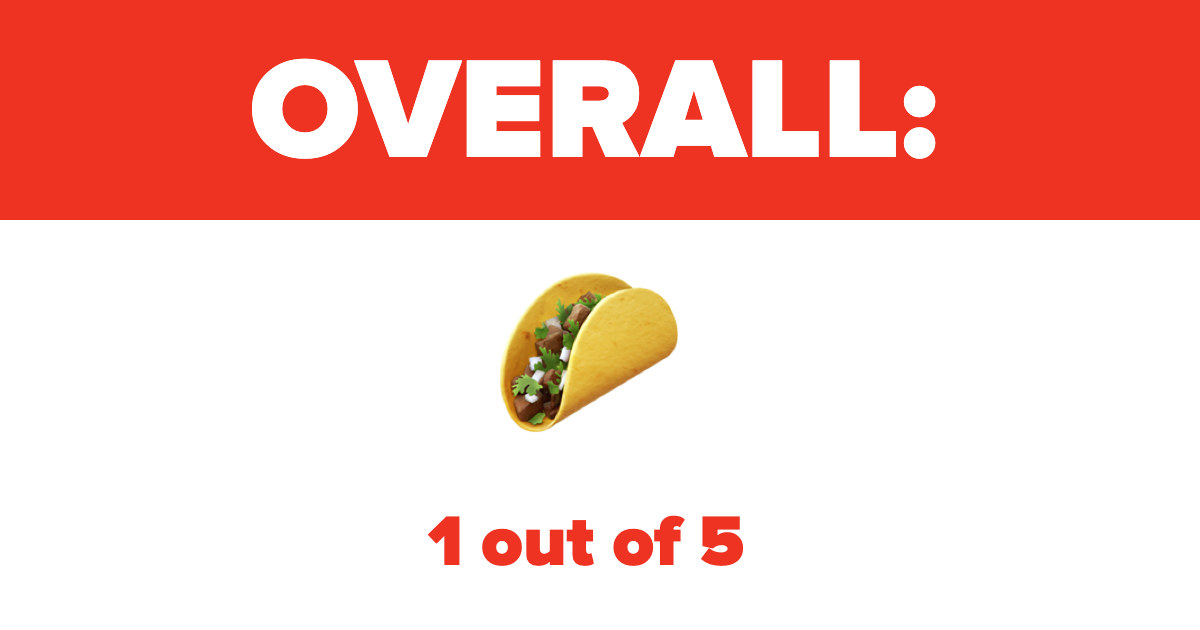 10.
Burger King's Crispy Taco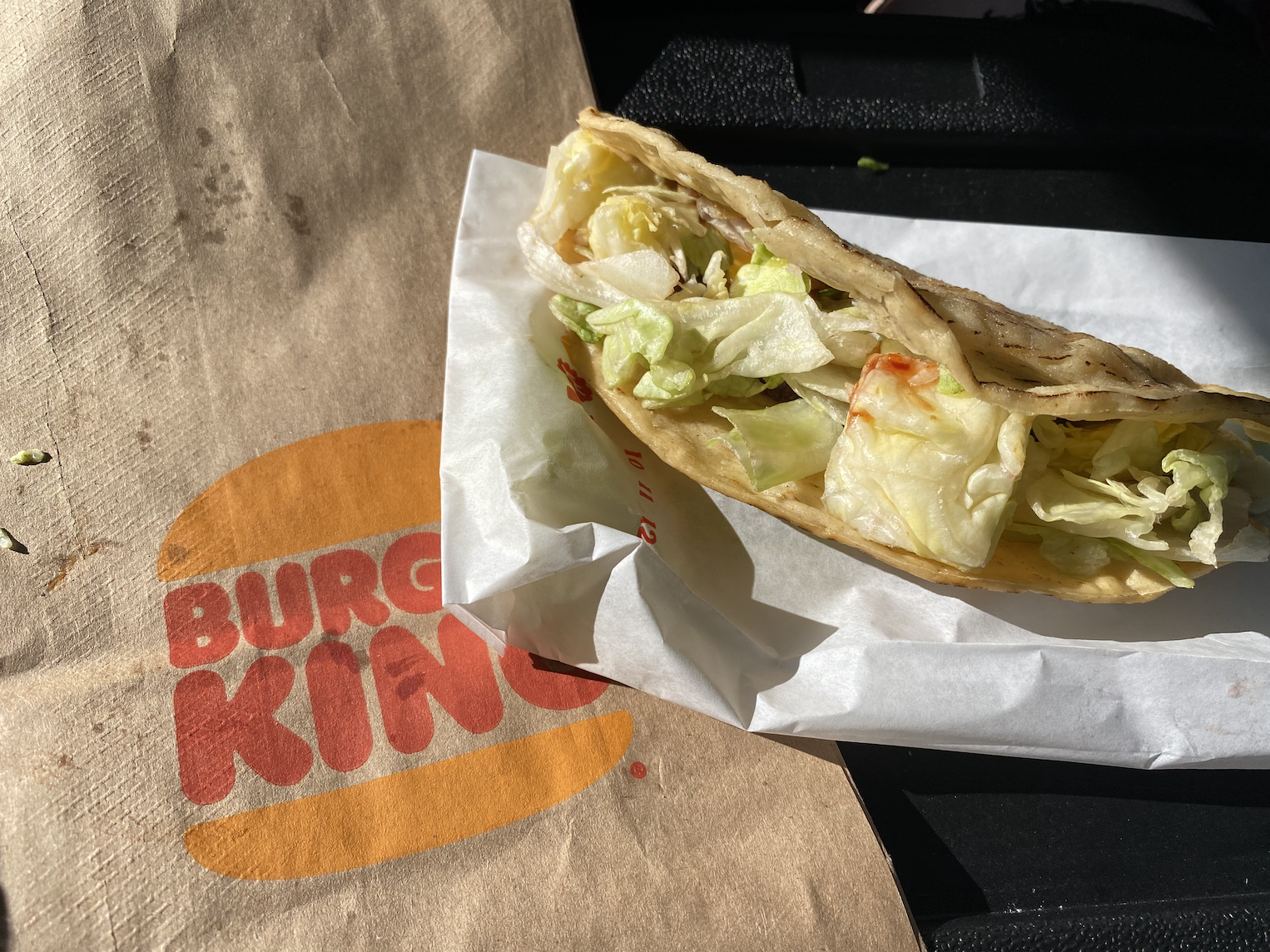 This one tasted almost exactly like the Jack in the Box taco, minus the hot sauce. The meat was mushy and bland, and — once again — there was cheese that I weirdly could not taste at all.
I'm ranking this one slightly higher, though, because the lettuce was crunchier and the shell tasted way better. It was more like a restaurant-style tortilla chip, felt way less soggy, and had a bit of a crunch.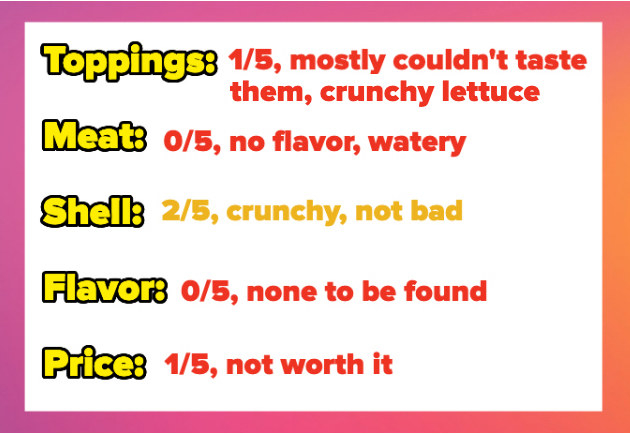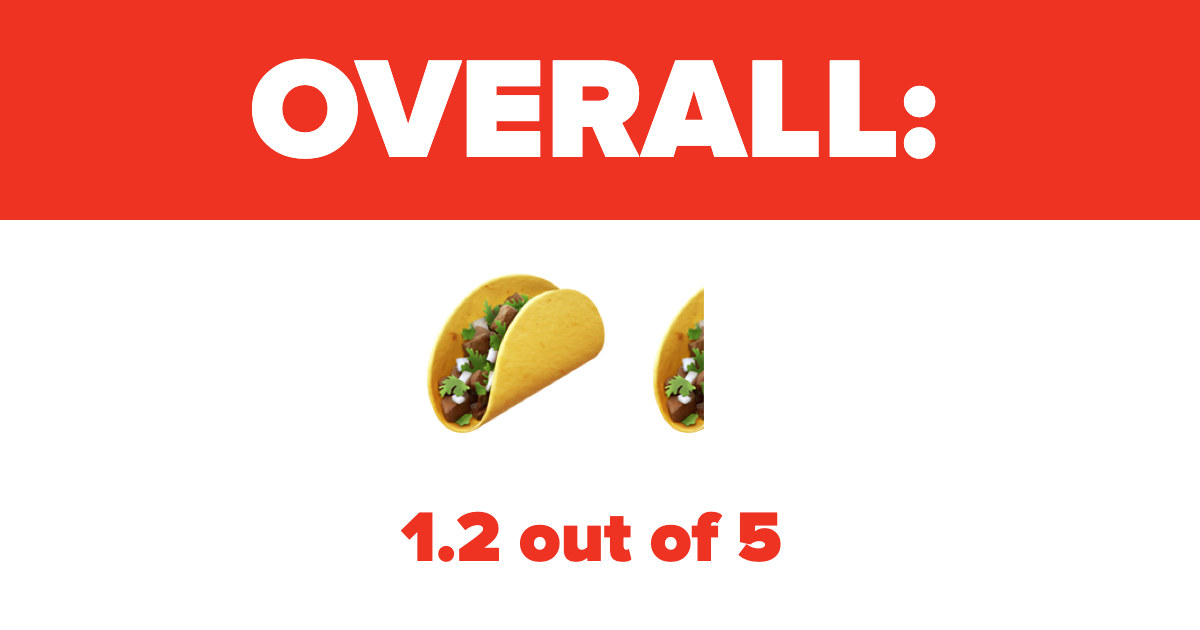 9.
Del Taco's Beyond Beef Taco
I was a vegetarian for quite a while and still try to limit how much meat I eat, so I'm definitely no stranger to Beyond Beef. It can be pretty good, actually, but I didn't care for the flavor of the "meat" in the taco. It had a weird smoky flavor and overpowered all the other toppings.
If you don't eat meat and really want a ~classic~ fast-food taco, it's not awful! I did like it more than the flavorless meat ones for sure, and I liked the variety of toppings. It was lighter and less greasy than most of the tacos I tried, which — after eating as many as I did — was very much appreciated.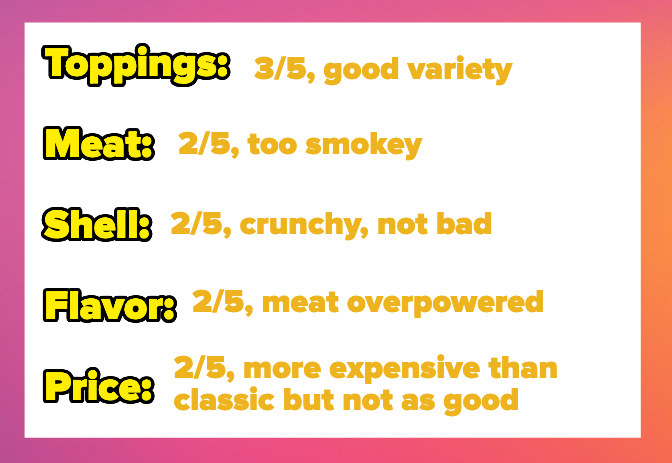 Del Taco gave me the option of cheese or guacamole as a topping, and to keep this test fair, I went for cheese. I do think this would've been way better with guac, though, so do with that information what you will.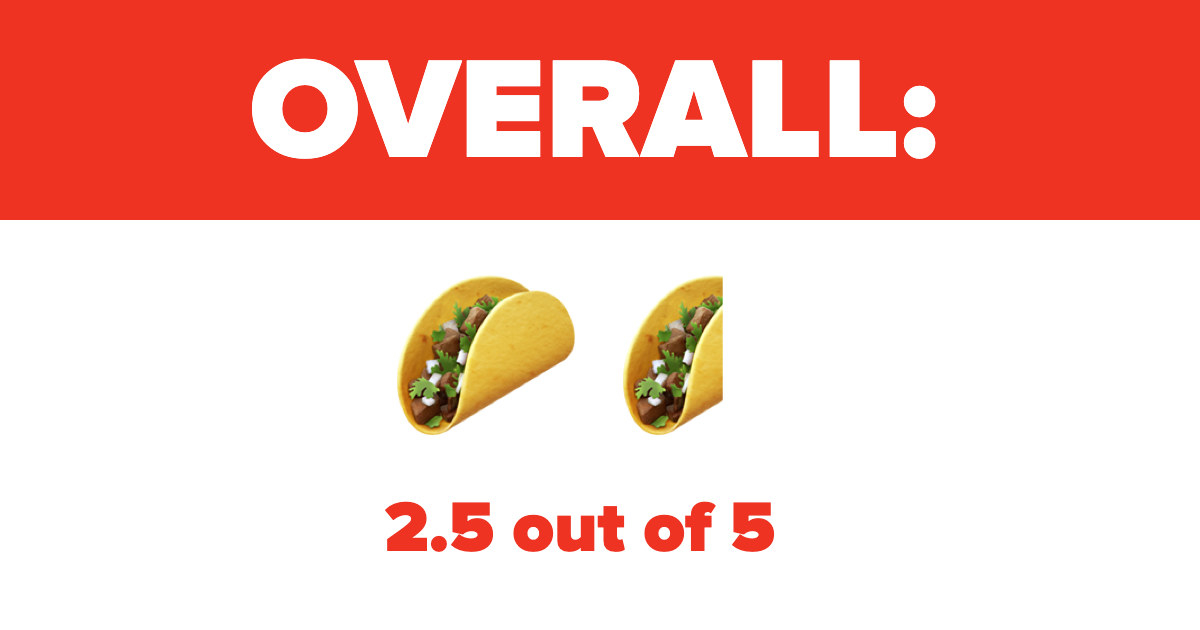 8.
Carl's Jr.'s Crunchy Beef Taco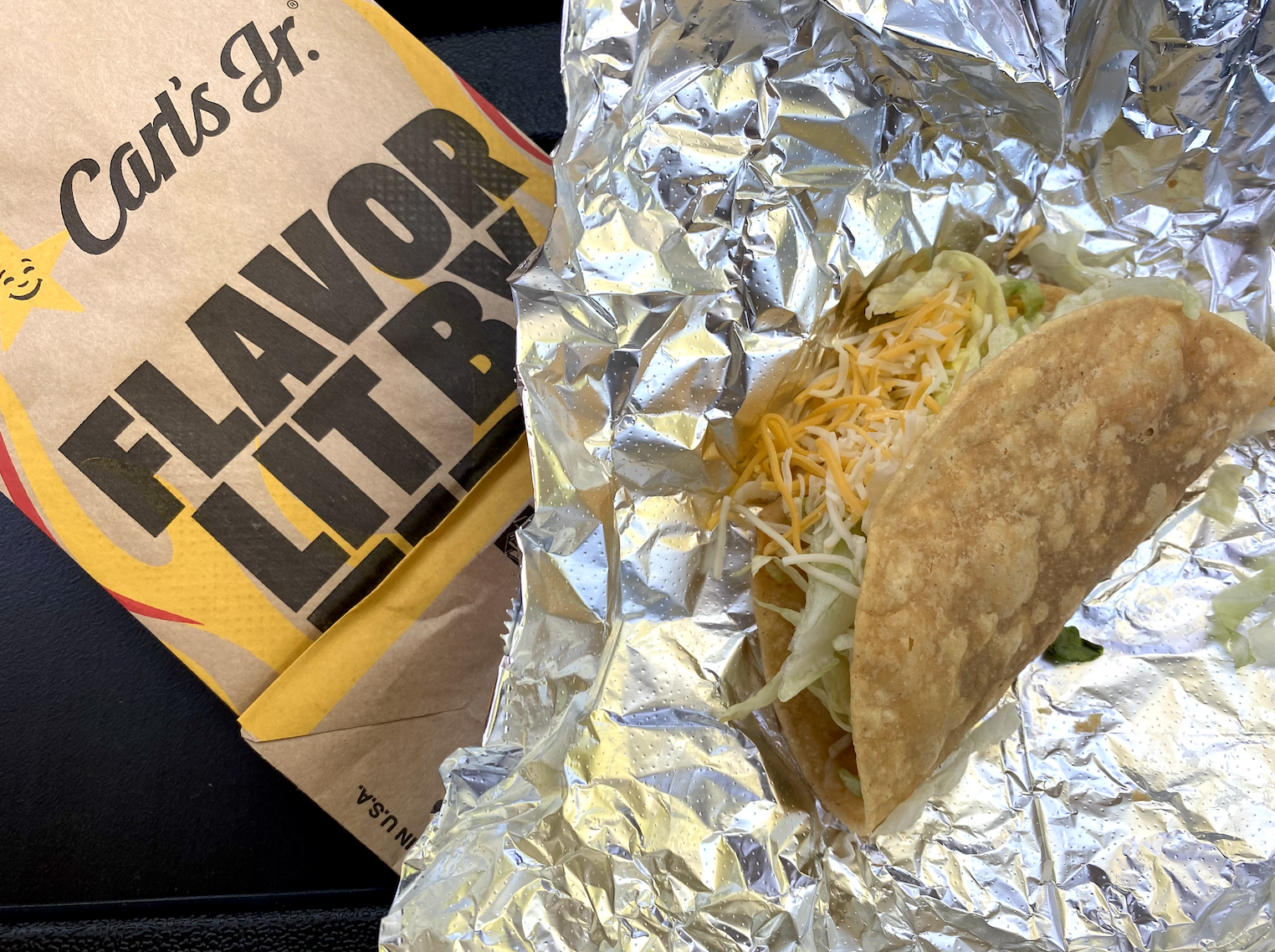 Of all the tacos I tasted, this one had one of the best hard shells. It was thick and tasted like freshly made tortilla chips, but was still a little bland and broke, like, immediately. With some salt, though, it definitely would've been A+.
The meat was fine, which, honestly, is kinda high praise. It had the your classic ground beef taco seasoning flavor — not bad, but nothing memorable. The toppings were OK — I kinda wish there'd been more, though, like tomato or sour cream.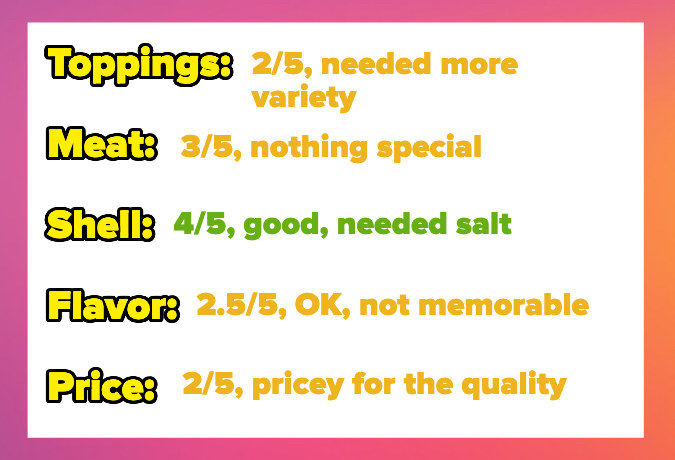 All in all, it was pretty average. It wasn't bad, but I don't think I'd ever go out of my way to order it again.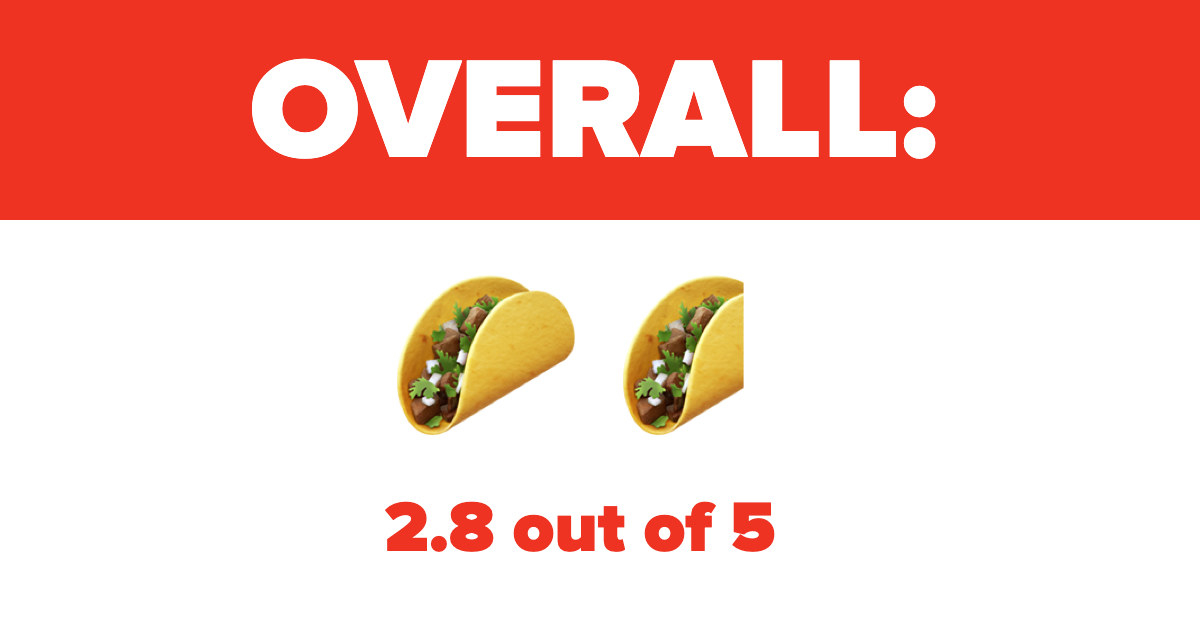 7.
Del Taco's "the Del Taco"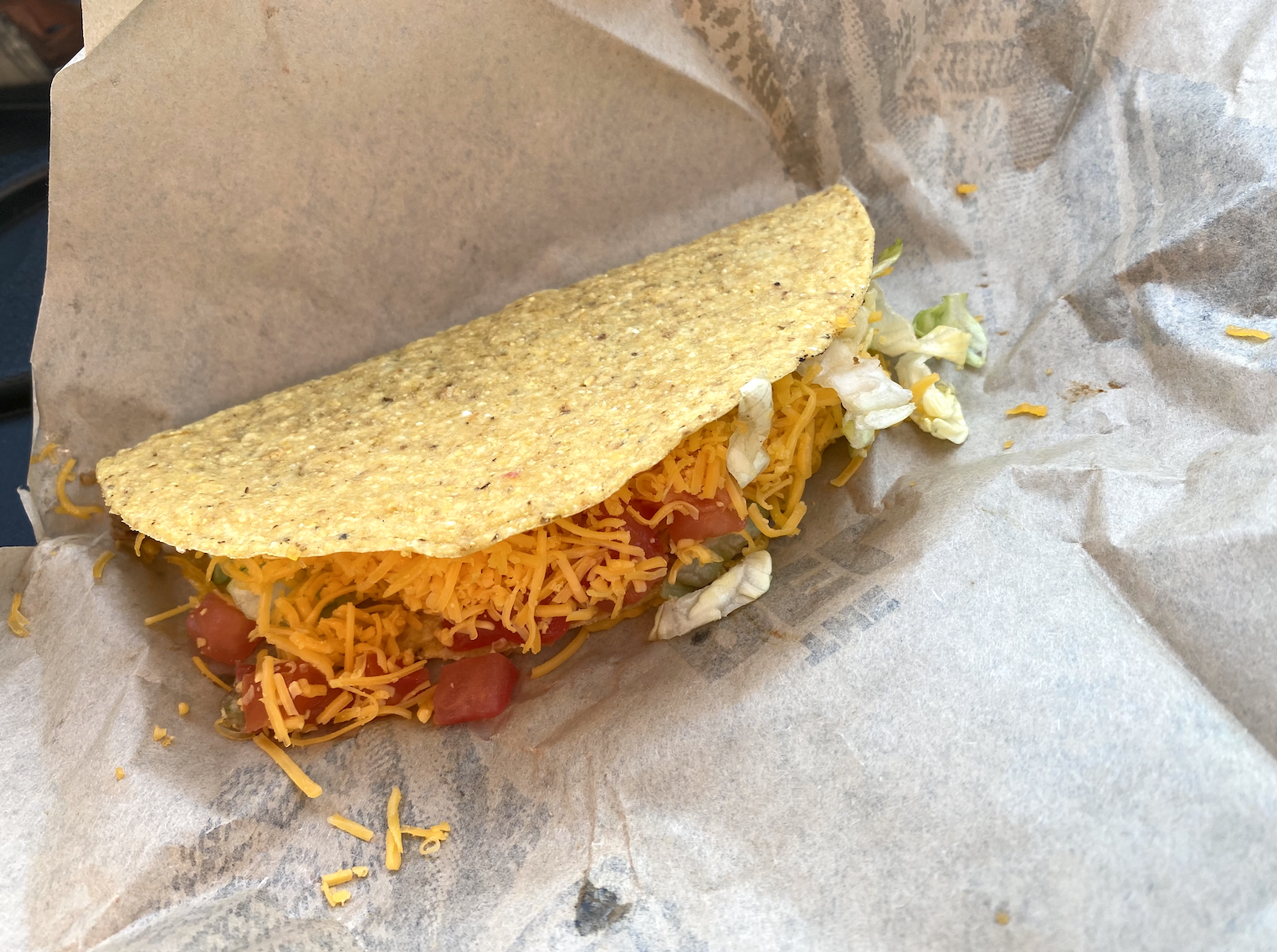 In my mind, this is the classic, middle-of-the-road fast-food taco. It was exactly what I was expecting at the start of this taste test, and I can't say I was disappointed at all. I liked the shell (it tasted very similar to Taco Bell's), and the meat had a nice flavor. I liked the variety of toppings — they were fresh and offered a good balance.
All in all, I wasn't mad about this taco at all. I don't know if I'd go out of my way to get it, but if I was hungry and by a Del Taco, I'd probably stop.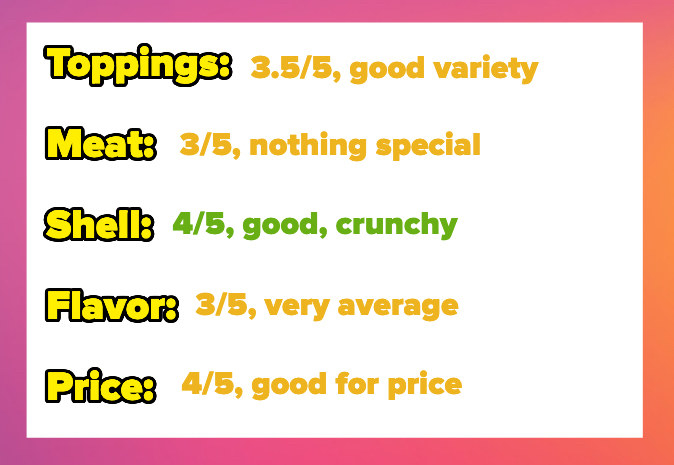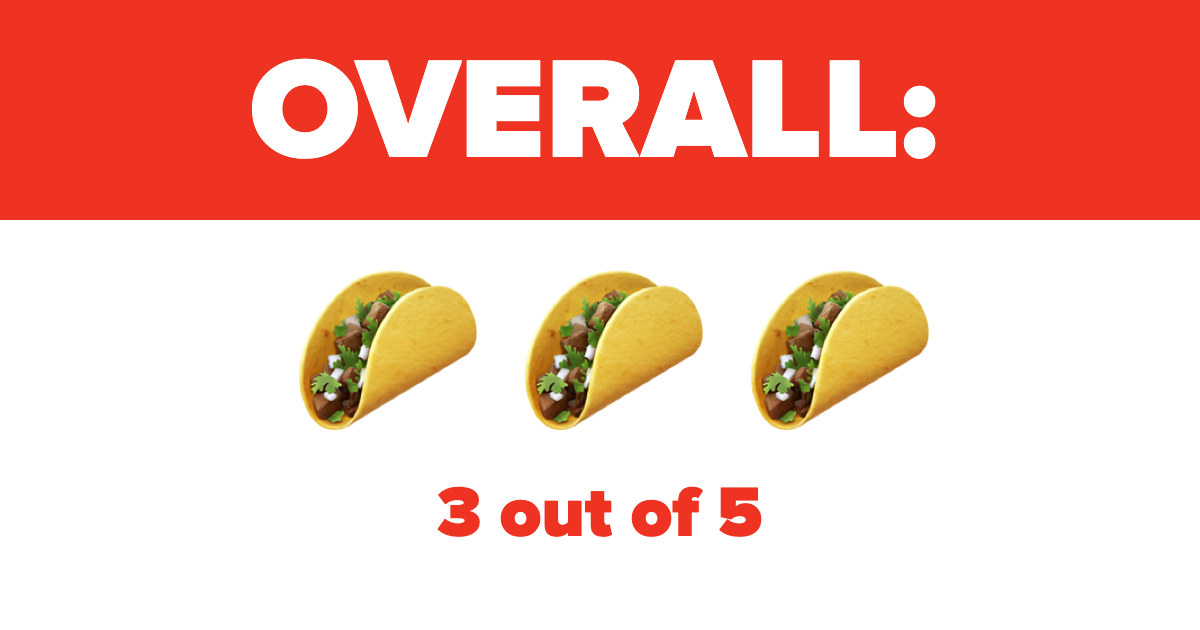 6.
Baja Fresh's Americano Steak Taco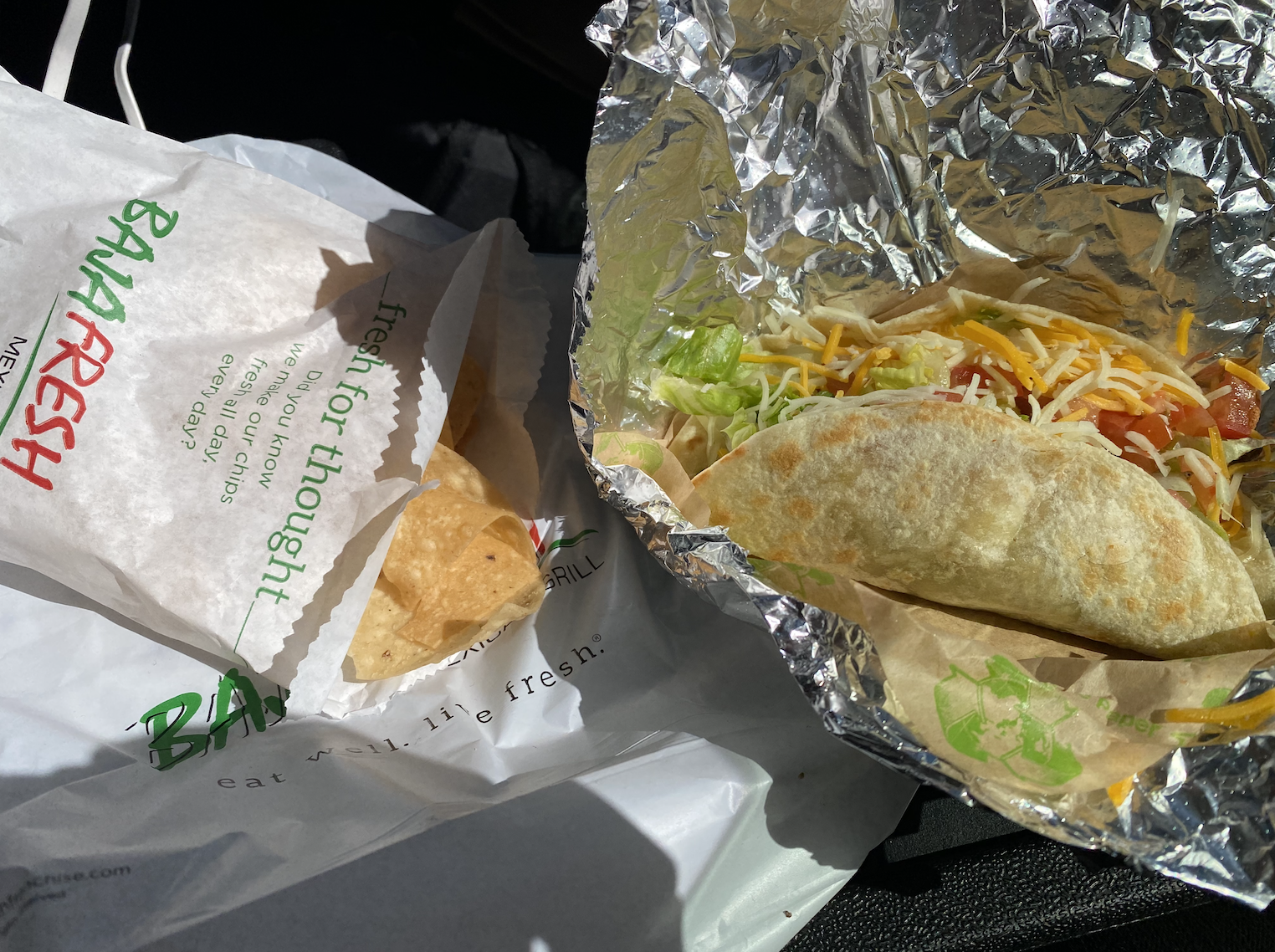 TBH, I liked this taco way more than I expected to. I got it on a flour tortilla (which was totally my bad; I didn't see a corn option when I was ordering), but I actually ended up really liking the flour. The toppings were fresh and the steak was good, but a tad bland. All in all, not a bad taco.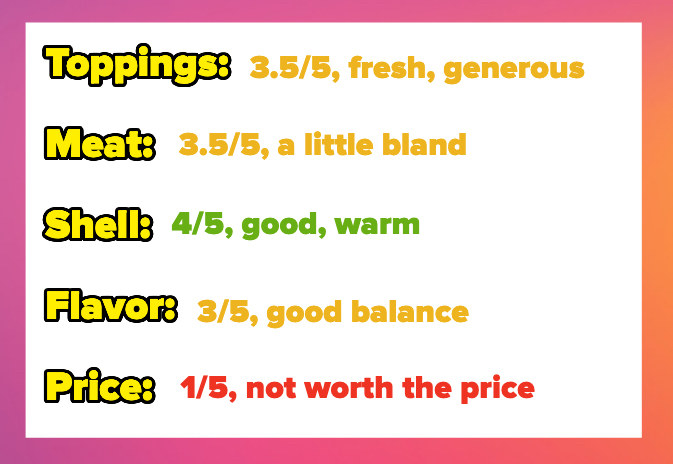 My initial reaction was that I liked that it automatically came with tortilla chips (because who doesn't love tortilla chips??), but for a total of almost $5, the price was a little steep compared with the others, and I could've done without them. The taco was good, but I don't think it was necessarily worth how much I paid for it.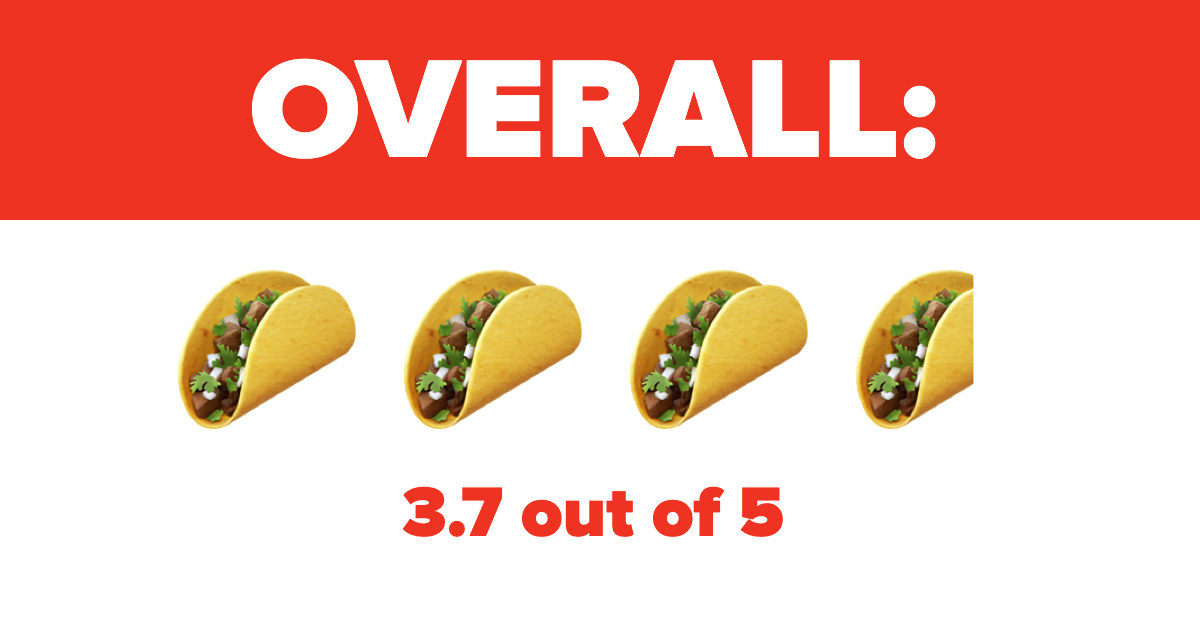 5.
El Pollo Loco's Chicken Soft Taco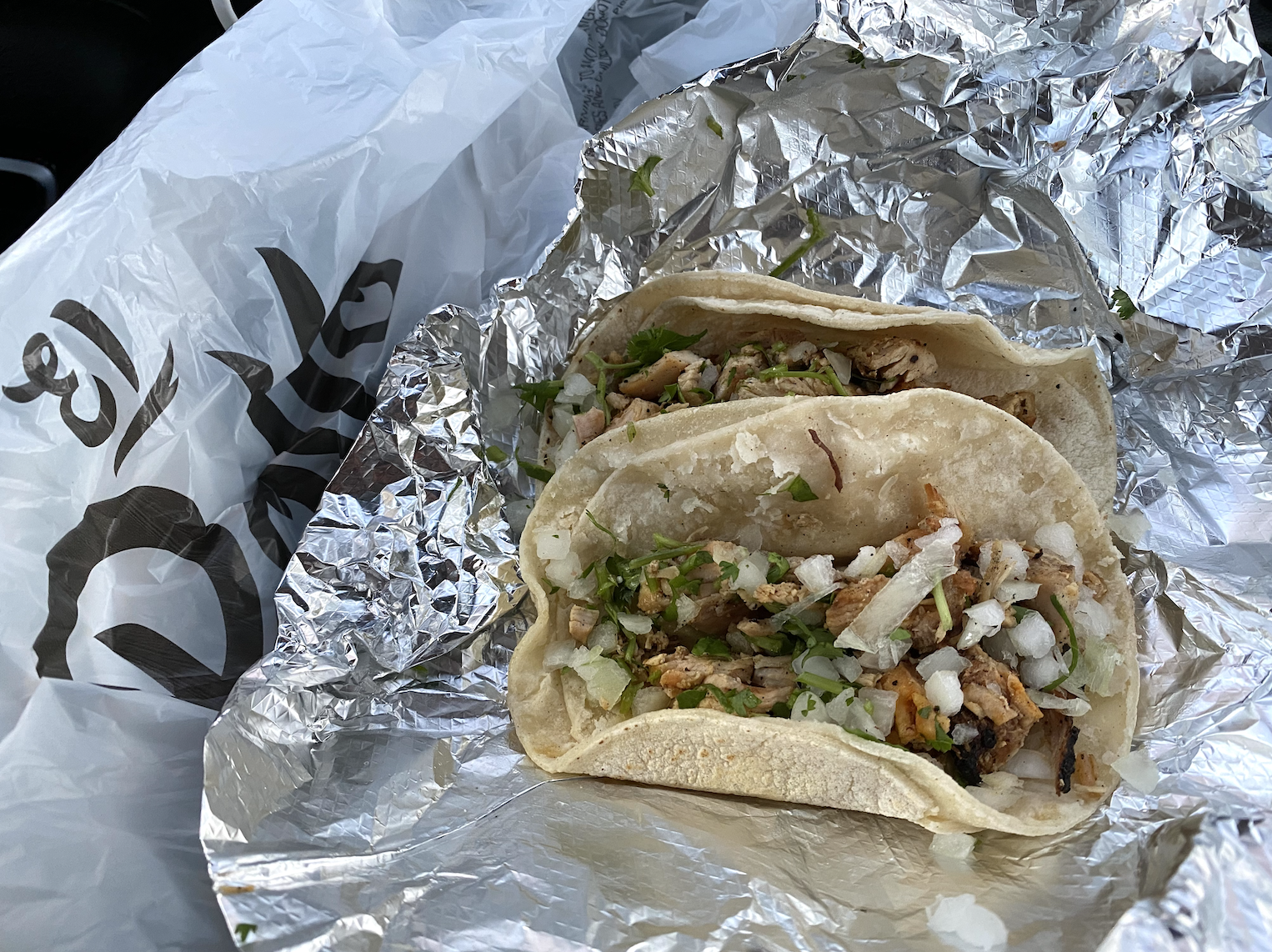 I stopped at El Pollo Loco to try out the crunchy beef taco that I'd seen online, but it turns out they no longer carry it. They did still have tacos, though, so I tried a chicken one. I liked it! It was the only fast-food place that had the classic double corn tortilla set up (tasty and won't fall apart, 10/10), and the toppings were fresh and simple. The chicken was a little bland, but all in all, it felt a lot less greasy and heavy than some of the other tacos I tried.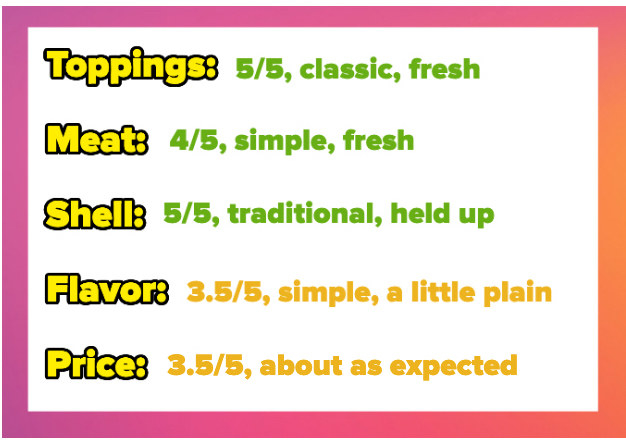 To be fair, I ranked it a bit lower for not having a beef option like the rest of the chains, but it was a really good chicken taco! I would definitely order it again, especially if I was in the mood for something a little lighter.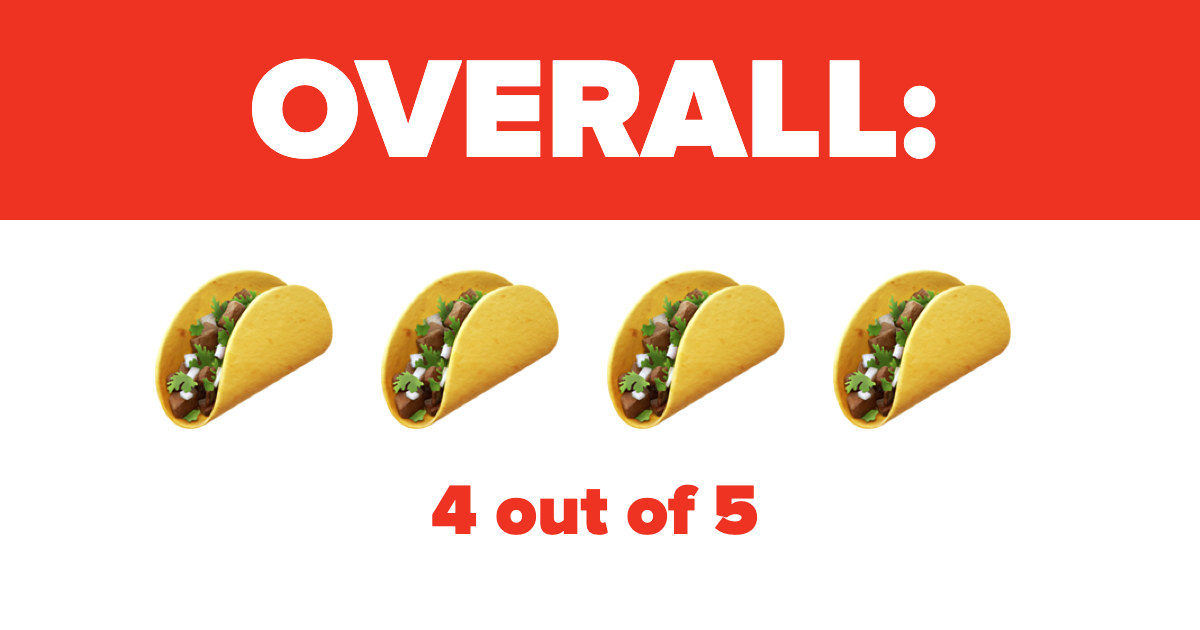 4.
Taco Bell's Crunchy Taco Supreme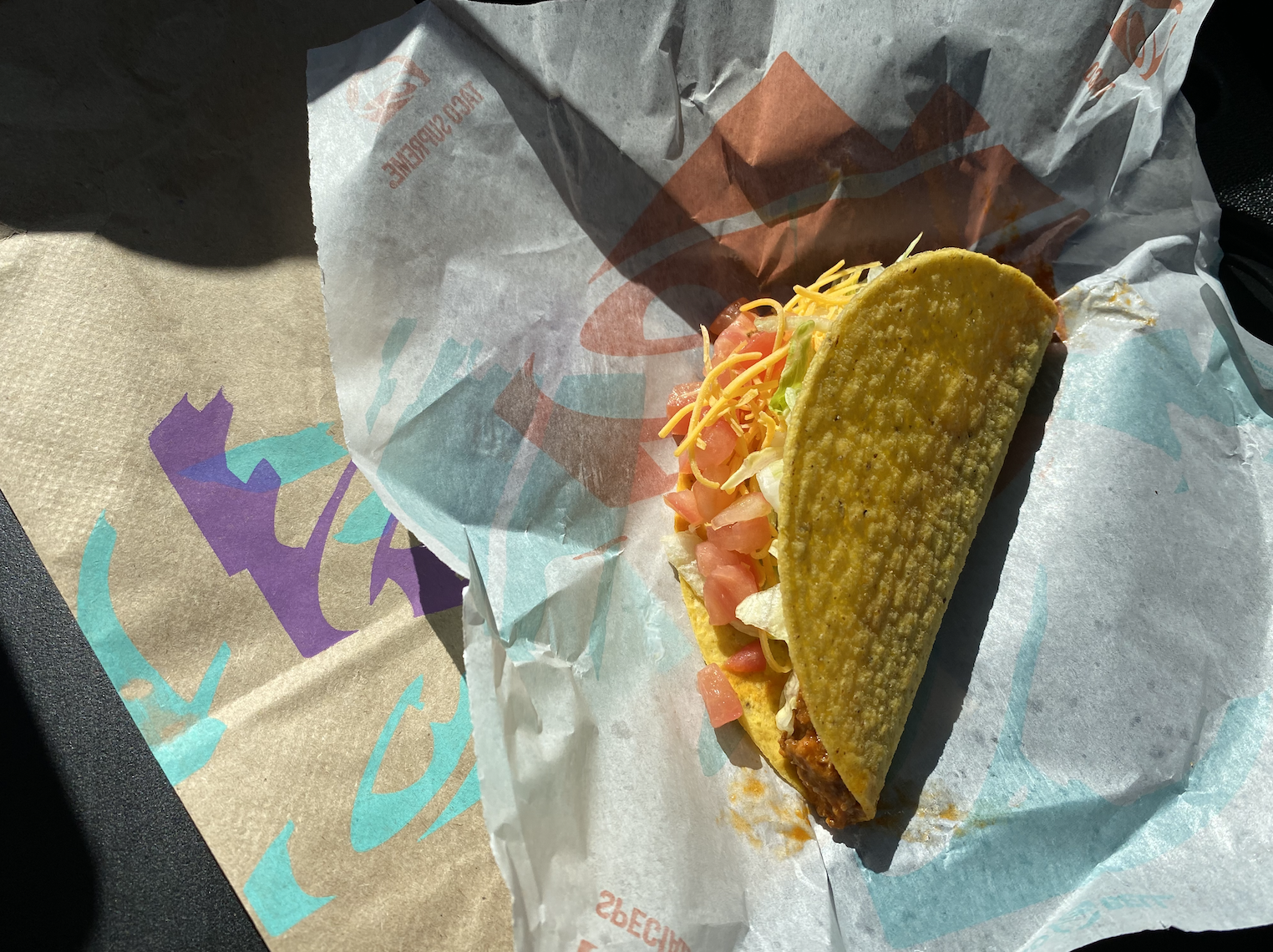 I'm gonna be honest: Before I started this whole thing, I was pretty sure this was gonna be my favorite. It's definitely nothing like a ~traditional~ taco, but it's always been my fast-food go-to. However, I was surprised to find that I didn't end up ranking it No. 1. It had a nice flavor, a good topping-to-meat ratio, and the shell held up. I will note, though, that it was a bit soggy and — because it has so many toppings — was one of the messier ones to eat.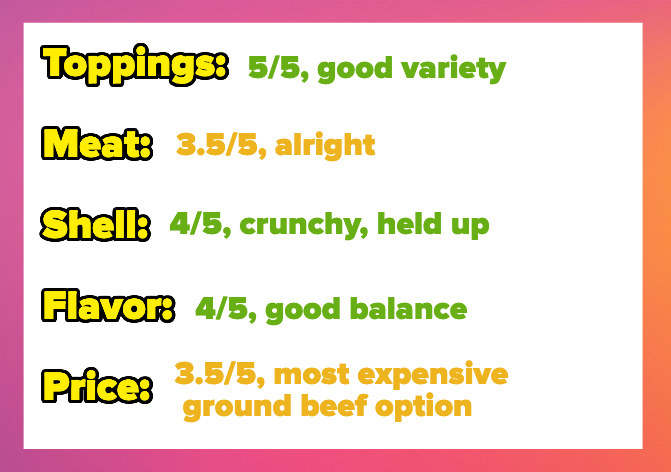 Personally, I think the sour cream is what makes Taco Bell's taco. The sourness balanced the flavors nicely, and without it, I don't think it would've been much different from the Del Taco or Carl's Jr. ones. Out of all the ground beef tacos, though, this was definitely the best.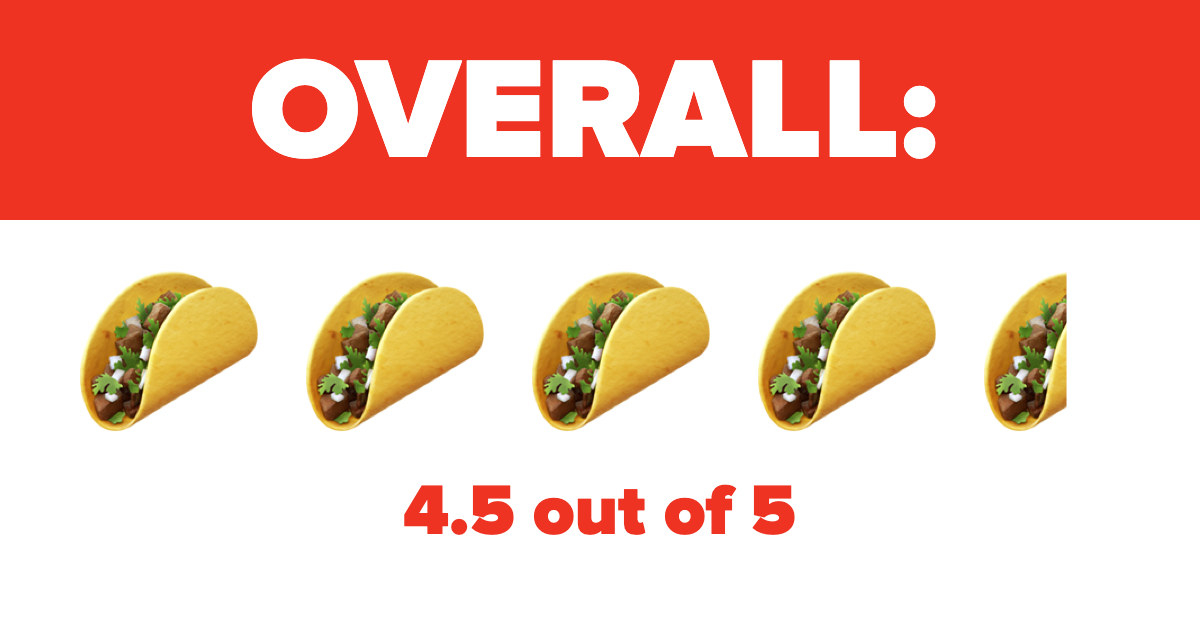 3.
Chipotle's Crispy Steak Taco*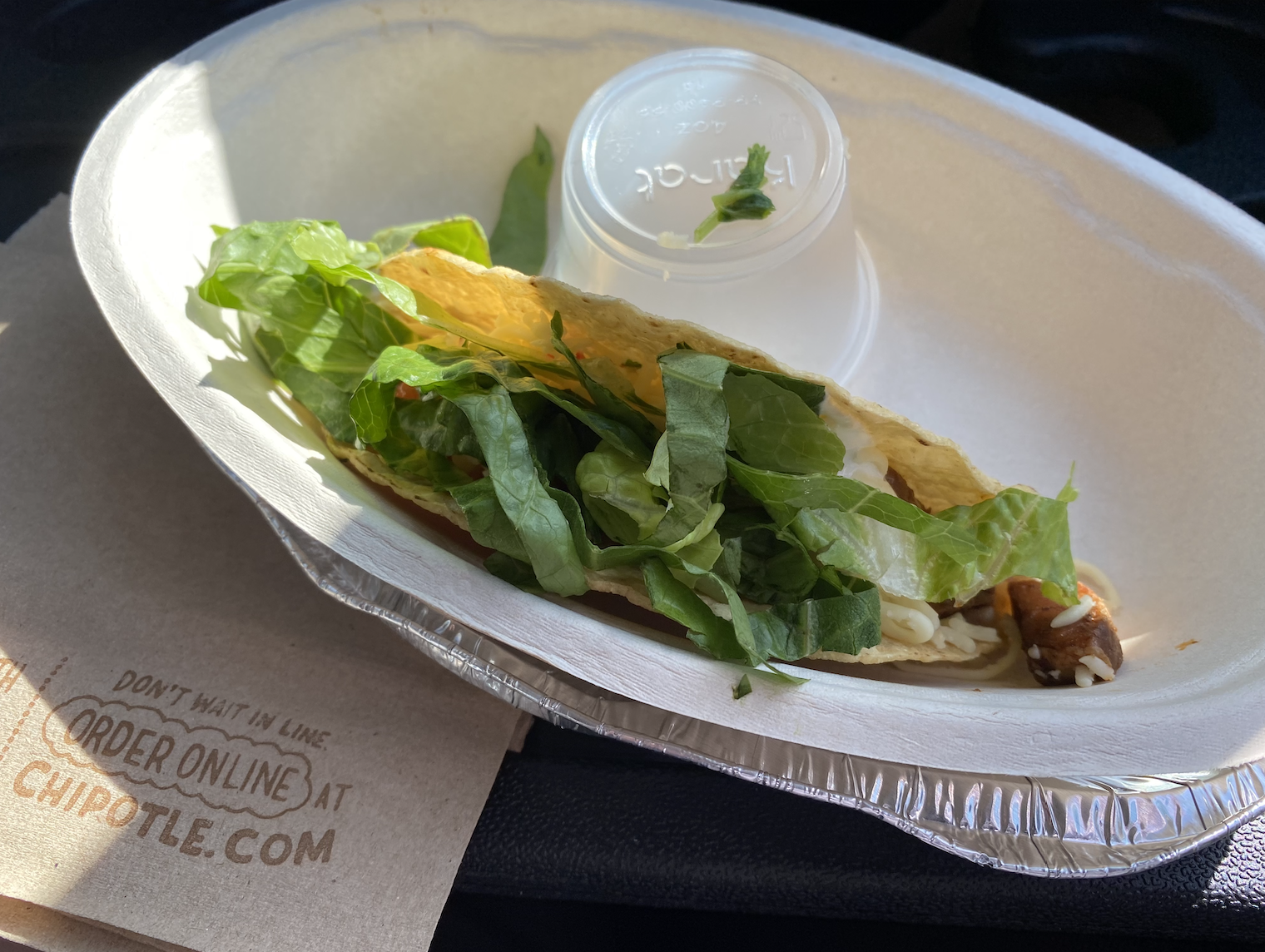 I'll admit that when I opened the box, I wasn't expecting much. I mean, come on, doesn't it look a little sad? Honestly, though, it tasted a lot better than it looked. The toppings were fresh, and there was a good amount of them on there. The cheese in particular was really good — definitely the best out of all the tacos I tried. The shell was crunchy and had a nice amount of salt.
While the meat had a nice flavor, it was a little salty and overpowering. The more of it I ate, the more I regretted not ordering a drink.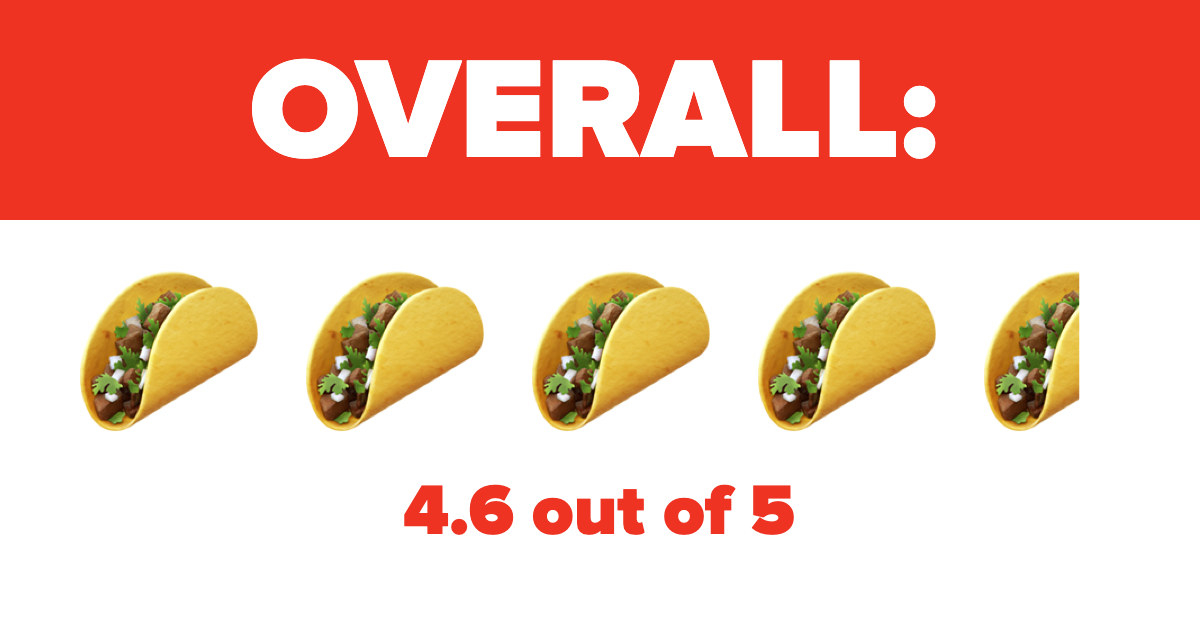 2.
Qdoba's Steak Taco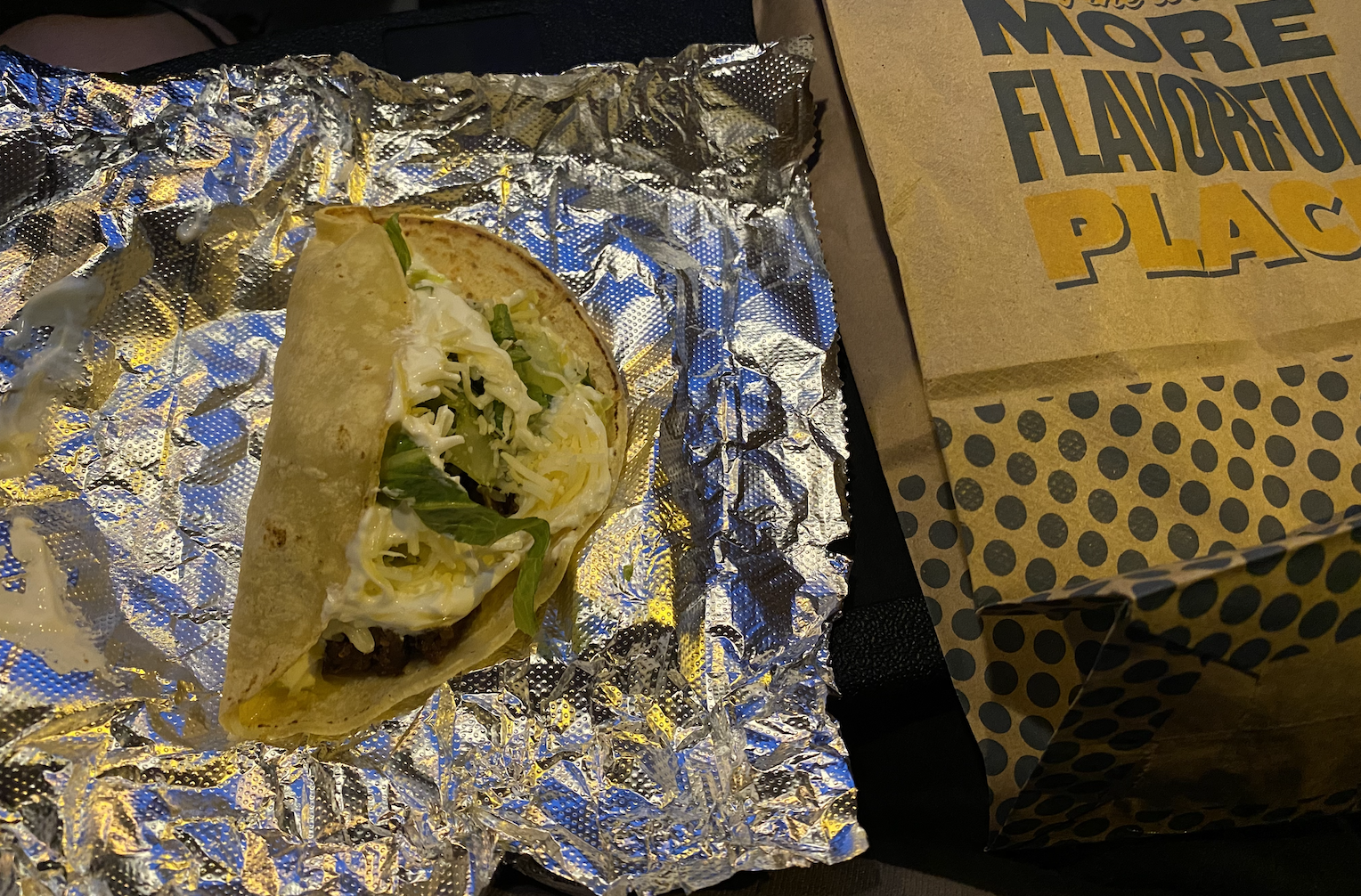 I was pleasantly surprised by Qdoba! Both the restaurant and the taco were a lot like Chipotle, but Qdoba was just sliiiiightly better. The toppings were fresh, the soft corn tortilla was good (and a better fit than a hard shell for a steak taco, IMO), and the meat had a nice flavor without being too salty. My only complaints were that they were a bit too generous with the toppings (I like sour cream, but it was, like, 40% sour cream), and the beef was tough at times.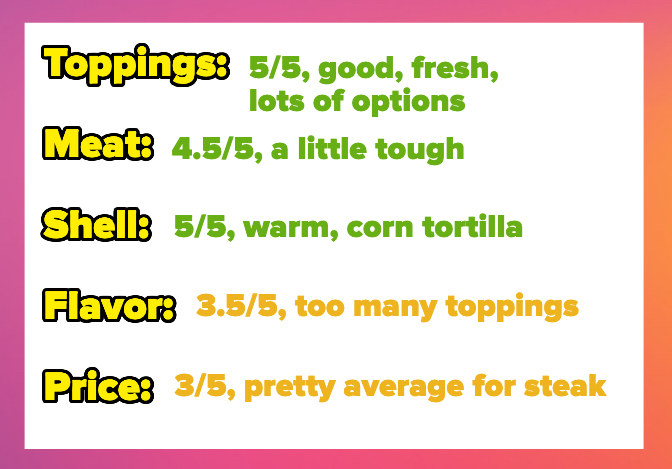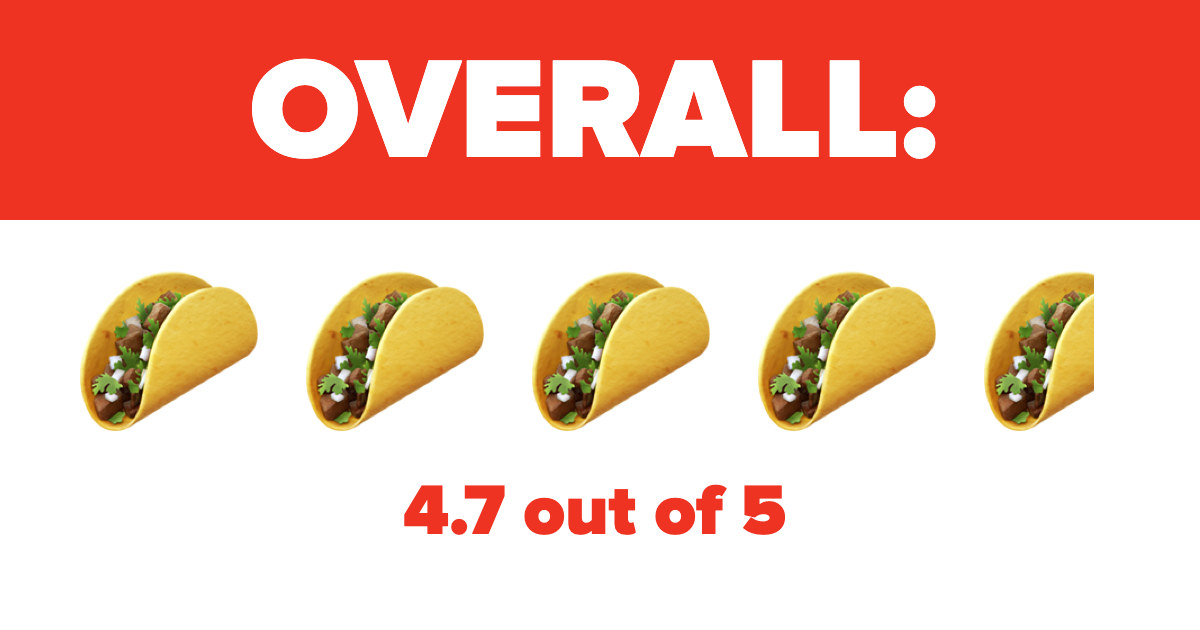 1.
Del Taco's Carne Asada del Carbon Taco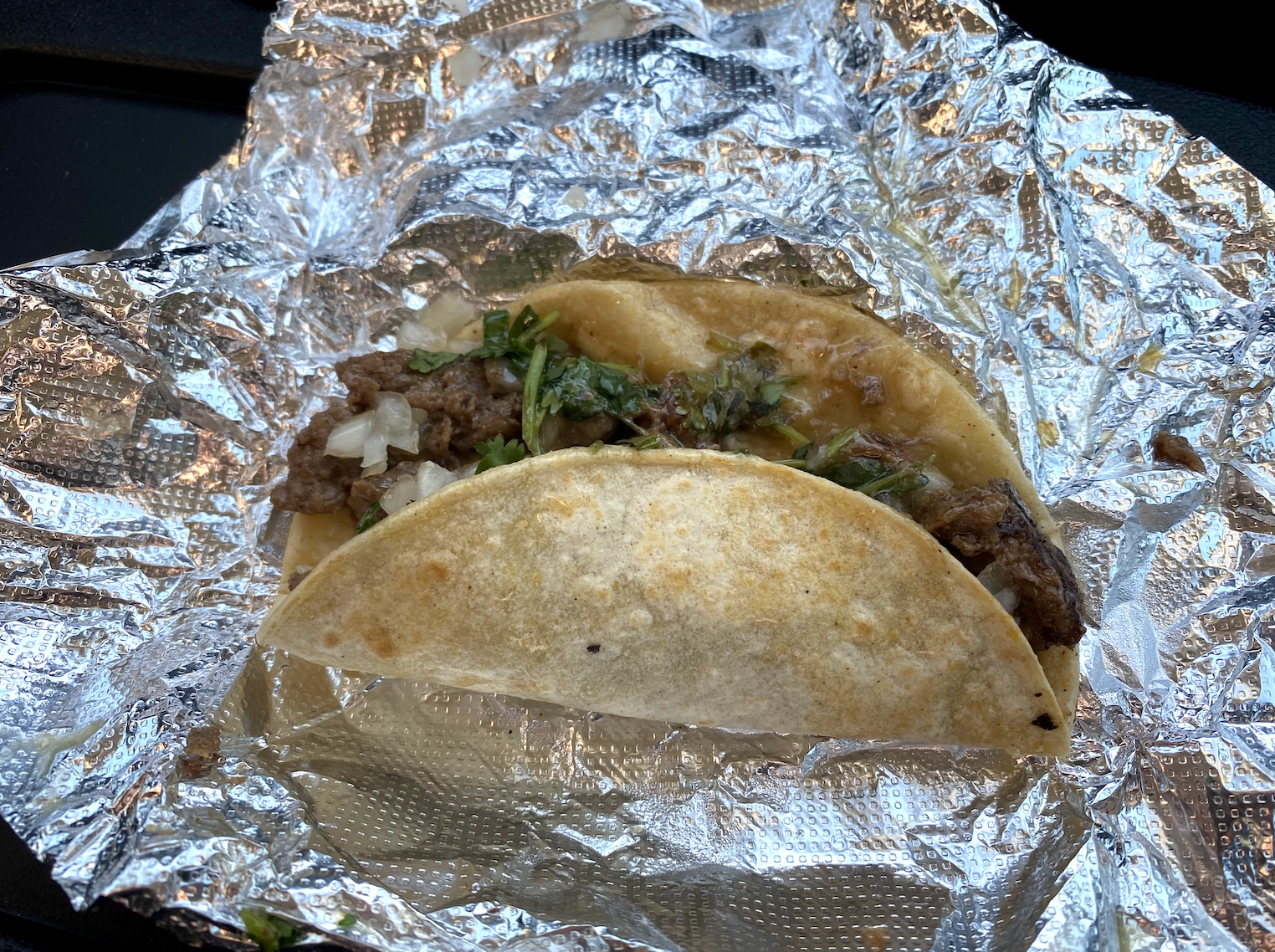 I really, really liked this taco. Del Taco was one of the few fast-food places that offered a more traditional steak taco along with your classic fast-food ground beef option. It was really simple, and I think that was what was good about it. The corn tortilla was soft, the steak had a good flavor, and the toppings were fresh, so I didn't really feel that it needed much else to overcomplicate it*. I didn't give the meat a full 5/5, though, because a few bites were kinda tough. All in all, I really enjoyed it.
*OK, important distinction because I know I commented on some of the other tacos not having enough toppings. I think ground beef tacos definitely benefit from having more going on because the ground beef doesn't add a whole lot, but steak tacos are waaaay better when you keep them simple. If the steak is good, don't hide it, right?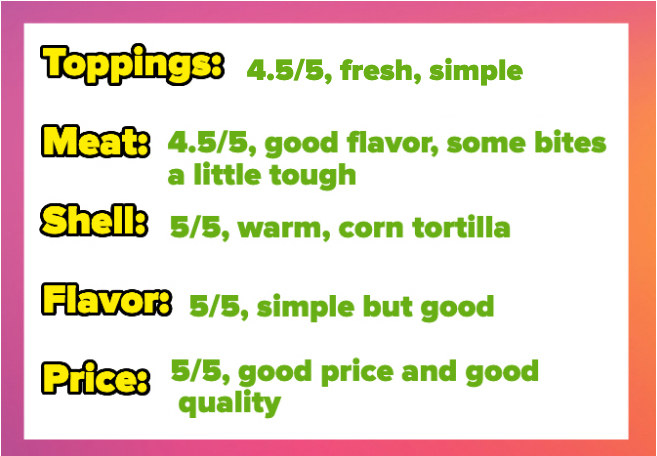 For the sake of the test, I tried it plain first, but they included a really good green sauce so go with it, and I highly recommend enjoying it with that. I had never tried Del Taco before this, but I'll definitely be back.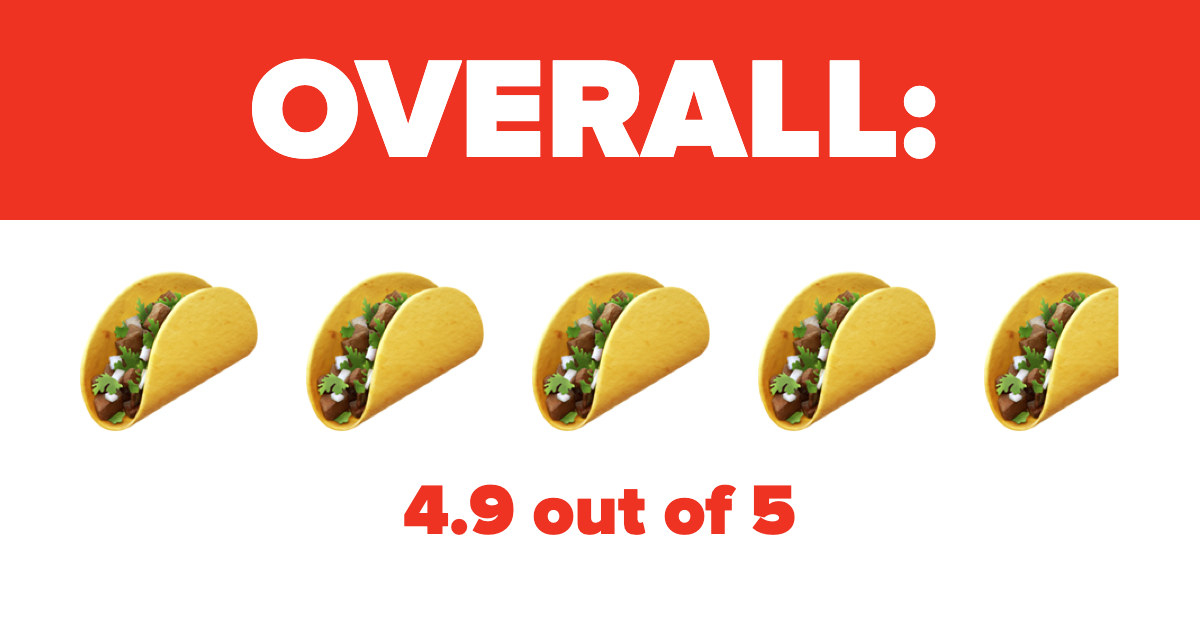 And finally, let's look at some of the ~bests~ from this taste test: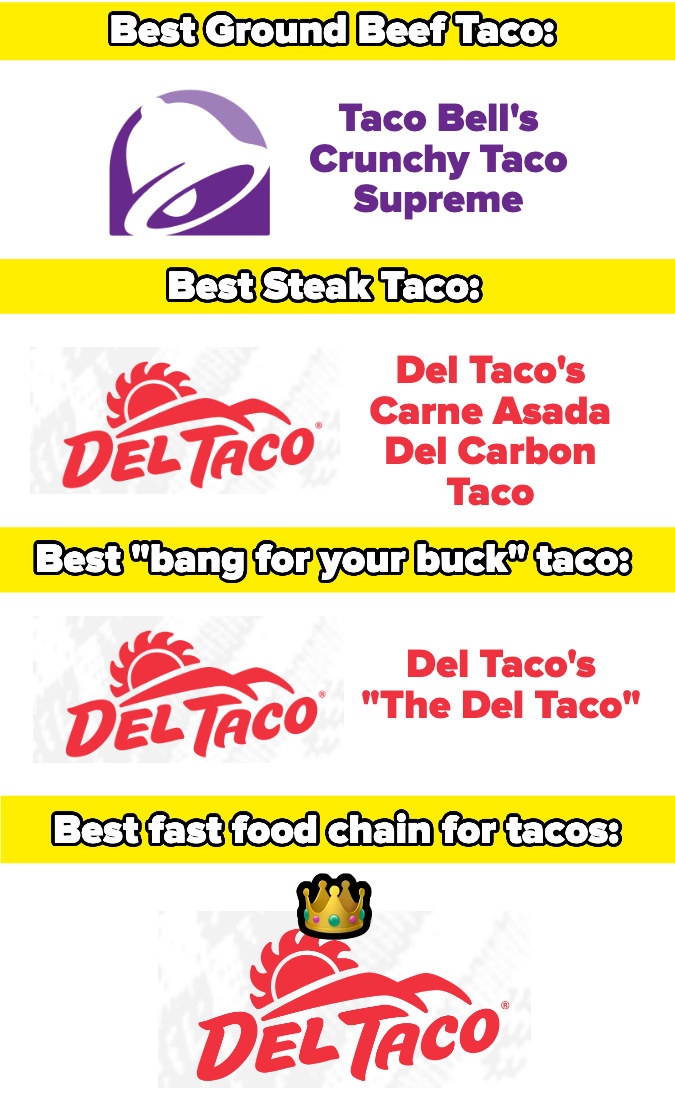 Thanks for coming on this very tasty, very beefy journey with me, y'all! Do you agree? Disagree? Want me to try tasting something else? Tell us in the comments below!