Teachers Called Out The Worst, Most Entitled Parents They've Ever Dealt With, And I Have Secondhand Embarrassment
🚨KAREN ALERT!🚨
Last month, I asked the teachers of the BuzzFeed Community to spill the beans on the worst, most toxic parents they've ever dealt with. Honestly, I still can't believe some of these things were done by ACTUAL HUMAN ADULTS.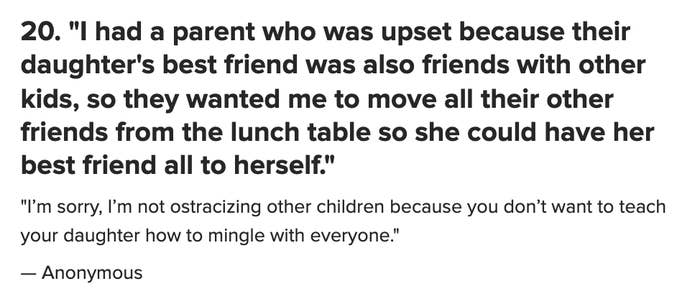 Fortunately for us (and very, very unfortunately for all the wonderful teachers out there), I received even more entitled parent stories for us to simultaneously cringe, scream, and roll our eyes at. Here are 19 of the best submissions:
1.
"The day before an overnight field trip for high schoolers, one mother sent me seven pages of instructions for her 16-year-old daughter."
"There was a whole section about how she liked to have her hair styled (with the implication I would be doing her hair) and the types of food she preferred. The counselor and I tried to set up a meeting to clarify the role of chaperone, but mom wouldn't come in. Instead she FaceTimed us from the gym while she was on the treadmill."
—Anonymous  
2.
"A parent repeatedly sent their first-grader to school wearing so much cologne that the kids and I were sneezing and coughing. I reached out to her about it more than once, so he called the principal to complain that I was stifling his 'image.'"
—Anonymous

3.
"I had to have my tonsils out as an adult because I couldn't swallow easily anymore. I had an entitled parent demand that I come back hours after my surgery to grade her child's two-month late work."
"She demanded I call her from my hospital bed and sent me nasty emails. When I didn't respond because I was literally bedridden, she dragged me into a meeting with her and the principal."

—Anonymous  

4.
"A middle school child plagiarized their final paper. I called home to inform the parent, and they thought a zero was unreasonable because 'I never said they couldn't copy!'"
—Anonymous  

5.
"I had a parent tell me to take away her student's iPhone because she wanted her to be mad at me and not her own mother."
"I declined politely."

—Anonymous

6.
"A dad wanted me to call his son every morning at 6:30 to wake him up, because the child wouldn't wake up when they told him to."
"This was a kindergarten child! He complained to the principal when I refused."
—Anonymous

7.
"I was called in to the principal's office for a last-minute parents/teacher conference, and was met with the family and their lawyer to discuss the poor grade I gave her on her essay."
"The student had not done the assignment, and the family believed that the stress from not writing the essay and receiving a poor grade had caused too much stress for the student's emotional well-being. They argued that I should assume she would have earned an A and exonerate her from the assignment. The principal allowed the family lawyer to interrogate me for more than two hours. I was forced to remove her grade by the principal because their family directly supported multiple scholarships. I left the school at the end of that school year."

—Anonymous 

8.
"I had a parent knock on my window and ask me if I planned on getting pregnant during the next school year. I had taught her daughter previously, and she wanted her son to have me — only if I did not have a baby and leave during part of the school year."
"I was flabbergasted and didn't know how to answer. Not only did I end up having her son, I also ended up pregnant."

—Anonymous 
9.
"A parent called to say her child was ill and would be absent that day. An hour and a half later, she dropped him off in the office — with active diarrhea — and told the clerk she brought him in because he was tearing up her house. She then turned off her cellphone so we couldn't reach her to come pick him up."
—Anonymous

10.
"I got married in December and waited to change my name until after registration to avoid confusion for students. Shortly before the school year started, a parent came in fuming that their child had signed up for (my old name)'s class, but were put into (my new name)'s class. Registration explained the situation and the parent said, 'Well...you should have asked before doing that.'"
—Anonymous 

11.
"I had a parent get upset with me because her daughter lost her bow, and wanted me to pay her $10 for it."
"I advised mom not to send things like that to school because they may get lost, and neither the school nor myself are responsible for that loss. She proceeded to tell me I was stupid because I helped her daughter put the bow back on instead of putting it in her backpack."
—Anonymous

12.
"A parent asked me to be at work at 5 a.m. every day so I could watch her two children before school, because she and dad had to commute to work. She was furious when I informed her I would not do that since I had my own children at home."
—Anonymous

13.
"I had a parent show up to my classroom in the middle of the school day, demanding I privately tutor his son every day after school. When I said no, he threatened to have me fired."
"His reason? He traveled for work constantly, and his son REALLY needed to be mentored by someone that wasn't his wife. He was not willing to pay (wouldn't have done it either way) and said I had a responsibility to be there for kids outside of school hours — especially the ones who are 'gifted.'"

—Anonymous

14.
"I teach at a community college, and was very curious why one of my student's mother was also a student in my class. Turns out, she was only enrolled to help him cheat on tests."
"She was a practicing dentist, and my class was freshman biology, so I was suspicious. Then I caught her feeding her kid the answers on a test. They both withdrew from my class after that."

—Anonymous

15.
"A teenage boy intentionally dumped glitter all over my classroom's carpeted floor while he was supposed to be taking a quiz. When I called his mother about this behavior, she gave me detailed instructions on how I could 'get down on my hands and knees' to clean up after her son."
—Anonymous

16.
"I once had a parent who refused to talk with me on the phone or in person without the principal present because he didn't want to hear anything from a woman."
"This was the reason why I was trying to contact him and have a conference. His son refused to listen to me or follow my rule because I'm a woman. Usually when a kid is misbehaving, you can assume they learned these traits from their parents. Sad."

—Anonymous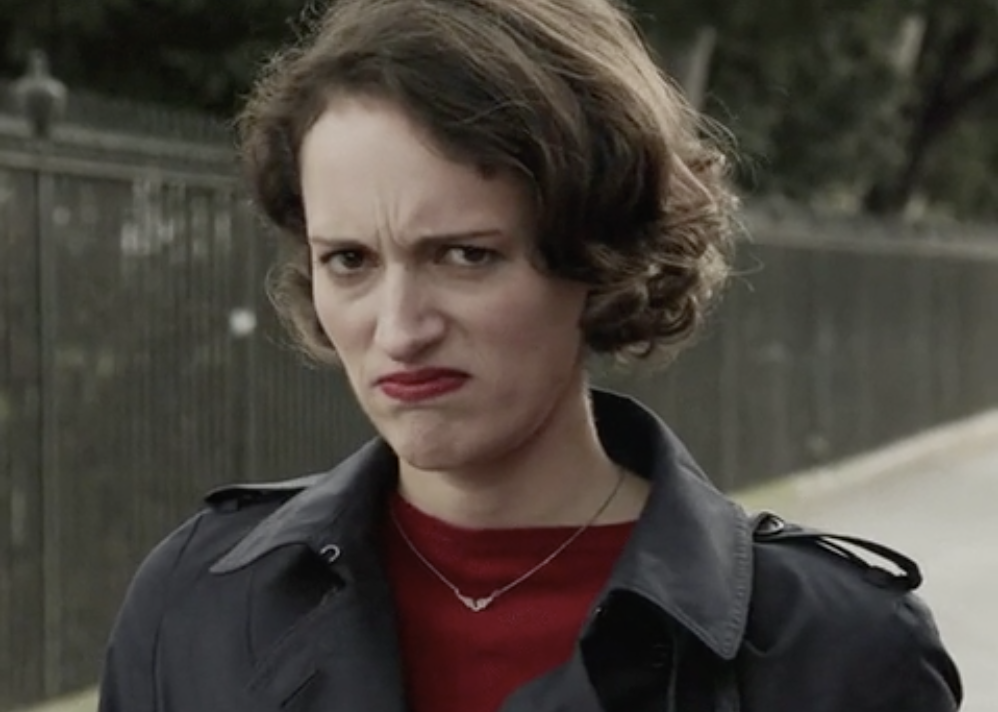 17.
"On the first day of high school, a mom walked into the classroom with her son. I assumed she just wanted to take a look around, but SHE STAYED THE WHOLE CLASS. The kid was obviously embarrassed, and his mom constantly made rude little remarks while I was teaching."
"The next day, the principal told me that she requested I be fired because of my 'incompetence' and that she wanted to move her son into another class."

—Anonymous

18.
"A father blew up my phone with calls and texts when I didn't cast his daughter in the role she wanted for the school musical."
"I shut my phone off, but when I turned it on later, the phone rang right away, and I instinctively picked up. Same dad, now calling me racist for not casting his white daughter and instead going with a Latinx actress for the role of Maria in West Side Story."

—Anonymous 
19.
And finally, "I called a parent in to discuss my concerns about her child...and she spent the whole meeting trying to set me up with her older son."
"I had a really bright student who wasn't coming to school. It was unlike him and I was concerned, so after weeks of calling, I finally got ahold of his mom. She saw me in person for the meeting and said, 'Wow, you're really pretty and young. Do you have a boyfriend?' I got through almost nothing in the meeting because she was really adamant about me dating her older son. She proceeded to show me pictures of him, telling me that the two of us would make a great couple. It was pretty embarrassing. 
When her younger son — the one we were supposed to discuss at the meeting  — came back to school on that Monday, he said to me, 'Miss, my brother is really great. You should date him.' Nope. I never ended up dating him because my fiancé at the time had just ended things unexpectedly, and I was devastated.
However, that didn't stop the mom and my student from trying. That's all the mom spoke to me about the rest of the year."

—Anonymous 
Now it's your turn! Are you a teacher who has some wild, shocking stories about entitled parents like these? If so, tell us about them in the comments below or via this anonymous form.
Note: Submissions have been edited for length and/or clarity.