1. A lot of my fellow Americans have the day off tomorrow, so pour yourself a Game of Thrones drink and let's get started.
2. Y'know, I appreciate these little "previously on" segments at the beginning, but I really could've done without seeing poor Hodor/Wylis again.
3. Now I'm starting off sad. Oh well, at least this show can't make me any sadder.
4. Or can it?
5. I bet it can. Probably not this week though. You can't follow up Hodor with something worse.
6. OK! Episode's starting.
7. Bran is still warging? Dude, wake up. You killed your friend and Meera's dragging your irresponsible ass away from an army of zombies. You dick.
8. Whoa, Mad King sighting! Could the rumors about Bran being the whispers in his head be true?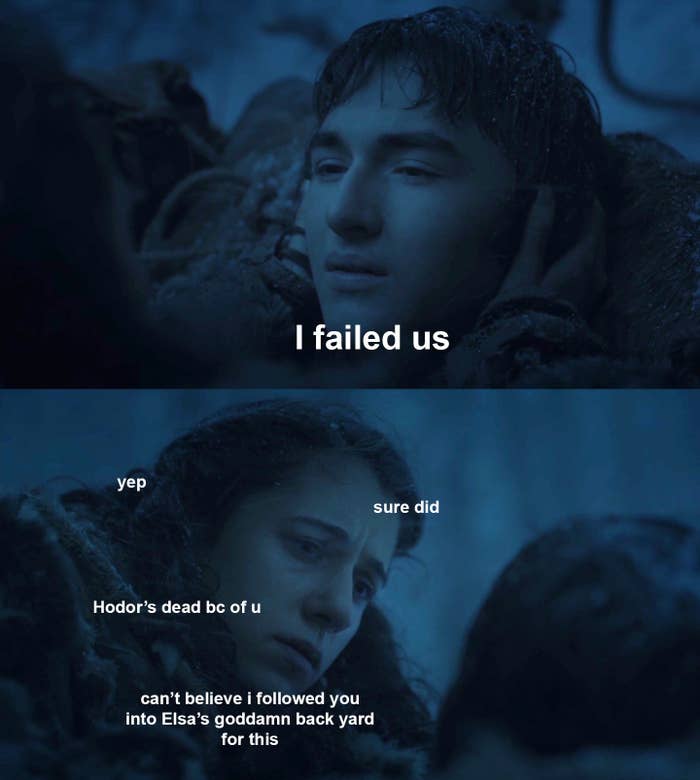 9. Badass on a horse... Flaming mace... Could it be Uncle Benjen?
10. Ooh, and a chain scythe!
11. I think he just hit that wight in the nuts.
12. Of course Sam's that nerd who knows all the species of tree.
13. Are we about to get a comedy of manners with Sam's family and Gilly? Because that would be a welcome departure.
14. Sam's mom is so nice! How refreshing to meet a nice character who isn't likely to die in the next few episodes.
15. Then again, who knows.
16. Margaery is 100% scheming again and it's exciting.
17. GILLY IN A DRESS.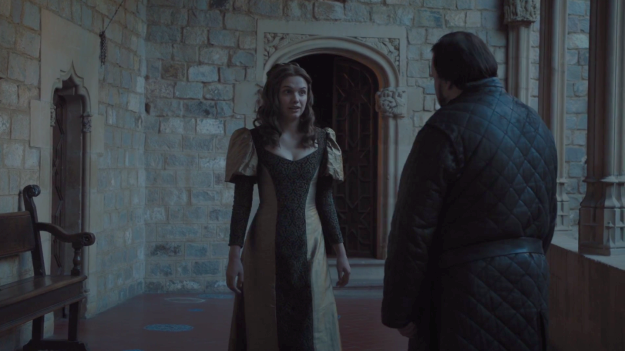 18. ADORABLE.
19. Gilly at this dinner table is like Ariel in The Little Mermaid.
20. She hasn't combed her hair with the dinglehopper yet so she's doing great.
21. Ha, Sam's dad's name is Randyll.
22. LET SAM EAT THE BREAD, RANDYLL.
23. Never fat-shame a person away from bread.
24. Oooooh, Gilly is raising hell at this dinner.
25. Randyll, the fact that you just pointed out a Valyrian steel sword and said "He will never wield that sword" means that Sam will absolutely wield that sword.
26. Hopefully to stab your bitch ass.
27. TAKE YOUR FAMILY AND THAT SWORD WITH YOU, SAM, YOU BEAUTIFUL BASTARD!
28. Oh, and grab some bread before you go.
29. Lol @ Arya's face during this play: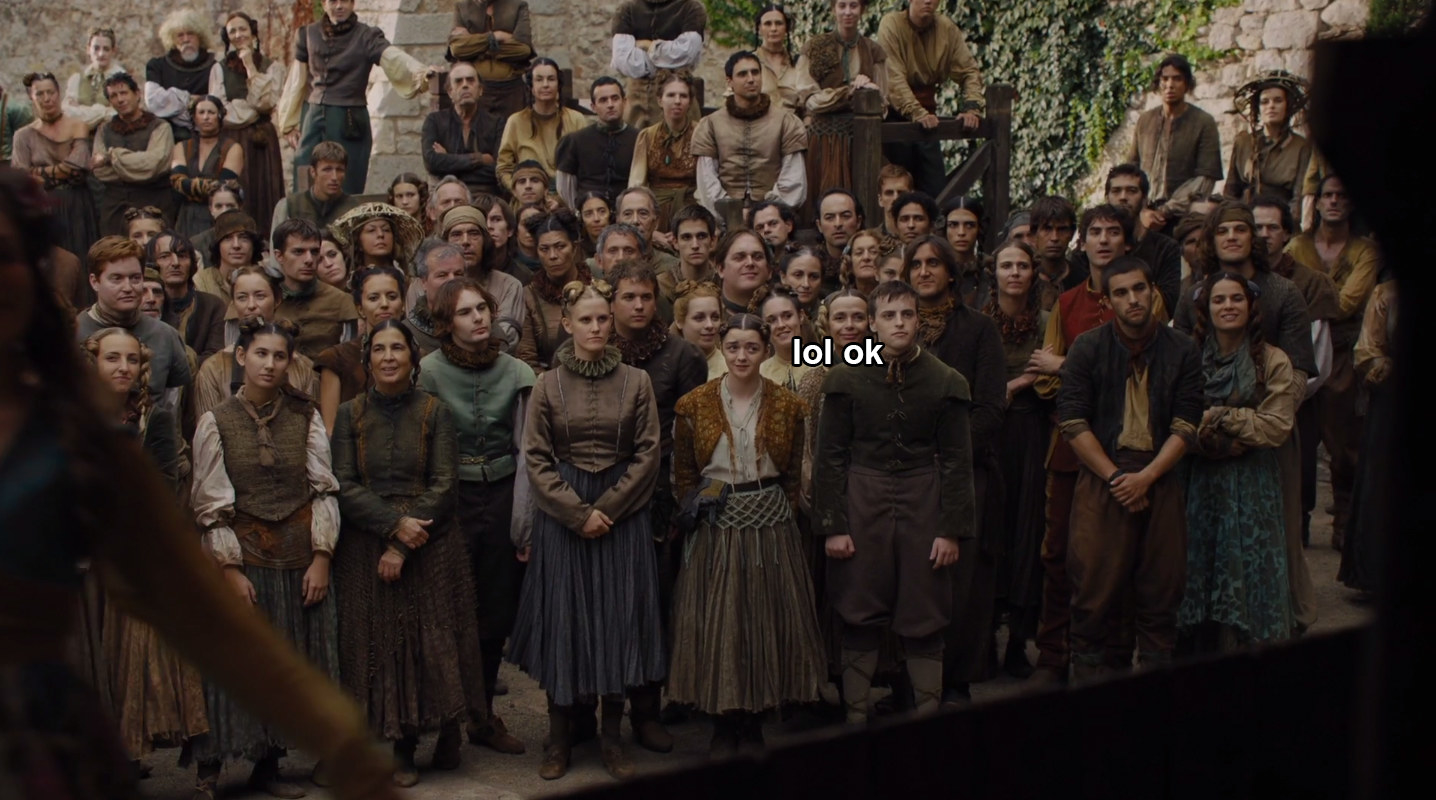 30. The crowd booing Tyrion... Joffrey was pretty much universally reviled — did news of his assholery not reach Braavos?
31. At least they're laughing at Tywin's poop-death.
32. OH SHIT, ARYA HAD A CHANGE OF HEART.
33. Is she gonna lose her eyes again?
34. Nope, she'll just have to deal with sexy Jesus's little murderer-in-training.
35. Get on out of here, Arya, you don't need a hall of faces to fuck people up.
36. Speaking of fucking people up: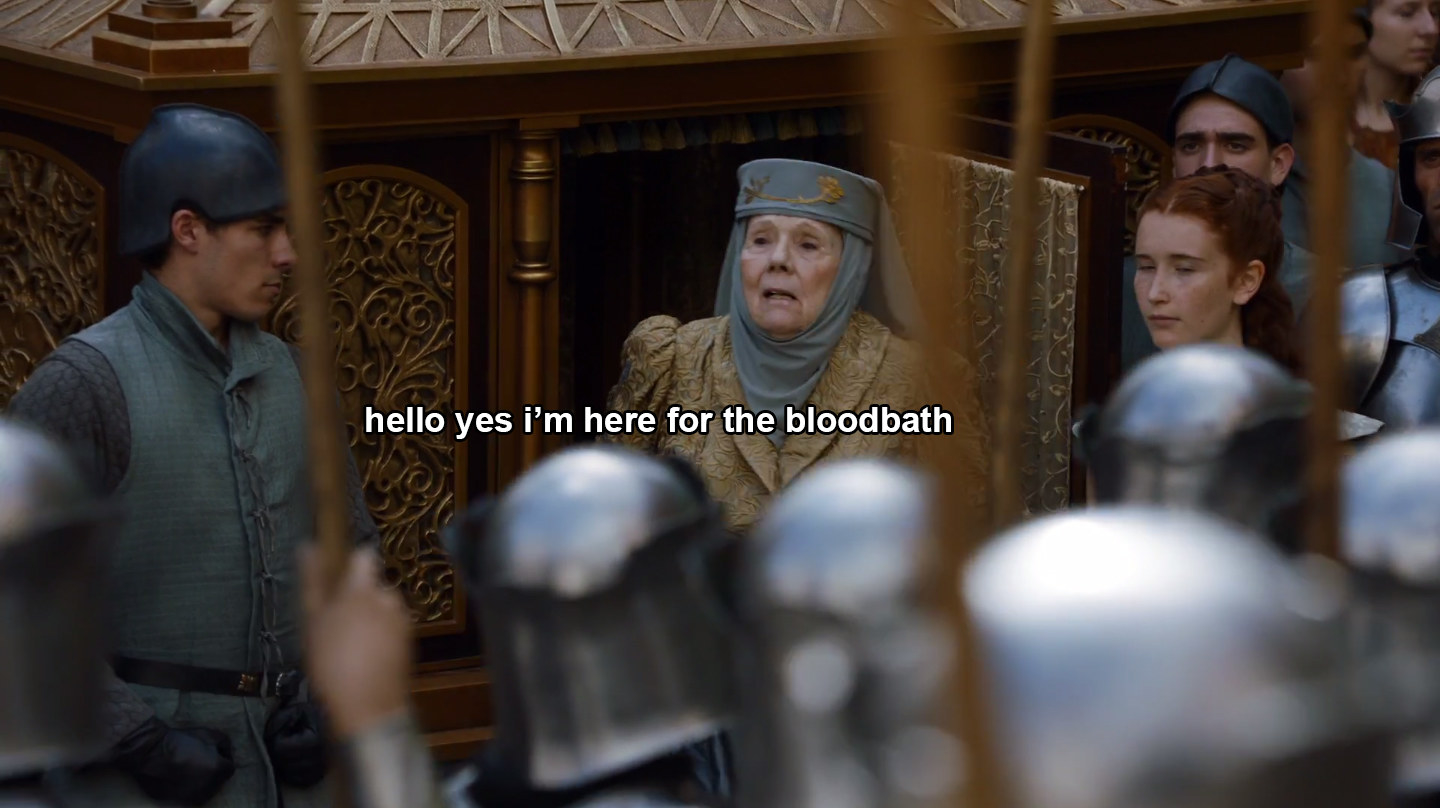 37. Jaime and his horse galloping up the stairs was a weirdly effective power move.
38. Hey, it worked!
39. Can't tell if the crowd is murmuring because they're happy Margaery isn't walking, or because they're disappointed they won't see any titties.
40. Oh come on, Tommen.
41. Well, Margaery must have a plan. Trust in Margaery.
42. Pretty satisfying to see Walder Frey getting riled by the Blackfish.
43. Jaime's going to the Riverlands! Brienne's going to the Riverlands! Reunion!
44. I mean, on opposite sides of a battle, but still.
45. Yay!
46. It IS Uncle Benjen!
47. So he died, but he got better. Lot of that going on in the Stark family these days.
48. Oh, so NOW Drogon's being all cooperative.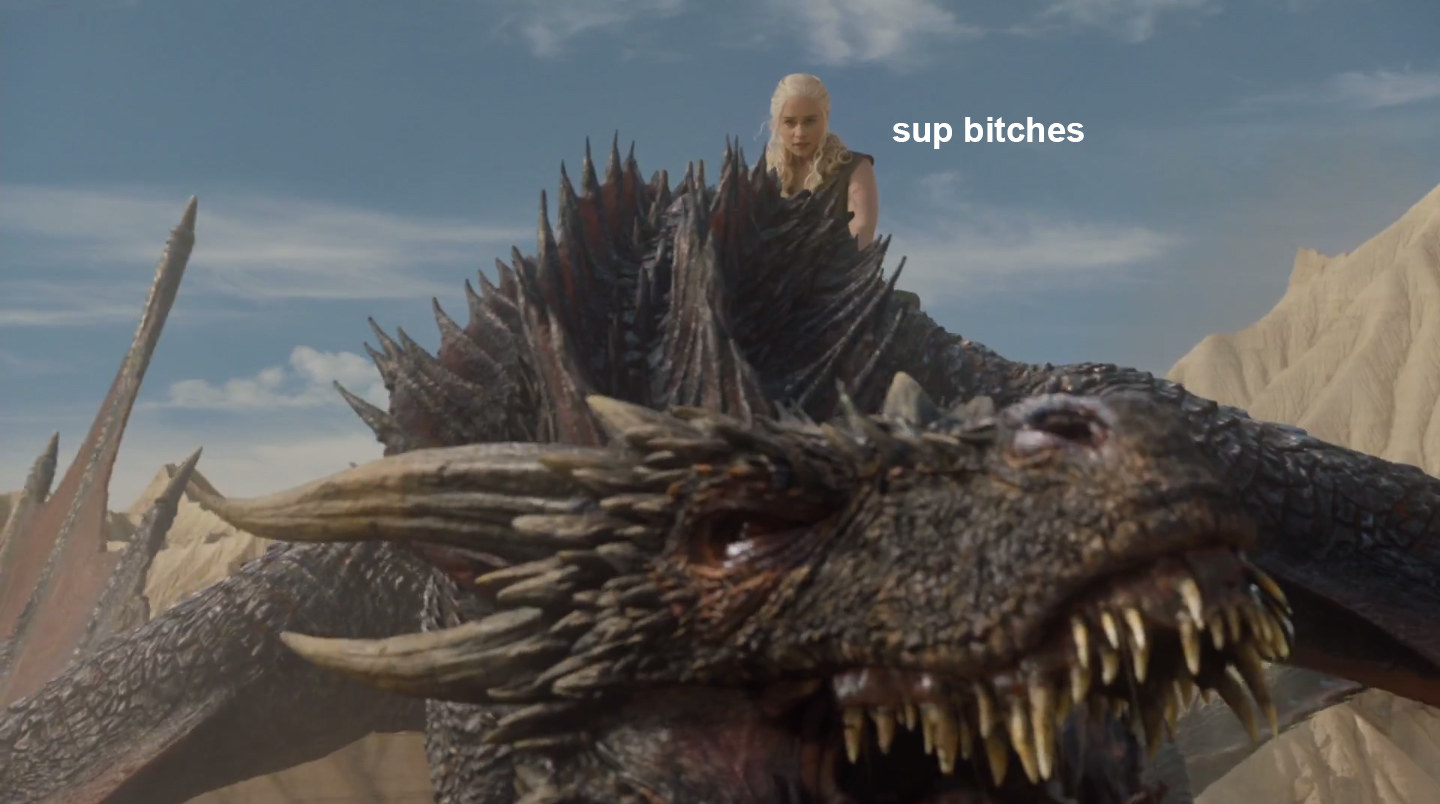 49. Guess he's a fan of big speeches.
50. Oh, that's the end of the episode?
51. Huh. Other than Sam and Gilly's feelings being hurt, nothing terrible happened this week.
52. I hope Sam got some bread.