Hey there. If you haven't watched Bridgerton yet, watch out, because there are major SPOILERS ahead!
There are countless reasons why fans are obsessed with Bridgerton. The costumes, the music, the romantic speeches...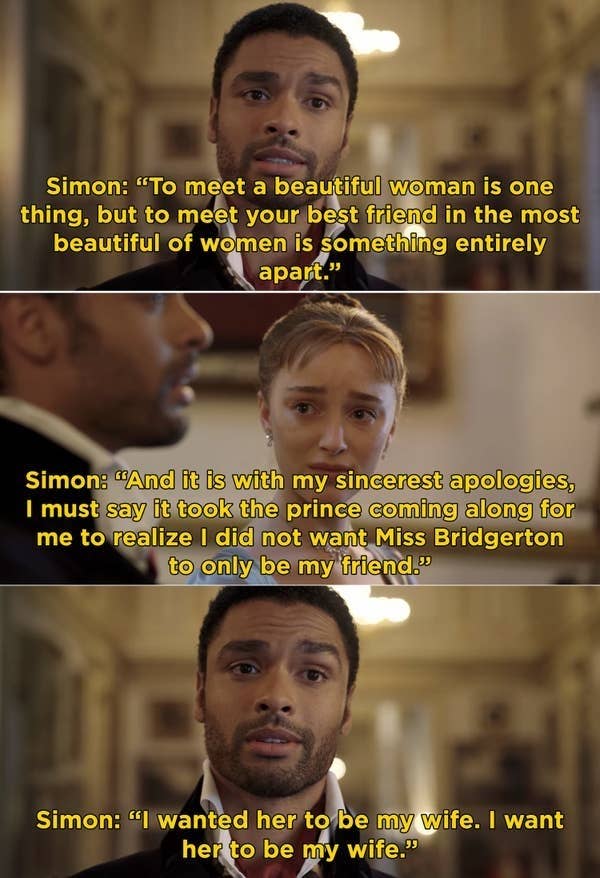 But there's one element that really has people talking: the "Wildest Dreams" sex montage and THAT. LIBRARY. SCENE.
If you'll remember (tbh, how could you forget?), Episode 6 of Bridgerton sees Simon and Daphne on their honeymoon. In Bridgerton's world, that means they spend basically every waking moment having sex all over their lavish English estate.
They're outdoors in the rain.
And of course, all of this is set to Taylor Swift's "Wildest Dreams" in orchestral form.
The montage is amazing overall, but there's one part that really struck a chord with fans: the library scene.
People drew comparisons to the library sex scene in Atonement, because how could you not?
People had jokes about what the house staff were thinking:
Others were just concerned about the books:
But to me, the most important thing about that salacious library scene is this: IT WAS THE FIRST SCENE PHOEBE DYNEVOR AND REGÉ-JEAN PAGE SHOT TOGETHER.
Seriously, their first day on set together as Daphne and Simon, these two filmed a sex scene on a library ladder. Also, it was shot in the library at the Reform Club of London, which houses one of Shakespeare's first folios.
Anyway, I think we can all agree that we'll never look at library ladders, stone staircases, outdoor gazebos in the rain, or Taylor Swift's "Wildest Dreams" the same again.
P.S. If you liked any of the tweets you read here, consider giving them a follow on Twitter!