36 Chrissy Teigen Moments That Prove She Ruled The Past Decade
Chrissy Teigen, First of Her Name, Queen of the 2010s.
1.
When the tabloids tried to start a rumor:
2.
When she decided it'd be easier to get her daughter Luna to eat by making her a laminated menu:
4.
When she told the truth about giving birth:
5.
When she got the follow-back she'd always dreamed of:
6.
When she got blocked by Trump over a five-word tweet:
7.
And when she started an entire hashtag about him with this tweet:
8.
When she had concerns about the hamster:
9.
When she revealed an unspoken social media truth: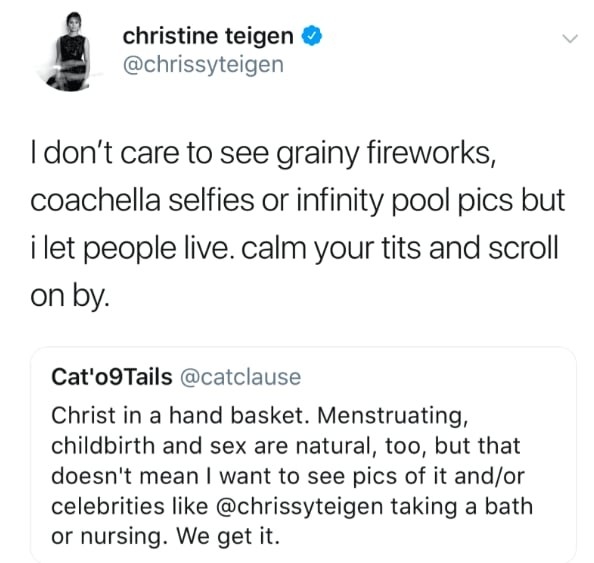 11.
When she summed up how we should all feel about stretch marks in one simple word:
12.
When John was named People's "Sexiest Man Alive" and this was her reaction to his GIF cover:
14.
Really, she made the most out of that announcement:
15.
When she wasn't about to let an absence get in the way of a family Santa photo:
16.
When she admitted to her contingency plan:
18.
When she had a really good Photoshop idea:
19.
When she used a meme to address a meme:
20.
When she almost — almost — had a really brilliant idea:
21.
When she just straight-up refused:
22.
When she watched the Olympics the same way we all do:
23.
When she was just so, so grateful for someone's comment on her appearance at the Emmys:
24.
When someone said she looked bad on the cover of Glamour, so she responded:
25.
When she tried to cute things up:
26.
When she argued that Jim and Pam from The Office are divorced now:
27.
When she not only addressed a classic Chrissy meme, but also illustrated the strength of genetics:
28.
When she ate Fun Dip on the wrong day:
29.
When she had the perfect reaction to Casey Affleck's Oscar speech:
30.
When she dropped a friggin' bombshell on us:
31.
When she wondered where HER Grammy nomination was:
32.
When she was horny on main:
33.
When she brought John back down to Earth:
34.
When she said what we were all thinking:
35.
When she responded to everyone fawning over John helping her take off her red-carpet necklace:
36.
And finally, when she didn't change a bit over the years: