1. So the biggest event of the season is happening tonight, and here's what HBO Now currently looks like: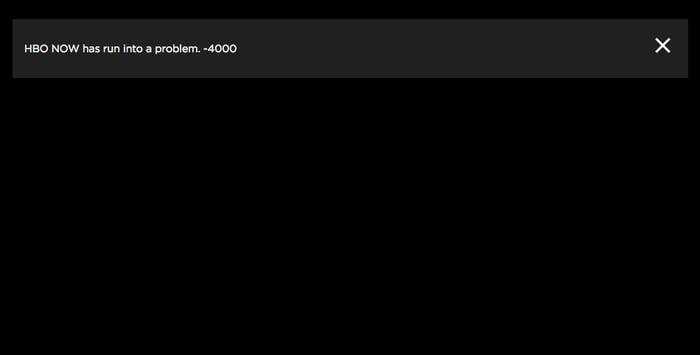 2. So that's awesome.
3. Guess I'll go make a snack.
4. How's everyone doing tonight? Good? Watching the NBA Finals?
5. Cool, cool.
6. So here we are, 46 minutes after the premiere time, and JUST NOW the site is working.
7. So let's get started!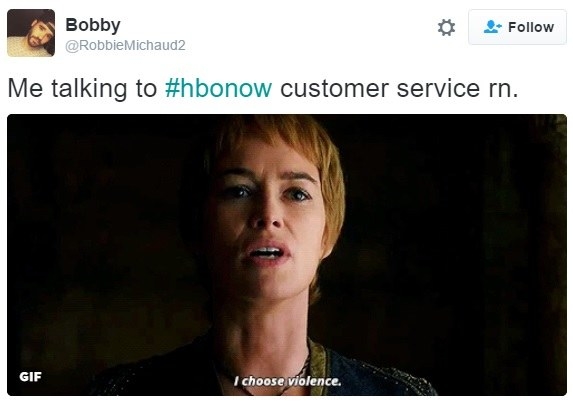 8. Tyrion is trying to explain this away like he threw a party while his parents were out of town and now the house is trashed.
9. "The dragons will be slaughtered." OH NO YOU DID NOT SAY THAT DUDE.
10. Y'all forgot about Drogon, didn't you?
11. Every time Daenerys mounts Drogon it's like How To Train Your Murderous Teenage Dragon.
12. Sons of the Harpy, meet the Dothraki horde.
13. I have a sneaking suspicion that all this winning right now is to give us something nice to think about while Jon gets his ass handed to him later.
14. Just one shot of Winterfell and I'm already nervous.
15. Living for Lyanna Mormont's steel glare right now.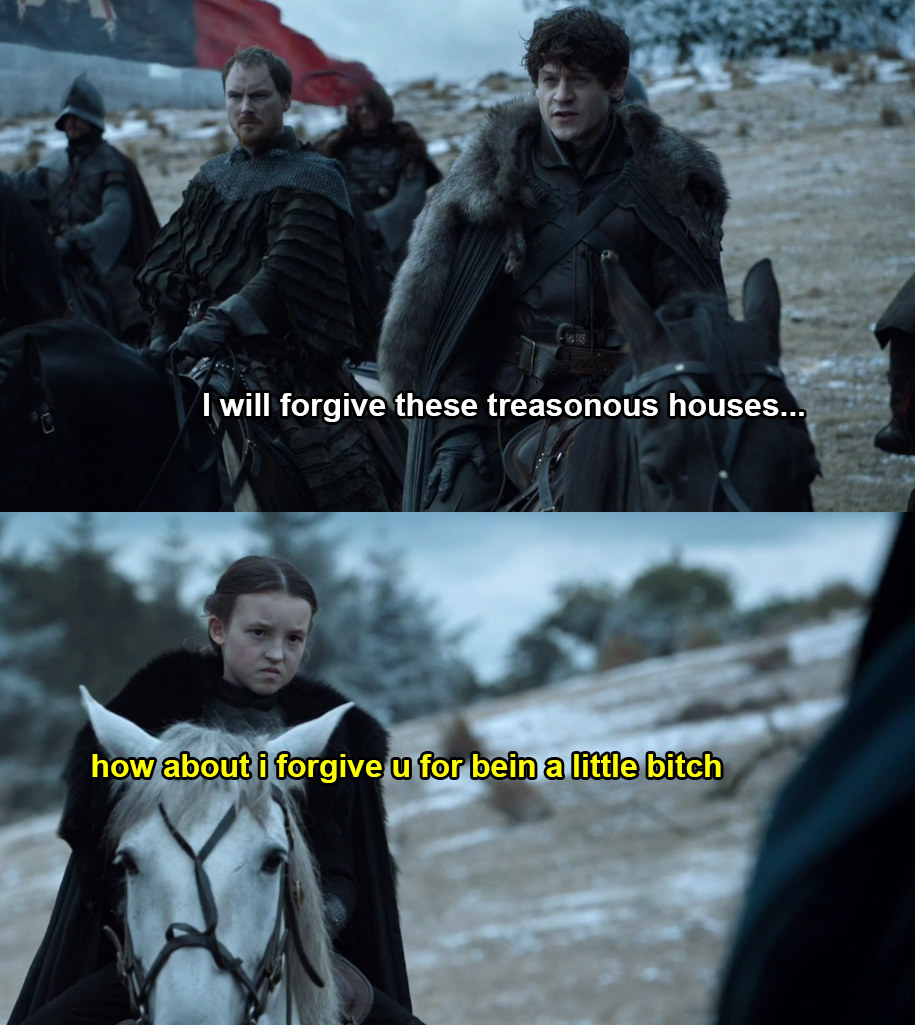 16. Oh shiiiiit, Jon just called Ramsay out. DUEL.
17. Of course Ramsay refused, he's not a moron.
18. "You're going to die tomorrow, Lord Bolton. Sleep well." God I hope she stabs him right in the neck.
19. Maybe this show does make people violent.
20. Listen to Sansa, Jon.
21. Why isn't Sansa telling Jon about Littlefinger and the Vale? A little honesty could work here.
22. "No one can protect anyone." EXCEPT HODOR. RIP.
23. Half this episode has been people confusing Tormund with big words.
24. Aww, Davos and Tormund are bonding over their crappy dead leaders.
25. "Jon Snow's not a king." Well that settles it, Jon's going to take the throne at the end of this.
26. Wildlings get drunk on sour goat's milk? That sounds worse than Popov vodka.
27. But only barely.
28. "Happy shitting" is my new go-to sign-off.
29. I like how Jon's like "don't bring me back" and Melisandre's like "shut up, Jon."
30. "Maybe he brought you back here to die again." WELL THAT JUST SOUNDS LIKE A GRAND OLD TIME, SIGN ME UP, WEIRD RED LADY.
31. Nooooooooo Davos found the thing. :(
32. "You're all making the same five or six jokes." Tyrion just described Twitter.
33. "You and I have that in common." Oh dang Yara, careful with insulting the Mother of Dragons.
34. "I never demand, but I'm up for anything really." BUT PLEASE CONTINUE HITTING ON THE MOTHER OF DRAGONS.
35. Honestly "no more raping" should be in Dany's terms with the Dothraki too.
36. Oh shit does Ramsay have Rickon on a rope?
37. He totally does.
38. JON DO NOT FALL FOR IT.
39. REMEMBER WHAT SANSA SAID.
40. HE'S PLAYING YOU AND HONESTLY RICKON IS NOT THAT IMPORTANT TO THE PLOT.
41. But also Rickon, when Ramsay says "let's play a game," do not play that game.
42. DAMMIT JON.
43. DODGE A LITTLE, RICKON!
44. DON'T JUST RUN IN A STRAIGHT LINE!
45. SERPENTINE, RICKON, SERPENTINE!
46. See, that's why.
47. OK, so in addition to being able to bring down an entire army's camp with "20 good men," Ramsay is also the greatest archer ever.
48. Jon, you dummy.
49. Why doesn't anyone ever listen to Sansa?
50. Jon's standing in the middle of this looking like the last kid left in dodgeball.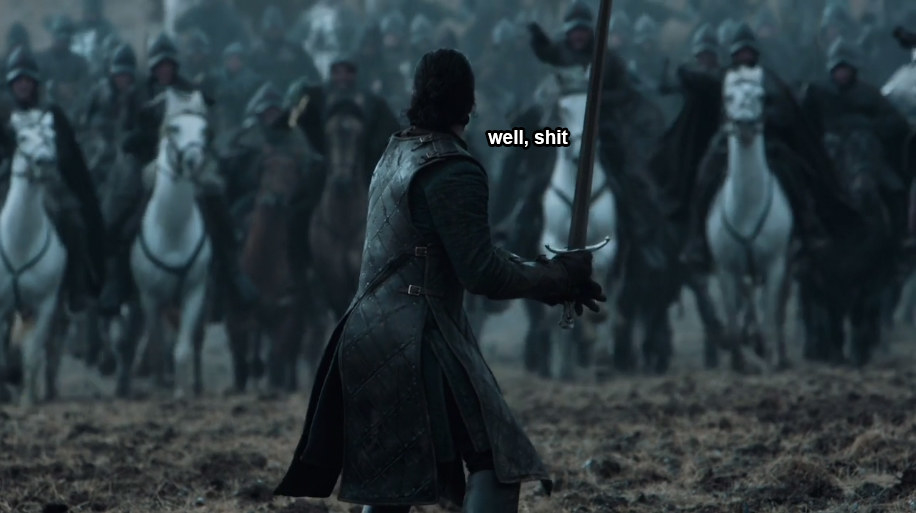 51. Somehow Ramsay is even more punchable saying "loose."
52. It's honestly not even that Ramsay's that smart. It's just that Jon is SO DUMB.
53. Dumb but incredibly lucky that he hasn't been hit by an arrow yet.
54. Where's Lyanna? I hope she's like taking fuckers down left and right.
55. WUN WUN TIME.
56. KICK SOME OF THE SHIELDS OR SOMETHING, WUN WUN, YOU ARE LARGE.
57. This trampling scene might honestly be the most uncomfortable thing to watch.
58. YES TORMUND EAT HIM.
59. See, Sansa, you couldn't just go ahead and TELL JON THEY WERE COMING???????
60. Honestly. People on this show sometimes.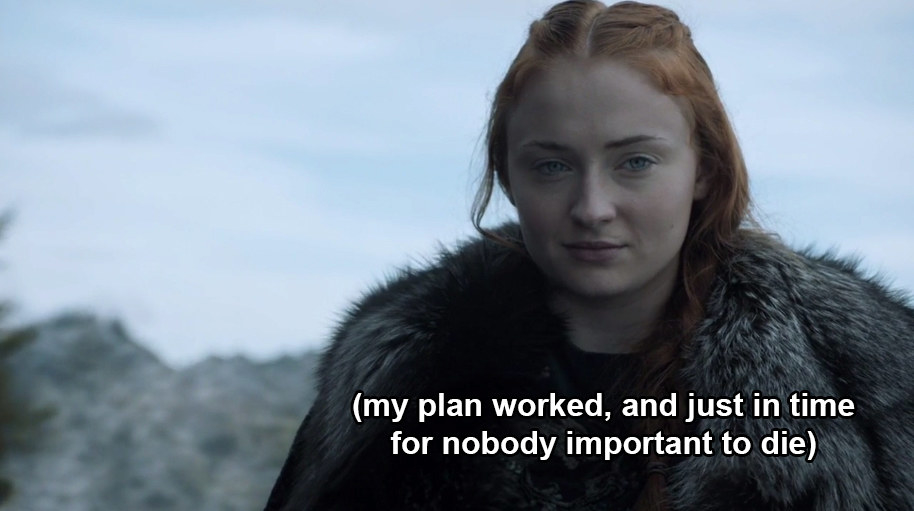 61. YOU FORGOT THEY HAVE A GIANT, RAMSAY.
62. Wun Wun is the real MVP here.
63. RAMSAY YOU FUCKING DICK.
64. Yes.
65. Beat the ever-loving shit out of him.
66. Do not stop this scene.
67. Let Sansa finish it.
68. Well. That was probably the most difficult way of going about it, but...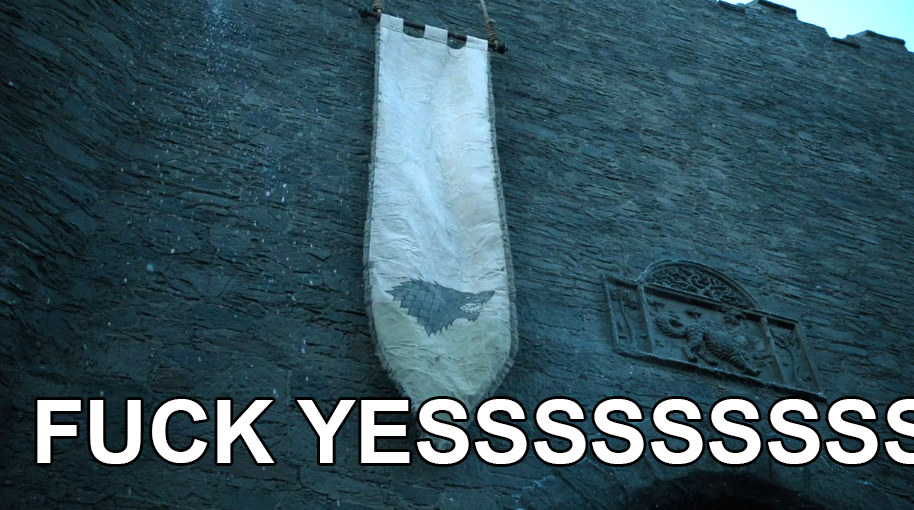 69. Feed him to the dogs!
70. "All memory of you will disappear." And you're about to be dog shit in a few hours.
71. YAAAAAAAS.
72. Now, I don't always advocate the need for gratuitous violence and gore. But in this case, I'd like to say thank you to the Game of Thrones team for letting us have that first hound bite.
73. Bye Felicia.