Olivia Rodrigo's Rolling Stone Interview Proves She's Wise Beyond Her Years
"I've never felt as deep a sadness as I did when I was truly, truly heartbroken and devastated."
...that was then followed by the release of her debut album, Sour, in May. (Also, a global success.)
And then in a darker turn of events, over this past summer, fans started accusing Olivia of ripping off lyrics and melodies from other artists, which she handled gracefully.
Olivia has gone from "that girl on Disney's High School Musical: The Musical: The Series" to a worldwide pop star in the span of a few months. In a recent Rolling Stone interview opposite Alanis Morissette, she touched on experiencing viral fame almost "overnight."
She also explained the adjustments she's had to make in her own life to be able to handle the constant scrutiny. "Putting out music in the age of social media can be really daunting, and I think people hold young women to an incredibly unrealistic standard," she said.
She went on to add: "It's just hard for me because I had my first Instagram when I was 12 years old. So I completely had all of my adolescence in front of people, and I think it's hard to differentiate who you are as a person versus who you are as a person on Instagram."
Everyone that's heard "Driver's License" (probably even those that haven't) can tell you it's a raw, emotional song. Olivia explained that making music is a "magical" experience for her when saw how her songs connected with others. "I think heartbreak is so universal — the feeling that lots of humans feel the most deeply," she said. "I've never felt as deep a sadness as I did when I was truly, truly heartbroken and devastated. And when I put out 'Drivers License,' about this really hard time in my life, I watched it just affect so many people, regardless of sexual orientation or gender or age."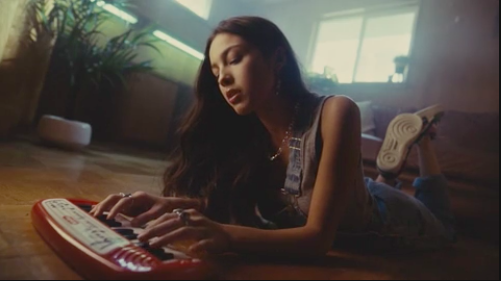 She said one of the biggest things she's learned is how to separate herself from her work once it's out in the world and open for interpretation. "I always think that creativity is sometimes really magical and celestial, and if you're a vessel for an amazing song, that's awesome, but sometimes it doesn't have anything to do with you," she said. "I try to not attach a lot of ego to it."