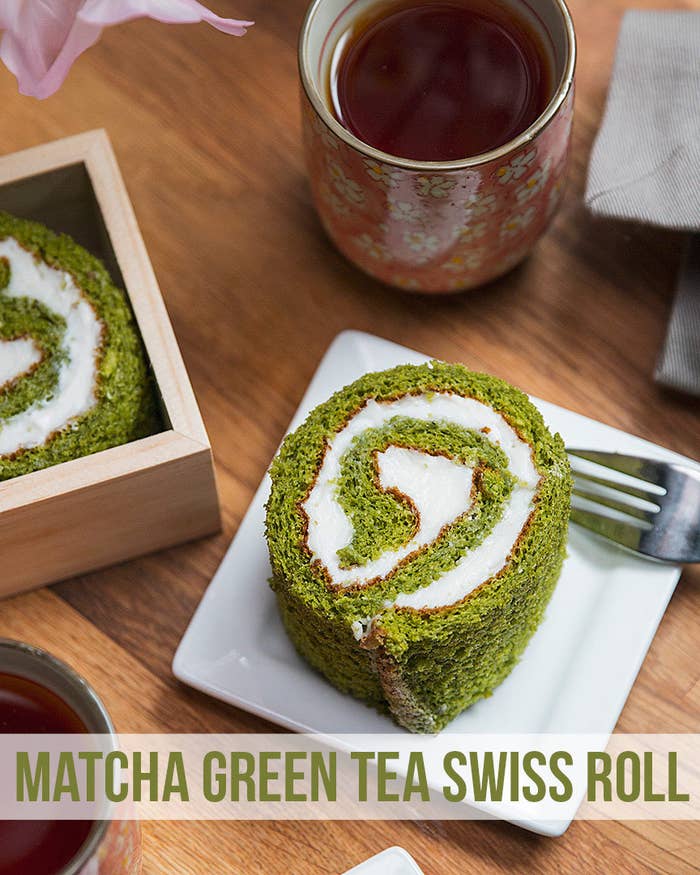 Here's what you will need:
Equipment:
* Electric Hand Mixer
* Lipped Baking Sheet
* Parchment Paper
* Butter or Vegetable Spray
Filling:
* 1 1/4 cups Milk (300ml)
* 1/4 cup Corn Startch (30g)
* 1/3 cup White Sugar (60g)
* 1 teaspoon Honey
* 1/2 cup Heavy Cream (120ml)
Cake:
* 1/3 cup White Sugar (60g)
* 3 Eggs
* 1 tablespoon Matcha Green Tea Powder
* 2 teaspoons Honey
* 1/4 cup Cake Flour (25g)
Directions:
Start with the filling: Pour the milk into a small saucepan, and sprinkle over the corn starch, whisk until combined. Next, add the honey and sugar and stir continuously over a low heat. When the milk mixture almost starts to boil it will thicken and get a bit lumpy, DON'T PANIC! Just keep stirring until it smooths out. Continue to stir the now thick milk mixture over the heat for an additional 1-2 minutes, to cook out the corn starch flavor. Take off the heat and pour into a bowl, or shallow dish. Cover the mixture with clingfilm, pushing it all the way to the top of the custard to prevent a film from forming and chill this in the refrigerator until cold.
Heat your oven to 350˚F/175˚C and butter your baking sheet, then place a piece of parchment a few inches larger than your pan and using a rubber scraper (or your hand) push out any bubbles.
Next, make the cake by putting the sugar, eggs, matcha powder, and honey in a large bowl and mix until its almost tripled in size, is lighter in color, thick, and fluffy, this will take about 7-10 minutes. If you dribble some of the batter on itself it should hold a "ribbon" shape for 4-5 seconds. Then sift over the cake flour, and gently fold the flour in until all combined. Pour the batter in the prepared baking sheet you made earlier and bake for 8-10 minutes. You'll know it's done when the cake is slightly risen, turning just a bit golden, and you can smell it. Also, if you gently press your fingertips on the surface of the cake, and no indentation is left, its done.
Cool your cake for a 2-3 minutes in the baking tin before lifting the cake with the sides of the parchment onto your table. Next, lay a fresh sheet of parchment beside your cake and sprinkle it with powdered sugar. Flip the cake onto the sugared parchment paper and let this hang out while you finish your filling.
Grab the heavy cream and your chilled custard from the fridge. In a clean bowl, whip the heavy cream with electric beaters until it is thick and pretty stiff, little peaks should form when you lift the beaters. Then take the beaters and whisk your custard, it will look funny at first, but after a few moments it will become nice and smooth. Fold the whipped cream into the custard until they are combined. Slather this filling onto your cake and roll it up, using the parchment to help. Wrap the whole thing in cling film and chill for two hours before slicing.