Cookie Dough Ice Cream Bites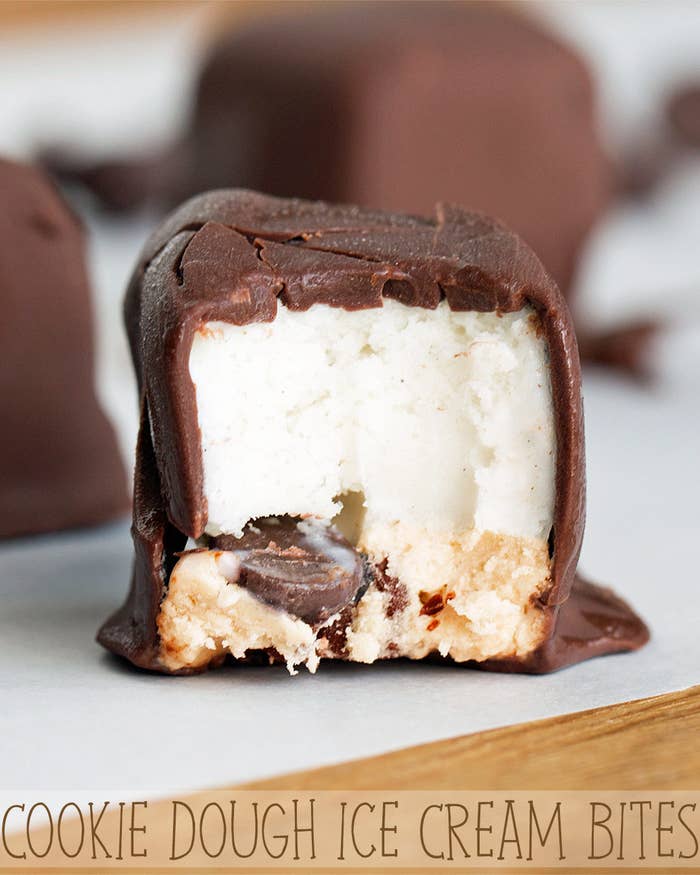 INGREDIENTS
Servings: 64 pieces
1/2 cup brown sugar
1 pint vanilla ice cream, softened
1/2 cup butter, softened
1/2 teaspoon vanilla extract
1 tablespoon milk
1 cup flour
1/4 teaspoon salt
1 cup semisweet chocolate morsels
1/4 cup coconut oil
PREPARATION
1. In a large bowl, mix together brown sugar and softened butter.
2. Mix in vanilla extract and milk until well-combined.
3. Add flour and salt, and continue mixing until you've reached a dough-like consistency.
4. Spread the "dough" mixture evenly on the bottom of a parchment-lined 9×9 pan.
5. Sprinkle about half of the chocolate morsels over the dough so that they are evenly distributed, and then press the morsels into the dough with a sheet of parchment paper.
6. Scoop softened ice cream on top of the dough mixture, and spread evenly.
7. Freeze overnight or until frozen.
8. Lift ice cream out using the parchment, then cut into an 8x8 grid.
9. In a small bowl, melt the remaining chocolate morsels with coconut oil until smooth.
10. Evenly coat each piece with the melted chocolate.
11. Place back in the freezer for 30 minutes.
12. Enjoy!
Consumption of raw or undercooked flour may increase the risk of food-borne illness.